Accidentally deleting a memorable family photo can be distressing, as can deleting important texts or work documents. On Android devices, if you delete something or it has been corrupted or lost, then there aren't any built-in features to help you recover them. Fortunately, third-party tools like FoneDog Android data recovery are ready by your side and assist in the data recovery process. With these types of tools, you're able to recover a range of data which has been lost for almost any reason. So, in this article, we'll be reviewing FoneDog Android data recovery and determining how good of a tool it is. Our editor recommends D-Back for Android as FoneDog Android data recovery better alternative, D-Back has better data privacy and data recovery success rate. Download it free now.
Part 1. Overview of FoneDog Android Data Recovery (Pricing and Availability)
What is FoneDog Android Data Recovery?
So, what exactly is FoneDog Android data recovery? It is simply a software solution that enables users to restore data that has been lost for any reason – accidental deletion, corruption, or it has just been lost. The key features that make this solution stand out are as follows:
Texts, music, photos, videos, and WhatsApp data are recoverable from Android.

It uses a straightforward recovery process that is easy to follow.

Data can be recovered from Android internal storage or SD card.

Android data can be previewed before recovery.

It doesn't require Android to be rooted in data recovery.

It can be installed on Windows and Mac computers.
The features above sound great but to access them, you'll need to purchase a license. A free version can be downloaded, but this is very limited and won't provide the full experience. There are two licenses available, depending on the type of computer you have:
Windows License. Install the software on 1 PC, $39.95 (one-time payment)

Mac License. Install the software on 1 PC, $39.95 (one-time payment)
Additional licensing options are available which include tools like Android Backup & Restore, but these are more expensive and aren't necessary for data recovery.
Who is FoneDog Android Data Recovery for?
As great as FoneDog Android data recovery sounds, you might be wondering when it's suitable for you to actually put it to good use. Believe it or not, these types of data recovery tools have lots of situations where they are viable to use including:
1. Recovering lost or deleted data. In situations where you accidentally delete a photo or text message, or a firmware update has mistakenly deleted personal files, FoneDog can be used.

2. Extracting data from damaged Android devices. If you have a damaged Android device that makes your data inaccessible, such as if you've dropped it and the screen isn't working, data recovery is worthwhile.

3. Recovering data from an SD card. If you're unable to access a device's SD card for any reason and you don't want to lose the data stored on it, using a data recovery program will allow you to access the SD card's files.
These are just a few examples of when you can use FoneDog, or any data recovery solution for that matter. Whenever you're unable to access Android data, this type of software will come in handy.
FoneDog Android Data Recovery Full Version Free Download
You can download FoneDog Android data recovery on their offical website. fonedog.com. But there are no free full version. You need pay it for a full version.
FoneDog iOS Data Recovery Review
FoneDog also have data recovery softwares for iOS. It support recover lost data from iPhone without backup. But it dont have high recovery rate, i would recommend D-Back iPhone data recovery for better alternative.

Part 2. FoneDog Android Data Recovery Review – A Quick Look at the Pros and Cons of FoneDog
Another way we can determine whether or not a software is right for us is to weigh the pros and cons, and that's exactly what this next part of our FoneDog Android data recovery review is going to do.
Pros
Capable of recovering a wide variety of data types.
Unhappy users can use the 30-day moneyback guarantee.
Offers support for thousands of Android devices.

Cons
Whilst there is a free trial, it has very limited feature access.
Sometimes there is data that isn't detected during the recovery.

Part 3. Does FoneDog Android Data Recovery Actually Work or Is It All Lies?
So, does FoneDog FoneDog Android data recovery review actually work in these data loss scenarios or is it useless? The program isn't a complete waste of time, nor is it perfect – there isn't a perfect data recovery software because of how delicate the process of recovering data can be, and FoneDog isn't exempt from these imperfections.
However, there are other weaknesses that can't be ignored, and with the number of negative reviews the software receives, we must question the efficacy of it.
For instance, some users complain that although FoneDog claims no root permission required for data recovery, rooting actually is required. This makes the data recovery a substantially harder process for many users who are unfamiliar with rooting. On top of this, there are claims that the software's performance is unstable, that it is prone to crashing, and other errors.
Nonetheless, it is a moderately effective Android data recovery program and if you aren't in a rush to recover data, it may be worth taking the time to try out.
Part 4. FoneDog Android Data Recovery Alternative – the Best Alternative
Now that we've come to the conclusion that FoneDog Android data recovery has an abundance of weaknesses, you might instead want to use an alternative. This is understandable because an alternative with fewer negatives tends to be much more effective, and the alternative we recommend is iMyFone D-Back for Android. Key features that you can expect to see in this recovery tool include: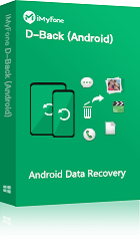 1,000,000 Downloads
Features of D-Back Android
Recover almost any type of data on an Android device, including photos, music, WhatsApp, text, and more.

Securely recover data from an Android smartphone or tablet.

Allows you to free preview the recoverable data before the recovery.

Hundreds of Android devices are supported for recovery.

Compatible with Android OS 2.0 to 10.0.

Available as a free download.

Easy to use, providing a simple recovery option for all users.
These features are all that makes iMyFone D-Back for Android such a great solution, but there are some other things to take into account too.
Effectiveness
iMyFone D-Back for Android has an extremely high success rate. If any files were deleted, corrupted, lost, or can't be found, this tool can recover the data at an almost 100% success rate. With that in mind, if you're set on having the highest chance of getting back a lost file, this is precisely the software you want to have.
Supported Files
Virtually any file format can be recovered from your Android device with this tool, and this is something that makes it such a great tool to use. The supported files are:
Text Messages

Contact Information

Call History

WhatsApp Messages and Attachments

Audio/Music Files

Photos

Videos

Documents
This list of supported files has a broad reach that allows users to recover pretty much every file type they will ever need to recover.
Security
Most important is security and how this recovery tool handles your files. iMyFone D-Back for Android safely restores the data from your Android device to the computer without transferring the data over a network – the entire recovery is done locally.Because the data is recovered to a computer, rather than directly back onto the Android device, this further secures your data as it prevents incidents such as overwriting the original data which would halt the possibility of recovery.
Let's see how we can restore files using this tool.
Step 1. Download and install D-Back Android on your PC.
Step 2. Select Android Data Recovery Mode.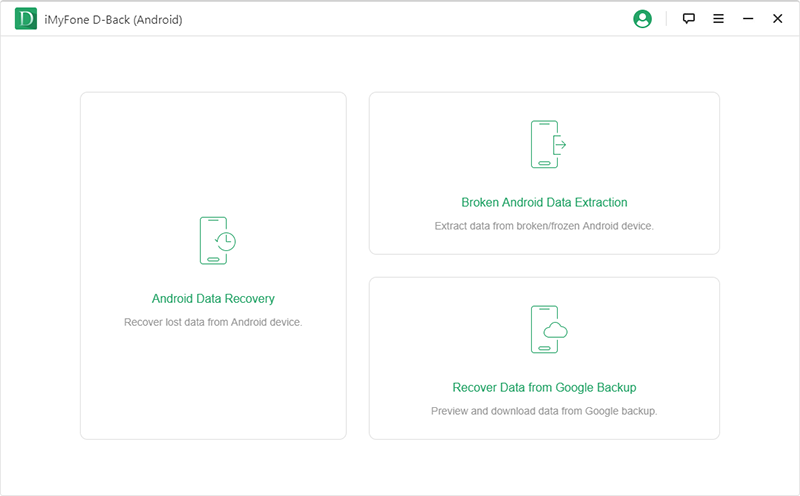 Step 3. Next, choose your Android device's name and model from the drop-down menus before clicking "Next" to proceed.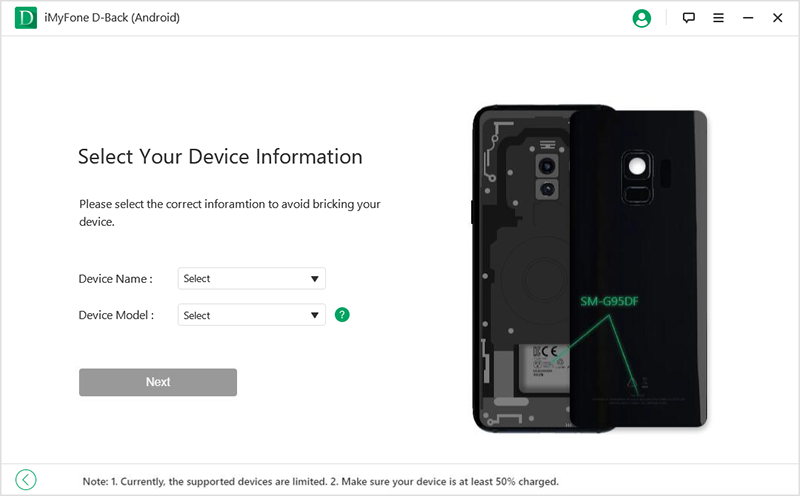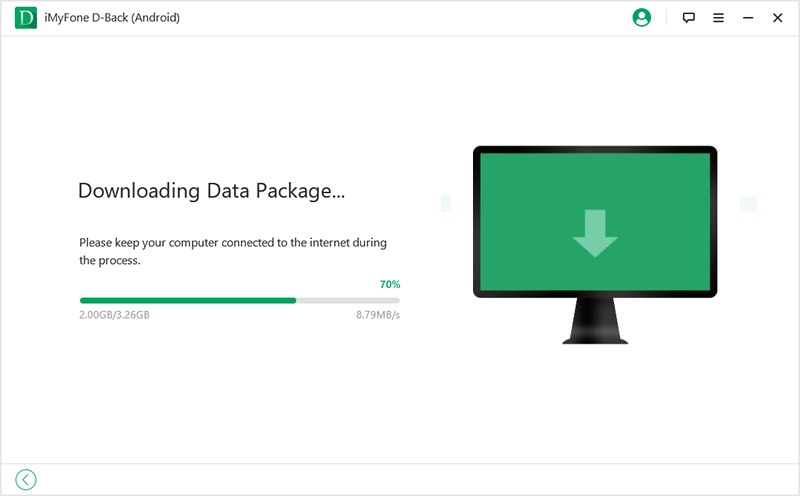 Step 4. The necessary firmware will be downloaded, and you will then be prompted to connect your device to the computer. Do so and then click "Next."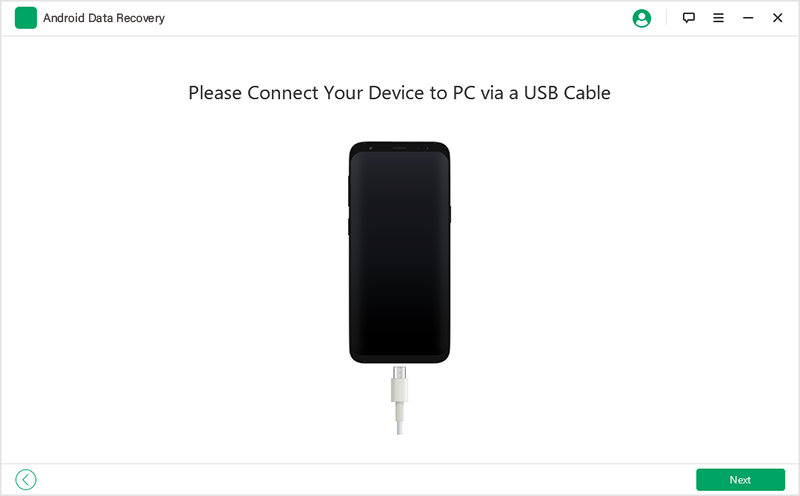 Step 5. On the following screen, there will be various data types to choose from.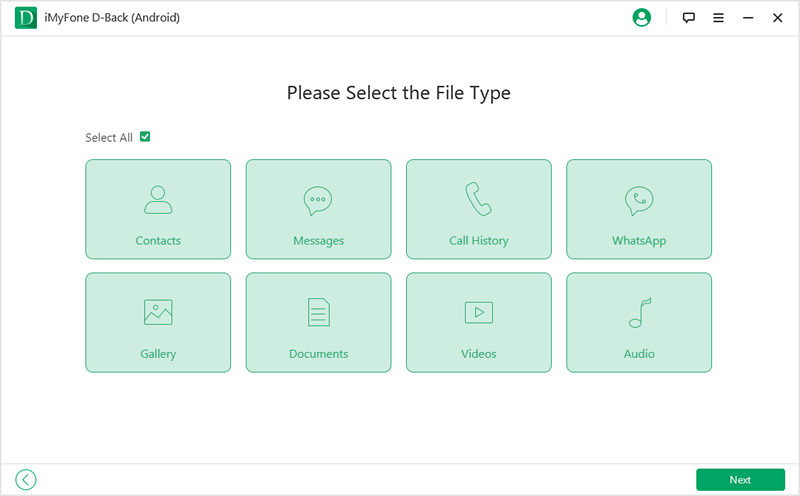 Step 6. Finally, when the quick scan of your device's data is complete, select the data you want to recover and click "Recover" to save the data to your computer.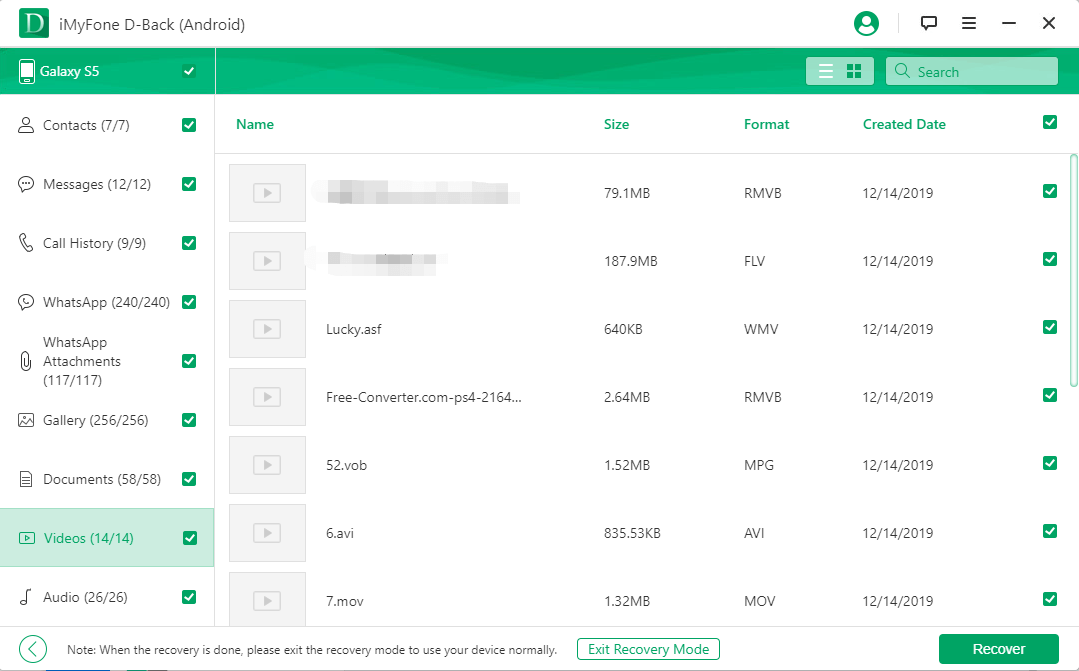 BONUS: Coupon Code for You!
If you now want to get your hands on a copy of iMyFone D-Back for Android, then you're in luck! We've got a coupon code that you can use to get the best possible price for the software, and here's how you can use it.
Step 1 – Choose your preferred license from the iMyFone D-Back for Android page and click "Proceed to Checkout."
Step 2 – At the checkout, click "Redeem Coupon Code" and enter the code 5ED-FQ1-KZU, and click "Apply."
Step 3 – Complete your purchase by entering the rest of your information and submitting your discounted payment.
iMyFone D-Back for Android is available with three different payment plans, all of which have different levels of support.
Basic Plan Supports 1 device, $34.95/year.
Family Plan Supports 2-5 devices, $44.95
Multi-User Plan Supports 6-10 devices, $59.95
If you're interested in buying any of these plans to receive D-Back for Android, you can use this coupon code. Just pop it in at the checkout, and you'll get a discount on your purchase:
Your Discount Code: 5ED-FQ1-KZU
Conclusion
After reading through our extensive review on FoneDog Android data recovery, now you can decide if the pros and cons balance out in your favor. You will most likely agree that the weaknesses aren't worth it, and if so, the alternative D-Back Android is exactly what you should use. It offers a versatile recovery approach and can recover any Android data safely and securely. Give it a shot for free, and if you like what you see, go ahead and use the coupon code above to retrieve a full copy!