Data loss or corruption can occur in Android as well as iPhones. If the user loses data, then the first thing that he tries is the recovery of that lost data. Fortunately, it is possible to recover it.
In this article, we will give you a complete review of UltFone, which is an iOS/Android data recovery tool. We will also share iMyFone D-Back for Android, which is its best alternative. It makes data recovery easier and brings all your data back without any hassle.
Part 1. UltFone iOS/Android Data Recovery Review
1.1. UltFone Android Data Recovery Review
UltFone Android data recovery is an advanced data recovery tool that helps you to recover different types of Android data without root. It can recover data from the internal memory of the Android device. It can recover data under any circumstances.
UltFone Android data recovery has introduced a new feature in which the user can also recover WhatsApp, WeChat, and Google Drive Backup. It is compatible with both Windows and macOS. It supports more than 7000 Android devices.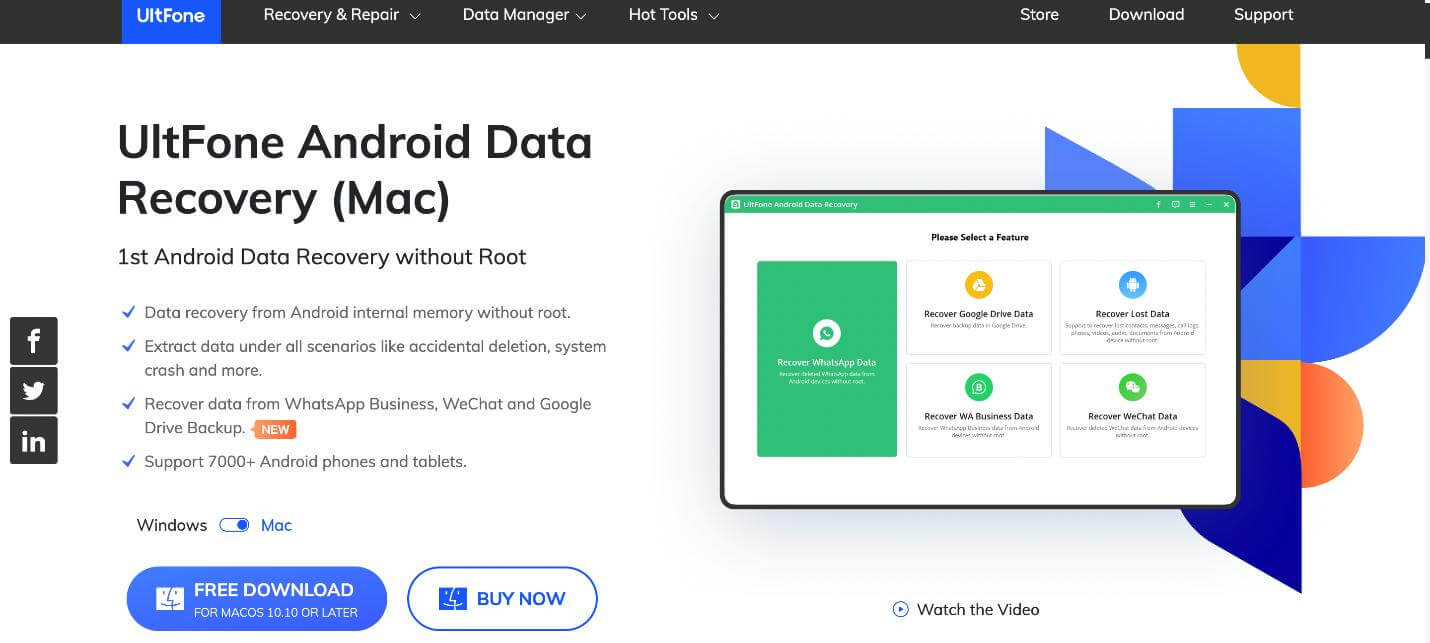 1.2. UltFone iOS Data Recovery Review
UltFone is also available for iOS users by the name of UltFone iOS Data Recovery. It has almost the same features as the Android version. It can recover deleted videos, photos, messages, call logs, notes, and even contacts.
UltFone for iOS also supports WhatsApp data recovery along with the attachments. It is capable of retrieving data from iTunes and iCloud directly. Besides data recovery, it can also create a backup for the data in case of any data loss. It is also able to fix iOS problems that occur before the actual recovery.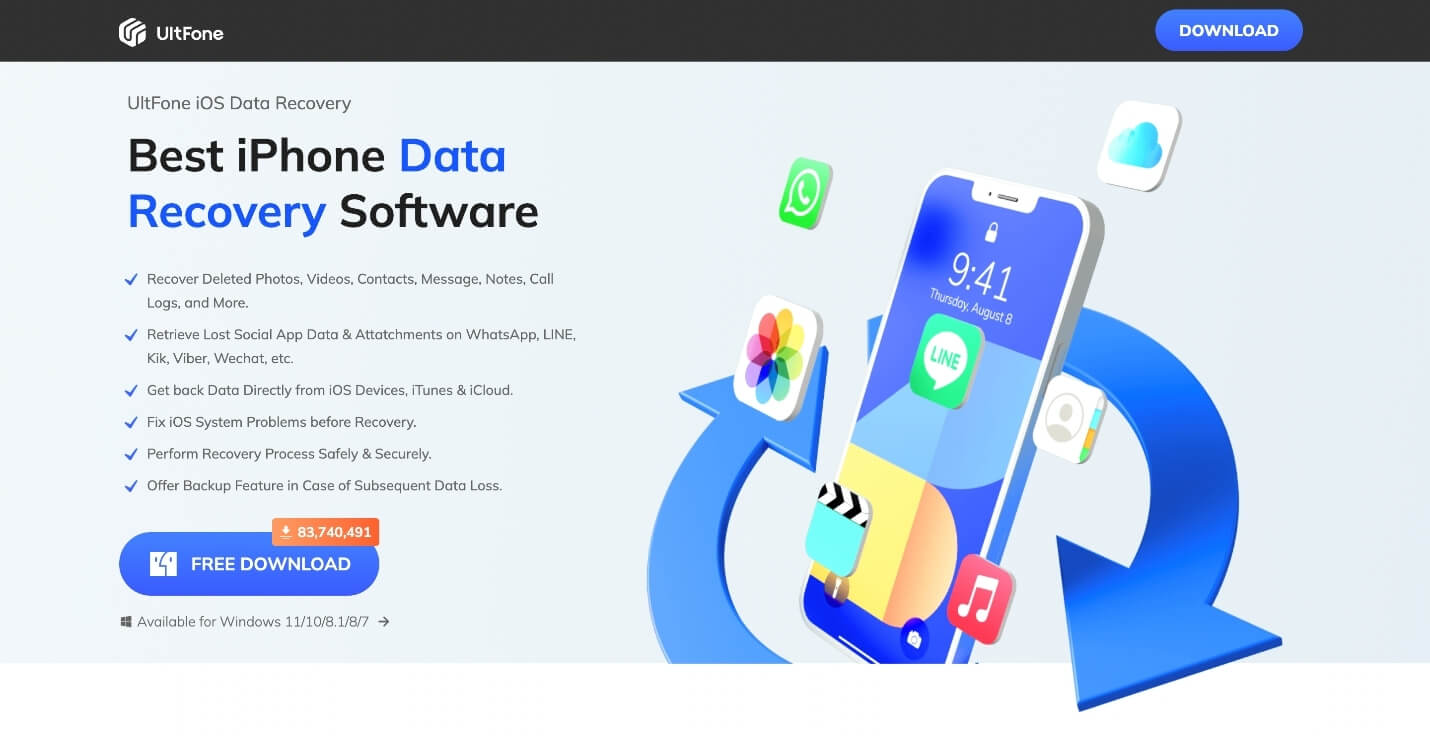 1.3. UltFone Android/iOS Data Recovery Free Download
UltFone Android Data Recovery and UltFone iOS Data Recovery are available for Windows and macOS users. It costs around $55.95/month or $59.95 for a year. You can also get a lifetime license that costs around $69.95. However, there is a free version that users can download for free, but it offers limited features.
Part 2. Better Alternative for UltFone iOS/Android Data Recovery - iMyFone D-Back
2.1. Retrieve Android Data with iMyFone D-Back for Android
iMyFone D-Back for Android is another third-party tool that can help you to restore deleted/lost data from any Android device. It is very effective and is a better alternative to UltFone. It recovers data in almost any scenario and offers an excellent data recovery rate.
Here is how we can recover Android data with iMyFone D-Back for Android.
Step 1: Download and install iMyFone D-Back for Android on your Windows or macOS PC. Open the tool and choose the option of "Recover Phone Data".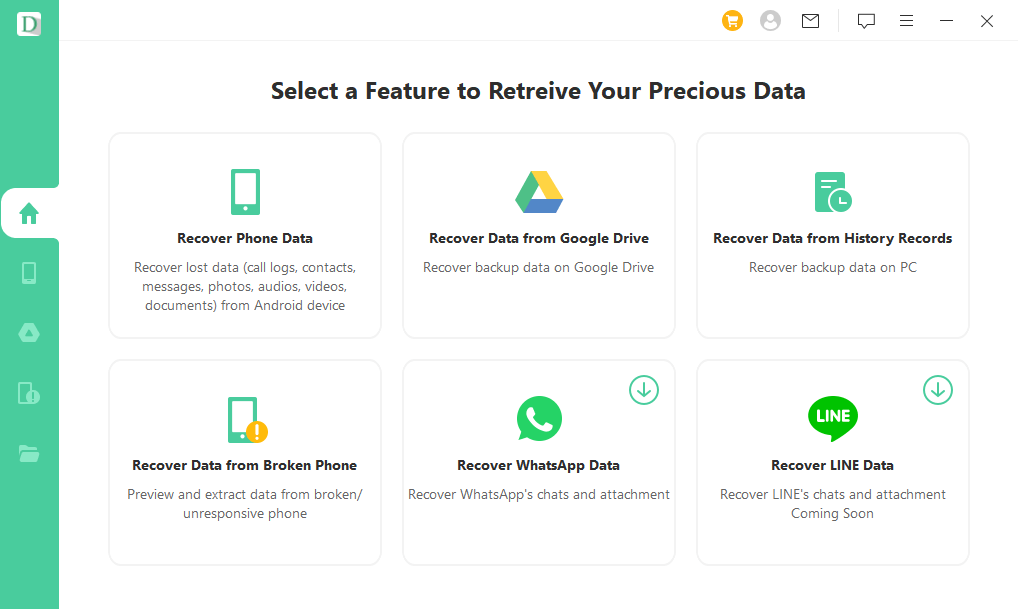 Step 2: Enter details of your device so the tool can download the data package according to it.
Step 3: Connect your Android device to the computer and put it into downloading mode by following the instructions on the screen.
Step 4: Choose the file type that you want to recover so that MyFone D-Back for Android can scan your device.
Step 5: After scanning, select the data that you want to recover and click "Recover" to restore it.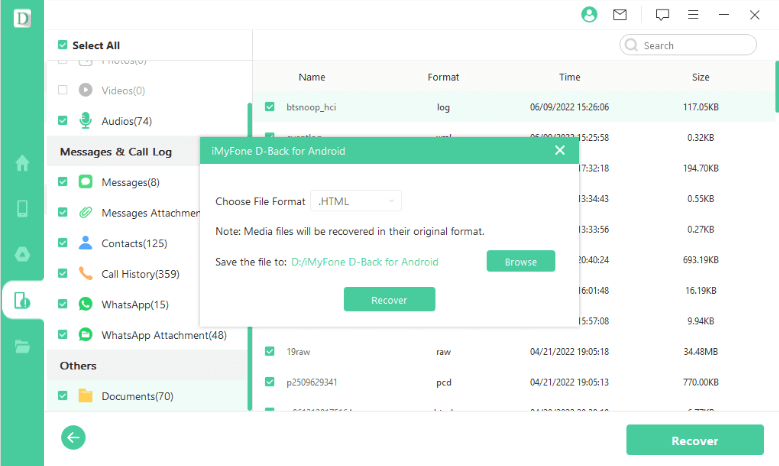 2.2. Retrieve Android Data with iMyFone D-Back for iOS
iMyFone D-Back has another version for iOS devices. So, the iOS user is not left out of the data recovery feature. There are not many effective iOS data recovery tools, but iMyFone D-Back for iOS has the highest recovery success rate and is capable of data recovery from iTunes and iCloud. It also offers selective recovery to the users.
Step 1: After installing iMyFone D-Back for iOS, open the tool. Connect your iOS device and click on "Recover from iOS Device".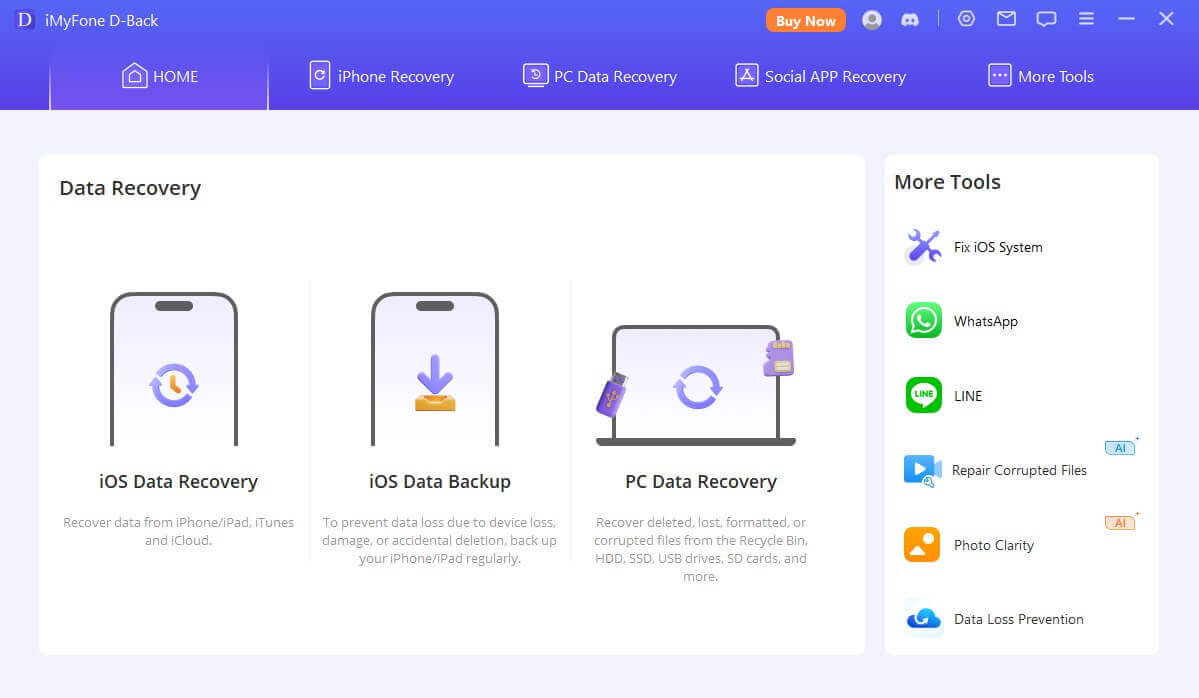 Step 2: Select the files that you want to recover. Click on "Scan" so the tool can scan according to your selection of data types.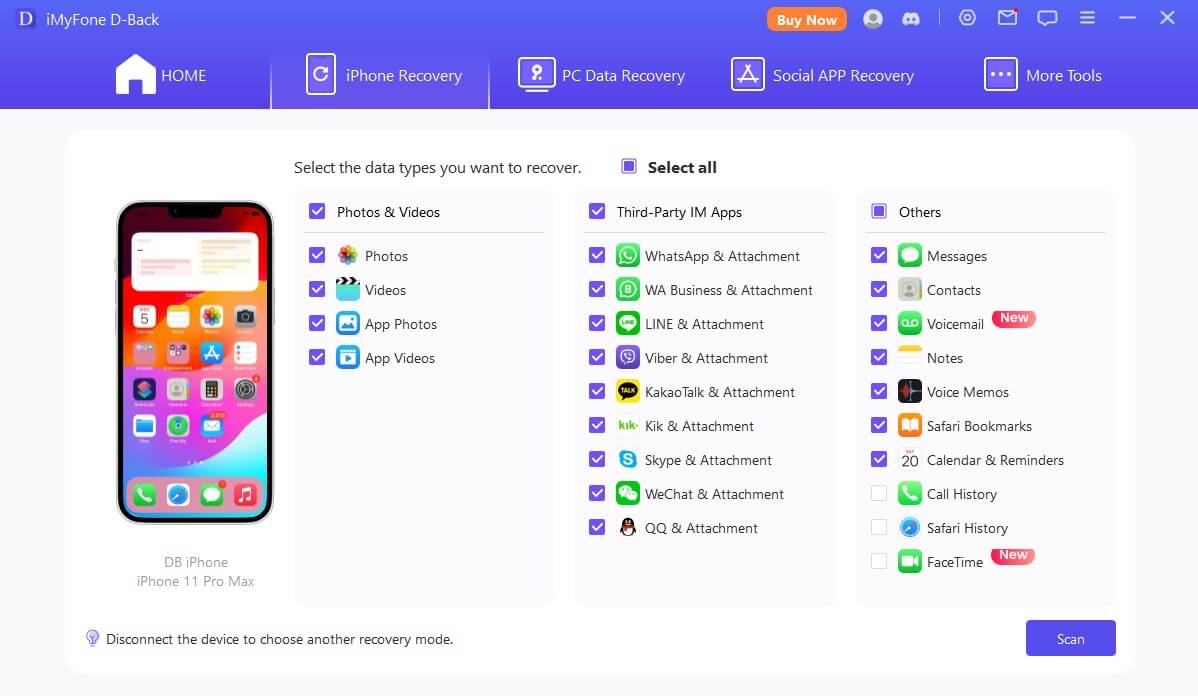 Step 3: After the scan, the user can preview the data and select what data to restore. After selection, click on "Recover" to retrieve the data. Choose the path where you want to save this data.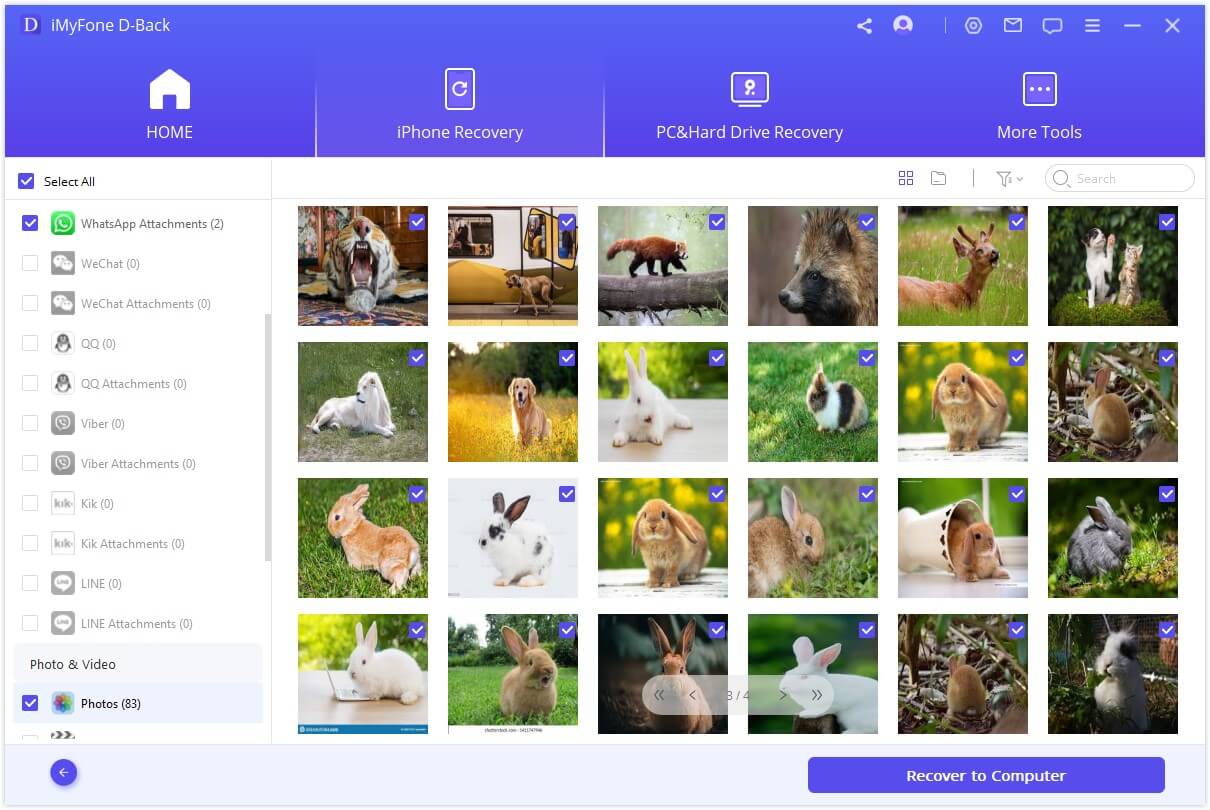 2.3. Comparison Between UltFone Data Recovery and iMyFone D-Back
Data Recovery Tool
Data Types
Operating System
Data Recover Success Rate
User Rating
Price
UltFone Data Recovery
Supports 6 types of data
Android and iOS
High
4.5/5
$55.95/Month
$69.95/Lifetime
iMyFone D-Back Data Recovery
Supports 11 types of data
Android and iOS
Very High
5/5
$29.95/Month
$49.95/Lifetime
Part 3. FAQs about UltFone Data Recovery
1. How to Get UltFone Free Registration/Activation Code?
As UltFone is a famous recovery tool, there are crack versions and free registration available on the internet. However, there are some dangers to downloading such a version. First of all, there is no guarantee that the tool will work. Secondly, it can also install malware on your computer and affect its performance. The cracked version may redirect you to malicious websites. So, it is better to use the paid version of the tool.
2. How to Get UltFone Coupon Code?
You can go to the UltFone website and choose the plan that you want to buy. Go to the checkout page and click on "Redeem Coupon Code". Copy and paste the code "ADR-ART-20OFF" and click on update. The user will get 20% off. This coupon code is available on the UltFone website.
3. Is UltFone Safe/Legit?
UltFone is safe to use. The user can install the tool and recover data from Android and iOS devices without causing harm to either of the devices. It is safe and reliable to use.
4. Is UltFone Free?
Yes. UltFone is free to download, and the user can scan the device and recover it using this tool. However, the trial version is not like the full version of the tool and lacks many features. So, it is better to get your hands on the premium version of the tool.
Conclusion
Data recovery is an important tool as there are many reasons why you can lose data. UltFone Data Recovery provides tools for both Android and iOS devices that you can use and retrieve your lost or deleted data. However, iMyFone D-Back for Android and iMyFone D-Back for iOS are more user-friendly and effective. They support more data types and consume less space in your storage. It is easy to operate them, and they offer a better success rate of recovery.