Video files are as sensitive as other files. They can get corrupted due to viruses, malware, software issues, etc. There are several chances to lose important videos permanently from your Samsung device, but every problem has a fix.

In this article, you will learn how to recover permanently deleted videos with or without the backup. With the help of this article, you will easily manage and recover your important files without any struggle.
Part 1: How to Get Permanently Deleted Videos Back from Samsung Gallery without Backup
There is only one way to recover videos from the Samsung gallery without backup. You need to use professional recovery software. In the old times, people got frightened when they lost their files, but everything is possible in this modern era.
iMyFone D-Back for Android is an organized software for recovering your crucial files. It supports the latest Android version and recovers the data from 6000+ phones, including tablets. It enables the user to preview their Google Drive backup easily.
Recovery is possible from rooted and unrooted devices, even from broken ones. It can recover 11 types of data, including Google Hangouts and Wi-Fi passwords. It has created a convenient way to recover files from internal storage. It directly connects your phone and recovers the file speedily. The steps are as follows:
Step 1: Download and launch it on your pc, and it will arise with a user-friendly interface. Click "Recover Phone Data" and wait for a few seconds for the next window.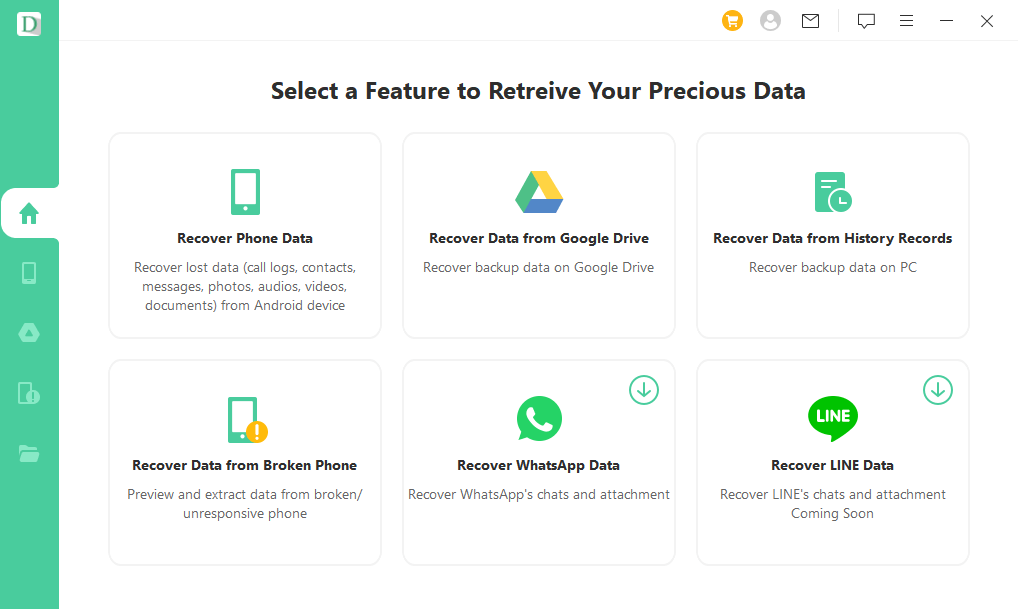 Step 2: Select the "File Type" which you want to recover. Our main concern is to recover the video, so select "Videos" and hit "Recover."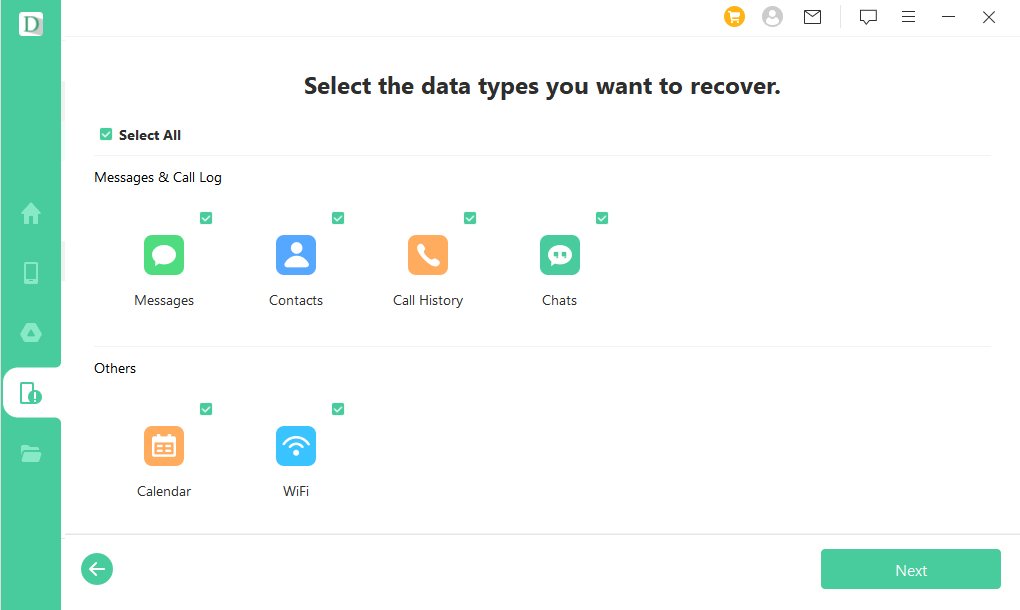 Step 3: It will create a file preview window; select the videos you want to recover and click "Recover." Select the "File Type" and "File Path" and again hit "Recover" to finish the recovery.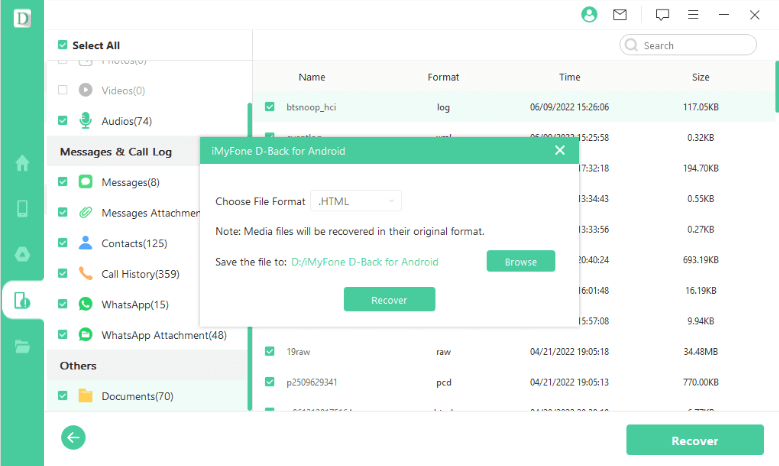 Part 2. How to Recover Permanently Deleted Videos from Samsung with Backup
In this part, you will get to know all the strategies to recover data while having a backup. There are many backup applications, but we will guide you to the easiest and most helpful ones.
2.1. Restore Deleted Videos from Samsung Gallery
There are two ways to recover deleted videos which are as follows:
Samsung Gallery
Samsung Gallery does not delete your files permanently. It stores it in the Recycle Bin so that you can recover it. Remember that the gallery only allows the files to stay for 30 days in the recycle bin, and the files will automatically be deleted after that period.
Let's learn the steps to recover the videos from the Samsung gallery.
Step 1: Open Samsung Gallery from the app drawer.
Step 2: Tap the "Menu" icon on the upper right corner of the screen. It will open a dropdown menu; tap "Recycle Bin."
Step 3: Now, look for the video which you want to recover. Select the video and tap "Recover" to get your video back in a glimpse.
Google Photos
Google Photos is one of the most used and trusted applications to store and manage your Android phone media files. It can be the best backup and effortlessly recovery of your deleted videos. It requires almost no time to recover the files, but a strong internet connection is necessary.
Let's see how it works.
Step 1: Open Google Photos from your Samsung application menu. Tap the "Hamburger" menu on the extreme left corner of your screen.
Step 2: Tap "Settings". It will open multiple options. Turn on the "Backup & Sync" option and wait a few minutes to recover your videos. Depending on your video's file size, it will take time, but a speedy internet connection can resolve buffering issues.
2.2. Retrieve Deleted Videos From Cloud Backup
There are two recovery methods for cloud recovery. You can pick any method which feels easier to use and manage.
Samsung Cloud
Samsung Cloud is popular because of its accuracy for data backup and recovery. You will find it easier to use because of its simple interface. It helps Samsung users the most because it is a built-in application. It has a top-notch security system that relieves users from saving important files. Follow the steps to see how excellent it is.
Step 1: Open "Settings" from the application menu. Tap "Name "at the top of the settings page.
Step 2: Find "Samsung Cloud" at the bottom. Tap "Restore Data" from the menu.
Step 3: Select your backup folder and tap "Restore." It will take a few minutes to load the files; tap "Install" to get them on your phone. It will install safely in a bit. Tap "Done" to complete the recovery.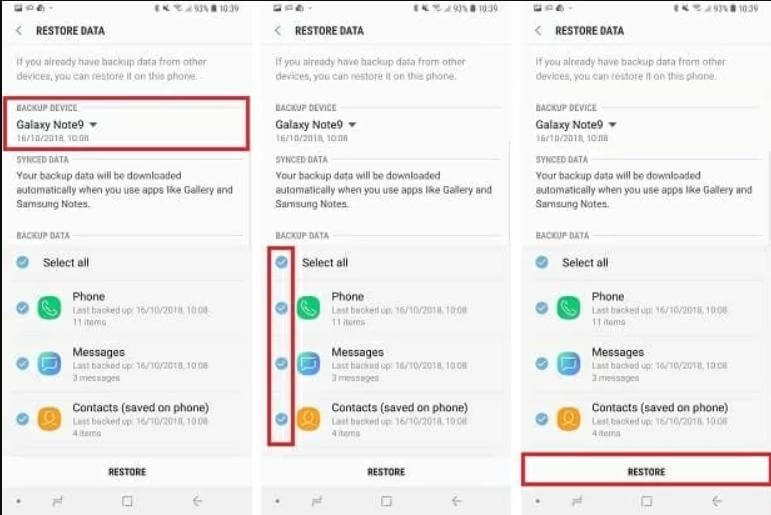 Google Drive
Google Drive is considered the best in cloud storage, but the defect is that it does allow the user to preview the files in some cases. It needs an internet connection to retrieve the files quickly into your phone.
It works with almost all types of devices, including your PC. You can call it a versatile version of backup software. Let's dive into the steps for recovery.
Step 1: Open "Google Drive" on your Samsung phone.
Step 2: It will show all the uploaded files; look for the video you want to recover. Tap the three-dot icon on the right corner of that video. Tap "Download" to recover deleted videos.
Part 3. FAQs
1

How to recover deleted videos from Samsung for free?
You can recover the deleted videos using the professional recovery software iMyFone D-Back for Android, and the steps for the recovery steps are discussed in this article.
2

Can you recover recently deleted videos on Samsung?
Yes, the recovery of recently deleted videos on Samsung from your gallery is possible under the "Recycle Bin" folder.
Conclusion
Data recovery is an advanced process that deals with all kinds of lost data. If there is any backup, you can restore it. If there is no backup, you can use iMyFone D-Back for Android. It is the best way to retrieve lost videos and other data in no time. You only need to follow a few simple steps, and your lost data will be recovered.