Smartphones are like any other piece of technology and can break without any good reason. If you have an old smartphone then, of course, this is something that can be expected. But if you've not had your Samsung phone for long, it's surprising if you see it break. When this happens, you can seek a professional repair but you'll also want to find out how to retrieve photos from a dead Samsung phone. This approach enables users to safely obtain their data before getting the device fixed and possibly losing all of their photos, videos, and personal data forever. So, we're going to be explaining what you need to do in this situation.
Part 1. Can You Get Back Pictures Off A Dead Samsung Phone?
The answer is yes, you can get picture off a dead Samsung phone (and tablets). Whatever caused your Samsung to break – accidentally deleting pictures, virus attacks, or device crashes – you can get pictures off a dead Samsung device.
However, there is the question of how much data can be recovered. For example, if the hardware has severe physical damage, recovery can be difficult. Whereas if the device has only bricked, it's much more likely that you can retrieve pictures.
In the overwhelming majority of cases, you can research how to retrieve photos from a dead phone and a successful recovery is possible. Now that you know that you can recover your photos, the next thing to do is look at the available solutions.
Part 2: How to Retrieve Photos from Dead Samsung without Effort
Among the options we have, data recovery software stands out. In particular, we recommend iMyFone D-Back (Android) , a premium Android data recovery tool that is perfect for situations like this. Your photos can be recovered from the Samsung device in a matter of minutes, without having to take it to an expert, and it's incredibly simple.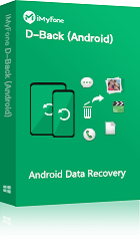 1,000,000 Downloads
Features of iMyFone D-Back (Android)
Retrieve lots of file types including photos, text messages, videos, WhatsApp data, and more

iMyFone D-Back (Android) uses a straightforward process so that all users can take advantage of the data recovery solution

Safely recovers photos (and other data) to the computer to prevent overwriting the Samsung's files

Capable of recovering deleted, corrupt, lost, or virus-infected photos

Selectively recover data from an Android device instead of recovering every file
As you can tell, this is exactly what you need to overcome this unfortunate picture data loss incidence. So that your experience is effortless, follow our guide below to see how to retrieve photos from a dead Samsung phone.
Step 1.Start by downloading and installing D-Back (Android) on the computer.
Step 2.Launch the data recovery software and connect your Android device with the USB cable.
Step 3.From the main menu, click on "dead Android Data Extractor" as the recovery mode.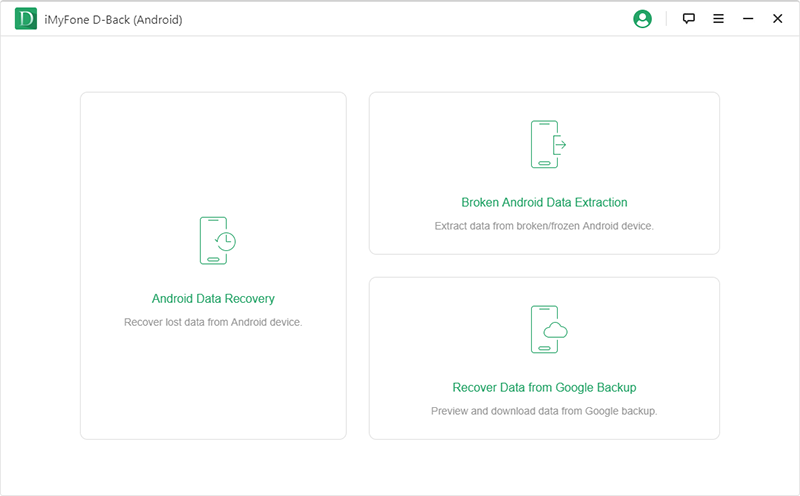 Step 4.Next, information about the Samsung device is required. Click each of the lists to select the correct device name and model of the Samsung. Press "Next" to continue.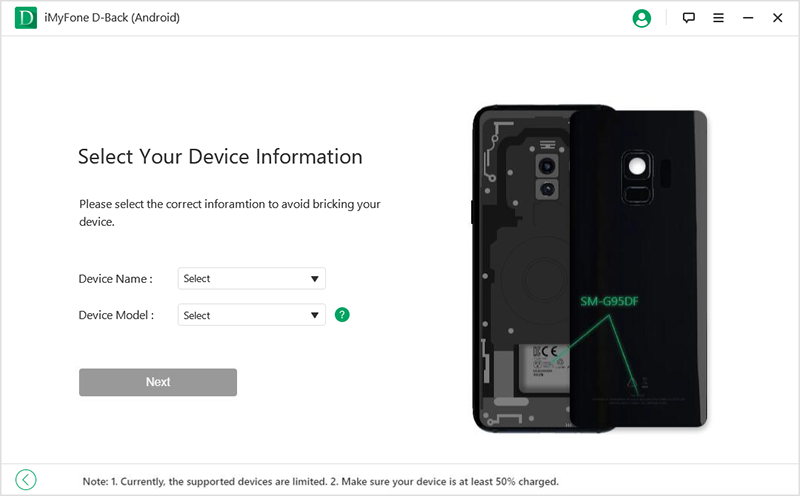 Step 5.After pressing next, you must wait for D-Back (Android) to download the necessary firmware. This may take a while to download, so please be patient as you wait.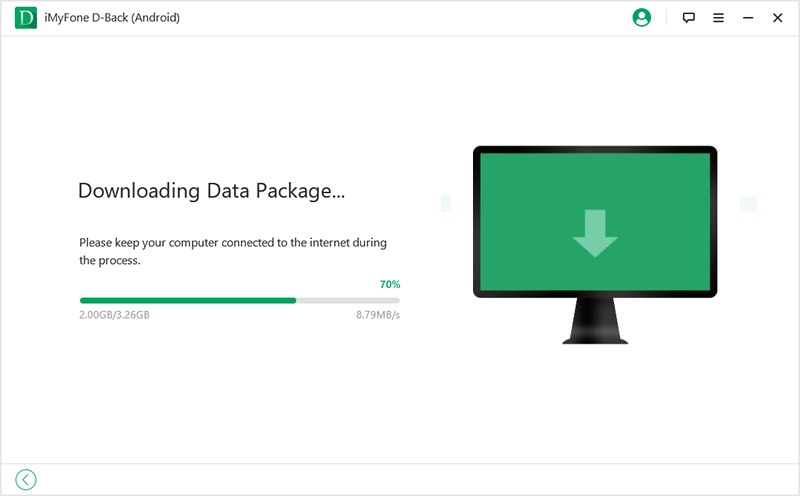 Step 6.You'll then be prompted to connect the Samsung if you haven't already done so, and instructions will appear to explain how to put the device into Download Mode.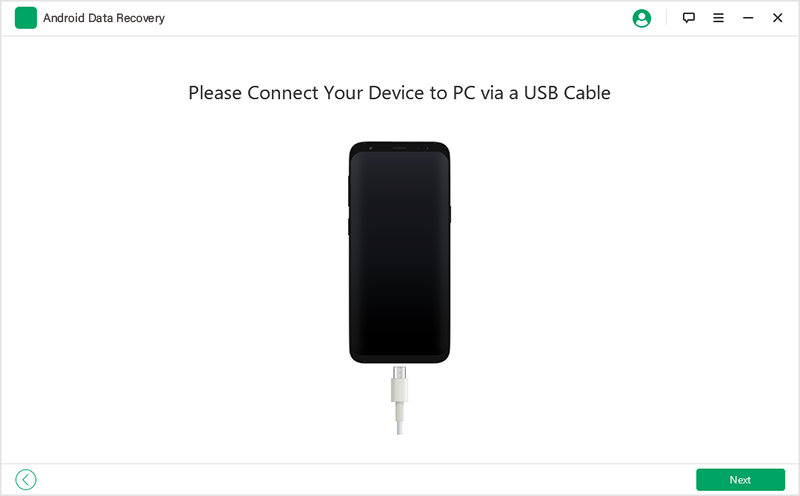 Step 7. Once your Samsung is in the mode, you can choose to recover specific data types. In this case, select "Gallery" and click "Next" to begin the scan.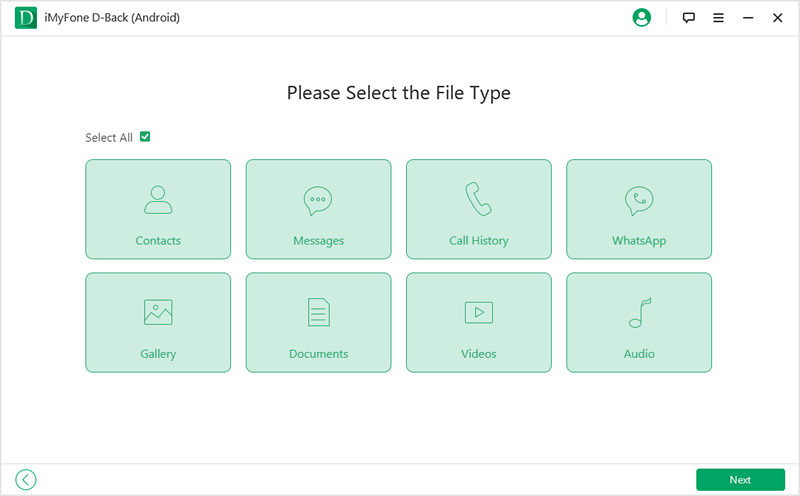 Step 8. Lastly, after the scan is complete, you can browse all the photos that have been detected and choose which ones you want to recover. Press the "Recover" button after you've selected them to complete this process.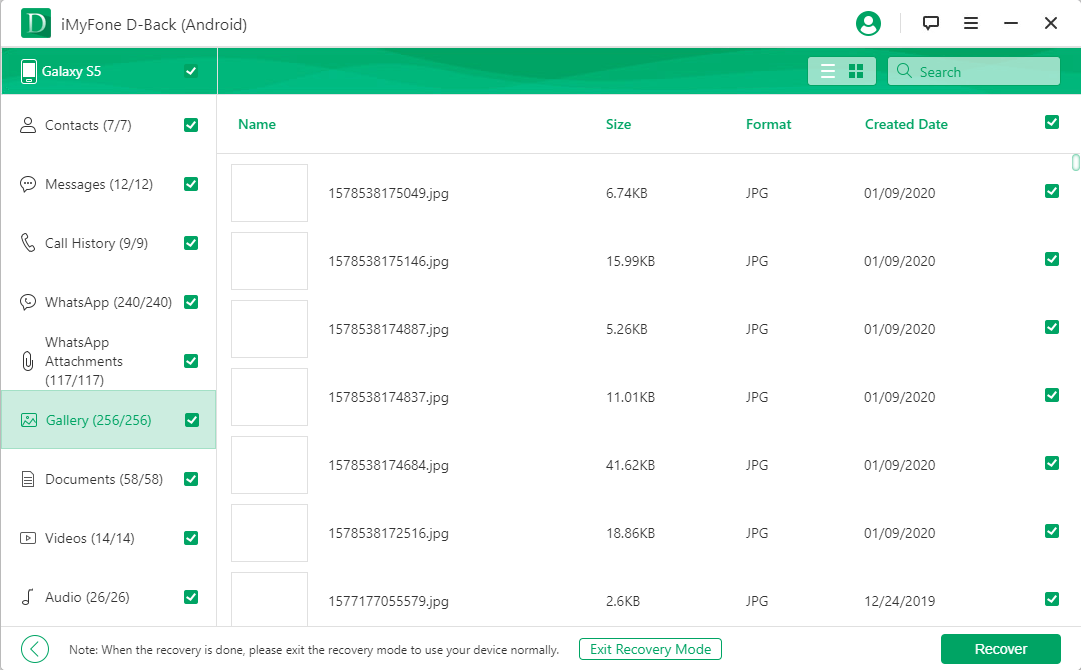 At first, it's understandable why users are intimated by learning how to retrieve photos from a dead Samsung phone. That said, nowadays it's a very easy task to perform. With iMyFone D-Back (Android) by your side, this otherwise stressful experience is made significantly more bearable.
Part 3: How to Recover Photos from Dead Samsung Through Find My Mobile
Alternatively, you can retrieve picture from a dead Samsung phone using the Find My Mobile service. This free service is available to all Samsung device owners and is similar to Find My iPhone which Apple offers. It's effective for finding a device that you've lost, limiting access in the event the device was stolen, and in this case, retrieving photos.
This solution will only work if you have an account linked with the device before it broke, otherwise you cannot access the files. If you did take this measure, you're good to go and can use this method.
Step #1 – Using a computer, go to Samsung's Find My Mobile dashboard.
Step #2 – Sign in to the dashboard using the same account you have linked to your device.
Step #3 – Connect the Samsung device to your computer.
Step #4 – On Samsung Kies, you will be able to view your photos. After choosing the ones to recover, click on "Recover from Samsung Cloud".
It goes without saying that there are limits to using this option. Primarily, you have to connect a Samsung account well before the device breaks. On top of that, you must have permitted Find My Mobile to access your data and thus take backups of your photos to the Samsung Cloud. As such, this isn't ideal for many people.
Part 4: How to Restore Photos from Dead Samsung via AutoPlay
And for this final method, you can discover how to retrieve photos from a dead Samsung phone using a feature that comes built-in with Windows. Whenever you connect a device to your PC, if there is media stored on the device then AutoPlay will automatically launch.
Basically, this utility gives you direct access to the Samsung device's storage from your computer, and this makes it suitable for photo recovery.
Step #1 – Use the appropriate USB cable to connect the problematic Samsung device to your PC.
Step #2 – After the connection is established, the AutoPlay menu will appear. Choose the option "Open folder to view files".
Step #3 – Your Samsung device's media folder will be displayed. Copy each of the photos to retrieve into a new folder on your computer.
So, to get picture off a dead Samsung phone, this may do the job. However, it doesn't come without limits. If your Samsung is dead, then your computer might not recognise the connection, therefore, you can't access the storage. Not only that, but Mac computers don't come with the AutoPlay utility.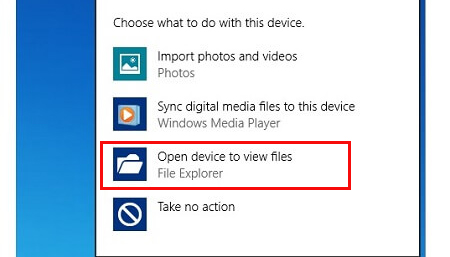 Extra Tips: Backup Photo on Samsung to Avoid Data Loss
The last thing we want to quickly discuss is a crucial tip for avoiding data loss on any Samsung or Android device, and it's a simple one. All you need to do is take backups of your photos frequently.
If you take just a few minutes out of your week to back up Samsung data to your computer, the challenges of getting back lost photos are easier to manage. How do you take backups? You have several options for this and you can back up by:
Using iMyFone D-Back (Android) to extract photo from a dead phone

Using the Windows file explorer to copy media to your PC

Using the Google Photos application

Using Dropbox to back up the photos to cloud storage
Some backup methods also have the option to automate the backups which means you don't have to lift a finger. There are no excuses for not backing photos up!
Conclusion
We understand that learning how to retrieve photos from a dead Samsung phone can be a stressful endeavour, but it doesn't have to be this way. If you take backups then you'll only have to restore your photos. Otherwise, your best bet is to use the Android data recovery software D-Back for Android . This multi-purpose solution is more than capable of helping users out with photo recovery and in our opinion, it's the best way to get Android data back hassle-free.