Samsung is one of the most reliable Android smartphones available in the market. Ranging from amazing features to long battery life and solid build, it has everything you need to enjoy a good experience. The Samsung phones have great cameras, which is why people love to take pictures and have their full albums. If you are in the same boat but have lost the pictures, this article on Samsung photo recovery will be a great choice!

Part 1. Best Free Samsung Photo Recovery Tool
Samsung photos recovery is considered a challenging task by many. Still, if you have some idea about the tech, you will know that there is an array of free photo recovery software for Samsung Android. However, choosing a reliable app is challenging, but we are here to help!
1.1. Professional Tools for Samsung Deleted/Lost Photo Recovery
To begin with, the first app in business is iMyFone D-Back for Android. It's one of the best photo recovery apps for Samsung users as it has an easy interface and quick recovery process. It wouldn't be wrong to say that it can conduct Samsung phone deleted photos recovery within a few seconds, along with the following features;
Allows photo recovery without root. You don't have to go for the rooting process to start the recovery process.
Restores the WhatsApp messages without any backup. Don't worry if you don't have the backup available.
Provides selecting restoration and recovery.
Allows preview of the files before recovery.
It supports more than 6000 devices.
These are only a few of the features, and if you are ready for Samsung photo recovery free, let's check out the instructions;
Step 1: Install and run the software on your Windows. Select the recover phone data option.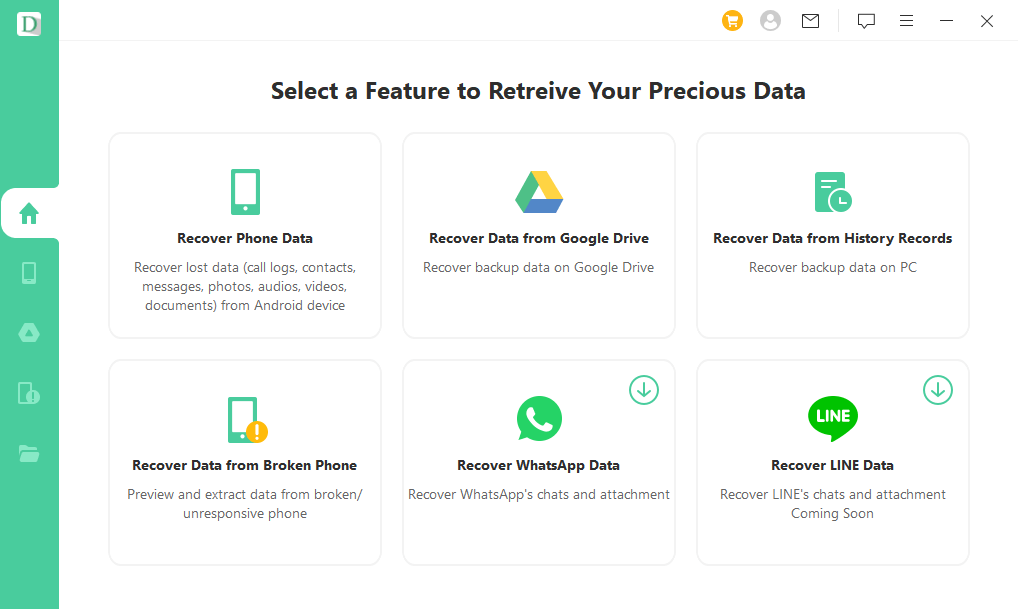 Step 2: Connect your device with the PC. You can use the USB cable to connect it. It may ask for some verifications. Once the verification process is done, it will initiate the process of scanning.
Step 3: After the complete scanning process, you'll have all the files that can be restored. Now, skim through the files, select the ones you want to recover, and press the recover button, and everything will be reverted back.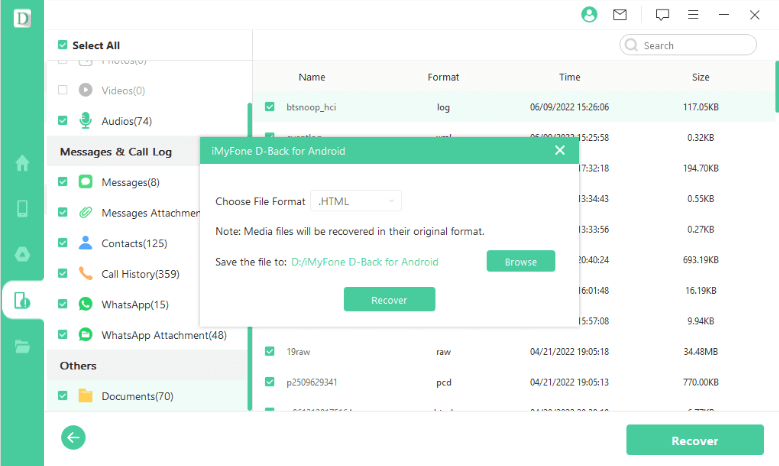 1.2. Free App for Samsung Cloud Photo Recovery
Many other solutions are available for Samsung photo recovery lost phones, and all of them are free to use. In particular, these are Samsung-native apps, including Google Drive, Samsung Cloud, and Dropbox.
There are a few different ways that you can go about recovering photos on your Samsung device. The first option is to use a free app like Google Drive or Dropbox. These apps will allow you to access your Samsung Cloud account and download the photos that you need.
Google drive
Google Drive is a free app that you can use to access your Samsung Cloud account. Simply open the app and sign in with your Samsung Gmail account credentials. Once you're signed in, you'll be able to view all of the photos that are stored in your account. From here, you can download the photos that you need to your device.
Samsung cloud
Samsung Cloud is a free service that allows you to backup and restore your photos and other data.
You can simply connect your email ID with your Samsung device and take regular backups. Once your data is lost, you can restore it using the Samsung cloud option.
Dropbox
Dropbox also offers you to restore your data. You have to install the app on your device and save the data there. Once you've lost your photos, you can restore all the data from dropbox.
These are the perfect tools for Samsung cloud photo recovery. However, to conduct Samsung gallery photo recovery through these apps, you must have enabled the backup. If the backup was enabled, you could simply log into these apps, and the backed-up photos you can save on the phone will appear.
1.3. Direct Ways for Samsung Gallery Photo Recovery
Another way of Samsung account photo recovery is to opt for Google Photos.
For this purpose, follow the below steps to make the process simple and easy.
Step 1: Open the Google Photos app on the phone.
Step 2: Go to the trash from the library, and just press and hold the photo you want to restore.
The restore will be available on the bottom, and once you press it, the photo will appear in the gallery. This is the most simple and convenient way to restore your deleted photos.
Part 2. FAQs about Samsung Photo Recovery
01

What is the best free photo recovery app?
If you want the free solution for Samsung secure folder photos recovery, it's recommended that you opt for Google Photos or Google Drive if you have enabled the backup.
02

How to recover Samsung secure folder photos?
You can opt for iMyFone D-Back for Android to conduct Samsung photo recovery as it's the best photo recovery app for Samsung users.
03

How can I recover permanently deleted photos from the gallery without backup?
If you don't have the backup option to recover the files, you can depend on iMyFone D-Back for Android.
04

Which photo recovery app is safe?
All the photo recovery apps are safe to use, including Google Drive, Dropbox, and Photos. However, if you are talking about third-party apps, iMyFone D-Back for Android has our vote as they have high-end encryption standards!
Conclusion
Samsung has become the favorite brand of people who like reliable Android smartphones. However, if you were concerned about losing the photos, we are sure that this article helped you recover your favorite photos. If you want to make the process simple, you should try iMyfone D-Back for Android. It can help you restore your photos from mobile phone directly without any hassle!