"How can I recover deleted WhatsApp photos from my samsung galaxy j7 ? I deleted it and soon realized that I hadn't saved the new info from the conversation between one of my friends. Please any suggestion is welcome, thanks a lot!" – David, Quora
With 1.5 billion active users, it's no secret that WhatsApp is the most popular chat platform across the globe. Since it's one of the frequently opened apps on one's smartphone, it is quite common for people to accidentally delete an important chat and later wonder if there was a way to recover those deleted photos. If you're also stuck in a similar situation, we're here to help. In today's guide, we're going to explain different methods on how to recover deleted WhatsApp photos on Samsung phones.
It doesn't matter if you've accidentally deleted the WhatsApp pictures or have reinstalled the app on your Samsung device, the following methods will help you recover lost WhatsApp photos instantly. So, without any further ado, let's dive into the guide.
Part 1: Recommended Solution: How To Recover Deleted WhatsApp Photos on Samsung Without Backup
Obviously, the official and recommended way to recover deleted WhatsApp photos is to restore the chat backup from the Cloud (Google Drive). But, what if the chat was deleted before your Cloud storage app took the backup or worse; what if you haven't enabled the "Chat Backup" feature in the first place.
In this situation, we recommend using iMyFone D-Back (Android). It's an Android Recovery software that'll help you recover deleted WhatsApp photos, even if they haven't been backed up by the Cloud storage app. In addition to WhatsApp pictures, D-Back can be used to recover other important data files (calls, photos, media files, etc.) that you've accidentally removed from your Samsung device.
Since the tool has an interactive user-interface, practically anyone can use it to recover a WhatsApp pictures without any issues. Let us quickly introduce you to the steps on how to get back deleted WhatsApp photos on Samsung using iMyFone D-Back.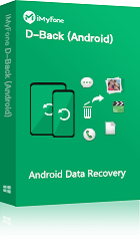 1,000,000 Downloads
Outstanding Features of D-Back Android:
It can recover WhatsApp photos not only from your Samsung phones or Android but even the ones that are broken. You don't have to go to any store or take help from anyone to get your files back. It has a solution to all your problems.

It can recover WhatsApp photos, pictures, videos, and also supports many other kinds of file types.

It is capable of recovering your WhatsApp photos on Samsung without root.

Get your WhatsApp photos back within minutes.

Finally but most importantly, its extremely safe and secure.
Step 1 - Install D-Back for Android on your desktop and double-tap its icon to launch the software. Connect your Samsung smartphone to your PC via a USB cable.
Step 2- Now, choose "Android Data Recovery" mode on your computer screen.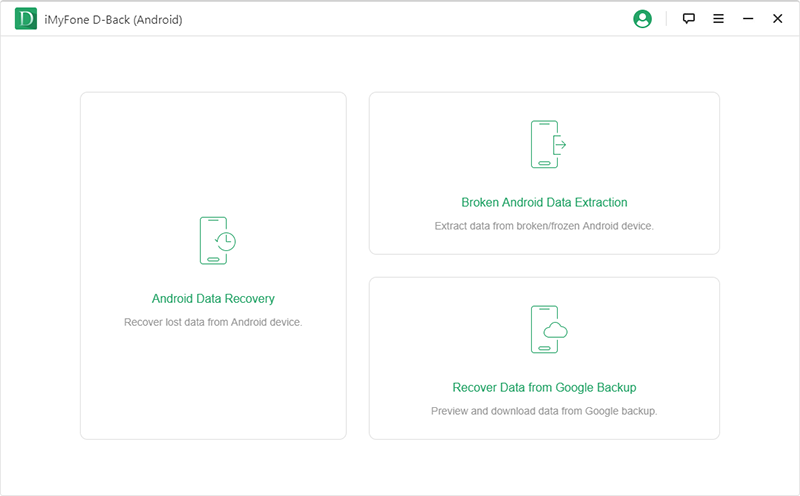 Step 3 - You'll be directed to a new window where you'll have to choose accurate device information. Use the drop-down menu to select "Device Name" & "Device Model." Hit "Next" afterward.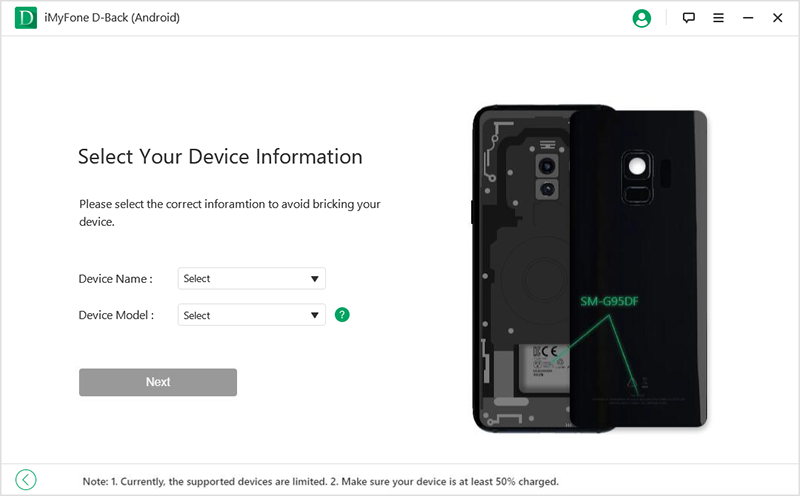 Step 4 - As per your device information, iMyFone D-Back will start downloading the right firmware package. It can take a couple of minutes for the firmware to download, depending on your Internet speed.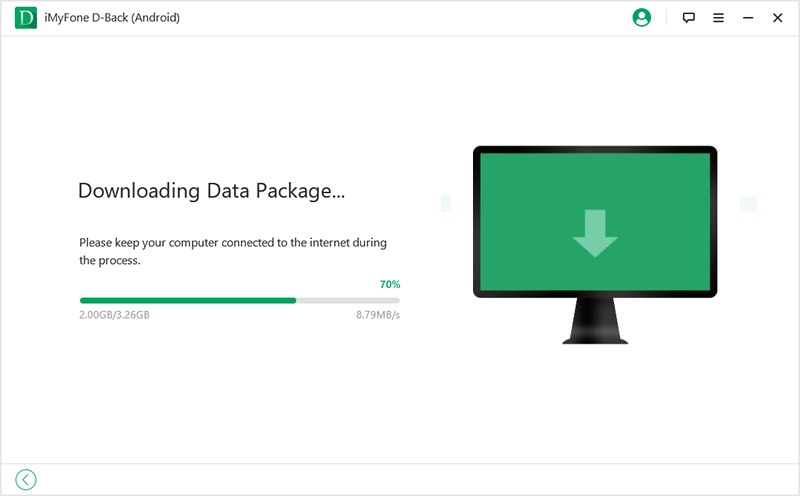 Step 5 - Once the firmware package is downloaded, tap the "Next" button, and follow the on-screen instructions to enter "Download Mode" on your Samsung device. Connect your device to your PC with a USB cable.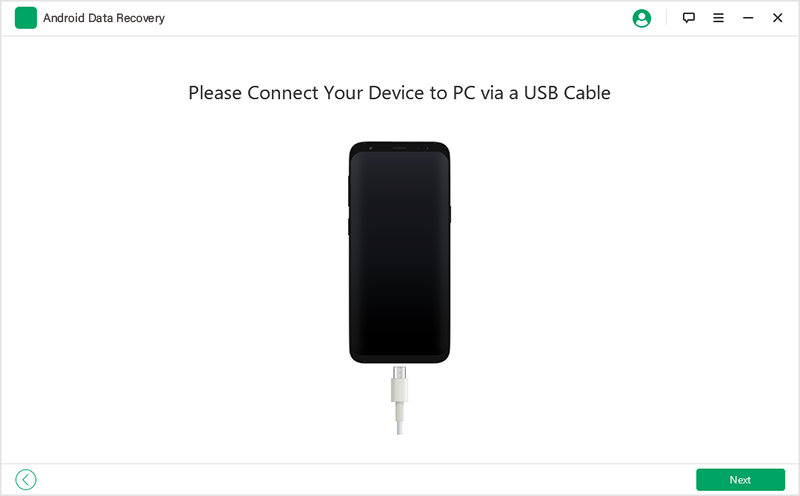 Step 6 - In the next screen, you'll find the data types list. Since we want to recover deleted WhatsApp photos, choose "WhatsApp" and click "Next."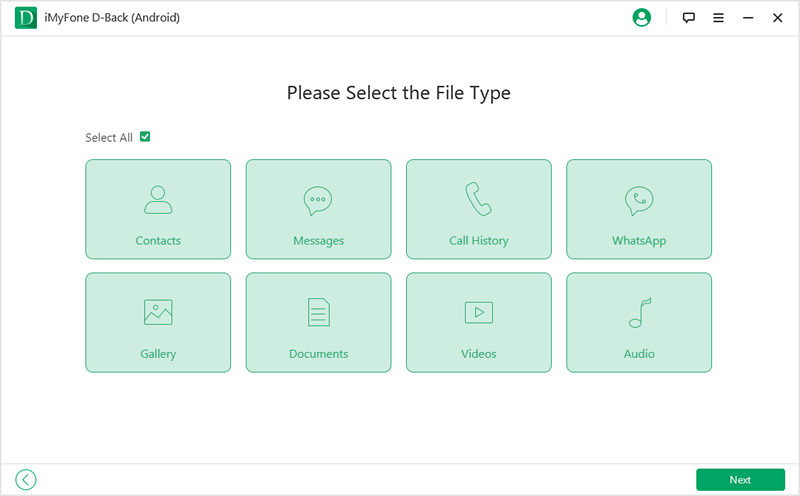 Step 7 - The software will initiate the device-scan to detect the entire WhatsApp chat history. Once the scan completes, choose the photos, chat, or WhatsApp media files that you want to recover and tap the "Recover" button. That's it, and your WhatsApp chat will be restored successfully on your computer.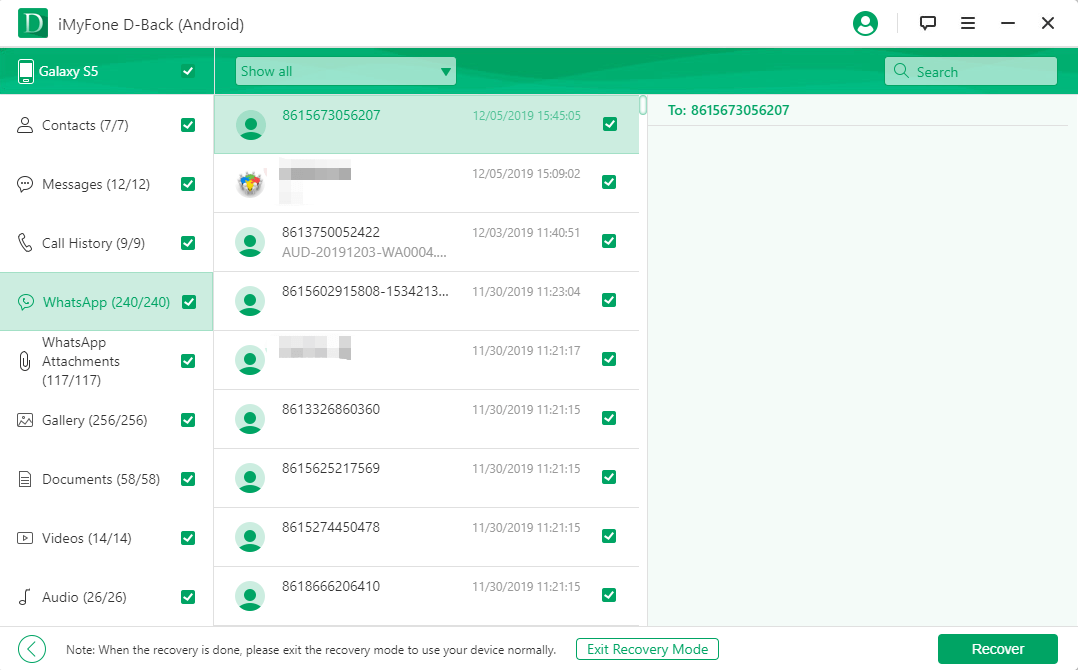 D-back allows restoring the file you wish in a hassle-free way. No matter you can get the deleted WhatsApp photos back anytime using such an amazing tool. Preventing data loss, though, is always helpful, isn't it? And therefore, it is always a good idea to master on g how to backup WhatsApp photos in an appropriate way so as to avoid losing them next time.
Part 2: How to Restore Deleted WhatsApp Photos on Samsung Using Official Way
As we mentioned earlier, restoring Chat Backup from Cloud storage is considered as the official way to restore deleted WhatsApp photos. However, this method only works if the "Chat Backup" feature is enabled in WhatsApp settings.
So, if you had already enabled the feature for your WhatsApp account, follow these guidelines to get back deleted WhatsApp photos on Samsung from Cloud storage like Google Drive.
2.1 First Things First- How To Find WhatsApp Photos on Google Drive
First of all, let's discuss how you can find WhatsApp chat backup on your Google Drive. Keep in mind that you can't find the chat backup through Google Drive Android app. You'll have to either open Google Drive on your Desktop or enter the "desktop mode" on your mobile.
Either way, follow these instructions to find WhatsApp photos on Google Drive.
Step 1 - Go to drive.google.com and login with your Google account credentials. Make sure to enter the same account details that you've used to take WhatsApp Chat backup.
Step 2 - Now, click the "Settings" icon in the top-right corner and choose the "Settings" option.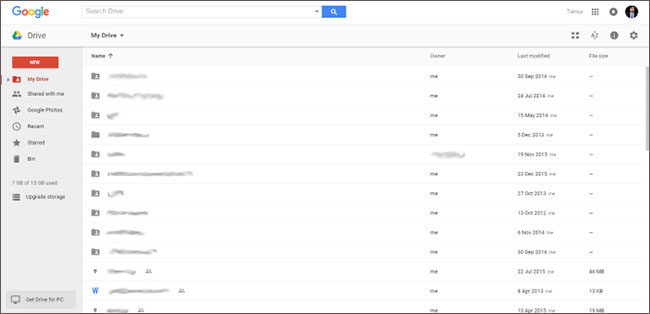 Step 3 - Select "Managing Apps" from the left-side panel and scroll down to the end of the screen. Here' you'll find "Whatsapp Messenger" chat backup. If the option isn't listed in "Managing Apps," it means that Google Drive hasn't been taking backup of your WhatsApp chat.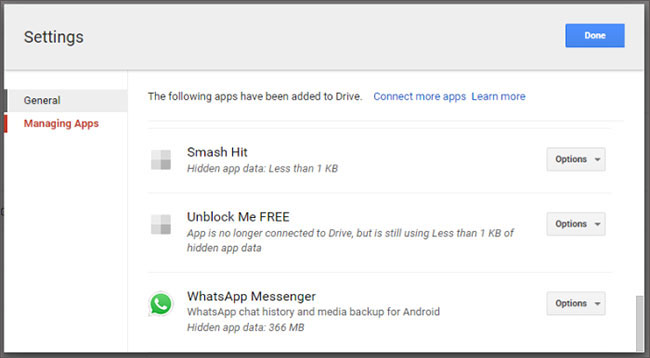 2.2 How To Retrieve Deleted WhatsApp Photos from Samsung Using Google Drive
Once you've found the Chat Backup in Google Drive, here's how to recover deleted WhatsApp photos on your Samsung device from the Cloud.
Step 1 - Uninstall WhatsApp from your device and reinstall it from Google Play Store.
Step 2 - Launch the app and follow the instructions to set up your account as usual. Make sure to use the same phone number you were using earlier.
Step 3 - Verify your number, and you'll be prompted to the "Restore Backup" window. Click "Restore," and the latest chat backup will be installed from Google Drive automatically.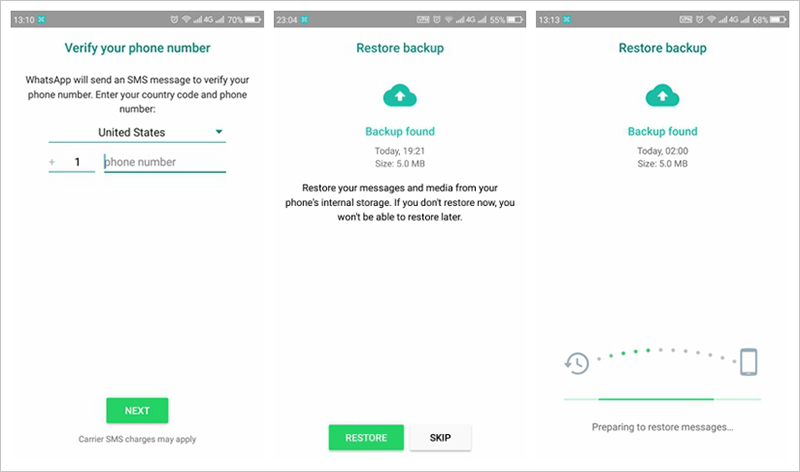 Cons
Keep in mind that you can only restore WhatsApp photos if you have synced your WhatsApp account with Google drive.
If you accidentally skip the "Restore" step, the backup will get deleted from the Cloud and you won't be able to retrieve your conversation from Google Drive.
With Google Drive, you don't have the liberty to restore selective photos, which means you'll even have to restore the old conversations which you no longer need.

2.3 How To Restore Deleted WhatsApp Photos Older Than 7 Days from Samsung Local Backup
Apart from Google Drive, WhatsApp also creates a backup file in your local storage. By default, this file is automatically created every day at 2 AM, and it can be used to restore deleted WhatsApp photos.
Even though your phone will save up to seven days worth of backup files, you can follow the below-mentioned instructions to restore an earlier (older than seven days) chat from your local backup.
Step 1- Go to the "File Manager" on your Samsung device and navigate to Internal Storage/WhatsApp/Databases.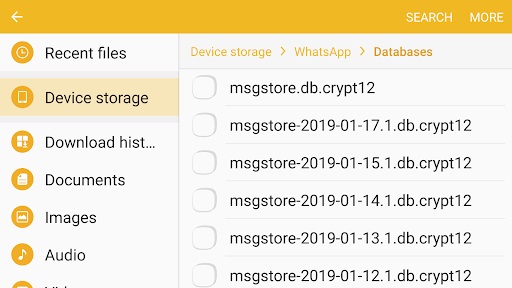 Step 2 - This folder will keep all the backup files along with a timestamp. Locate the backup file that you want to restore (using the timestamp) and rename it to "msgstore.db.crypt12".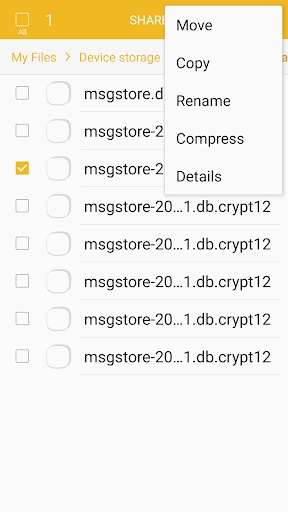 Step 3 - Uninstall WhatsApp and reinstall it from Google Play Store. Now, repeat the same process (mentioned in the previous method) to restore the chat.
The Drawback of Using Backups To Get Back Deleted WhatsApp photos?
Cons
Restoring WhatsApp backup from local backup will overwrite newer conversations.
Uninstalling and reinstalling WhatsApp can also result in data loss, especially when you haven't downloaded the media files from recent conversations.
WhatsApp photos stored on Google Drive aren't encrypted with WhatsApp's end-to-end encryption. This can possess a huge privacy risk for many people.

As simple as it sounds, restoring deleted photos from Cloud or Local backup comes with several risks, and that's why it might not be the right option for many people.
When you restore a Chat Backup, any recent conversation (that hasn't been included in the backup file) will be overwritten automatically. It means that even though restoring a backup will help you retrieve deleted photos, it'll remove the newer conversations at the same time. So, if you're not comfortable with losing your recent pictures, you should stick to the first method, i.e., using iMyFone D-Back to retrieve deleted WhatsApp photos from WhatsApp on Samsung.
Part 3: Other Workaround To Retrieve Recently Deleted photos on Samsung via Notification Log
Another effective way to retrieve recently deleted WhatsApp photos on Samsung is to access the "Notification Log" feature on your Android device. If the WhatsApp message had generated a notification, you'd be able to see it in the "Notification Log" window.
However, if you're using the latest Android version, there's no direct way to access "Notification Log." You can install a third-party application like "Notification History Log" and use it to read the recently deleted photos.
Follow these instructions to restore WhatsApp photos using Android's Notification log.
Tap and hold on an empty area in your smartphone's home screen.

Click "Widgets" and look for the "Settings Widget". Drag the widget to your home screen.

Now, tap the widget and scroll through the list to find "Notification Log".

Go back to the home screen and whenever you'll tap on the "Settings" widget again, you'll directly be prompted to the Notification log window. Go through this log too look for the WhatsApp notification for photos you've accidentally deleted.
Although this method has its own drawbacks, which include:
Notification Information is only kept in the notification log for a short time interval, which means you won't be able to read the older photos.
It is important that notification must have been generated for the WhatsApp message. If you have turned-off WhatsApp notifications, the message won't be stored in the notification log.
Also, when you use a third-party app and allow it to access your notifications, there's a huge privacy risk involved as the owner can easily read all your notifications.
Wrapping up
That concludes our guide on how to retrieve deleted WhatsApp photos on Samsung. Of course, accidentally deleting an important chat can put anyone in trouble. However, you can utilize the above-mentioned methods and recover any deleted whatsApp photos without any hassle.