It can sometimes be a headache if you've accidentally deleted data from your phone and can't find a way to recover it. It goes for deleting videos from WhatsApp, as it can be confusing to try and recover them once delete.
Today we're going to explain how you can get videos from WhatsApp on your Android phone back after you've accidentally deleted them. Keep reading to learn everything you need to know about this process and what precautions should be taken to prevent this from happening again.
Want to get back your deleted WhatsApp videos from Android? Our editor recommend iMyFone ChatsBack, it maybe the best WhatsApp data recovery software, Download iMyFone ChatsBack free now.
Method 1: Recover Deleted WhatsApp Videos on Android through Gallery
The easiest to recover deleted WhatsApp videos on your Android device is by using the gallery app on your phone. This only works if you did not click the "Clear Media from Phone" box when the video was deleted.
To recover video using this method, complete the following steps:
Navigate to Gallery: Go to your gallery on your Android device. Android devices will naturally store media on your phone in separate folders here.

Click Album: Click on the album icon to find the various albums saved to your phone. You'll then find a dedicated folder for WhatsApp files. Your video will be saved in this folder and should be retrievable.
Note
In some older versions of Android operating software, your videos may not be saved in this location. You may have to navigate to the WhatsApp video folder by using a file manager, like Google Files.
Method 2: Recover Deleted WhatsApp Videos via Recovery App
Another way you can recover deleted WhatsApp videos on your Android phone is by using a recovery app like iMyFone ChatsBack. This method is especially useful for those of you who have received a video but then accidentally deleted it mistake.
iMyFone ChatsBack made specifically for Android phones will be able to reach deleted WhatsApp data and recover it for you.
Come with the highest success rate of WhatsApp videos recovery on Android.
Can recover videos data from a Google backup in the most efficient manner;
Recover your lost WhatsApp videos from Android in various scenarios, even from broken devices.
Finally but most importantly, its extremely safe and secure.
To do this, complete the following steps:
Step 1.Launch the iMyFone ChatsBack application on your computer, then connect your device to the computer. Select Recover WhatsApp videos from Device Storage.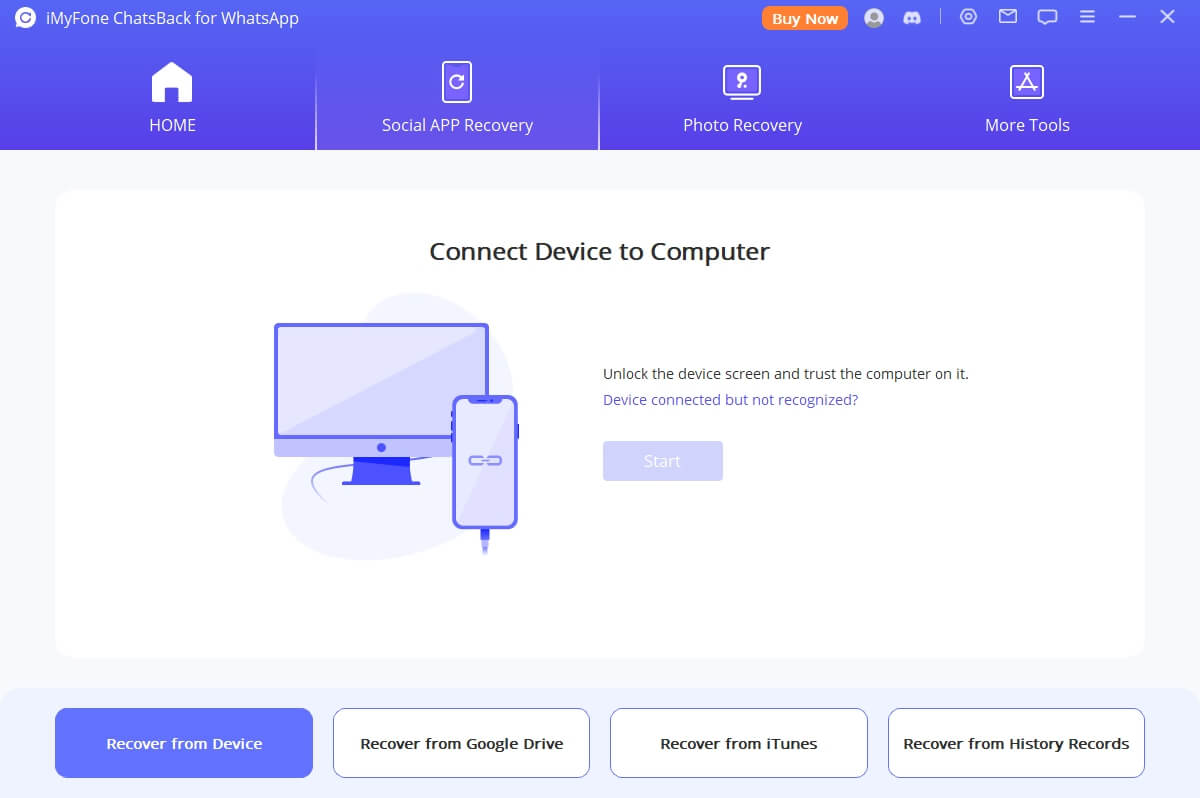 Step 2. Click the Start button to scan and fetch your WhatsApp data. You need to enter your phone number after scaning. Then a verification SMS will be sent to you. Now, you can continue with the next step to analyze.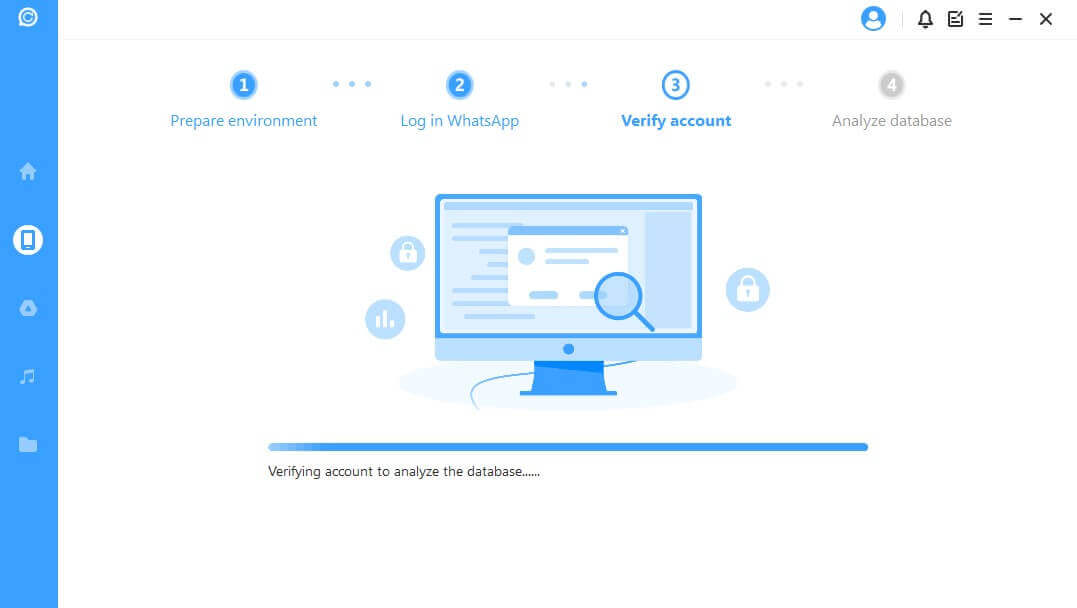 Step 3. The encrypted message will be feasible to see after analyzing. You can select the deleted WhatsApp videos you want to see from there. When you click on Recover to Device or Recover to PC, those videos will be restored.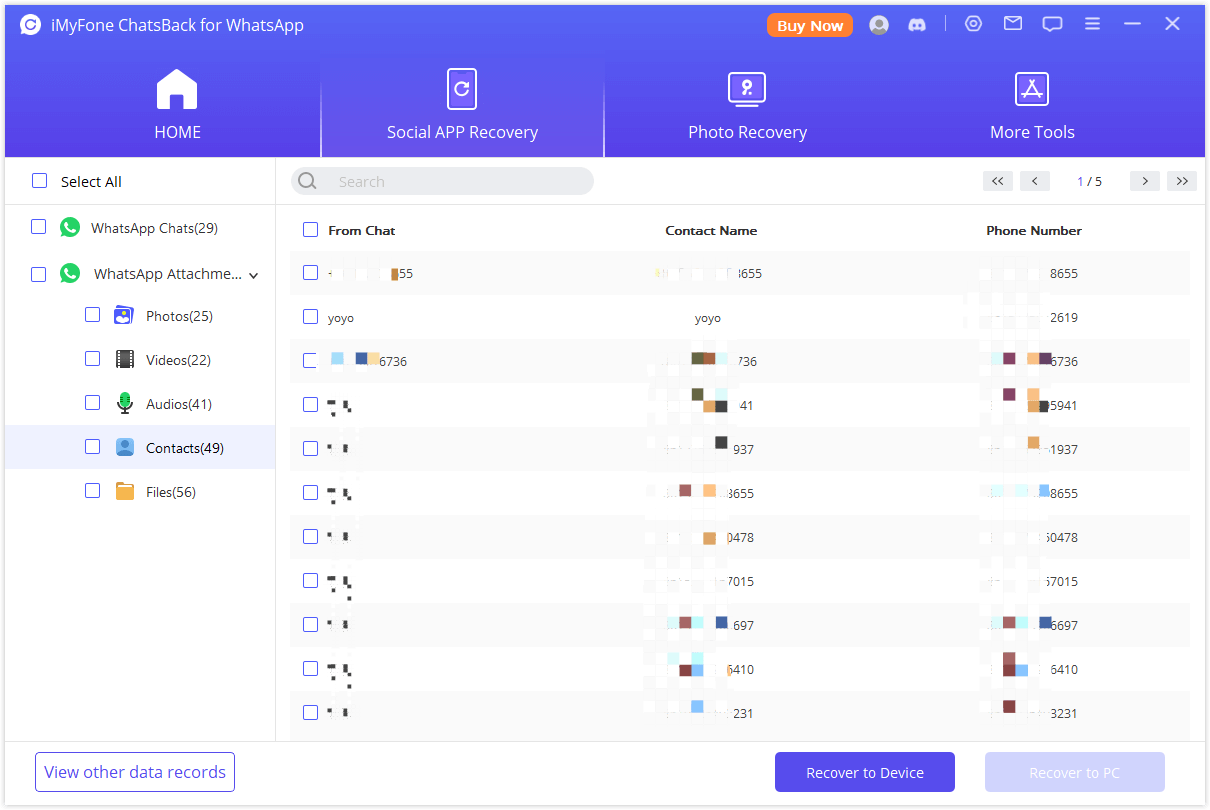 Method 3: Recover WhatsApp Deleted Videos via Google Drive Backup
This solution involves using Google Drive Backup to retrieve lost or deleted video data from WhatsApp. Much of the time, WhatsApp will create a backup of data as it is created or deleted. If this has been done for the video in question, you can use Google Drive Backup.
To do this, complete the following steps:
Uninstall and reinstall WhatsApp: You'll first need to uninstall WhatsApp from your Android device. After it's been removed from your phone, reinstall it again from the Play Store.
Launch WhatsApp: You'll need to launch WhatsApp on your Android device and verify your phone number. You'll be prompted to do this when first opening the app after having deleted it.
Select Restore: The option to restore your data will then come up on the screen. Select the restore option to get your data back from before it was deleted. WhatsApp will then start to restore your lost data, including any videos that have been deleted before.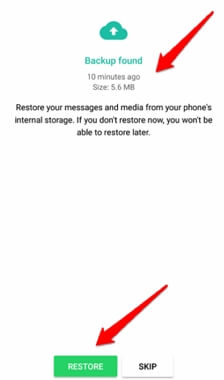 Keep in mind that you'll need to have your Google Drive account logged in and linked for this step to work. After having completed the steps outlined above, your lost videos should be restored to your Android device.
Method 4: Restore WhatsApp Deleted Videos Through Local Backup
The final method involves using your Android device's local backup to retrieve your lost or deleted video files from WhatsApp. Similar to using Google Drive Backup, when WhatsApp makes a backup of deleted data, it will be stored on your device in the local backup drive.
To use this method, complete the following steps:
Search for the WhatsApp file folder in Phone Storage. First, navigate to your Android device's Phone Storage screen and search "WhatsApp" in the search bar. This will pull up the WhatsApp file folder that has been stored on your phone. Once it has appeared, open it.
Open the Media Folder: There will be multiple folders within the main WhatsApp file folder. Select and open the Media Folder. Within the Media Folder, you will see different folders for different kinds of media from WhatsApp.
Since we're looking for deleted video content, select the Video Folder. From here, you'll be able to open and view any of your deleted videos that you want to recover.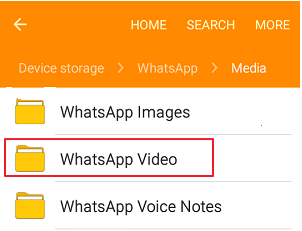 Note
If you have selected "delete media from phone" after removing videos from WhatsApp, you won't be able to use this method. Your data will have been deleted before it could be stored in the local backup drive.
Final Thoughts
We know just how frustrating it can be to accidentally delete a video from your phone when you wanted to keep it. Or if you deleted a video thinking you wouldn't want to keep it, but then later decide you wanted to view it again. This happens a lot with messaging apps like WhatsApp, so it can be useful to know how to recover data in these instances.
By following the methods we've outlined above, you should be able to recover any videos you lost or deleted from WhatsApp on your Android device. Remember that using backup drives will require your phone to have made backups, or they won't work. You'll then have to resort to using data recovery apps to get back your lost video files.