WhatsApp is much more than a messaging platform and in recent years, it has gotten a significant amount of popularity because of how it provides free texting between iPhones and Android – similar to iMessage. That, among other reasons, is why it has millions of active users and is one of the most used mobile apps on the market. But like all messaging apps, users experience unfortunate situations where they may delete messages that they didn't want to delete. If this is a position you find yourself in, then understanding how to read WhatsApp messages without opening the chat app on Android is crucial, and we'll be explaining the different ways of doing this.
Part 1. Read WhatsApp Messages from Local Backup [Need Uninstalling]
First up is a method which is typically one of the first things users try, and that's restoring WhatsApp messages from a local backup.
How to see deleted messages on WhatsApp on Android this way isn't as simple as tapping a "Restore" button. Instead, you must completely uninstall the app and set it up again, then restore the backup during the app setup stage as follows.
Step #1 – Delete the WhatsApp application from your Android phone and then download it from the app store.
Step #2 – Set up WhatsApp again using the same phone number that you used before uninstalling.
Step #3 – During the setup, you will be asked if you wish to restore data from a local backup. Choose to restore the available backup.
Step #4 – After the WhatsApp backup has been restored, its contents can now be viewed.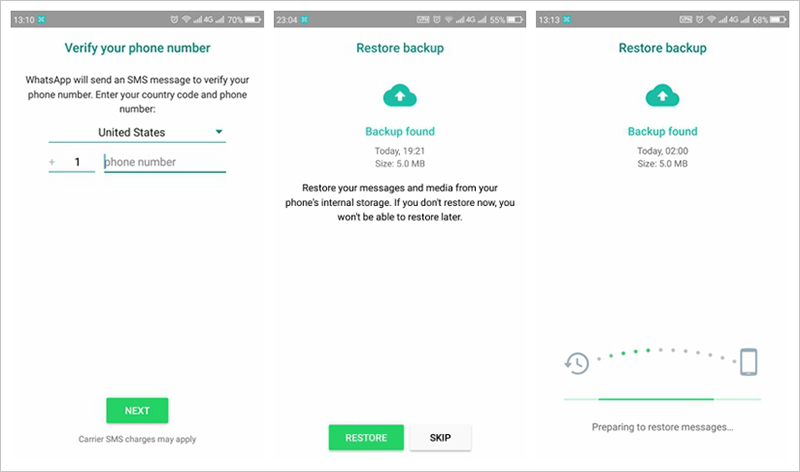 This seems straightforward enough and it will restore any messages that were taken in the backup, but if you didn't take the backup after receiving a specific lost message, this wouldn't work. There are other downsides to this method too.
Some limitations of this way:
Newer WhatsApp messages won't be included in the backup file.
The app must be uninstalled first, which risks losing some of your WhatsApp data.
Lost message recovery is not guaranteed.
You can't restore WhatsApp data selectively.
The backup files on your device only remain seven days. Data older than that cannot be recovered using this method.
Part 2. Read WhatsApp Messages from Notification Log
without Opening The Chat App
Another way you can learn how to read WhatsApp message someone sent you in Android is by checking the history of the notification log. As you know, every time that you receive a text or an application wants to alert you, the notifications are sent to the notification bar.
Depending on your device's settings, the length of the history that the notification log saves will differ but for most people, it goes pretty far back. Although this method isn't perfect, it's still worth checking to see if you can read WhatsApp message in it.
Step #1 – Unlock your Android phone then tap and hold the screen.
Step #2 – At the bottom of the screen, tap on "Widgets."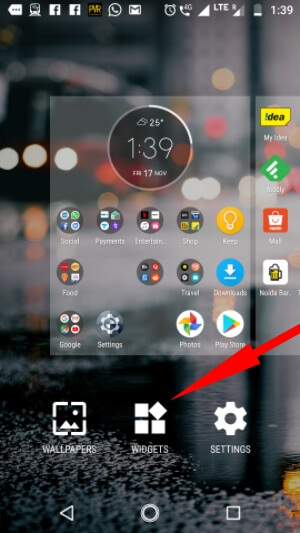 Step #3 – Tap and drag the Settings icon onto the main screen.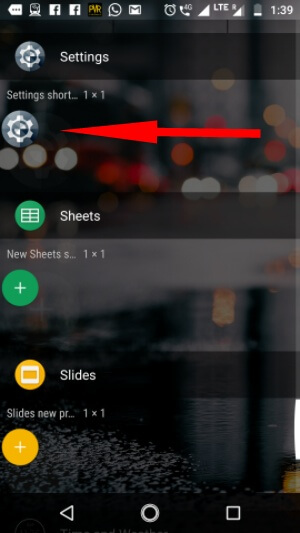 Step #4 – Tap "Settings" and in here, tap the "Notification Log" option.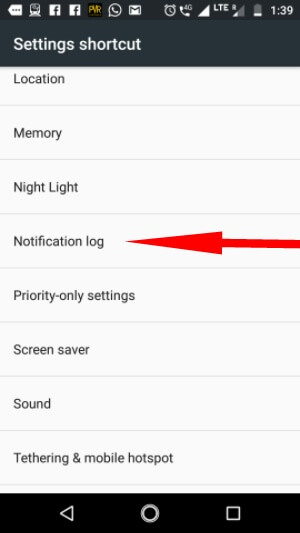 Step #5 – Swipe through this list and you will be able to see the device's notification history. Even if a WhatsApp message was deleted, you would be able to view part of it from here.
If this is the best solution on how to read messages on WhatsApp Android, and it helps you reveal lost messages, great! But because of the limitations of this method, it isn't reliable and whether or not it helps is a gamble.
Cons
The notification log has a history limit, so only some WhatsApp notifications will appear.
You won't be able to see photos on the notification menu, only messages.
If you clear the notification bar after receiving a message, it won't be shown in the log.
The app can only store the first 100 character of the messages.

Part 3. Read WhatsApp Messages without Any App
Although it's nowhere near as popular as the mobile app, a WhatsApp web app can be accessed from your computer. With the online version we have another way of showing you how to read message on WhatsApp Android and when you're ready on a computer, here's what you need to do:
Step #1 – Go to the WhatsApp online messaging service .
Step #2 – On your phone, launch WhatsApp and tap the settings icon to select "WhatsApp Web."
Step #3 – Using your phone's camera, you can now scan the QR Code that is displayed on the computer.
Step #4 – Your WhatsApp account will now be logged in on both the phone and computer and the web version is essentially a mirrored way of messaging.
Note that while this won't always be an effective way to view deleted messages on WhatsApp on Android if you recently deleted the message, then there could still be a chance of viewing it through the online portal. At the very least, it's worth checking out if the web app helps you since it's free, quick, and easy to access.
Cons
When using the WhatsApp web app, your phone must have an active internet connection.
Deleted or missing messages aren't always available.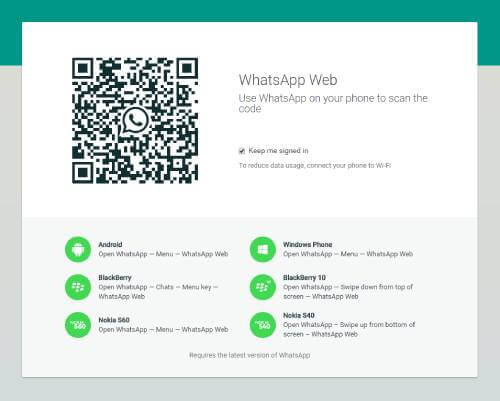 Part 4. D-Back for Android – the Best Way to View Deleted Messages on Android
The fourth and final solution we have on how to read deleted messages on WhatsApp Android is by using a program specifically developed for handling Android data. With iMyFone D-Back for Android, users are able to recover a lot of different data types that were deleted, lost, or are inaccessible for any reason at all. Key features include: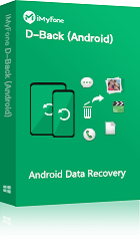 1,000,000 Downloads
Key Features Of iMyFone D-Back
WhatsApp data can be recovered from any Android smartphone.

Also capable of recovering data types like texts, photos, videos, contact info, and more.

Data that was deleted, corrupted, or has been lost for any reason can be recovered.

Using D-Back for Android doesn't require the device to be rooted.

D-Back for Android extracts Android data to the computer, ensuring safe recovery.

WhatsApp data can be selectively restored from Android after previewing available data.
To top it off, if you want to know how to read a deleted WhatsApp message someone sent you on Android, D-Back for Android is a completely safe recovery tool to do so with. If this is exactly what you're looking for, follow the steps below.
Steps To Retrieve Deleted Data Android With D-Back
STEP 1Download and install iMyFone D-Back for Android and launch the program to begin.
STEP 2Click the "Android Data Recovery" mode on the main menu.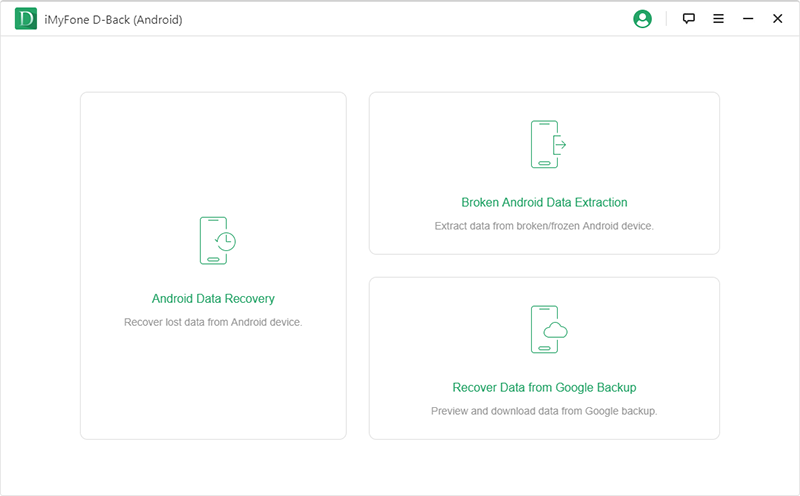 STEP 3Choose the device's name and model from the drop-down lists and click "Next."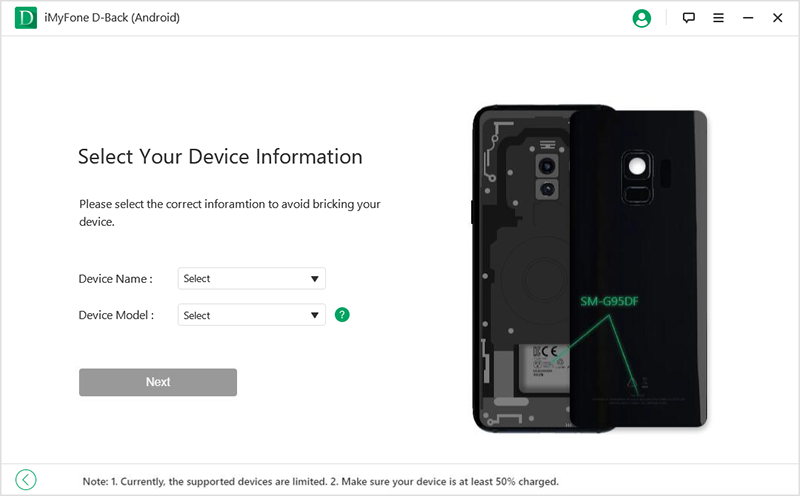 STEP 4A software package will be downloaded, and once the download is done, connect your Android phone with a USB cable.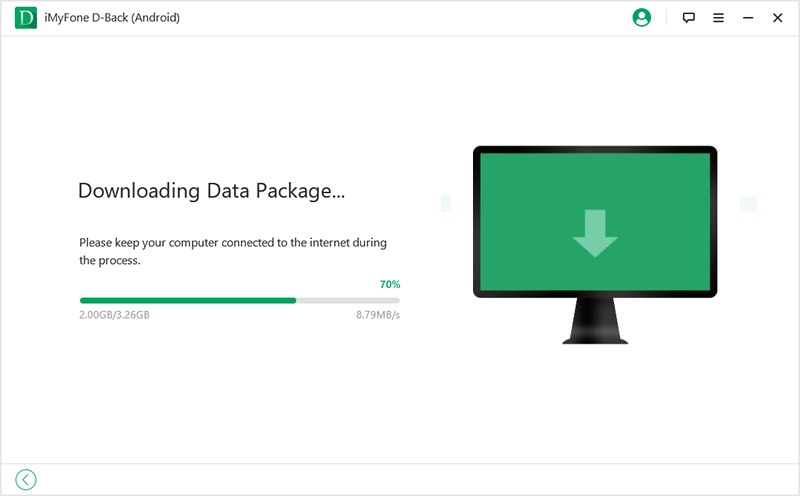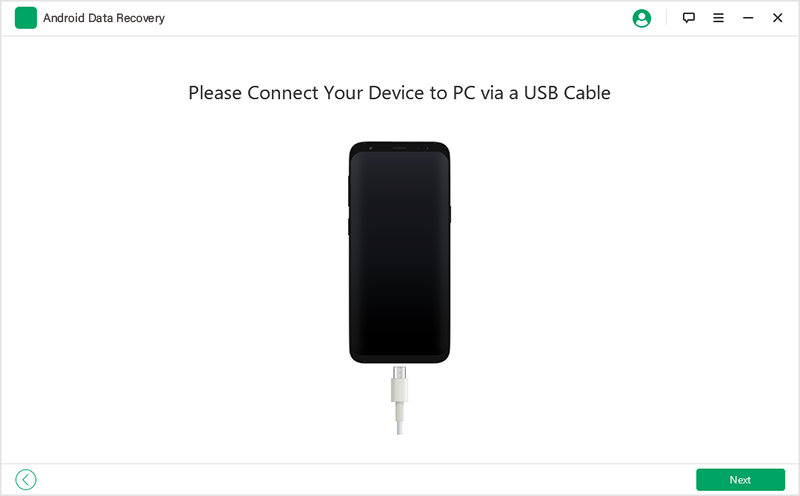 STEP 5Next, data types that D-Back for Android can recover will be shown. Select "WhatsApp" for this method and then press "Next."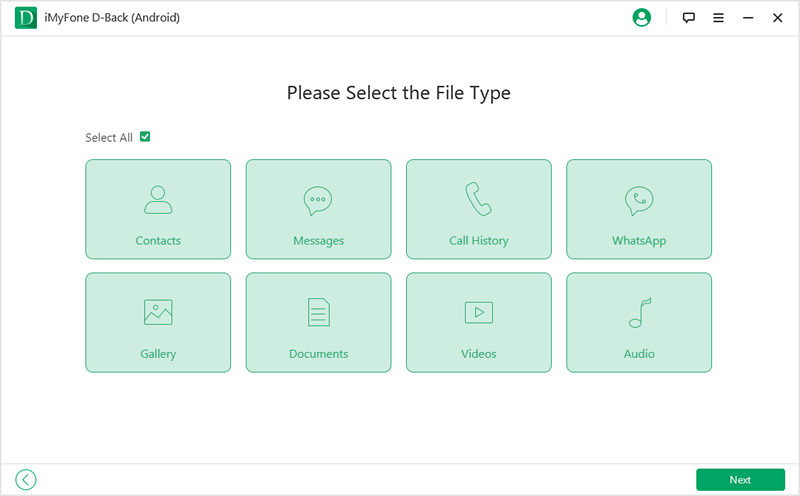 STEP 6After a quick scan of the Android device's data, you can browse both the WhatsApp messages and attachments. Locate the messages you want to read, and if you want to extract them to your computer, select the messages and click "Recover."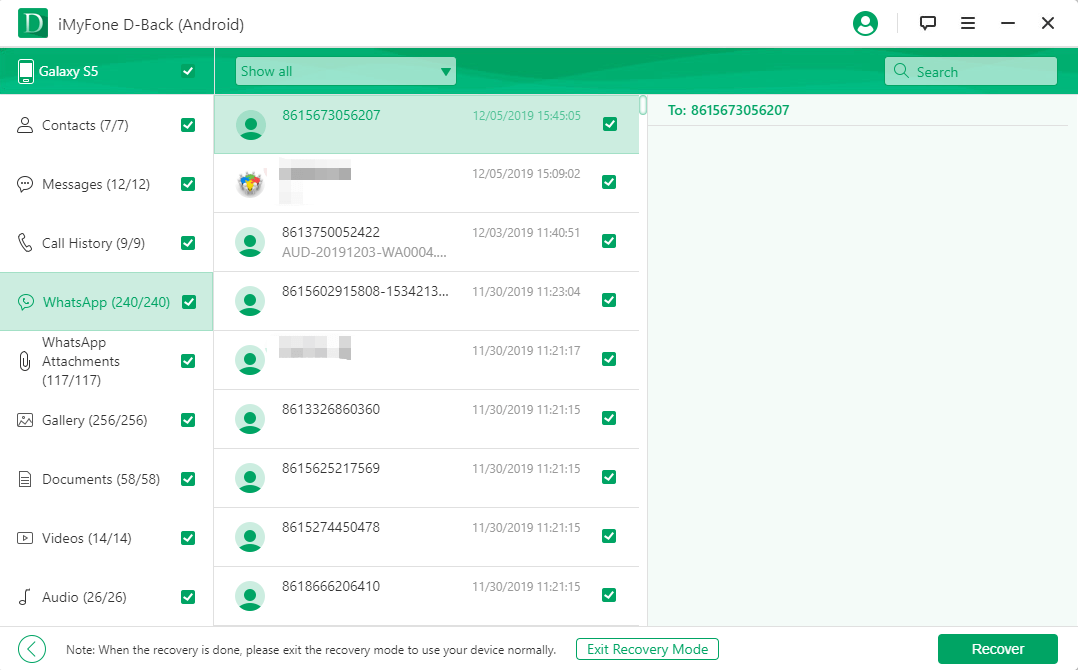 If you just want to view the deleted message and don't want to recover them from Android, you can simply use D-Back for Android as a message viewer. After the preview, browse the results, read messages, and don't proceed with recovering them.
5 Star Recommendation
In the mean time, D-Back for Android is deeply trusted by our customers:
I don't know what happens to my phone that my Whatsapp info are all deleted! Thank God for this program it works miracles!!!!!!!!! It found all the data back which I was so searching for 3 months!
– Reviewed by Hayden
Conclusion
Now that you know how to read deleted messages on WhatsApp Android, you can use one of the 4 methods we've detailed above and view any WhatsApp message. Our preferred solution is iMyFone D-Back (Android) because when we compare it to other data recovery solutions, it stands out as a far more impressive option. It has a high success rate, and virtually any WhatsApp message, even if they've been deleted, can be viewed with ease. It's also great for recovering other types of data and for that reason, we highly recommend that you check it out.