Whatsapp calling is a useful feature that has helped many people stay in touch with closed ones without paying hefty calling charges. Since Whatsapp calling has become a popular feature, more and more people want to know how to find disappeared Whatsapp call history Android. If you've also accidentally deleted your Whatsapp call logs and want to retrieve the entire call history, continue reading. We've compiled a list of different methods that'll help you find why WhatsApp call history/log disappeared and where are WhatsApp calls stored. Why not try D-Back for Android now to get back your disappeared WhatsApp call history now.
Part 1: WhatsApp Call History/Log Disappeared? How to Find it?
Believe it or not, but you can retrieve Whatsapp call history on your Android device. However, you'll need a backup-file to do the job. While creating your Whatsapp account, you must been asked to turn on the backup option. If the feature is enabled, you can simply get all your Whatsapp call logs using the backup file.
However, this method has a few drawbacks. First of all, Whatsapp takes call backup after a specific time. So, if the call history was deleted before Whatsapp made chat backup, you won't be able to find disappeared Whatsapp call on Android through the cloud backup file. Secondly, when you retrieve the backup file from the cloud, it'll overwrite the newer calls/conversations. It means that with cloud backup, you'll always lose some portion of your Whatsapp calls.
Fortunately, there are some other solutions present to avoid such problems. A lot of tools are available in the market that can help your task done, and you can find disappeared WhatsApp call logs hassle-free. Not just call history, you can even get back all your Whatsapp data easily. However, from a great pool of options, you might be confused about which one is better for us. And that is why we are here introducing one of the most recommended tools to get the job fulfilled.
Part 2: Where are WhatsApp Calls Stored and Find your Lost
WhatsApp Calls

(100% Success Rate)

If you don't have a backup file, it's better to use D-Back Android to restore the deleted Whatsapp call history. This tool is completely reliable and helps to retrieve a wide variety of deleted data, including images, videos, and even Whatsapp chats/call logs. Before moving further on using it, let's take a look at some of the features that make D-Back a worthy data recovery tool for Android users.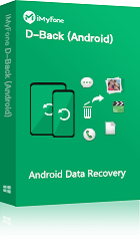 1,000,000 Downloads
Features of D-Back Android
Retrieve Whatsapp chat/call history even if you haven't enabled the backup feature.

Restore Whatsapp chat/call history without overwriting newer conversations.

Restore different types of media files, including images, videos, songs, etc. The software also lets you preview the data before restoring, allowing you to cherry-pick the files you want.

You can even restore data even if your smartphone has been broken/damaged.

Compatible with Android OS 2.0 to 10.0.

Available as a free trial so that users can try before buying the full version.
Let's take you through the step-by-step process of using iMyFone D-Back to find disappeared Whatsapp chat history on your Android device.
Step 1 - Launch iMyFone D-Back on your device and select the "Android Data Recovery" option.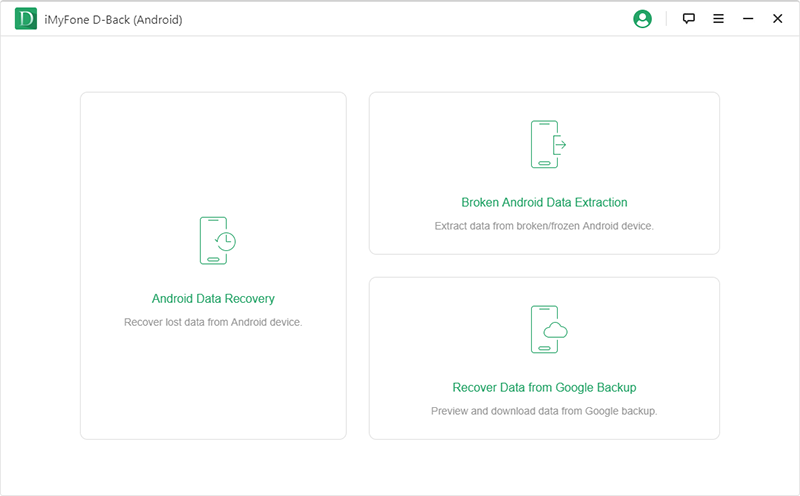 Step 2 - In the next window, use the drop-down menu to select your device information. Make sure to select the accurate device model. Now, click "Next."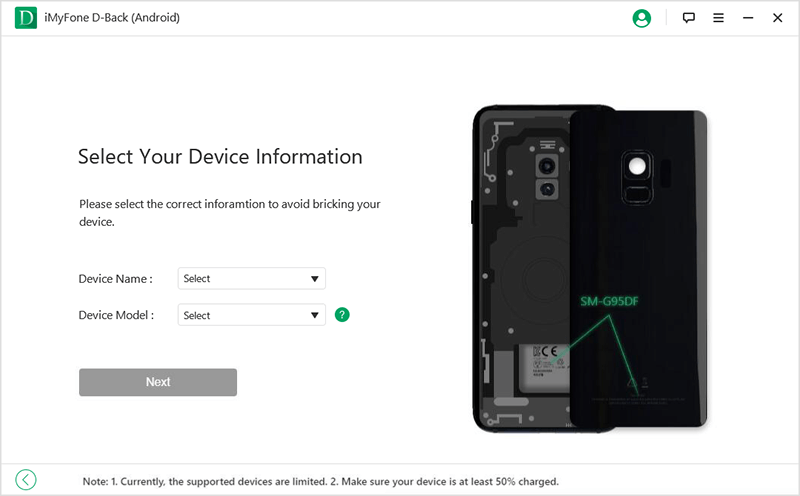 Step 3 - The software will start downloading the data package as per your smartphone model.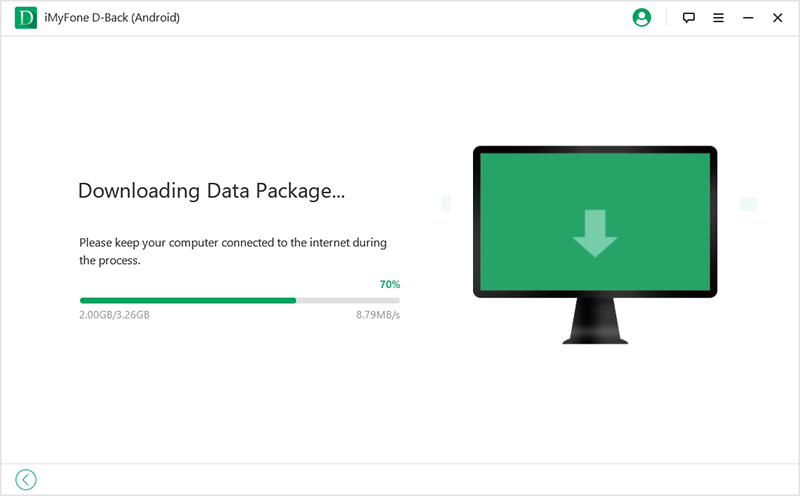 Step 4 - Now, connect your smartphone to PC via USB and follow the on-screen instructions to enter the download mode.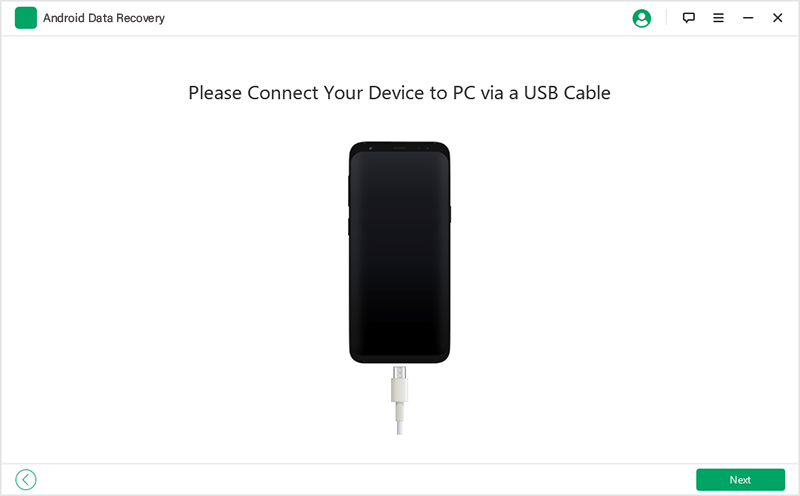 Step 5 - You'll be asked to choose the file-type in the next window. Select "Whatsapp" from the list.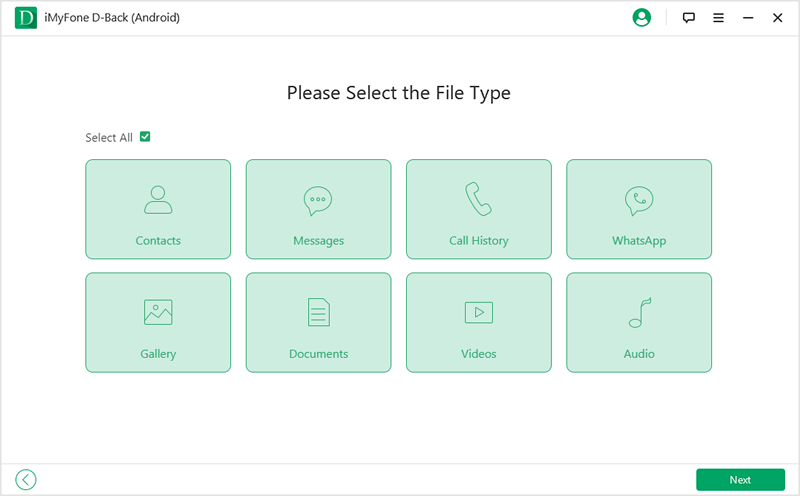 Step 6 - The software will start scanning your device for deleted Whatsapp media, chats, calls, etc.
Step 7 - As soon as the scanning completes, select the files that you want to retrieve and tap "Recover" in the bottom-right corner. The files will be recovered on your system.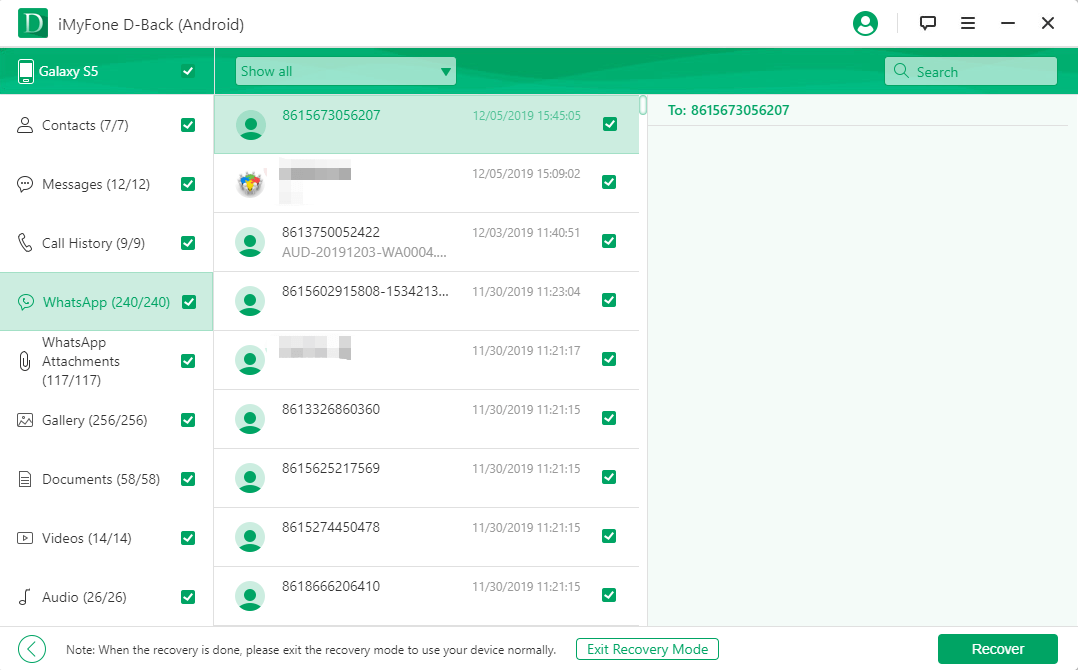 That's how to retrieve chat history Android using iMyFone D-Back Android.
Part 3: Solutions To Find Disappeared WhatsApp Call History/log
Solution 1: Find Where are WhatsApp Call History Stored From Recent Backups (Less Than 7 Days)
In case you're not concerned about recent conversations and don't want to use a third-party application, you can also retrieve deleted Whatsapp call logs using the Cloud backup from Google Drive.
In this case, you'll be able to get back your call history by following a couple of easy steps.
Step 1 - Uninstall and reinstall Whatsapp on your Android smartphone.
Step 2 - Follow the on-screen instructions to set up your Whatsapp account. Make sure to add the same phone number you were using earlier.
Step 3 - Once the phone verification completes, Whatsapp will automatically start looking for Google Drive backups.
Step 4 - Now, tap "Restore" to find Whatsapp call history from Google Drive.
Are There Any Drawbacks of Using Cloud Backup to Find Disappeared Whatsapp Call History?
Even though this method only takes a few minutes, it has a few drawbacks. Some of these drawbacks include:
First of all, using Google Drive backup will overwrite the latest Whatsapp chat and calls.
There is no evidence that Google Drive offers full-data encryption like Whatsapp. It means using Google Drive backup may cause privacy issues for many people.
If you change your google account, you will not be able to access your backups that are linked to a different Google account.
Unlike iMyFone D-Back, you don't have the option to choose which files you want to retrieve.
Solution 2: How To Find Disappeared WhatsApp Call History/Log
from Local Backup (Over 7 Days)
In addition to Google Drive, Whatsapp also stores a backup in your smartphone's local storage. If you want to retrieve an earlier call history, that's not involved in Google Drive backup, and you can use the local backup file to do the job. However, this process is a bit more complicated than previous methods.
Anyhow, here's how to retrieve deleted Whatsapp chat history from the Android device using the local backup.
Step 1 - Open "File Manager" and open the "Whatsapp" folder.
Step 2 - Scroll down and click "Databases."
Step 3 - Here, you'll see files with "msgstore-YYYY-MM-DD.1.db.crypt12" format. Select the right file (according to the date) and rename it to "msgstore.db.crypt12". If there's already a file with the same name, simply overwrite it with the newer file.
Step 4 - Now, uninstall Whatsapp and reinstall it on your smartphone.
Step 5 - Create your account using the same phone number and again restore the backup. Whatsapp will automatically use the backup file that you've renamed earlier, and you'll get the desired call logs back.
Like Google Drive backup, this method also has a couple of drawbacks. For instance:
You need to uninstall Whatsapp first, then install WhatsApp on your new device. That means the messages that you have received after the latest backup will be deleted.
You can't restore the call history if your SD card is corrupted.
The method is handy only to Android users. If you use an iPhone, you can't follow this method to retrieve the chat history, unfortunately.
Part 4: Why Choose D-Back For Android?
Now that we've explained three different methods to find disappeared Whatsapp call logs on Android let's compare each of them to determine which one would be the most optimal solution for an average Android user.
| Functions | | Google Drive Backup | Local Backup |
| --- | --- | --- | --- |
| Restore Call Logs Without a Backup File | | | |
| Overwrites Newer Whatsapp Conversations | | | |
| Preview Files to Choose Selective Data File | | | |
| Compatible Android Versions | | | |
| Store Whatsapp Data on PC | | | |
It is no doubt that using D-Back for Android is the most reliable solution to restore Whatsapp call history, especially if you don't want to lose any Whatsapp call logs. Moreover, with iMyFone D-Back for Android, you also have the option to pick which files you want to retrieve, even on your PC.
Conclusion
That concludes our guide on how to find disappeared WhatsApp call history Android. Whether you've accidentally deleted Whatsapp chat/call logs or have upgraded to the latest Android version, you can use the above-mentioned methods to retrieve Whatsapp call history on your smartphone. And, in case if there has been accidental damage to your device, using iMyFone D-Back for Android will help you get back all the important data, be it contacts, call logs, images, videos, etc., and securely save them at a safe location on your PC.