The latest smartphones are equipped with incredible cameras that enable us to capture videos in high definition without needing to purchase a professional camera. This is one of the appealing factors of smartphones, and many users take the camera quality into account when deciding to make the purchase. But sometimes, due to user error or because of a firmware error, videos can go missing or disappear. This makes users research how to recover screen recording videos from Android and what methods they can use, and this guide is going to explain what exactly those methods are. Lost your screen recorder video on Android phone, why not try D-Back for Android to get back lost Android screen recorder video. Download it free now.
Part 1: Common Reasons for Losing Screen Recording Video on Android

No matter what, there is always an explanation for your Screen Recording videos being lost – they don't just disappear for no reason. Some of the most common reasons for losing videos on Android are:
Users accidentally deleting them or deleting videos to free up storage space
Hardware damage (e.g., water damage) which harms the Android's hard drive
A virus or malware has been installed on the device and is attacking user data
Users accidentally deleting them or deleting videos to free up storage space
There are hundreds of reasons that could be behind your video being lost and why you need to recover deleted videos Android. Regardless of the reason though, the solutions we'll be showing you can be used.
Part 2: Can I Recover Deleted Screen Recording Video on Android?

Even though this isn't the simplest process, you are able to recover screen recording video from Android phone internal memory even if it has been deleted. Because of the way that Android devices store data on their hard drives, even when you delete a video, it is temporarily accessible until the data is overwritten.
Now, because the deleted video can be overwritten by new data, it's important that as soon as you realize the video was deleted, you stop using your Android device. Continuing to use the device will decrease the chances of successfully retrieving deleted videos from Android significantly.
Part 3: Use Android Video Recovery App to Recover Deleted Screen Recording Video from Android (Recommended)

If you want to recover deleted screen recording video from SD card on Android or recover deleted video from Android phone internal memory, your best bet is to use a video recovery app like iMyFone D-Back for Android. Aside from offering a simplistic solution for recovering videos, here's what this software brings to the table:
Key Features:
Recover videos that were deleted lost, or corrupted.
Provides 3 different recovery methods. (including recovering from Google Backup)
Recover lost videos from Android internal storage and SD cards.
Other data types can be recovered such as photos, music, texts, contacts, and more.
It doesn't require the Android device to be rooted for data recovery, that means you can recover deleted

screen recording

videos from Android without root.
Videos can be freely previewed on your Android device before you selectively recover them

If you don't have any backups of your Android data because you didn't have the chance to take a backup recently, or just forgot, then D-Back is exactly what you need in this situation. To recover deleted screen recording videos from Android phone with this software, follow these steps:
Step #1 – Download and install the iMyFone D-Back for Android software on your computer.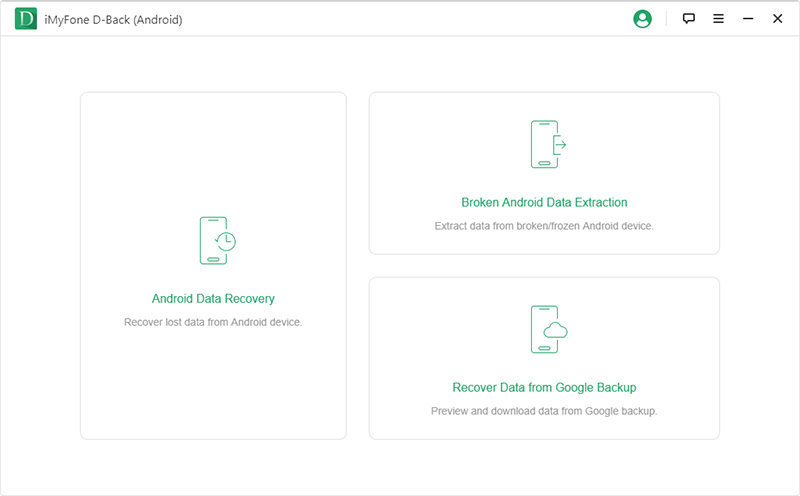 Step #2 – Launch the program and connect your Android device to the computer using the appropriate USB cable. Select the name and model of your Android device and click the Next button to proceed.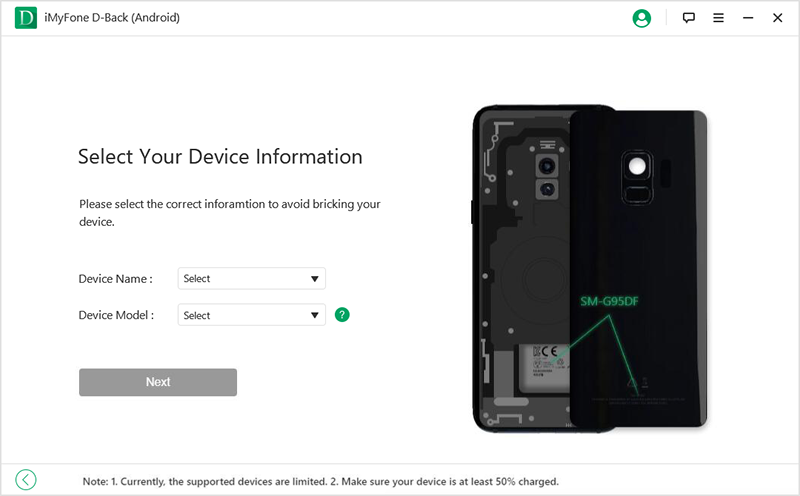 Step #3 – Next, you'll be shown instructions on how to put the device into Downloading Mode. Follow these instructions carefully.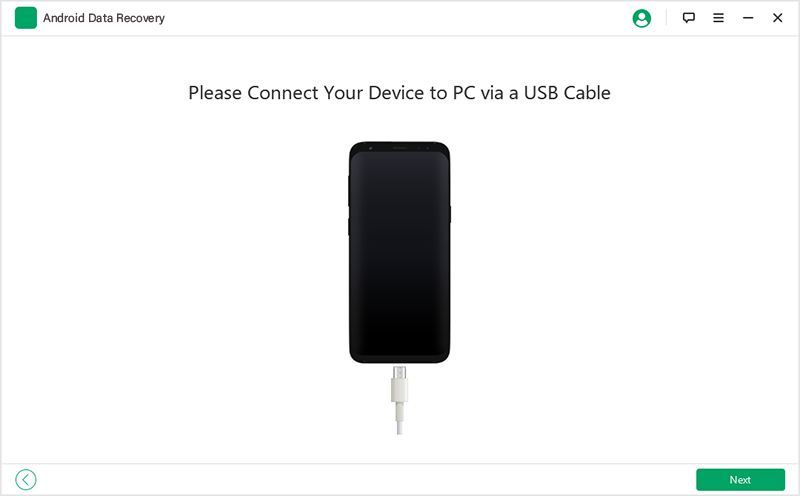 Step #4 – After your device is in Downloading Mode, wait until the required firmware is downloaded.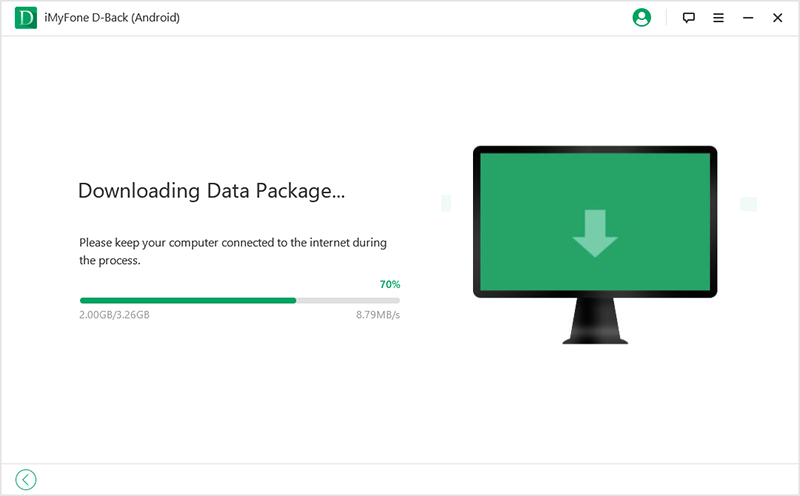 Step #5 – Next, you will be able to choose which data types you want to recover—select Videos to recover video from Android and click Next.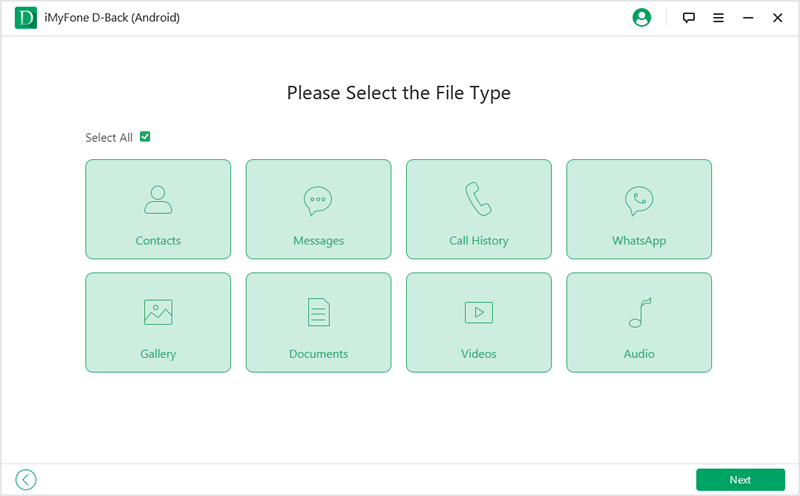 Step #6 – D-Back for Android will then scan your device. When the scan is complete, browse and select the videos to recover, then click Recover to finish the recovery.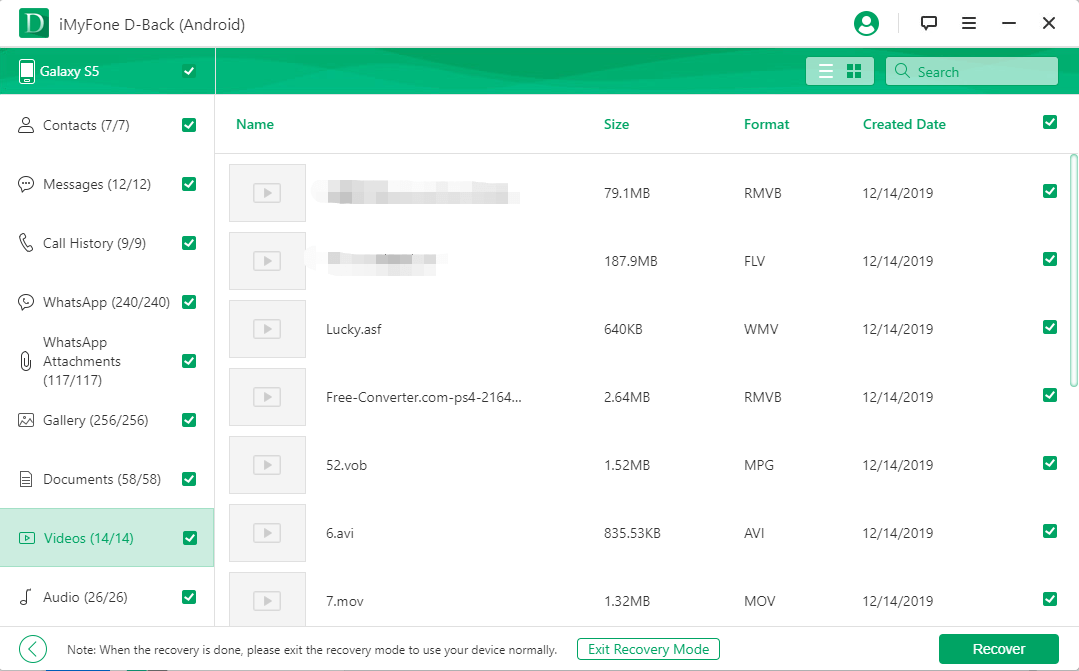 With iMyFone D-Back for Android, users can understand how to recover video files from Android in the easiest way possible. This program can be used by beginners and professionals alike, and no experience is necessary to recover your videos (or any other data type!).
Part 4: How to Recover Deleted Screen Recording Videos from Android Free with Backup

Another way of recovering screen recording video from Android is to retrieve the deleted video from one of your backups. Of course, if you haven't taken any backups, then this won't help, but this will aid anyone who takes regular backups of their Android's data.
Method 1: Restore Screen Recording Video from Google Photos App
If your screen recording videos are being synced with Google Photos, or you've backed them up, then these steps will help you to undelete video on Android.
Step #1 – Open the Google Photos app on your Android device.
Step #2 – Tap the menu icon at the top of the app and select the Trash folder.
Step #3 – Tap and hold the video you want to recover, and select any other videos to recover, and tap Restore to have them recovered.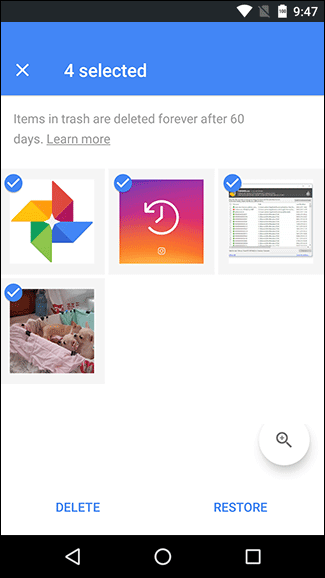 Many Android devices are set up to sync your photos and videos with Google Photos automatically, so this is a really useful method for recovering videos.
Method 2: Get Back Deleted Screen Recording Video from Google Drive
On the other hand, if you save your screen recording videos to Google Drive or take your backups with this app, you can recover video from Android using the Google Drive app.
Step #1 – Open the Google Drive app on your Android device.
Step #2 – Navigate to the Videos folder and select the videos you want to recover.
Step #3 – Download the selected videos to your phone.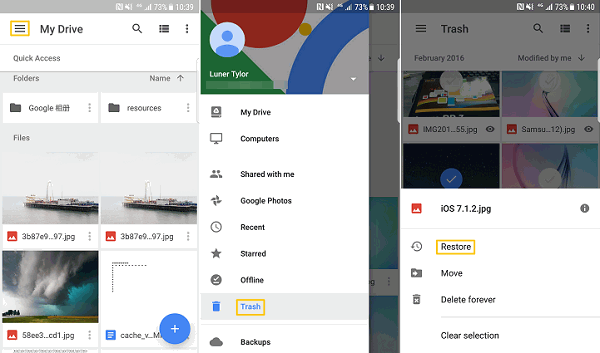 Sometimes it's ideal to keep your videos stored on Google Drive – it saves your device's storage space and means you can access them anywhere. However, if you lose the original videos, this method lets you download them again.
Part 5: Pro Tip to Protect Your Screen Recording Video

To protect your screen recording videos so that you don't need to recover deleted video from Android gallery again in the future, here are some tips to keep in mind.
Take a backup of your videos once a week

When you notice a video has been deleted, immediately stop using the device

Use a high-quality phone case to prevent hardware damage

Use Android data recovery software for the best chance of data recovery
Part 6:
Screen Recording

Videos Data Recovery for Android FAQ

1. Where is the Screen Recording Video Stored on Android Phone?
Generally, any screen recording videos you save on your Android will be saved to the internal storage (e.g., the built-in hard drive). But if you have inserted an SD card into the phone, you can save your videos on the SD card instead which helps prevent your internal storage from reaching its maximum capacity.
To find out where your screen recording videos are stored, open the File Manager app and next to Categories, tap on Videos, which will display all of the screen recording videos stored on your device. You can check the storage location of each video.
2. How to Recover Deleted Screen Recording Videos on Recently Deleted Folder
If you recently deleted screen recording videos and want to undelete video on Android, you can do so by using the default Gallery app.
All you need to do is open the app, go to the Recently Deleted folder, and you'll find recently deleted files there. However, deleted screen recording videos are only stored here for 30 days before they are permanently deleted.
3. Are Deleted Screen Recording Videos Really Deleted?
Yes and no. As we briefly explained before, when you delete a screen recording video on Android, it isn't actually deleted. Instead, the video's allocated storage space continues to save the data temporarily until it is overwritten by new data. So that it doesn't get overwritten, you should avoid using your device in any way until you have used a data recovery solution.
Conclusion

That brings our guide on how to recover screen recording videos on Android to an end, and all of the methods we've introduced you to in this article will help you get back any lost videos in Android. Whether they were deleted, corrupted, or simply lost, one of the methods will help you out. Ideally, you should use iMyFone D-Back for Android because not only does it have a high success rate, but it's designed for any Android data recovery situation. Any data type can be recovered from any Android device, and the process is extremely simple!