Have you ever had important iPhone messages that you needed to backup, but you didn't know how? There are a few easy methods that will allow you to back up and later restore your messages on iPhone. Some of them use official Apple methods and others involved third-party apps that can greatly simplify the process. Let's take a look:
Back Up and Restore Messages on iPhone with iCloud
The first method that most people turn to is backing up and restoring their messages with iCloud. This is a fairly straightforward method, though it doesn't give you that much control. It also requires a network connection for it to work. Here is how you do it:
How to Back Up Messages on iPhone With iCloud
(1) Make sure your Wi-Fi is turned on and your network is in working order.
(2) Make sure your device is connected to power.
(3) Go to Settings on your iPhone, then tap iCloud, then Backup. (If it is iOS 7 or earlier, then it will say Storage & Backup.)
(4) Turn the iCloud Backup function on if it isn't already.
(5) Tap where it says Back Up Now.
(6) Wait as your device begins to back itself up to the cloud. Do not turn off your phone during this process and do not disconnect from your network.
(7) After the process is done, your messages, along with your other data, should be backed up on iCloud.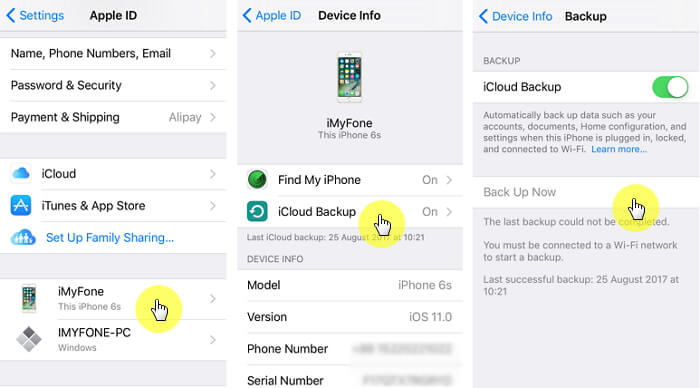 To access this backup, you will need to restore it. You can find out how to do this below:
How to Restore Messages on iPhone with iCloud
(1) When you first turn on a new phone or a phone that has been reset (you must do this to restore from backup), you will get a greeting on the screen and will see three options. One of the options will be Restore From iCloud Backup.
(2) Sign into your account with your Apple ID.
(3) You will see a list of backups at different times. Choose the one that you want to back up from.
(4) Now you just wait. Your phone will restore itself from the backup.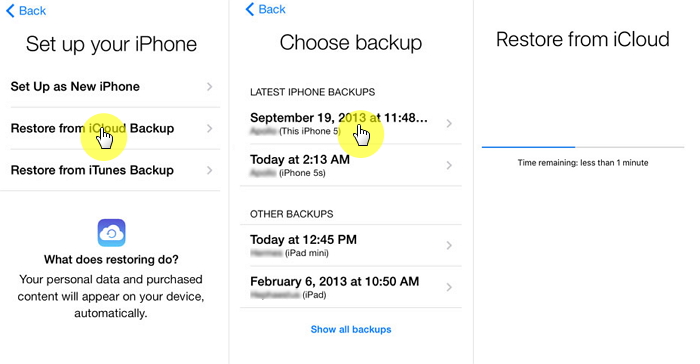 ---
Back Up and Restore Messages on iPhone with iTunes
The next method for backing up and restoring messages on iPhone is also an official Apple method. All you need is iTunes and you can back up and restore all of your data (including your messages) at once.
How to Back Up Messages on iPhone with iTunes
(1) Connect your iPhone to your computer and launch iTunes.
(2) iTunes might ask for you to trust the computer. If so, confirm this with the on-screen instructions.
(3) In iTunes, click where you see your iPhone listed as a device.
(4) Click "Back Up Now" on the summary page.
(5) Wait while your device is backed up.
(6) You can now check if everything was backed up correctly by going to Edit, then clicking Preferences, and then Devices. You should see your backup listed there, along with the date and time that you backed it up.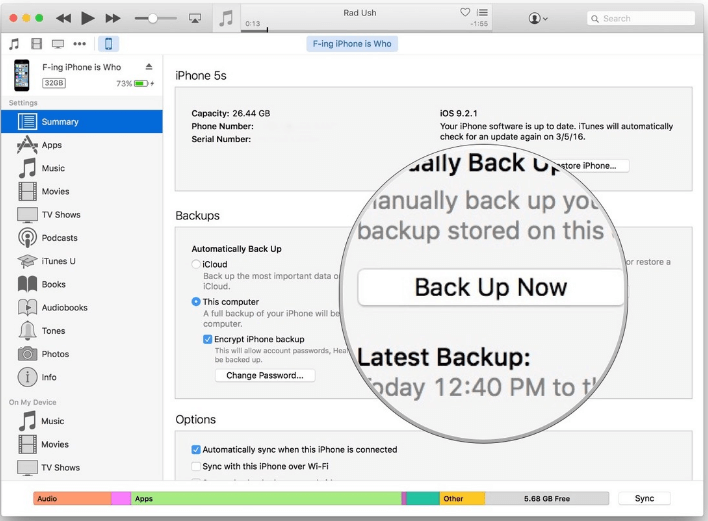 How to Restore Messages on iPhone with iTunes
(1) Go to the computer where you backed up your iPhone and launch iTunes.
(2) Connect your device to the computer.
(3) Click where you see your device listed on iTunes.
(4) In your device's Summary page, choose Restore Backup in iTunes.
(5) Assuming that your iOS version is fairly up to date, you should be able to choose a backup to restore from.
(6) Click Restore.
(7) Now you can just wait until your device's backup is restored. Absolutely do not disconnect your device from your computer until it is completely finished.
(8) Your device will restart. Keep it connected because it will sync with iTunes. After the sync is done, then you can disconnect your iPhone.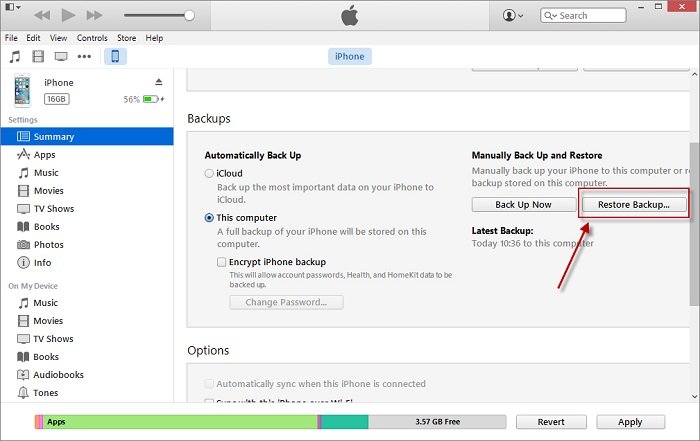 ---
Back Up & Restore Messages on iPhone with More Choices
Have you heard of iMyFone iTransor? Well, this is basically software that allows you to manage your backups for your iPhone. It gives you more control and convenience than Apple's official methods.
Key Features:
Separately back up iPhone content including contacts, messages, WhatsApp, WeChat.
The backups it makes, no matter the full backups or backups for certain types of data, won't overwrite the previous backups on your computer.
It lets you decide where to save the backup files. You can easily view the data in backups.
Selectively restore contacts, messages, WhatsApp, WeChat from backup to iPhone whenever you want, even you don't have network or iTunes.
Here is how to back up and restore your iPhone data with iMyFone iTransor:
Back Up Messages on Your iPhone
(1) Run iTransor on your computer and it will ask you to connect your iPhone.
(2) After it detects your iPhone, click "Acquire Backup from Device & iCloud". The program will offer you 2 options, click "Back Up Device".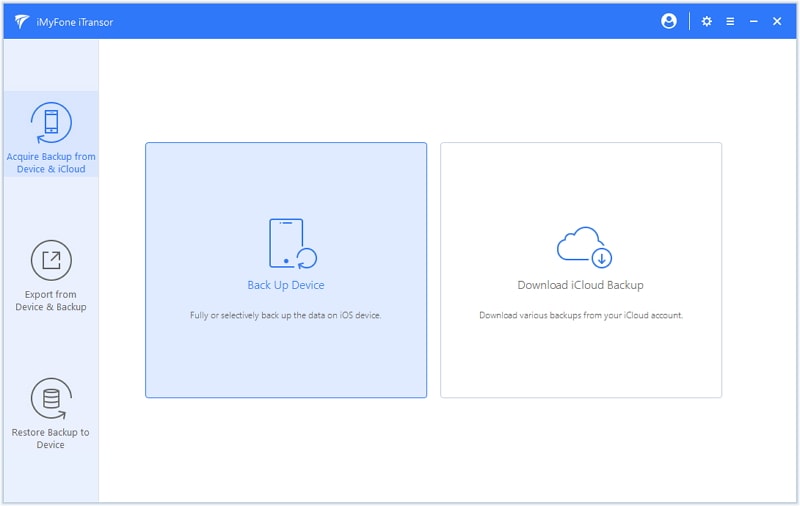 (3) You can back up all the data and setting on your iPhone by "Make a Full Backup", or, you can back up the messages by clicking "Back Up Messages". Select the location where you want to save the message backup files and click Back Up.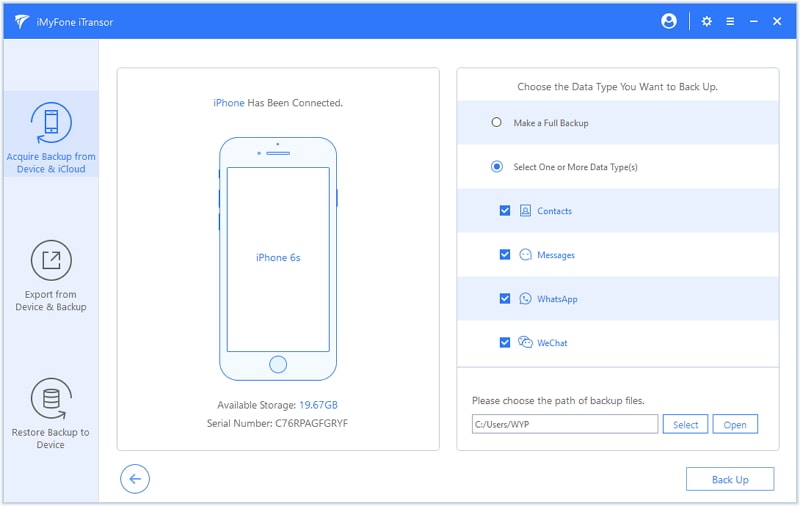 (3) The program will notify you the matters needing attention before backup. If you are sure to back up messages on your iPhone, click "Back Up" to continue.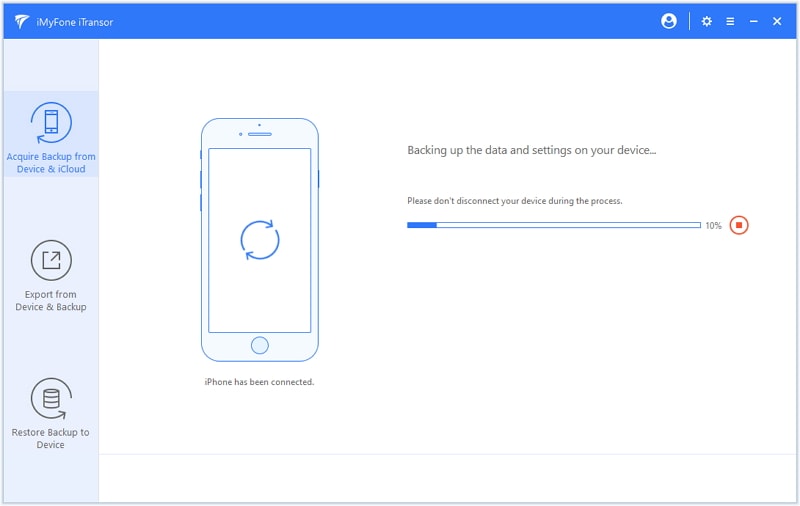 (4) The program will start to back up all the messages on your iPhone. Wait a while and your messages on iPhone will be backed up to your computer.
Restore Messages on Your iPhone
(1) Open iMyFone iTransor on your computer and connect your device to it.
(2) Click Restore Backup to Device and you will see all the backups on your computer, including iTunes backups, iCloud backups, and backups made by the program. In this case, you should choose the Messages backup which you want to restore, then click "Next".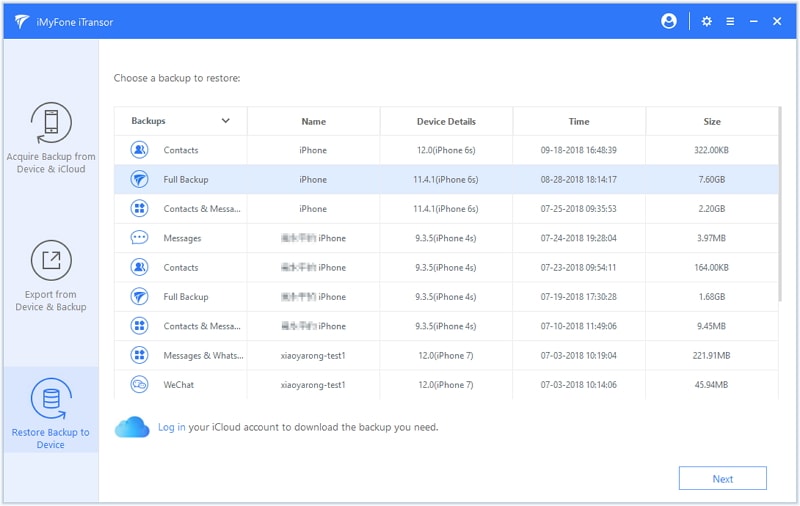 (3) The program will prompt you to choose messages and connect the device to PC. Then select Preview & Restore or Directly Restore.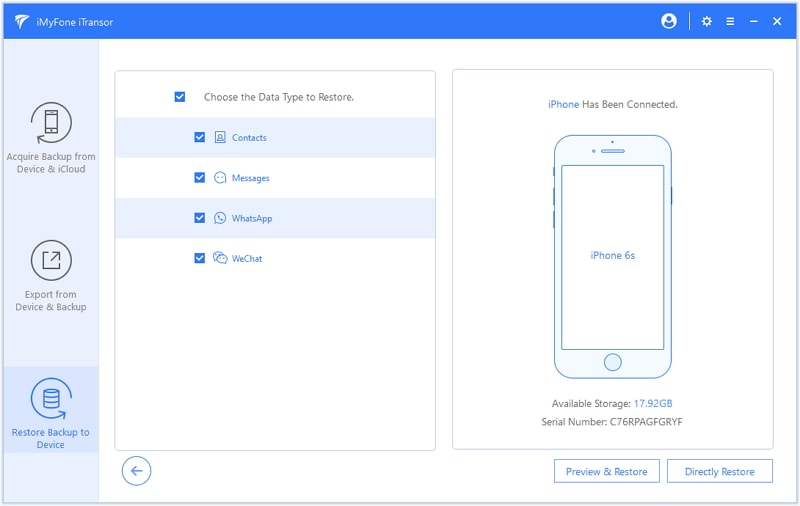 (4) You'll be allowed to preview the selected messages in detail if you select 'Preview & Restore'. Check the messages that you want to click 'Restore' and select Merge & Replace or Fully Replace as you want.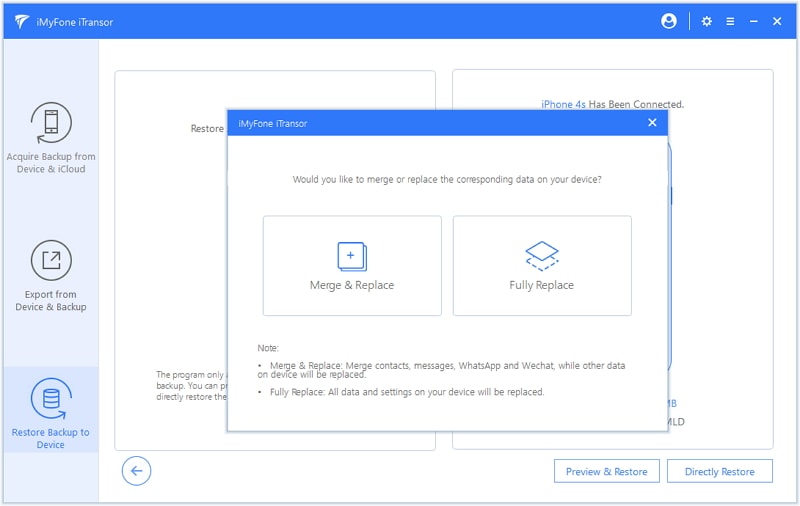 (5) The program will take a while to finish the whole process. Wait and keep your device connected. And that's it! The messages have been restored and you can enjoy on even iOS 15.
There are many different methods that you can use to back up your messages. While using the official Apple methods may be your first instinct, this is not the only way and you can definitely use third-party apps to make the process a lot easier. Best of all, with iMyFone iTransor, you have a lot more control over your backups.