Gone are the days when communication was confined to phone calls and SMS. With the introduction of platforms such as WeChat, we can now connect in ways that better express ourselves than ever before. We have fun when sending messages to our loved ones with the aid of stickers, emoticons, and other such tools. More than that, the ability to make video calls is the icing on the cake for reaching out to our friends. Now, with this app being so important, conducting backup WeChat history is a no-brainer. Whichever cell phone you have, you may find the best way to backup your WeChat conversation history from this post.
Part 1: Backup WeChat History to PC with WeChat Desktop & Web WeChat
To access the messenger, WeChat provides different applications for Windows and Mac PCs. You may also backup WeChat history using this method. And the steps for doing so are as follows.
Download WeChat History Using Desktop WeChat:
Step 1.To begin, download WeChat for Windows/Mac from the official website. After that, install it and run it.
Step 2.After the app has been opened, log in using the credentials you used on your smartphone. When you open WeChat on your computer, you will see three horizontal lines at the bottom of the screen.
Step 3.Touch on it and choose "Backup and Restore" from the menu that appears. Then, select the "Back up on PC" option.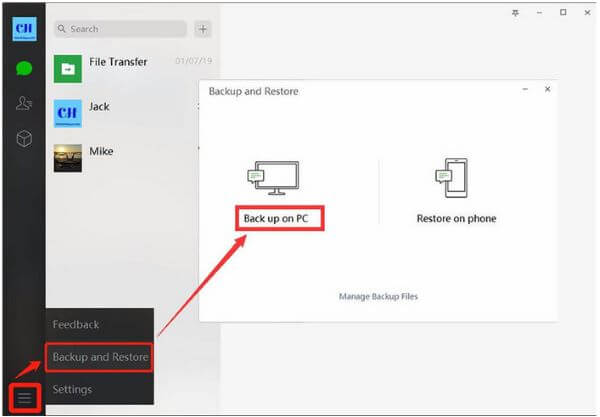 Step 4.Begin by selecting the conversation history you want to backup. You will be able to backup WeChat with simplicity.
Export WeChat History Using Web WeChat:
This is essentially a web version of WeChat that enables you to use the program on a larger screen, just like your computer.
Step 1.First and foremost, you must go to web.WeChat.com. Scan the QR code that shows on the screen now. To do so, launch wechat on your phone and hit the "+" symbol in the "Contacts" section.
Step 2.Confirm the procedure by pressing the login button on your smartphone. You may now use your PC to access WeChat.
Step 3.At the bottom, you can now see the three horizontal bars. Tap it and choose "Backup and Restore." Now, select "Back up on PC."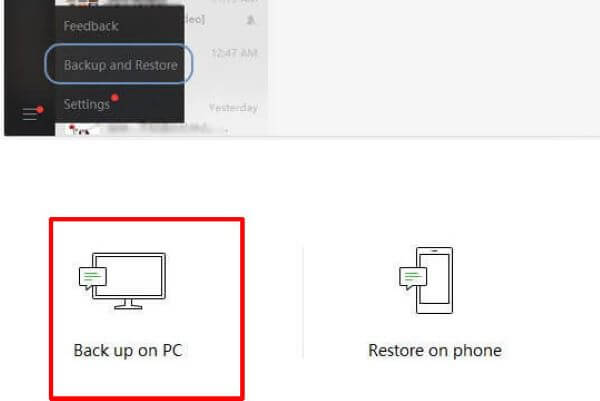 Step 4.Select the conversations that you wish to backup now. For your convenience, you may use the "More Options" option. Once you've finished making your choices, press "OK," and you've completed the backup process for WeChat.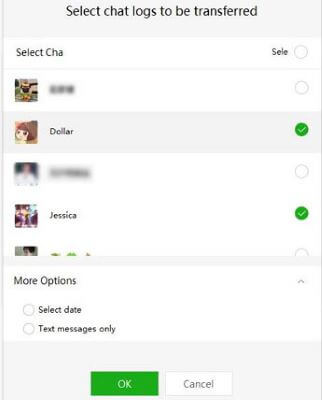 Part 2: Transfer WeChat History to A New Phone with WeChat's Backup & Migrate function
Here's how to backup WeChat history to a new phone. Rather than backing up and restoring, it is more of a transfer procedure. However, it serves the same function. This technique is known as the Chat Log Migration Function. It entails simply selecting the necessary conversations and restoring them to another device. Here are the steps to follow for a better understanding.
Step 1.First, launch WeChat on your smartphone.
Step 2.Go to the "Me" option for Android users, then "Settings." Tap on "Chats," then "Backup & Migrate Chats." On an iOS device, navigate to "Me"> "Settings." Then go to "General" and "Chat Log Migration."

Step 3.Select the "Migrate Chats to Another Device" option. Navigate to the "Select Chat History" button on the next screen. Now pick the conversation that you wish to restore in another device.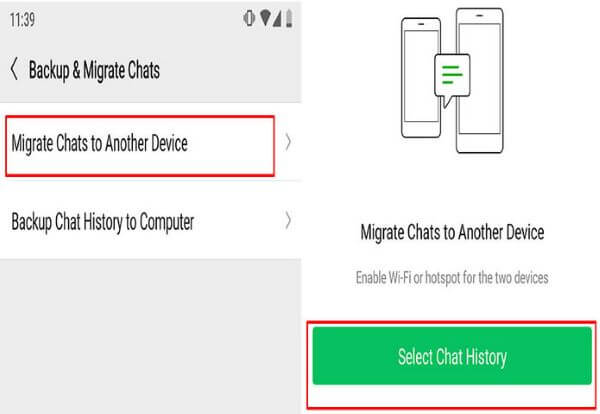 Step 4.After choosing the conversations, tap "Done" to install WeChat on the target smartphone. Use the same account as on the previous phone and scan the QR code from the last phone.
Step 5.The conversations will now get immediately downloaded to your new smartphone.
Part 3: Backup WeChat History to iCloud & iTunes
You can backup WeChat history to iTunes/iCloud if you use iTunes or iCloud to backup your old iPhone data, and restore it to your new iPhone 14 and iPhone 14 Pro.
iCloud:When you save WeChat photos/videos to local iPhone storage, they will be synced to iCloud when you backup iPhone data to iCloud.
Note
However, iCloud cannot directly backup WeChat history apps data. Go to
Settings
>
[your name]
>
iCloud
. You can find the WeChat app from all available selections.
iTunes:You may also backup WeChat history to iTunes by connecting your iPhone to a computer, entering your Apple ID and password to link your iPhone to iTunes, and clicking on Back Up Now from the Summary screen to backup WeChat history to iTunes.
Part 4: Upload WeChat History to Google Drive
You may utilize the third way to backup WeChat history to a PC on an Android phone, or you can use Google Drive to backup your WeChat chat history to Google Drive on an Android phone.
Steps:
Navigate to Settings
Account and Backup
Backup
Backup now
The app data selection is now visible from all backupable data lists. Google Drive will get used to store all WeChat data. How can you retain WeChat messages after switching phones? Utilizing the same Google account on another Android phone, restore WeChat history messages to the new Android phone from the backup file.
Part 5: One-click to Backup & Restore WeChat with iTransor Lite
iMyFone iTransor Lite enables you to backup data from your iOS devices fully or selectively, and it also allows you to download your iCloud backups. To begin, you must first install the software and then run it on your computer.
Backup Data from Device
Step 1.On the left side, choose the Acquire Backup from Device & iCloud option, and then pick Back Up Device.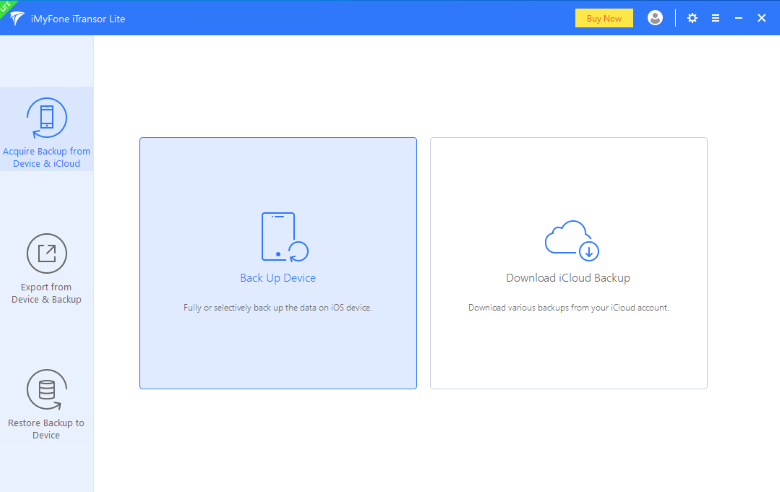 Step 2.On the next screen, you must connect your iOS device to your computer. You will see two options on the right column: Make a Full Backup or Select One or More Data Types (s). Choose the one you need, and then choose a location for your backup data.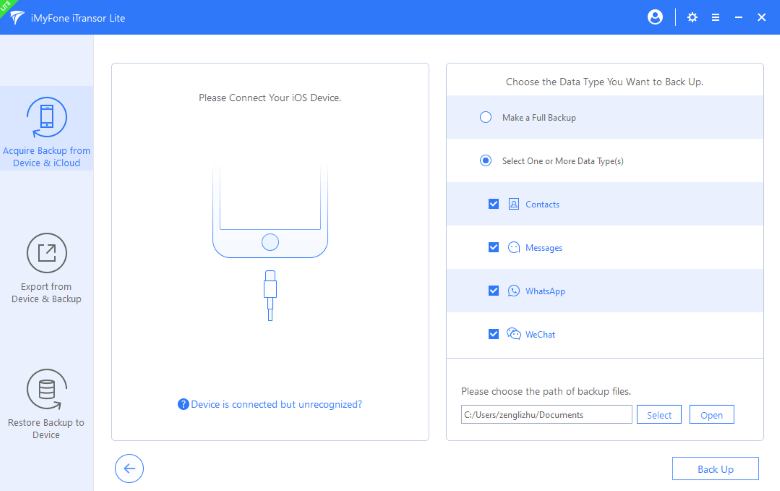 Step 3.To start the procedure, click on Back Up. Make sure you don't turn off the device until the procedure gets finished. You will get informed once the backup has been completed successfully. You now have a backup that you may examine or export as needed.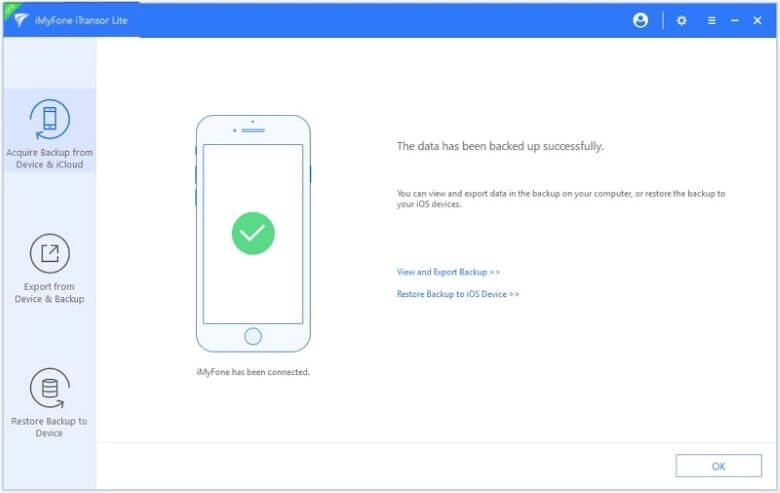 Export Data from Backup
Step 1.On the left side, choose the Export from Device & Backup option and select Export from Device.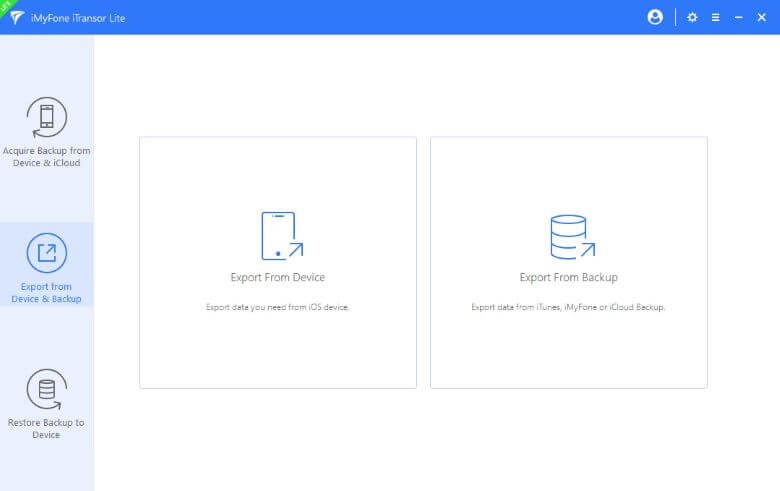 Step 2.Choose the kind of data you want to export and then click Scan.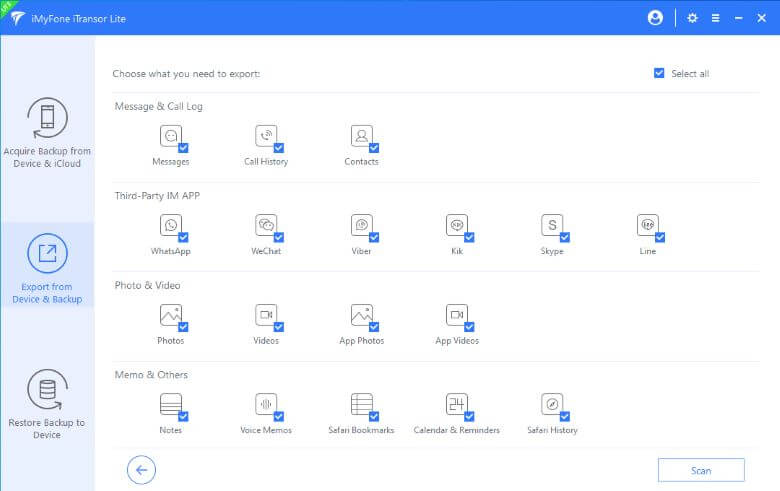 Step 3.When the scan gets finished, you will choose the data you need from the given list. Then, click Export, choose a format, and specify the place on your computer to which the data will get exported.
FAQs: More About WeChat Backup Storage And Delete Check
1. Where is WeChat backup stored on PC?
Go to WeChat Settings on PC, then select the General tab. You will find the Manage File option, which will show you the current location of your WeChat backup files on your computer. WeChat backups usually get stored to "C:\Users\Stone\Documents\WeChat Files\".
2. How do you tell if someone deletes you on WeChat?
Examine your friends' page and their pictures. If you can see thumbnails of their photos in their albums but not any of their moments, they have erased you. The other way around can be to create a WeChat group consisting of 39 members—never to send a message; otherwise, everyone will be notified of the group. After creating the group, if a pop-up appears, "___ has not added you as a friend yet". Then it assured that the other person has removed you from his list.
Conclusion
You currently have these options for backing up and restoring the WeChat conversation history to another phone. When using desktop WeChat or Web WeChat, you must take more than one step. The iTransor Lite is a fast option. The backup and restoration will get completed immediately once you press the start button.