If you're having a software problem and want to restore your phone to factory settings, what will you lose? Is all of the data wiped, or only the software?
Well, the truth is that restoring your phone is a drastic measure. You will actually lose all of your personal data when you restore your phone. This means that if you want the data back, you have to protect your data ahead of time by storing it somewhere else.
Also Read: How to Back Up iPhone in Recovery Mode?
What Should I Do If I Lose Data after Restoring My iPhone?
First of all, without backing up your data first, you will lose all of your data for good. Doing a restore wipes everything—your files, your contacts, your apps, and so on. If you have a backup, though, you can rescue your lost data by simply restoring the backup onto your iPhone after it is wiped.
Now you might be wondering how you can restore your iPhone from a previous backup. The process is actually very simple, and there are a few ways that you can do it:
Restore iPhone from Previous Backup Using iTunes
This is the official method of restoring your backup. Assuming you made a backup in iTunes before you factory restored your iPhone (which is advisable), all you have to do is follow these steps:
(1) Launch iTunes on your PC or Mac and connect your device via USB.
(2) Click on your device in iTunes. You should see a summary page on the main screen.
(3) On the summary page, click Restore Backup... in iTunes. You can find this under "Backups" and "Manually Back Up and Restore" towards the bottom.
(4) Choose a backup. It will show the dates and times for the backups, and normally you pick the most recent. Of course, if you wiped your iPhone because you were having software issues, you might want to restore from an older backup.
(5) Click Restore and wait until iTunes finishes restoring the backup. Do not unplug your iPhone during this time.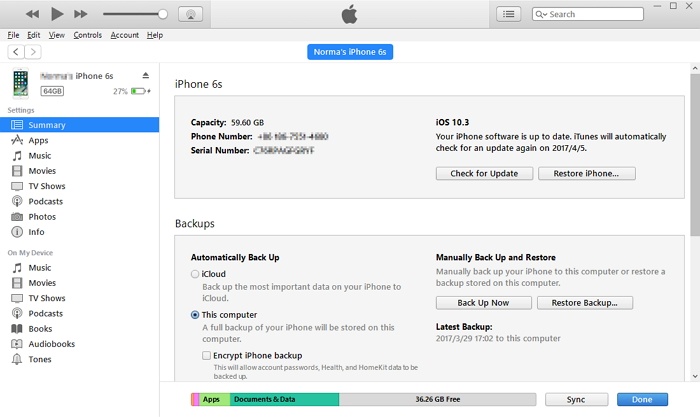 Now, there are some disadvantages to this method as well. For example:
You can't restore your media files in the backup, such as the songs that you had saved in your iPhone's storage. (You will have to add them later via an iTunes sync—if you purchased the music through iTunes.)
You might not need all of the data in the backup, but there's no way to selectively restore. You will have to restore the whole backup.
Sometimes you might encounter a restore error when you try to restore an iTunes backup. iTunes can be buggy occasionally.
Restore iPhone from Previous Backup by iMyFone iTransor
What is iMyFone iTransor? This is special software (renamed from D-Port Pro) that helps you create and restore backups for your iPhone. The interesting thing about it is that it even lets you create partial backups for your iPhone, so you can keep important information safe without taking up too much storage space on your hard drive. You can also selectively export or restore data from backups that you already made. This is the best way to restore iPhone from previous backup with no data loss. The latest iOS 15/14 and etc are supported well.
Steps to Restore iPhone from Previous Backup using iMyFone iTransor
Here is how to restore your iPhone from a previous backup quickly and easily using iMyFone iTransor:
(1) Open iTransor on your PC or Mac and click Restore Backup to Device in iTransor. All the backup files will be listed and select one you want.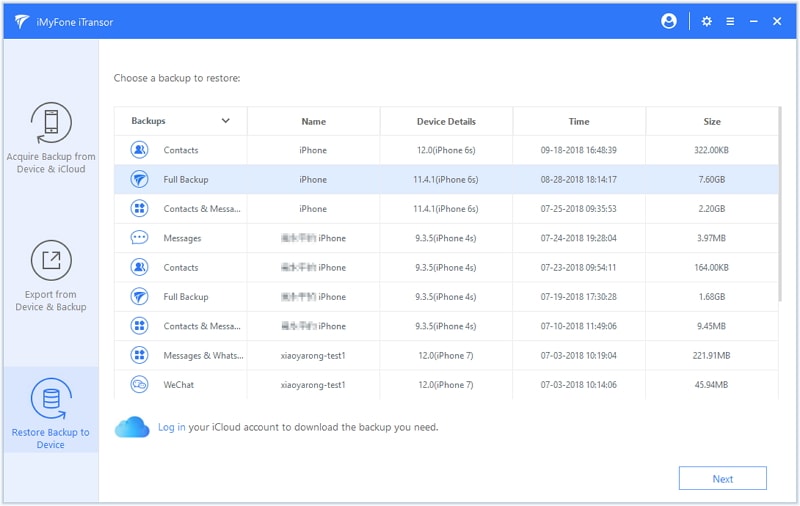 Then there are two choices for you - Restore Full Backup or Restore Partial Backup. Choose one according to your needs. We will introduce how to restore partial backup to your device.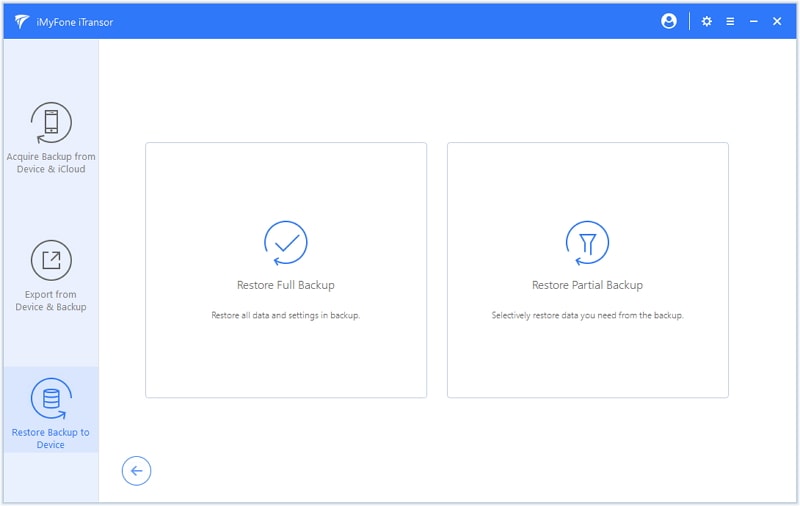 (2) Choose the data types you want to restore like contacts, messages, WhatsApp and WeChat data. Then connect your device to computer. Now you have can choose whether to preview or not. "Preview & Restore" can help you confirm whether the data included are useful or not; "Directly Restore" can save a lot of time for you to restore if your target device is completely new.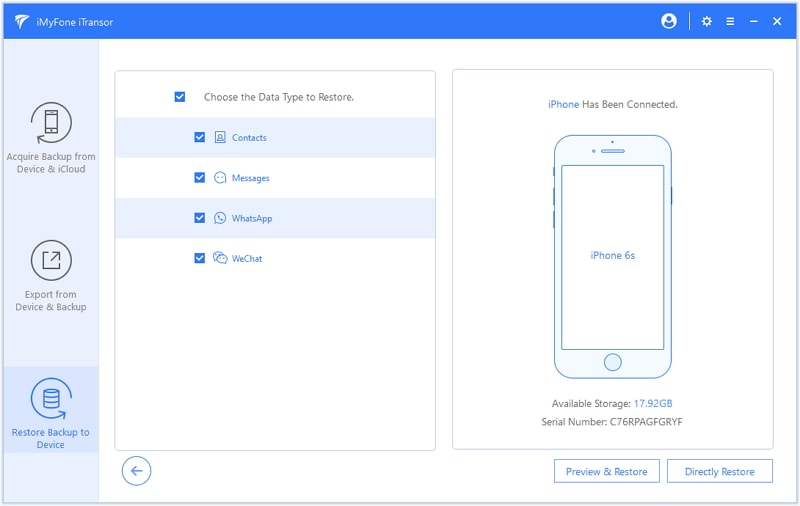 (3) You will view all the chosen data in this backup after sacnning. (If you choose to restore directly, it will not show you the contents.)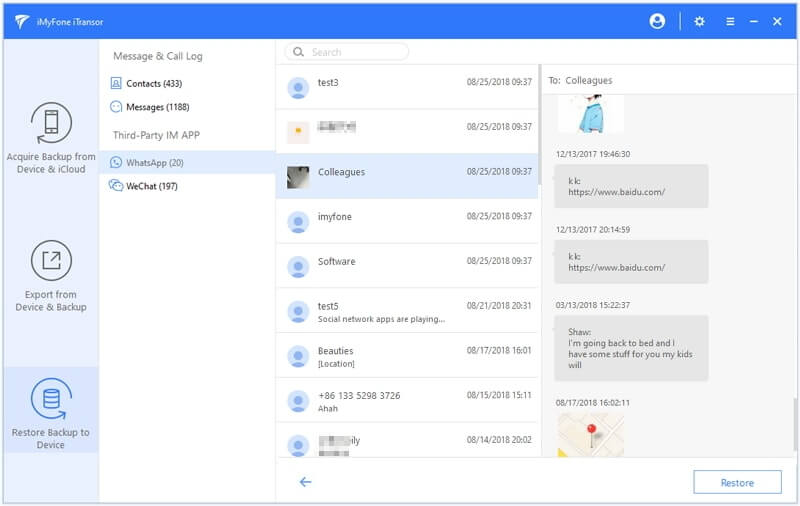 (4) Press Restore. Here you can choose merge or replace to complete the restore process. The differences between them have already been listed in the program.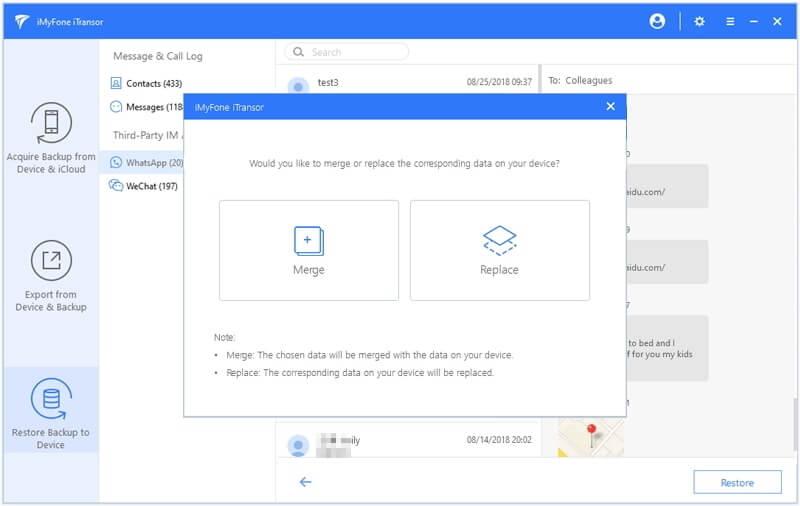 (5) Then wait for this process to finish. If your data size is large, it may take a few minutes to complete.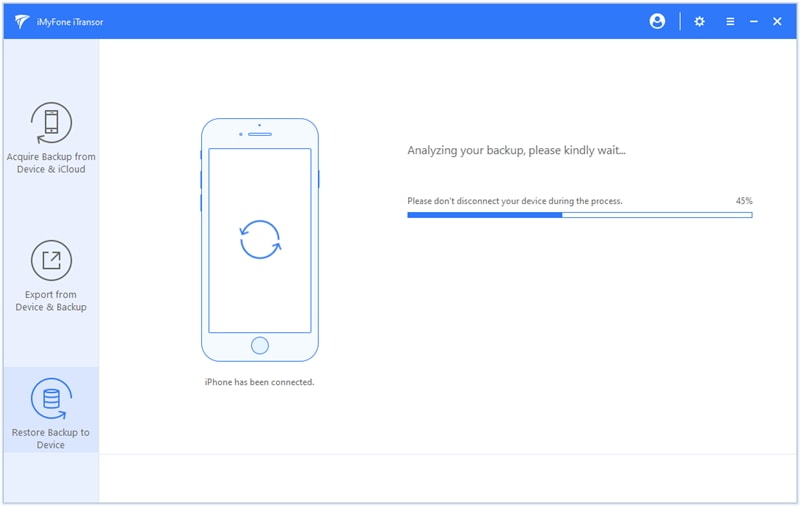 (6) Once the software restores the backup. You can view the restored data on your device easily.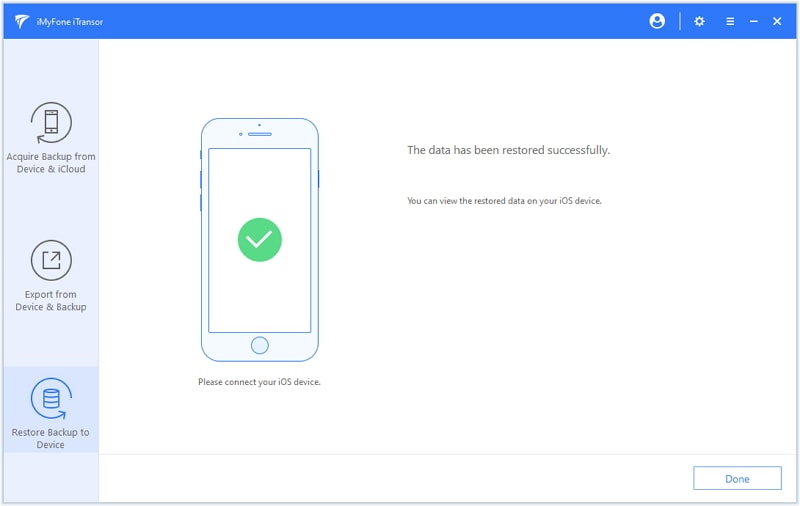 Remember that the "Merge" option will not overwrite the corresponding and current data on your device; in addition, the "Replace" function will only replace the corresponding data you have chosen and other data types will not be affected.
Some of the advantages and disadvantages of this method include:
Advantages:
The "Acquire Backup from Device & iCloud" section is totally free to use.
You can only back up and restore messages, contacts, WhatsApp and WeChat data as you wish.
You can export more than 18 data types from your iPhone, iTunes and iCloud backup.
There are "merge" and "replace" options for fully restore and partially restore.
Disadvantages:
This whole software is not totally free. (However, you can download the free trial to use some features of it.)
It doesn't support every data type when you use the Restore Partial backup function. However, most of the important ones, like WhatsApp and WeChat data and other common kinds of data like messages, contacts are supported, so this probably won't be an issue for you.
Yes, indeed, restoring your iPhone will cause you to lose all of your data if you ask "if I restore my iPhone what will I lose". Everything will be wiped from your phone. There's no reason to be worried, though, as long as you use reliable software to back up your data. You can use iTunes or even iCloud, but if you want more control over your backups, check out iMyFone iTransor (iOS 15 supported).