Kik is a service that allows users to send push messages. You send a message through Kik, they find the recipient in the user database, and then forward the message. Kik only relays messages.
The messages are not stored, tracked, or retained. So, what should we do if we want to view the old Kik message? Let me answer for you in this post! Keep going!
Does Kik Delete Messages Automatically?
In short, YES. Kik automatically removes old messages. When you exceed the number of messages you can save on Kik, the old messages will automatically delete.
For Android
Within two days, you can see the last 600 messages you exchanged through Kik for Android. Only 200 messages from older chats are kept on your device.
For iPhone
In the recent chats, Kik for iPhone only shows the last 1000 messages. Only the last 500 messages will be visible for chats that have lasted more than 2 days.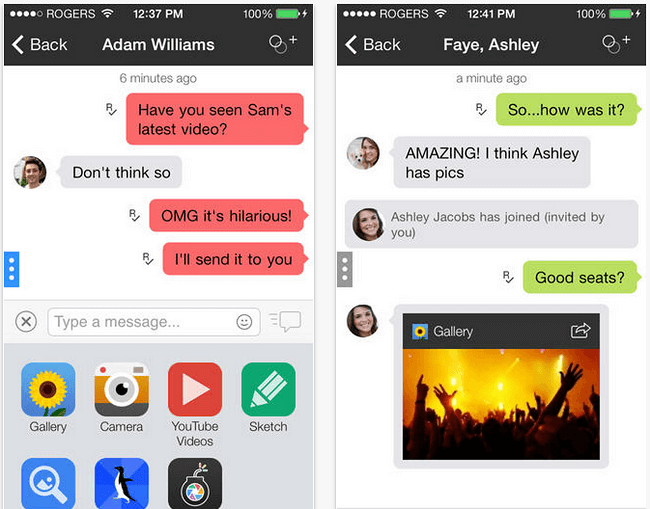 Note
Kik won't notify you when you delete your friends' chats or the message you recently sent, Kik messenger refers only to you.
Why Does Kik Delete Older Messages?
Your messages are not stored on Kik's servers; they are stored in your phone's memory. When your phone's storage is used up, it will delete the older messages to save the new ones.
How can I Restore Old Messages in Kik?
Recover Kik Messages via Android Backup
You can restore lost Kik Messenger messages/photos directly from the Android backup if you have created backups for your Kik Messenger files such as messages and videos:
Step 1. Tap "Account" under "Settings".
Step 2. Click "Restore" under "Backup and Restore".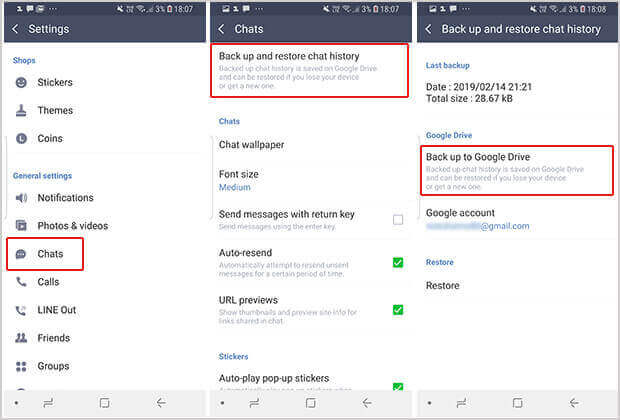 ---
Get Kik Messages Back from a Cloud Backup
Following the steps below will allow you to restore deleted or lost Kik messages from a cloud backup:
Step 1. Click "Settings", and tap your account name.
Step 2. Select the backup from "Backup & Restore".
Step 3. Click "Restore" to start retrieving Kik message.
---
Retrieve Deleted Kik Messages with Data Recovery Software - iMyFone iTransor
If you want to view Kik data more easily, it's better for you use a third-party app to backup them! Here we recommended iMyFone iTransor. It is a software that can help you backup kik data selectively or all, and restore whenever you want (even you have delete on your phone).
Let's see how to retrieve Kik message via iMyFone iTransor
Step 1. Download and install iMyFone iTransor on your PC, and then click "Restore Backup to Your Device" > "Restore Full/Partial Data from Backup". Here we take partial for example.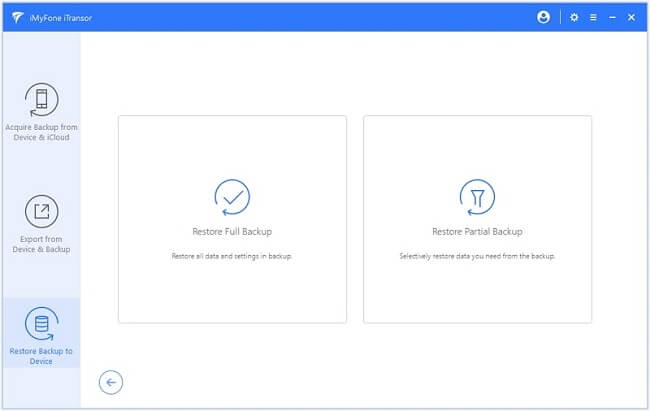 Step 2. Choose one or more data types, then click "Preview & Restore" or "Directly Restore". If you choose "Preview & Restore", move to Step 3; otherwise, go to Step 4.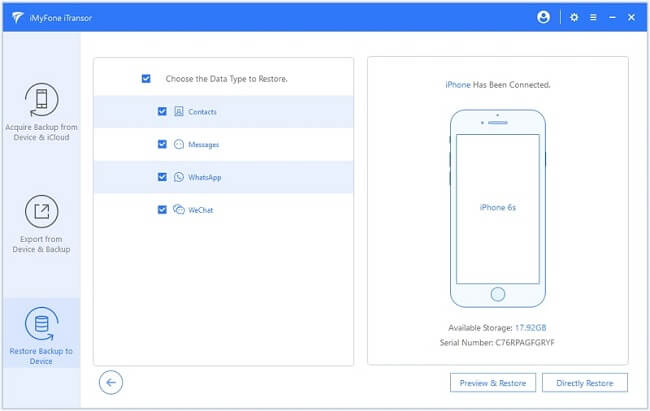 Step 3. You can preview the data you selected, then click "Restore".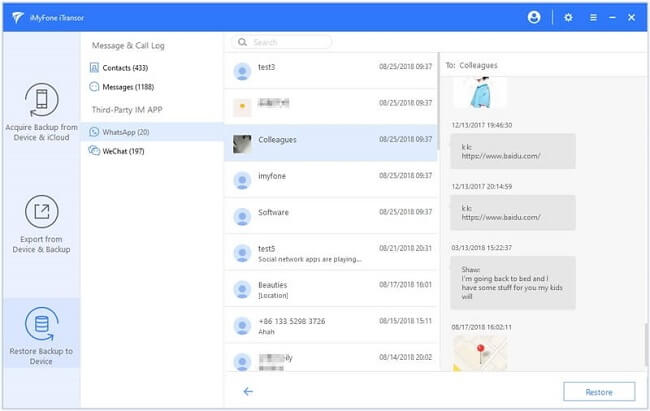 Step 4. Choose "Merge" or "Replace" as you need.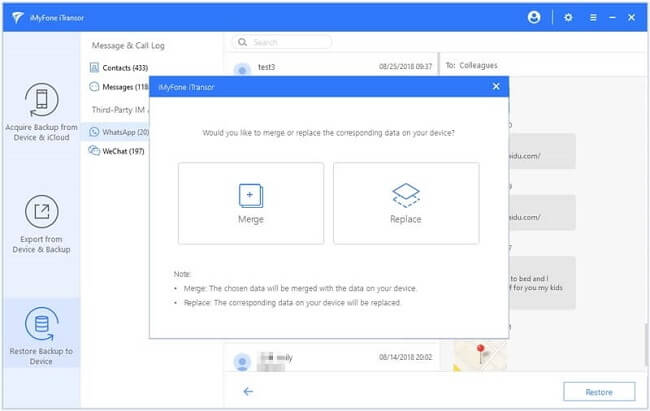 Step 5. The program will start to restore and you need to keep wait for several minutes.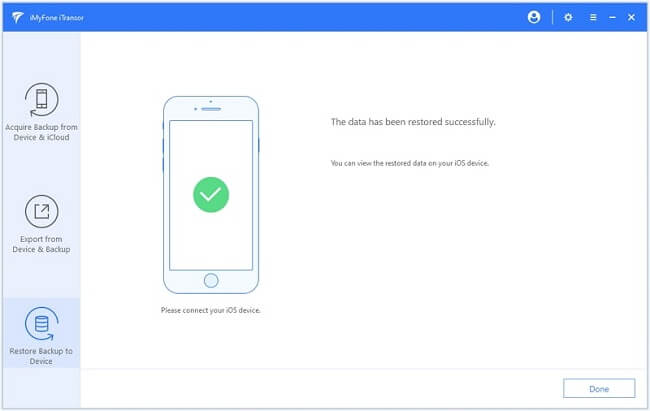 Is there a Way to Save Kik Messages, Photos, and Videos?
Kik does not provide an archive feature, but the phone and chat data can be archived. In this scenario, iTunes and PC are unable to view the data. Even after it is saved, it isn't usable.
You can try two methods below to keep and view your old Kik message.
Take a Screenshot to Save Old Kik Message
To save messages or photos on Kik, the quickest way is to take a screenshot of what you want. Let's see how to do:
Put the chat in the center of the screen before taking a screenshot. The most important messages in the conversation can be captured by scrolling up or down the chat.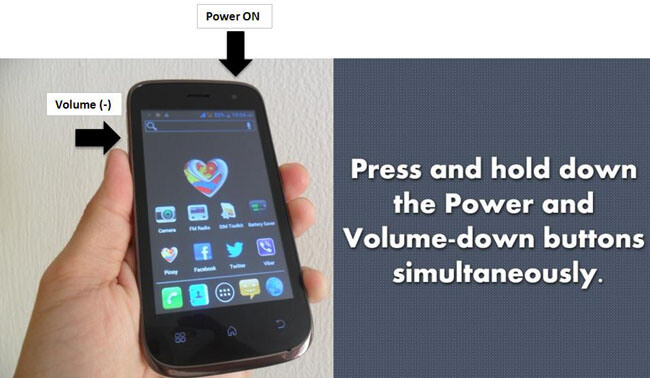 Android 10 or higher devices:

Holding the power button briefly, then selecting screenshot, then selecting the downward arrow below the captured image.

For older Android Phone:

Hold down the power and volume down buttons until you see the capture notification (it works on newer ones, too).

For iPhone:

A screenshot can be taken by holding down the home and lock buttons on an iPhone. You'll need to hold the lock and volume-up buttons if you have an iPhone X or the newest versions.

Note

Screenshots of Kik messages could be viewed as a betrayal of trust, so use them carefully.
Copy and Paste Older Messages from Kik
While copying and pasting isn't the most user-friendly solution, it is an effective way to save old messages in Kik.
Following these steps to copy-paste Kik messages in Android & iPhone:
Press and hold a piece of text until a selector box appears.
Choose "Select All Text" and copy the content into a notepad or Word document on your Android device.
Make it clear what the document contains by naming it meaningfully.
Conclusion
In a word, if you want to view the old Kik message, it's better to backup them. Otherwise, it will delete automatically for the new message store. Since manual backup is complicated and inconvenient, we recommend you use iMyFone iTransor to do it!