Are you wondering how to restore your iPhone from a previous backup? It's actually very easy to do. Check out these various methods and your iPhone will be restored from previous backup in no time, even iOS 15 is running on the iPhone:
1. Restore iPhone from Previous Backup in iTunes
This is one of the official Apple methods, but it definitely has its fair share of limitations. iTunes will only keep a single backup for one device — the last backup you made for that device. Any new backups you make will overwrite the old ones. Regarding the restore process, users cannot restore certain types of data from previous backup — you need to restore all data or nothing.
Either way, if you want to specifically use this method, this is how you do it:
(1) Plug your device into the computer where you made old iTunes backup, then open iTunes. Click on your device icon and you will see the basic information of the device.
(2) Locate the option Backups and click the button Restore Backup...
(3) Look at the date and size of these previous iTunes backup and choose the one you want to restore.
(4) Click Restore to confirm and then wait for the process to finish. Don't unplug the iPhone until it's done.
(5) Keep the iPhone connected after it restarts and wait for it to sync with your iTunes.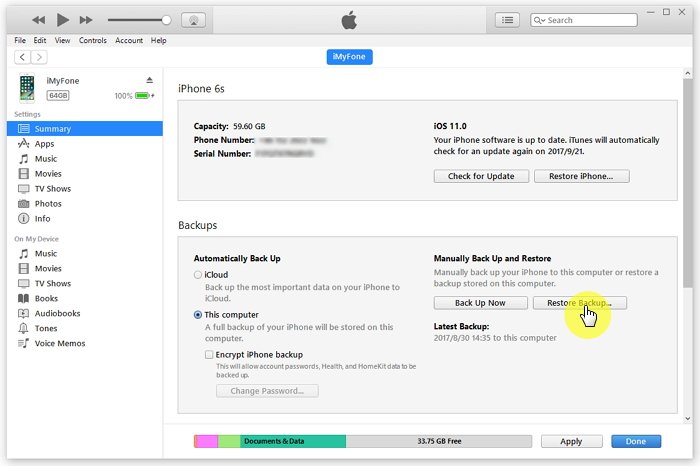 2. Restore iPhone from Previous Backup in iCloud
This is yet another one of Apple's official methods for restoring your iPhone from old backups. When you restore from iCloud, you can choose from any of your previous backups on there. However, just as with iTunes, you will have to restore the whole backup to your iPhone, which will overwrite all the current data on there. In other words, you can't be selective about what data you want to restore from the backup.
Here is how you use this method to restore previous iCloud backup:
(1) If your iPhone is totally brand-new, you should see the "Hello" screen on your phone. Tap the Home button and follow the on-screen directions until you get to the Apps & Data screen.
(2) If you have set up the iPhone, check the article to learn Where is the Apps & Data Screen on iPhone.
(3) Tap Restore from iCloud Backup and log into your iCloud account, then choose the iCloud backup you need to restore from the list.
(4) Wait while your backup is restored. Do not interrupt the connection.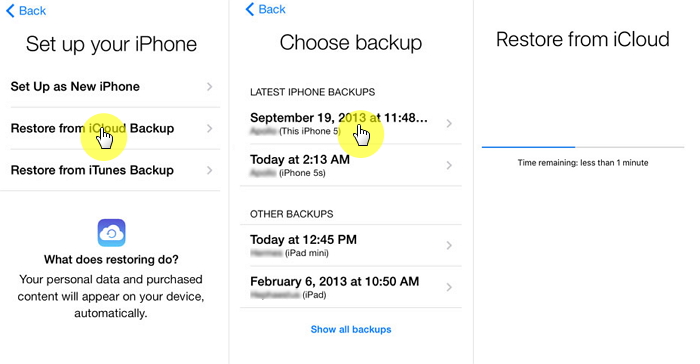 3. Selectively Restore iPhone from iTunes/iCloud Backups
If you meet problems during restoring iPhone from previous backup via iTunes or iCloud, or you just want to restore certain types of data from the backup, you can also draw support from a 3rd-party tool to do this. iMyFone iTransor is definitely what you should try. It is special software that allows you to make backups of your iPhone or other iOS device with iOS 15/14/13, and restore the backups according to your own will. A lot more flexible than iTunes or iCloud, iTransor owns more important features which include:
Key Features (iOS 15 Supported):
It can selectively restore data onto your iPhone, such as WhatsApp, contacts, messages and more, and not just the whole backup.
When you selectively restore, it can merge the data in previous backups with the data on your iPhone (No Data Loss At All).
It supports iOS 15 and older versions, as well as iPhone 11 and earlier models.
It can pull data from your iPhone or your backups and send them to your computer so that you can utilize them without limitation.
You can restore your backups stored anywhere on your computer, even on an external drive.
How to Selectively Restore iPhone from Previous Backup via iTransor
Here is how to selectively restore data from an old backup using iMyFone iTransor. The whole process is pretty easy to follow and can be completed in several minutes:
(1) Download and install iMyFone iTransor to your computer. After that, plug your device into your computer and launch iTransor.
(2) Click where it says Restore Backup to Device in the sidebar. You will see all the iTunes backups on the computer and they are ready for you to choose. Choose a backup from the list and click Next.
Note: with the program you can also restore a previous iCloud backup selectively by clicking the Log in your iCloud account option under the backup list.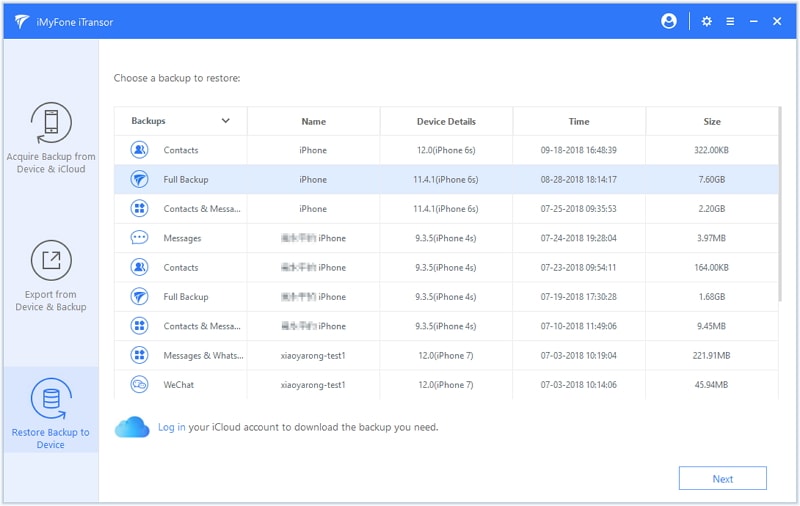 (3) On the next screen, click Restore Partial Backup to choose the data type(s) you want to restore. Then click Preview & Restore or Directly Restore according to your own will.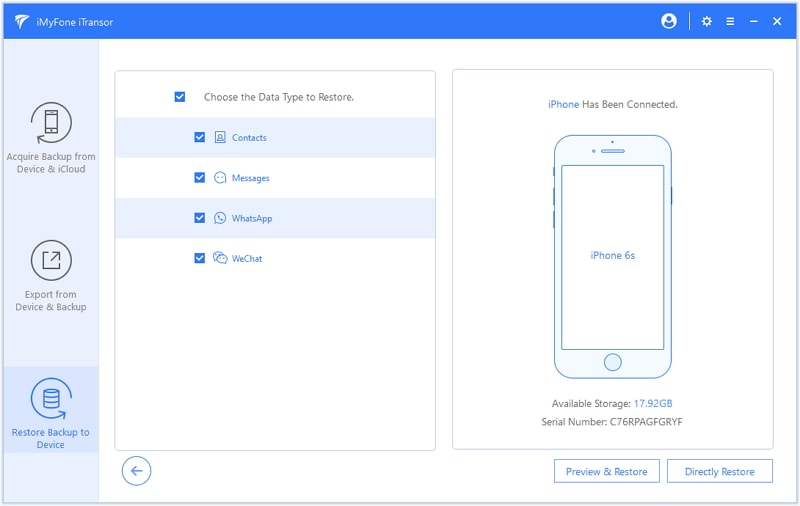 (4) If you click  Preview & Restore the program will display the data you choose for you to view so that you can confirm they are what you need. After that, Click Restore to choose Merge or Replace.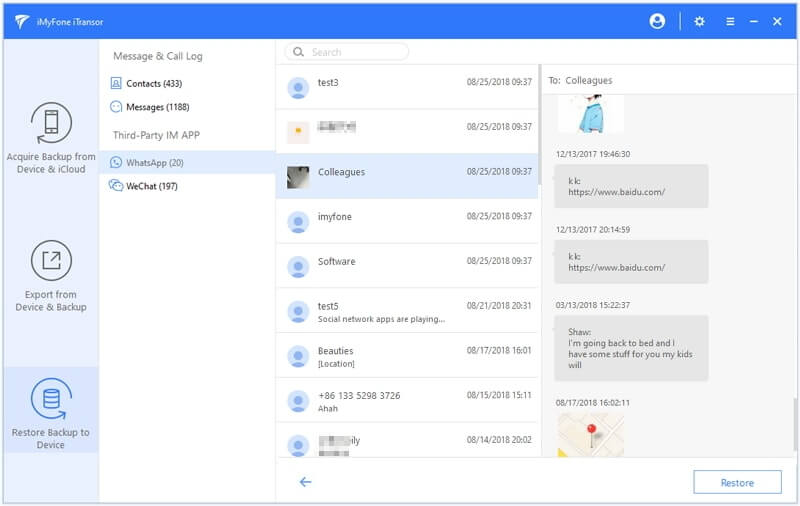 (5) Now wait until the restore process is done. Don't disconnect your iPhone until this is done.
Now you learn how to selectively restore partial data (including WhatsApp, contacts, messages or WeChat) in previous backup to iPhone. If you want to restore the full backup, iTransor can do it also just like what iTunes or iCloud does. The interface for this software is very easy to use, and comes with an online guide: How to restore a whole backup to iPhone.
There are many different ways showing how to restore iPhone from previous backup, but one of the best ways is to use iMyFone iTransor. It is simply the most flexible method with the most options, and it also allows you to make partial restores and to extract specific data. If you want more control, then iTransor which supports iOS 15 is a good choice. Try its free trial version for now and enjoy the free benefits it offers!