It is a proven fact that BlueStacks is one of the most popular Android emulators that attract many users and make them stick to this emulator only with many distinguishing features including spoofing location. It is helpful for Pokemon Go users to spoof the game on their computer and collect various Pokemon easily.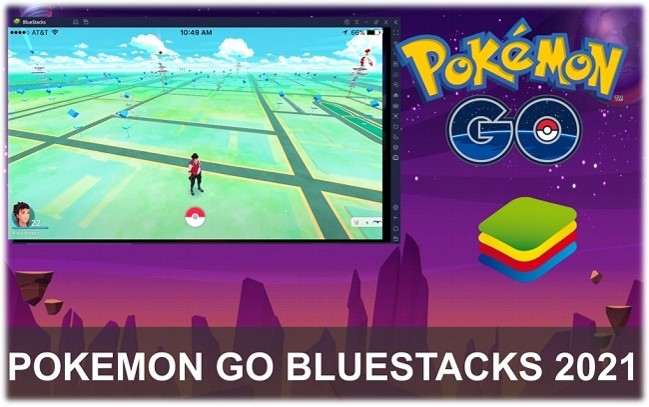 Though a significant number of Pokemon players spoof Pokemon Go on BlueStacks, we know that some players are facing issues. Some unexpected errors might occur, for example, Pokemon Go unable to authenticate on BlueStacks. We will discuss a lot more below, so keep your excitement level for the gaming arena high and keep reading.
Part 1: Knowing What Is BlueStacks
BlueStacks Player is an Android emulator. It is aimed to enable Android applications to run on Microsoft Windows and Apple's macOS computers. BlueStacks uses PCs hardware power more efficiently so that you can play even the most advanced mobile games with maximum graphics quality without any problem.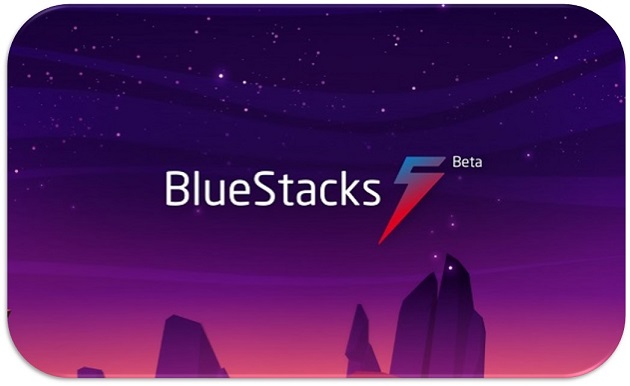 Why Choose BlueStacks?
BlueStacks has many features that make it so attractive for its fans. It is easy to install, free to use, and offers the best performance. Let us see some of its most popular features and see how it can be used for Pokemon Go BlueStacks spoof.
1. BlueStacks offers adapted controls.
Android has on-screen controls, while the majority of PCs are known for their keyboards and mouse. BlueStacks has two ways to solve this problem.
Firstly, it adapts with the on-screen controls and your mouse buttons. Therefore, you can use your mouse control efficiently.
Secondly, you can use the advanced settings dashboard to customize your mouse clicks for personalized effect and even customize your clicks to match your keyboard keys. Another option is to use an external controller for more seamless gameplay and excitement.
2. Pokemon Go on BlueStacks offers Big Screen Experience.
Though phone screens have grown immensely in size in the past few years, they still cannot be compared to PCs. A game played on the big screen has its charm and excitement.
3. Never Lose Progress.
Pokemon Go on BlueStacks can even sync with your Android device so you never lose your progress. So even when you switch from PC to phone, you still have your hard-earned records with you. Along with records, your advancements, in-app purchases, and settings will also remain saved.
Part 2: How to Spoof in Pokemon Go on BlueStacks
1. How to Install BlueStacks?
System Requirements for BlueStacks (PC)
Windows 7 or higher, though Windows 10 is recommended
2GB of RAM though 8GB or more is recommended
At least 5GB hard drive space
Broadband internet access
Modern multi-core CPU
System Requirements for BlueStacks (MacOS)
macOS 10.12 (Sierra) or above, macOS 10.13 (High Sierra) is recommended
4GB RAM is required, and 8GB+ is recommended
At least 8GB of storage space on the hard drive, SSD recommended
Modern multi-core CPU
Intel HD 5200 graphics or higher
Steps for Installing BlueStacks
Step 1: Download the program installer from the official download page of BlueStacks.
Step 2: Go to the file location and double-click on the installer. On the BlueStacks installation wizard, click Install Now.

Step 3: Once BlueStacks installation is completed, click the Launch to run BlueStacks.

Step 4: Click Google Play Store to log in for Pokemon Go BlueStacks spoofing.

Step 5: Type your Google credentials and press enter to continue.
Step 6: Carefully read the Google terms of services, and click I agree if you are satisfied.
Step 7: BlueStacks 4 emulator is now ready for you to download and install apps and games.
Tips for using BlueStacks
After the installation, below tips can help you speed up the emulator for fast gaming.
Enabling Virtualization Mode in your computer may speed up your emulator.

Try installing Advance Gaming Booster on your computer.

Remove Temporary Files from Windows.

Set BlueStacks to High Priority.

Change your Power Plan to High Performance setting for better speed.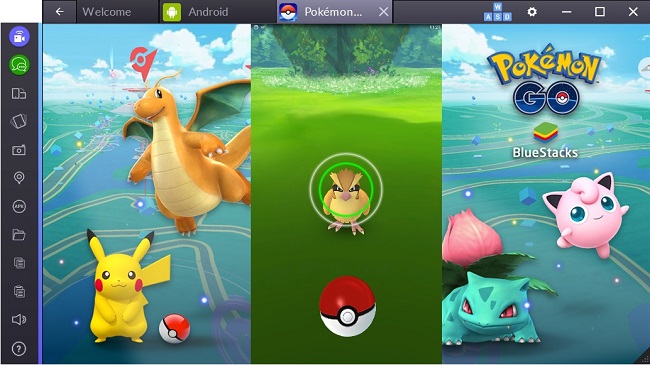 2. How to Install and Fake GPS for Pokemon Go on BlueStacks?
It is essential to install some apps and do some settings to allow Pokemon Go to spoof BlueStacks. Here are the required steps:
Step 1. Setup for Pokemon Go Spoofing on BlueStacks
Launch the Play Store on BlueStacks and search for Pokemon Go. You will install Pokemon Go on your BlueStacks account. Once the installation is done, launch the Pokemon Go APK and let it root the simulated device. Restart the Android plugin on your system for changes to take effect.
Step 2. Fake GPS app
Go to the Play Store and search for a reliable fake GPS app (Lexa, Hola, PGSharp). Then, save the APK but do not install it yet. Now, launch the BlueStacks store and install the Lucky Patcher APK on the application and use it to install the Fake GPS app as a system application on the device.
Step 3. Select your location on BlueStacks and Pokemon Go
Now all the necessary setup is done, so start playing. So, we can use Pokemon Go spoofing on BlueStacks for playing. First, launch the Lucky Patcher to load Pokemon Go and the Fake GPS app on the device. Agree to terms and give necessary preparations. Then, launch the Fake GPS app, simulate the location, and Voila! Now you can use BlueStacks GPS spoof. You can now launch Pokemon Go on BlueStacks and go gaming.
Part 3: Troubles with Playing Pokemon Go on BlueStacks
BlueStacks and Pokemon Go are a brilliant combination. However, sometimes things do not go as smoothly as you might want. In this section, we will discuss solutions to some most common problems in BlueStacks GPS spoofing.
BlueStacks Fails to Authenticate Sometimes.
BlueStacks GPS spoof cannot be run on the latest version of BlueStacks and produce an Unable To Authenticate error.
Pokemon Go is not designed to be played on a computer.
Niantic has updated its security so Pokemon Go does not work on BlueStacks sometimes. In this case, your best bet is to spoof the location without BlueStacks. This may come as a shock, but fortunately, there are alternatives. In the next section, we will discuss how to play Pokemon Go without BlueStacks in detail.
Part 4: How to Spoof Location in Pokemon Go without BlueStacks
If you are still facing issues with Pokemon Go to continue your adventure with gaming, you need iMyFone AnyTo. iMyFone has launched the AnyTo with powerful functions that fix all location limitations. It can simulate location and change GPS location to any place of your choice. The best part is that you can put it to auto setting to show that you are traveling. All these features make it possible for you to play Pokemon Go easily.
Not only for Android. AMAZING Pokémon GO spoofer for iOS tutorial is here!
Reason for Choosing iMyFone AnyTo
As we have already discussed, iMyFone AnyTo has every feature you can expect. So let us see the advantages of AnyTo in detail.
It works on multiple platforms without any problem, including Windows, macOS, Android, iOS, and it can support 5 iOS devices at the same time.

It is straightforward to use. With a single click, you can mock any location. The planned route and auto move option is the most fantastic feature. You can show yourself moving at a set pace; you can walk, run, or move on a vehicle.

Quickly move to anywhere in the world at any time. Great features and total reliability are the best benefits of this software.
How to Spoof Pokemon Go with iMyFone AnyTo
Step 1. Install iMyFone AnyTo on your computer. Click this Get Started button and follow the given instructions to connect your phone.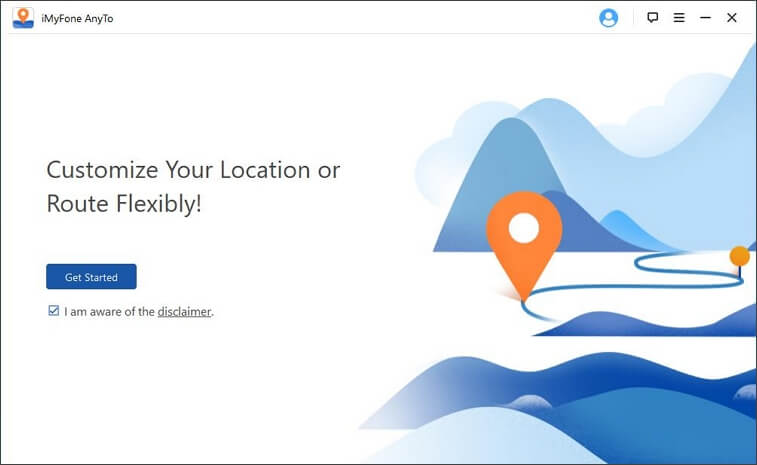 Step 2. When your device is successfully connected to your computer, you will see a map on your screen. Select the Teleport Mode at the upper right corner for Pokemon Go.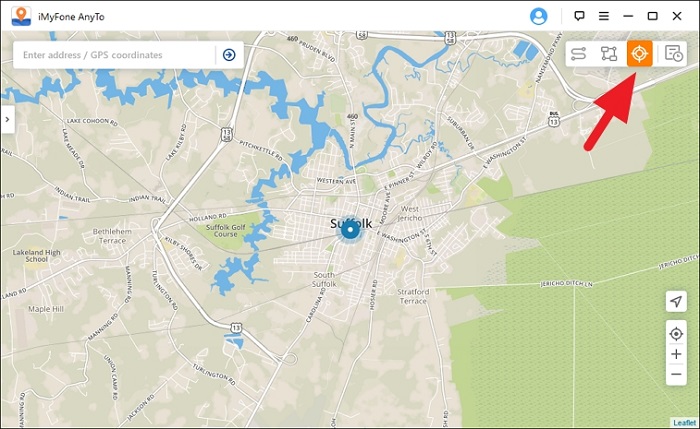 Step 3. Select a fake GPS location for Pokemon Go. Open Pokemon Go on your iOS device. Then, choose any fake location by dragging and zooming the map. Alternatively,you can enter the address or coordinate in the Search box to select your destination.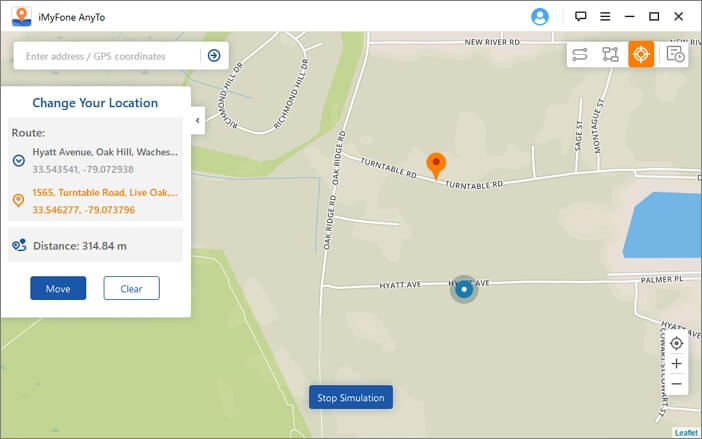 Step 4. Fake GPS location in Pokemon Go.When you select the location on the map and click the Move button, your location is changed in Pokemon Go.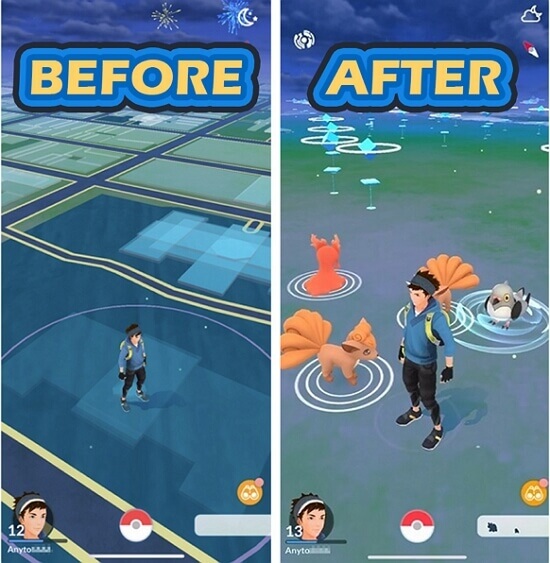 Conclusion
BlueStacks and Pokemon Go are an excellent combination of the ultimate gaming experience and unlimited fun. However, when you get into issues in BlueStacks GPS spoofing because of security and other reasons, iMyFone AnyTo is great substitutes to BlueStacks. You can hatch more eggs and have the ultimate experience using it. Go and Just download and try it!