Take advantage of the whole wide web without any restrictions by faking your GPS on your phone or device to reap the benefits of streaming TV shows that are restricted in your country, content that you can't access and even go as far as changing your location to make it appear you are travelling somewhere cool (like Bali) when actually, you're sitting on your sofa in your pajamas! Now so many fake location changing apps out there, it can be difficult to differentiate which one is best and more importantly, safe for you to use. With Android and iOS being the two operating systems dominating the market, we take a look at Hola Fake GPS Location app and iMyFone AnyTo change location app to explain how they work.
Part 1: Fake GPS Location to Anywhere in the World with Hola

What is Hola VPN?

Hola VPN is a fake location mobile app offering a form of virtual private network services, often referred to as VPN. Designed to make the Internet faster and more open, Hola VPN is a free service for private use on PC, Mac and Android as long as you have a subscription on iOS. The most common use of Hola VPN is to watch and consume content that is restricted from your country such as Netflix shows.
There are two distinctive services that Hola GPS fake location app uses. Hola free VPN is the standard service, which allows you to browse the web without any restrictions using peer-to-peer VPN and used by over 160 million people worldwide. Alternatively, for even more benefits of its services, Hola offers VPN PLUS with access to more sites and platforms such as mobile devices, Smart TVs, game consoles and more!
Hola VPN is very accessible, it can be installed as a browser extension to fake your GPS location on Chrome, Firefox and Opera on Windows and Mac PCs or you can download Hola fake GPS location App on your Android or iOS device.
How to Use Hola GPS Fake Location VPN on Android in 4 Simple Steps

Step 1: Disable High Accuracy Location
You will need to disable your high accuracy location to use Hola. Simply go to your location settings and find "Android Location settings", make sure to leave on GPS ONLY or device only.
Step 2: Download the Hola Fake Location GPS App
Go to your device's app store and download Fake GPS Location – Hola app.
Step 3: Change Your Location by Hola
Once you open the Fake GPS Location by Hola app you will see a map of your current location. You can change your location by simply moving your way around the map on the screen or by typing the exact location you want to be using the search bar at the top of the screen.
Step 4: Start Using Your Preferred Location on Your Android Device
Now you've selected your fake location using the Hola VPN app, you can start taking advantage of browsing restriction-free Internet Chrome, Firefox and Opera! The location that you have selected is now running, you will see a "STOP" button, which you can click at any time to disable this location.
Disadvantages of Using Hola Fake GPS Location App

Hola is a VPN, GPS location changer service for unblocking websites, which is great if that's all you are looking at doing. It's worth noting that Hola VPN comes with its limitations, including some users said Hola cannot work well on their mobile. In order to solve this problem, we provide you a wonderful alternative to Hola - iMyFone AnyTo.
Part 2: Best Alternative to Hola to Fake GPS on iPhone

iMyFone AnyTo is an easy-to-use GPS fake location service, that allows you to change your location instantly on your iOS device with just one click! Whether you're looking to plan a route using maps, change your location on your dating profile, play AR games, access geo-restricted content or to even hide your iPhone location – the iMyFone AnyTo location changing service is multi-functional and easy to navigate. Transport yourself to anywhere in the world thanks to iMyFone AnyTo, with its precise location coordinate tool that allows you to pinpoint an exact location, as well as the ability to customize your moving speed to simulate movement such as walking or driving.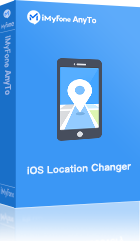 1,000,000+ Downloads
Benefits of Using iMyFone AnyTo to Fake GPS Location
iMyFone AnyTo is compatible with most models iOS devices such as iPhone 11, iPhone X, iPad Air, iPad Mini, etc.
You can change GPS location anywhere in the world in 1 click.
You can also create your route and customize your speed, which is great for AR gaming apps.
Pause your location anytime, anywhere, which also is a natural way of faking your location.
The Historical Records function allows you to access to previously used locations that you can reuse again with just a click.
Fake GPS Location in Few Steps on iPhone with Hola Alternative - iMyFone AnyTo

Step 1: Download and install iMyFone AnyTo directly to your computer/Mac. This application is compatible with most iOS devices. After installed, launch iMyFone AnyTo on your computer/Mac, then click "Get Started"
Step 2: Connect your iPhone to your computer/Mac via a USB cable. Then, unlock your iPhone. Your device will then prompt you to 'Trust this device' which you should then press 'Trust' and enter your passcode to complete this process.
Tip: If the 'Trust This Computer' option doesn't show or hasn't been accepted on your device, reconnect your device.
Step 3: Once you have successfully connected your iPhone to the computer/Mac, the map will begin to load and you can find your real-time location on the map.
Step 4: To select a destination on the map choose "Teleport Mode", this will be located on the upper right corner (the 3rd icon along). You can zoom in and out of the map by scrolling your mouse easily or by using the "+" and "–" icons on the bottom right of the screen. If you know the specific location to change your GPS location to, simply enter the address of GPS coordinates in the search bar on the upper left corner.
Step 5: Once you have selected your destination to change your device's GPS location, a sidebar will pop up showing the destination information including the name, coordinates and the distance. Click on "Move" then your location will be changed immediately.
Now, all location-based apps installed on your iPhone will also be changed synchronously.
You can now share your virtual location on social platform to trick your family and friends! What are you waiting for, even the latest iOS version 14 is supported, just click the Download button below and start sproofing location right now!
Note
To recover your location, simply restart your iPhone or iPad to reveal the real location.
All of your Fake GSP locations will be stored in your History Records, which can be found on the iMyFone AnyTo application on the top right corner of the screen and you can simply switch your fake locations with one click from your history records to revert back to that location easily.
Conclusion
With so many features to take advantage of that goes beyond just browsing the web, iMyFone AnyTo is the ultimate tool to fake your GPS location easily for iPhone and iPad. With just a click of a button, transport to every corner of the world, taking advantage of useful features that can help with everyday tasks as well as offering a spectrum of cool ways to boost your gaming profile, date in another country, watch location-restricted shows and music videos and so much more! Start taking advantage of iMyFone AnyTo by downloading the software right now!