[2023 New] Best Methods to Fake GPS in Pokemon Go You Should Know
Category: Change Location
7 mins read
Can you still fake GPS on Pokemon Go? Is it possible to control the character going outside while I'm home?
Originated by Niantic, Pokemon Go encourages people go out and catch the Pokemons. However, how can you play the game when you are unwilling to move or go out for the game?
Well, some game assistants are created! They can help you fake GPS in Pokemon Go. They allow you to choose a destination on a map and make the phone GPS synchronized. In this way, you can easily find and catch Pokemons from the places you can't physically get to, and even capture the rare ones with ease.

So the answer to the question "Can you still fake GPS on Pokemon Go", is YES.
We have researched and tested out 3 methods to fake GPS for Pokemon Go in 2023. They did work perfectly. No hurries, we will share the steps and the reviews of each method with you below. So, stay tuned!
Part 1: Why People Like to Fake GPS of Pokemon Go
Now that you have known how to fake GPS on Pokemon Go. In this part, we are going to disscus how exactly it can benefit us and why we like to do that.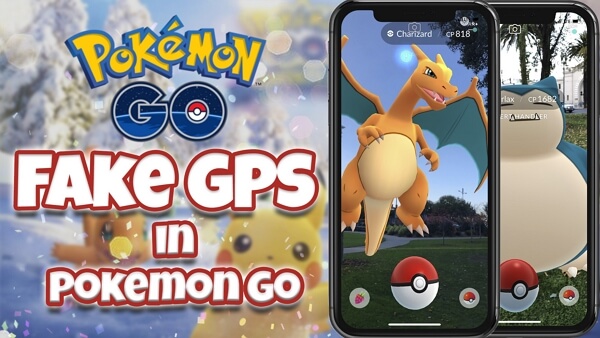 If you are a lazy fellow and don't want to move everywhere, faking GPS can be helpful for you. Faking GPS can imply moving without actually moving!
Some parents might not allow their kids for the reason that a lot of distractions through roaming can cause harm. Therefore, spoofing or faking GPS in Pokemon Go can be advantageous in such cases.
You can access the location for capturing Pokemon that you can never in other ways. Needless to say, if you live highly populated area or an area that is jammed, you can have trouble playing the game, and hence faking location can come in handy.
Lastly, by spoofing GPS, you can easily visit different gyms and make the gym-battling experience better. By doing this, the app will consider you to be somewhere else thereby unlocking Pokemon for you.
Part 2: 3 Tools to Fake GPS in Pokemon Go
01

The Best Fake GPS App - iMyFone AnyTo

iMyFone AnyTo Pokemon Go spoofer is designed to create virtual location or route for AR games. You can use it to fake GPS for Pokemon Go. You can change your location to anywhere in the world and catch pokemon in the game, without going outside.

What's more, iMyFone AnyTo can support both iOS and Android devices, icluding the latest iPhone 13 series, and Samsung, One Plus, Google Pixel, LG, etc.

Now we invite you to watch the video to explore this AMAZING Pokemon Go Spoofer:

So how do you think about it? Cool, isn't it? To get iMyFone AnyTo to fake GPS on Pokemon Go, you can click the Try It Free button below to free download it.

We also added the step-by-step guide on how to fake GPS on Pokemon Go with iMyFone AnyTo. It's pretty simple so we hope everyone try it out.

Step 1: Connect iPhone to the PC/Mac

Launch iMyFone AnyTo on your Windows PC/Mac (you can click the Try It Free button above to download it free). Click the Get Start button.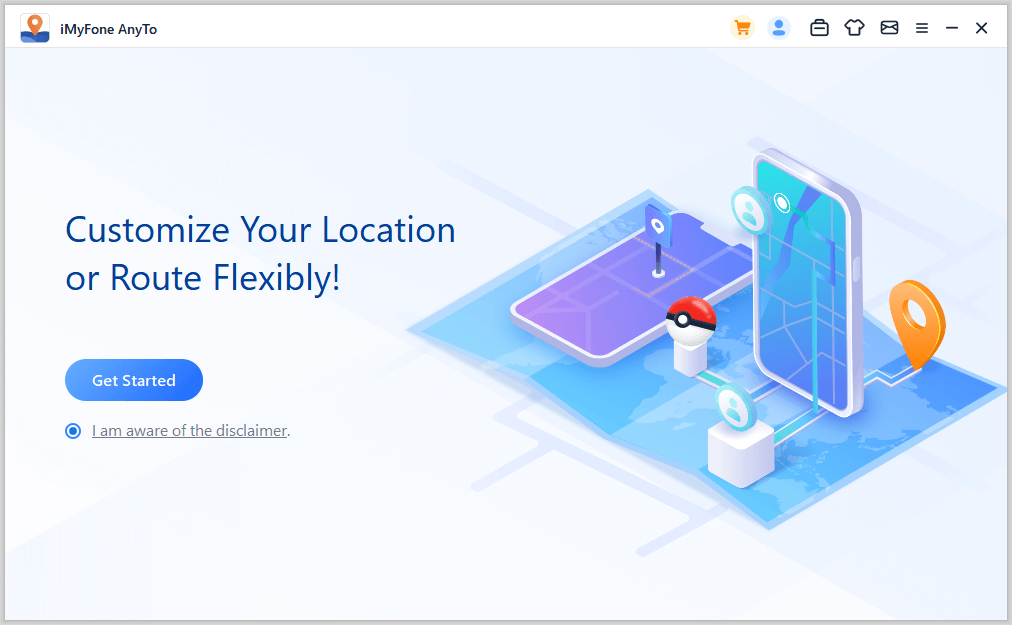 Step 2: Select Teleport Mode
Choose the third icon on the upper-right corner - Teleport Mode. Then you can input an address or zoom and drag the map to choose a fake location.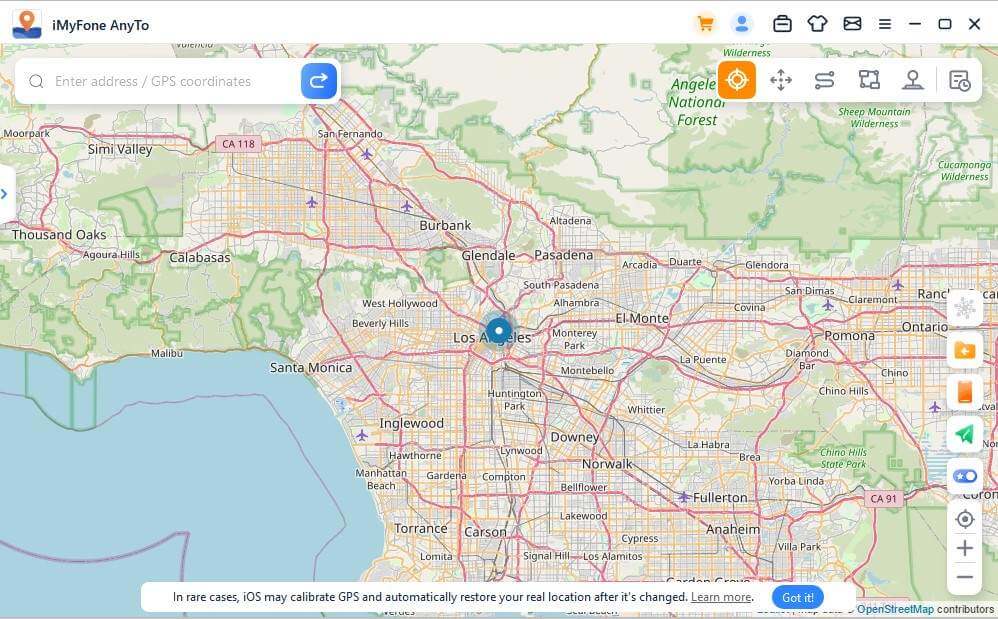 Step 3: Location Changed on Map
Now just click the Move button to change your location on the map to this new location!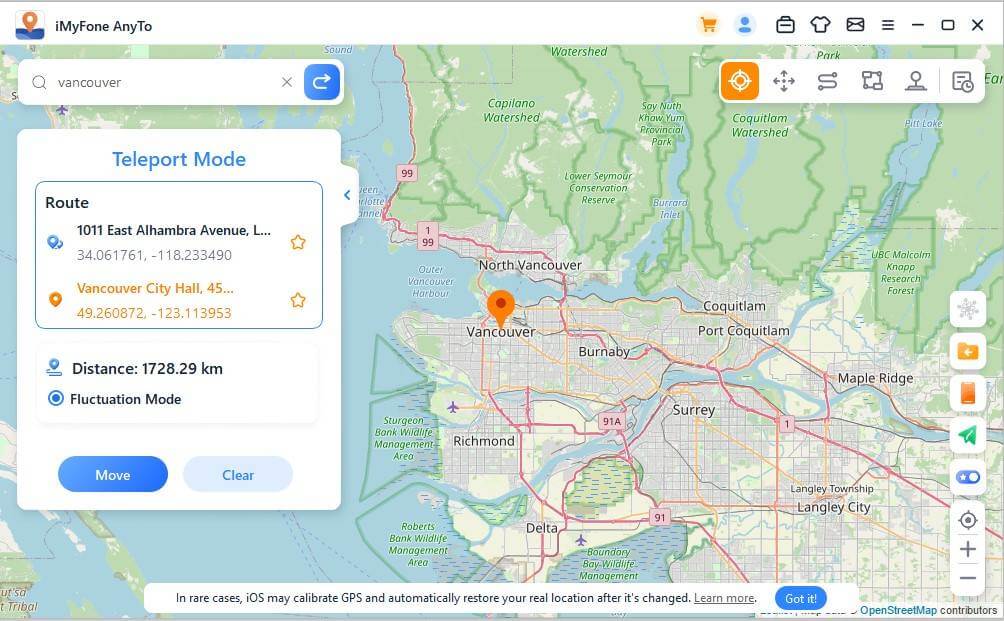 With iMyFone AnyTo, everyone can share fake locations on both iOS and Android devices without being noticed at all.
That's it! Your character in the game are now able to reach any place to capture Pokemons. Now see how much rare Pokemons you can capture!
That is how you can fake GPS location for Pokemon Go with the best location changer - iMyFone AnyTo. This tool also allows you to make a virtual route (Check the using guide >>) with some specific spots at a customized speed. This is useful for the game!
This does no harm to your device. You can use it to change your location to anywhere anytime. It is getting popular among the AR gamers. Interesting, huh? Just download it have a try!
Below are 2 fake GPS apps for Pokemon Go on Android phone.
Enable the Developer options. To do this, open Settings in your device. Tap on System afterward.
Head to the About Phone and go to Software Info. You will notice the build number of your device. Tap on it around 7 times and it will enable the Develop options.
---
02

Fake GPS GO Location Spoofer Free

This is one of the well-known apps that can help you fake GPS on Pokemon Go in all Android versions. Using this app, you can easily deceive any of the location-based apps. Here is the whole process to get the task done with this app.

Step 1: On your Android device, launch Pokemon Go firstly. Now, look for the location that you want to spoof and catch Pokemons.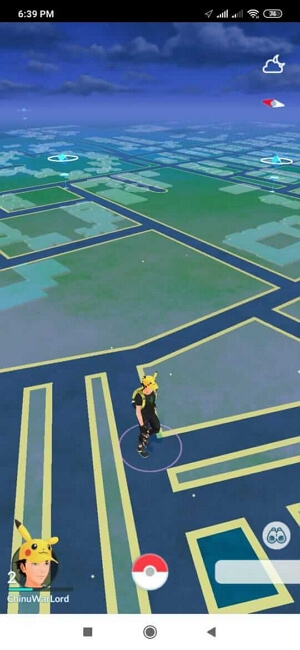 Step 2: Now, head to the Google Play Store and look for FakeGPS Free app. Go for the installation and upon successful installation, launch the app.
The app will ask you to ENABLE MOCK LOCATIONS. Tap on it and the Developer options screen will come up.
Step 3: Here, you need to tap on the Select Mock Location App. From the options, select FakeGPS Free i.e. the app you have just installed.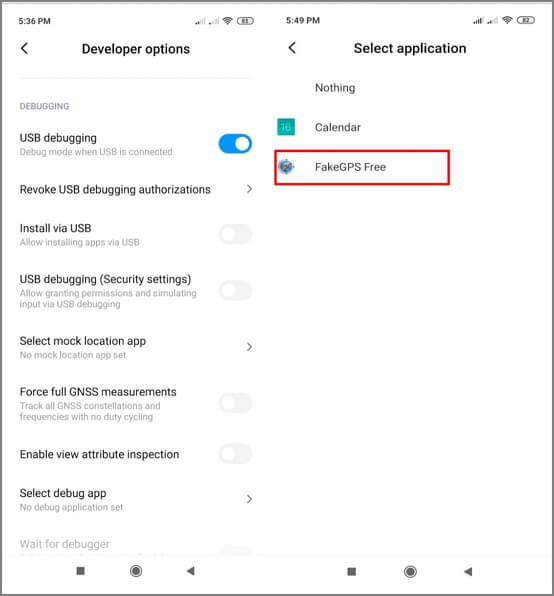 Step 4: Upon this, open the Fake GPS app once again and look up to the destination you want to go for and spoof it to the nearby Pokemon location. Hit on the Play button and you are good to go!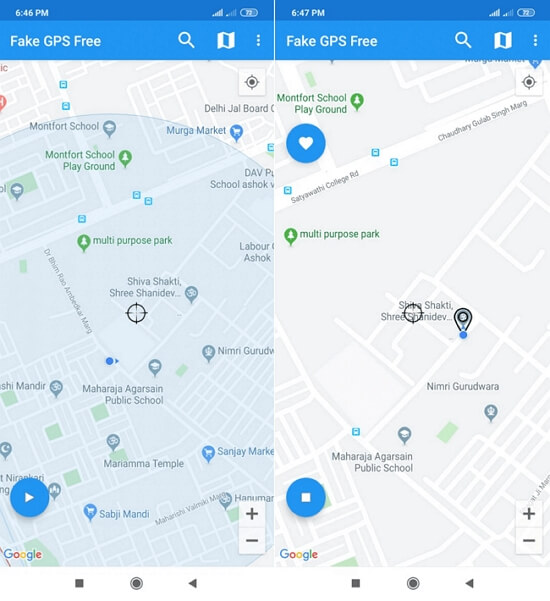 Step 5: Launch Pokemon Go now and voila! You have successfully faked GPS on Pokemon Go. You can now capture the Pokemon and have fun!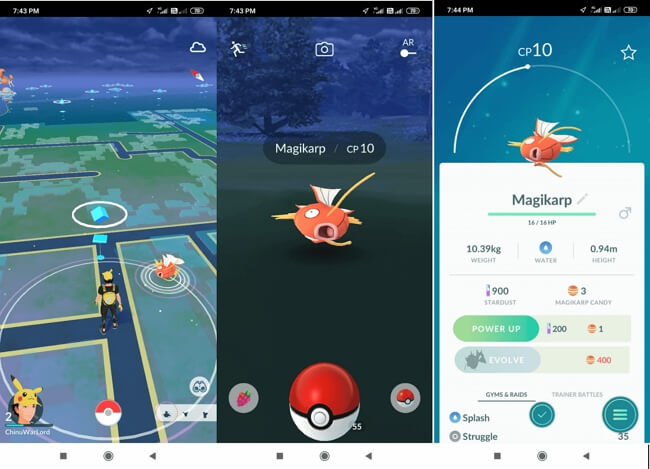 When you do this, the game may warn you not to trespass gameplay. Thus, confirm the action to proceed or hit on "I'm a passenger!"
---
03

VPNa – Fake GPS Location

Here is the other app that can help you spoof your location with ease. There is no rooting required and you can save the locations for using them later again. Here is how to fake GPS on Pokemon Go using VPNa.

Step 1: Open Pokemon Go to start with. Look for the location you want to spoof. Install VPNa app from the Google Play Store and open it.

Step 2: Assuming you have Developer options turned on, tap on "ENABLE MOCK LOCATIONS" on the app. Under the "Developer Options", choose "Select Mock location App". Choose "VPNa" from the options now.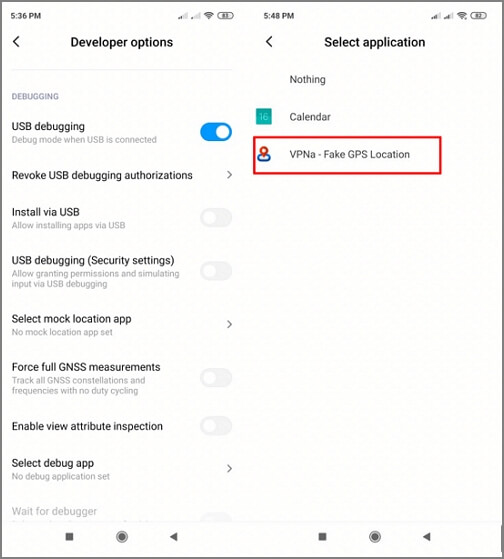 Step 3: Go to the VPNa app again and then look for the location you want. Confirm the changing of location and hit on the Power button. You are done now.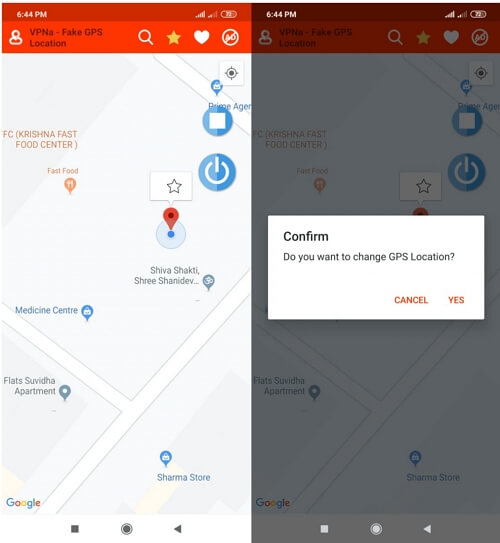 Step 4: Open Pokemon Go again and that's it! The location will be spoofed. You can now interact with your Pokespot and enjoy it!
Part 3: The Risk of Faking GPS of Pokemon Go
Faking GPS on Pokemon Go is certainly beneficial and can be fun. It is not free from risk though! And making you aware of half-truth is not what we aim for. So here, we will inform you about the risks involved with such thing so that pleasure you are getting won't shatter all of a sudden due to no knowledge. Here we go!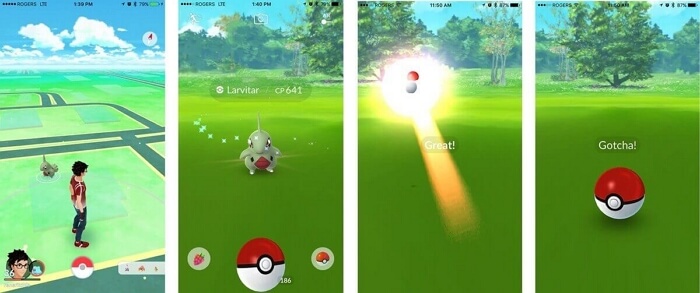 It should be noted that to spoof a location while playing Pokemon Go is against the policy of the game. And therefore, doing so carries your own risk. Initially, spoofing GPS for the good was not difficult but as the developers of Niantic perceived the misemployment of the app as well as the exploitation of the features of Android, they have made strict actions. There is a three-strike policy connected with faking GPS on Pokemon Go that might be implemented on you if you are not so lucky. It goes like this:
On detecting that you are taking the assistance of a spoofer app in Android, the company will issue the first strike which is 'Shadow ban". According to this, you will only be able to find common Pokemon for the next 7 days. The rare ones will not be encountered by you.
On issuing the second strike by Pokemon Go which can also be said as "temp ban", your account will be suspended for the next 30 days nearly. Once this period is over, the account can be restored but during the period, you can't login.
When the company realizes the continuity of the spoofing, the third strike will be applied and this time, it is the last strike. With this, your account will be banned permanently and you will not be able to play the game.
Part 4: Other Tricks to Cheat Pokemon Go
1

Botting

Botting can be considered synonymous to spoofing, it is automated though. In other words, it is basically automatic spoofing. With the bot accounts, you get to roam around the map and choose the rarest and high-level Pokemon available. However, on the serious note, as spoofing using this cheat also has chance of your account being banned. Hence, make a spare account and cheat on your own risk!
2

Multi-accounting

This implies having multiple accounts and playing with them simultaneously. You can take down gyms and fill them up using the accounts of family and friends.
3

Auto IV Checkers

IV refers to Individual values that define the combat power of Pokemon characters. The only way to check IV of Pokemon is to have a third-party installed. However, Niantic is now keeping an eye over any installed app in your device to check IV. Therefore, you can rely on appraisal system in the game to get the exact value of the Pokemon.
Part 5: Hot FAQs You Should Know about Pokemon GO
1

Can You Get Banned for Having Multiple Pokemon GO Accounts?

Owning multiple Pokemon GO accounts for the same Service violate Niantic Terms of Service and they hold the right to ban any accounts. So, it is not recommended to have multiple accounts in Pokemon GO.
2

Can You Transfer Your Pokemon GO Account?

Yes you can. You are allowed to change your account to a different email address.

Learn More: How to switch your Pokemon GO account to a different Email address.
3

What Happens If You Get Caught in Spoofing Pokemon GO?

For the first time, you will get a warning message within the app informing you that cheating has detected on your account, and your account will be banned for 7 days, after these days, your account will be fully restored.

For the second time, you will lose access to your account for 30 days and your account will be restored after this period.

If you still continue to cheat after received the first and second warnings, your account will be banned permanently by Niantic.
Conclusion
Employ iMyFone AnyTo Pokémon GO location spoofers to instantly teleport your character anywhere in the game, facilitating the discovery of new and rare Pokémon.
Capture and expand your collection while exploring uncharted areas. However, regular use of hacks may lead to a permanent or soft ban, so take precautions when altering GPS to prevent game bans.
Change GPS Location on iOS/Android
168,282 people have downloaded it.
Fake iOS/Android GPS location to anywhere in the world instantly.
100% Work with location-based apps such as AR games, social platforms, etc.
Joystick to simulate GPS movement freely when playing games.
Import / Export GPX file to save your favorite routes.
Compatible with All iOS & Android versions.