"Is there an app that tells you where Pokémon are?"
Today, thousands of people play this remarkable AR-based game to collect Pokémon, and complete different events. Of course, the traditional way to collect Pokémon remains the same. You go out and walk in different directions to find a Pokémon.
But, this traditional method is less likely to work when you live in a less-populated place. The reason being such places have a comparatively fewer number of Pokespots, which are extremely difficult to find. This is when a Pokémon GO scanner will help. A scanner/tracker is specifically tailored for Pokémon GO players to quickly find Gyms, PokeSpots, and even Pokémon spawns.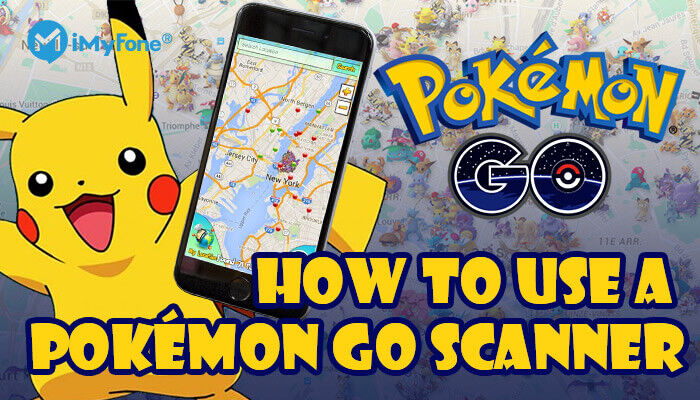 If you use these scanners wisely, you can even increase your level in the game. To help you understand more precisely, we've compiled a detailed guide on how to use a Pokémon GO scanner in the game to expand your collection.
Part 1: What Is A Pokémon GO Scanner and How Does it Work
First, let's understand how a Pokémon GO scanner works. Back in 2016, when Pokémon GO was first released, it was highly appreciated by players across the globe. At that time, many enthusiastic players took up the responsibility to design a few tools that'll help other players collect Pokémon more easily.
A Pokémon GO Scanner is one such tool that's tailored to make it easier for the players to collect a wide variety of Pokémon. The scanner/tracker will automatically search your nearby area for Pokémon and provide you with directions as well. This way you'd reach the Pokémon more quickly and save time while collecting Pokémon.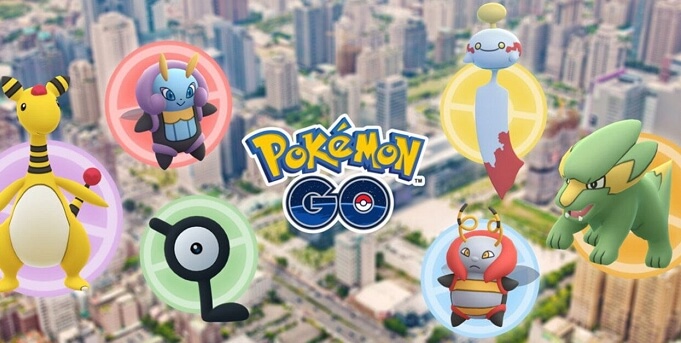 But, since players were basically cheating through these scanners, Niantic has banned the majority of them. Fortunately, there are still a few scanners that work without any interruption and will help you find different creatures in the game.
Part 2: Why Use A Pokémon Go Scanner in the First Place
A Pokémon GO scanner is a beneficial tool for anyone who doesn't have the time and patience to go out and look for Pokémons. You can simply install the Pokémon GO Scanner and use its map to find Gyms, nearby Pokespots, and even exclusive Pokémon Spawn locations, to be honest, that is really helpful in saving a significant amount of time.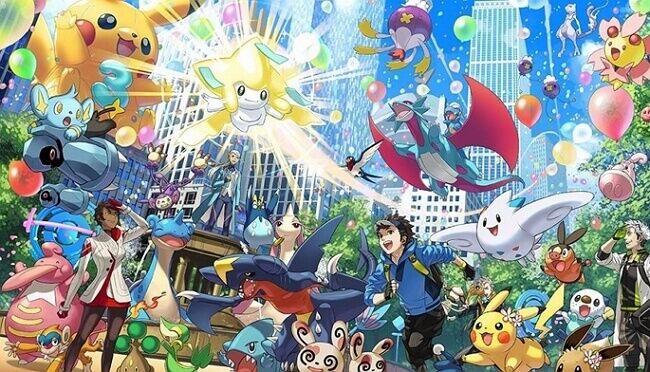 So, after knowing why Pokémon GO trainers should use a map or tracker in the first place, now, let's quickly take a look at these Pokémon GO scanners.
Part 3: 6 Best Pokémon GO Scanners in 2022
Here we've cherry-picked the 6 best Pokémon GO scanners/trackers that still work in 2022.
GOMap is a dedicated map for Pokémon GO where you can find Pokestops as well as Gyms. The map is regularly updated by players, which means all the information that you'll find in GoMap will be extremely accurate. If you find a new Pokestop, you can even report it on the map so that other players can easily reach it.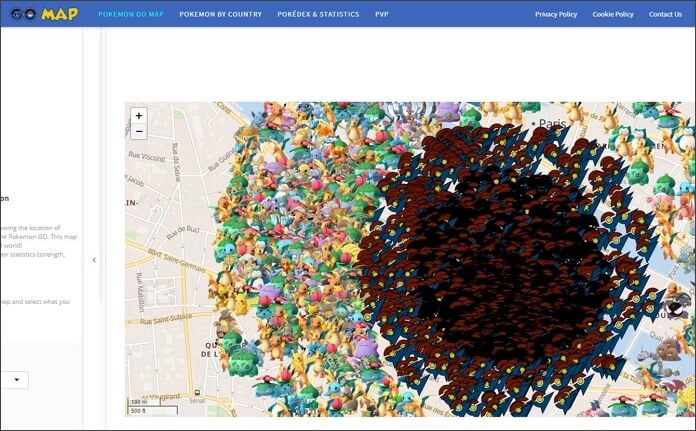 Apart from these regular Pokestops, you can also find rare Pokémon Spawns and collect unique creatures. You can even find the latest Pokémon GO news and detailed guides on how to win different types of PVP battles in the game.
Pros
Real-time updates provide information about hidden Pokémon GO.
You can even learn new techniques to enhance your skills in the game.
Cons
Since Go Map is managed by players, you may not find information about Pokémon in a city where the Pokémon GO community is comparatively smaller.
---
If you live in California, Minnesota, or Oregon, PokeHunter would be the most reliable Pokémon GO scanner for all your hunting quests. The map provides detailed information on all the nearby gyms and also tells whether they have space or not. You can also tap on a particular gym to know which team is controlling it.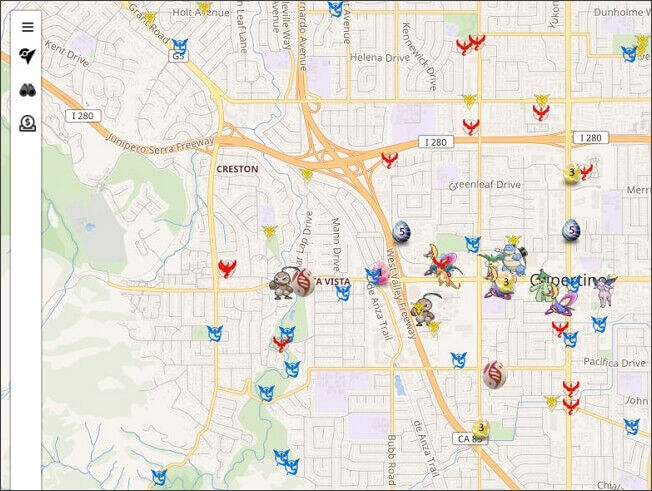 You can also use PokeHunter to check the "Raid" status of a particular Gym/Pokéspot. The only downside of Pokehunter is that its map is available for only three cities. So, if you live in these cities, you can choose PokeHunter otherwise you'll have to look for a different solution.
Pros
Check detailed information about Gyms and PokéSpots.
Know who has control over a particular Gym.
Cons
The map is limited to only three cities.
---
PoGoMap is yet another comprehensive map with too much information about PokeSpots and Gyms. However, what separates POGOMAP from other scanners is the fact that it separates regular Gyms from the ones that provide raid passes. So, if you're specifically looking for Gyms to get these passes, POGOMAP will be the most convenient tool.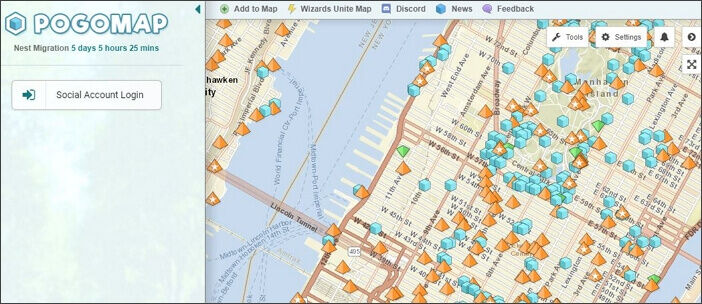 With POGOMAP, you can also PokeSpots that are providing specific research tasks. Since completing these tasks will increase your XP in the game, you'll be able to level more rapidly. In short, if you're looking for an all-in-one scanner/tracker for Pokémon GO, POGOMAP is the right answer.
Pros
The perfect tool if you live in an area with several other active players.
POGOMAP distinguishes between different gyms so that you can choose the ones that provide raid passes.
Cons
If you're a beginner and don't want to acquire raid passes and other exclusive content, you can look for other simpler solutions.
---
The Silph Road is the most suitable option for players who are looking for a platform that provides them with a dedicated Pokémon GO real scanner, comprehensive Pokémon GO guides, and several other tips to compete in Pokémon GO. Silph Road is the most popular Pokémon GO scanner right now.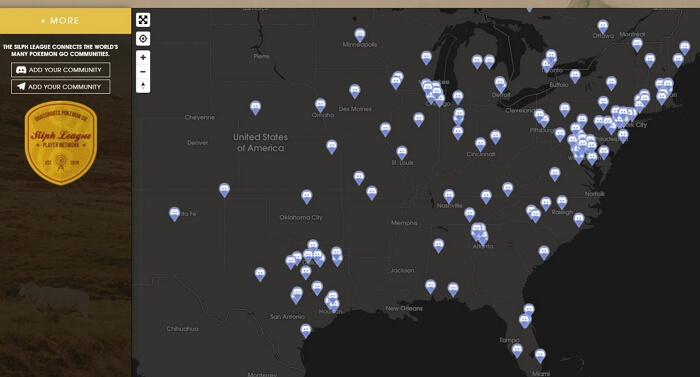 The best part is that "The Silph Road" is managed by an experienced community of players. So, you're most likely to find confirmed locations of Gyms, PokeSpots, and even exclusive Pokémon Spawns. Although there are many rumored Pokémon spawns as well.
Pros
Get confirmed locations of nest spawns.
Check out detailed guides on Pokémon GO.
Get locations about real-world events and meetups.
Cons
If you're a beginner and don't want to acquire raid passes and other exclusive content, you can look for other simpler solutions.
---
Go Radar is an iOS-specific Pokémon GO map scanner that'll help you find specific Pokémon on the map. With an built-in filter, you can search for a specific Pokémon and the radar will start scanning the map for PokeSpots and gyms where you can find it.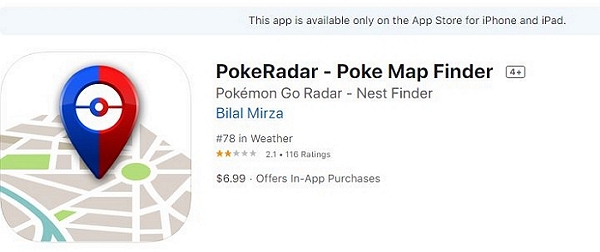 Once it has found the desired location, it'll provide you with the directions so that you can reach the place instantly and catch the Pokémon without any efforts. The app is suitable for all beginners and intermediate players as they usually don't want to waste time in completing research tasks or raiding gyms.
Pros
Search for Pokémon using their names.
Get real-time navigation for the selected Pokémon.
Cons
Go Radar doesn't have as extensive features as other Pokémon GO scanners.
---
6

Poke Radar App
Like Go Radar, Poke Radar App is exclusively available for Android. However, you won't find this app on Google Play Store. You can download it from different third-party platforms. It's a simple Pokémon GO scanner for Android that'll only allow you to find the locations of different Pokémon.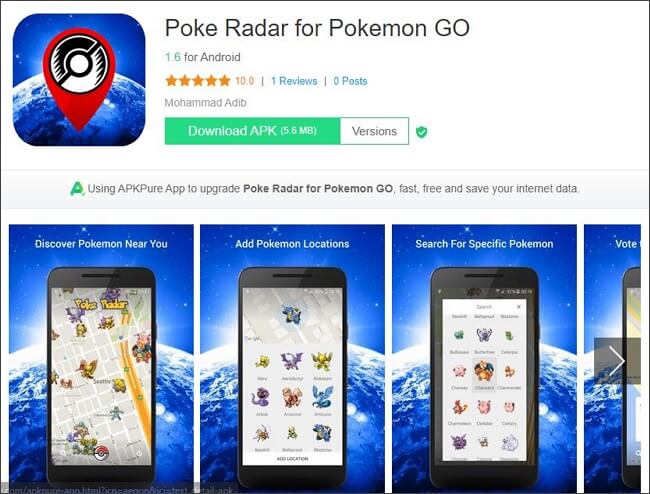 You won't be able to find information about any exclusive events or any detailed guides on the app. So, don't expect too much from the Poke Radar app.
Pros
Instantly find Pokémon using the search feature.
Poke Radar is a crowd-sourced app so you'll find the most accurate locations.
Cons
Limited functionality is a major drawback of the Poke Radar app.
Bonus: Play Pokémon GO without Moving or Walking
"Is it possible to collect Pokémon without moving/walking in Pokémon GO?"
If you've ever asked yourself this question, you're at the right place. Yes, you can play Pokémon GO and collect different creatures in the game without moving at all. To do so, you'll need a location spoofing tool.
Such apps are designed to change your device's GPS location and fake your GPS movement as well. This means that you can change your location to a place that's packed with PokeSpots and start collecting Pokémon while sitting on your couch.
iMyFone AnyTo is one such tool that'll help you fake your GPS movement both on iOS and Android devices. The tool has a wide variety of features for Pokémon GO players. For instance, you can use it to select any location in the world and set it as your current location, which means, with the help of this amazing Pokémon GO spoofing software, you can catch Pokémon anywhere in the world effortlessly.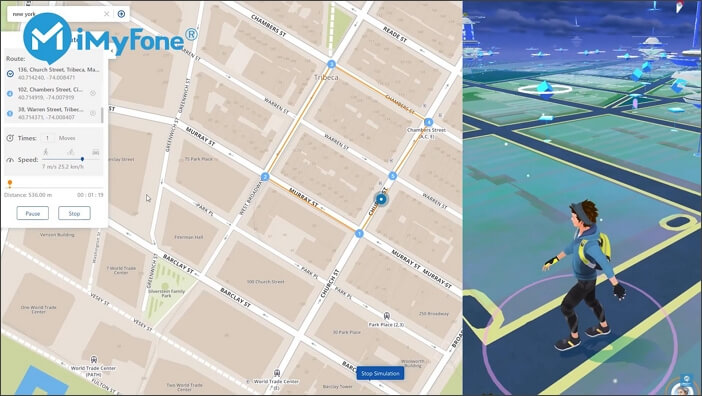 Apart from this, iMyFone AnyTo also has the "Two-spot Mode" and "Multi-spot Mode" that you can use to fake your movement by adding two/multiple different spots on the map. With the help of these modes, you can control your movement speed and stay away from Niantic's radar. Now, let us walk you through a few features of iMyFone AnyTo.
Watch The Video Tutorial to Spoof Pokemon GO without Moving and Walking
So, if you're looking to collect different exclusive Pokémon creatures, or looking for a method to catch more types of Pokémon without moving and walking outside, make sure to use iMyFone AnyTo to find them from locations that aren't accessible otherwise. Its supported system could be iOS and Android. Just try it!
---
Conclusion
Using a Pokémon GO scanner is one of the best ways to find Pokémon more rapidly in the game. Whether you're a beginner or an experienced Pokémon GO player, these scanners and maps will help you find hidden locations that'll provide different creatures in the game. And, if you don't want to go out to collect those Pokémon, you can also use a location spoofing app like iMyFone AnyTo to do the job.