Sometimes you do not want someone to connect with you and you desire to hide your actual location from them. It is impossible to fake your location through Google maps only. So, there are some apps developed for this purpose where you can fake your GPS location. These location spoofing apps allows you to change your location to anywhere around the globe. Lockito app is one of these applications created for Android users. It is the safest and most reliable app available to download for free. So, if you do not want your friends to know your actual location, you can share a fake location through Lockito with them.
Part 1: What is Lockito?

Lockito is an Android app available to fake your Android device location. It lets your phone to follow the bogus path on maps. You can set a custom path between any two points on the map and simulate the itinerary. Lockito app is available for free and does not require rooting your Android device. Therefore, Lockito is safe to download and install in your Android device without any concern. One of the other basic features of this app is that you can also simulate a static location on your phone. Lockito app lets you pretend these fake itineraries with total control over the speed. The control of GPS signal is also highly accurate in this app along with the altitude control.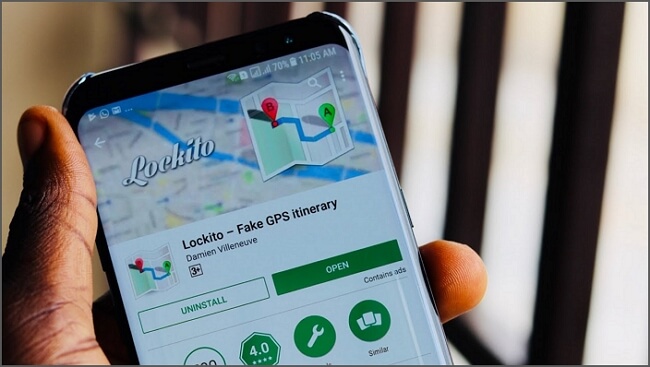 Geofencing is an important feature in many Android applications. These apps use GPS or Radio Frequency Identification technology to generate simulated geographic boundaries, it allows the phone devices to trigger a response when your phone leaves or enters any specific area on the map. Therefore, those Android developers who develop geofencing mobile applications, they are required to test these apps. So, Lockito fake GPS enables Android developers to test their mobile applications on its platform.
Part 2: How to Use Lockito App?
Lockito app is free to download on your Android device from the Google Play Store. You can also easily download the Lockito apk by searching on internet and install it on your phone. Here are the step-to-step guides of how to use Lockito on your mobile.
Step 1: Download Lockito apk, then you must have to enable your Android phone to allow it to install apps from unknown sources. You can do this easily by navigating to "Settings" and then "Apps". Tap on the "Menu" icon (upper right), tap "Special Access" and then "Install unknown apps". Here, select the Lockito app you just download and then tap "Allow from this source".
Step 2: After you successfully install the app on your Android phone, open the app. You will be required to enable Lockito as your mock location app. To do so, just go to "Developer Options" in your phone settings. Tap on the "Mock location app" there and set Lockito as your mock location app.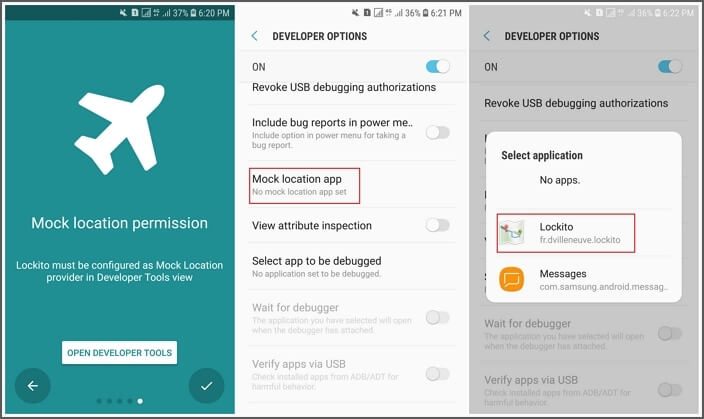 Step 3: Next, open the app again and tap the "plus" icon to add new simulation. The map will be popped out. Now, you just need to long-press anywhere on the map where you want to start your Android phone to simulate. You can also search the location through search option. Point A will be appeared. Keep long-tapping along the path available for points B, C, and so on until you reach the final point where you want simulation to end.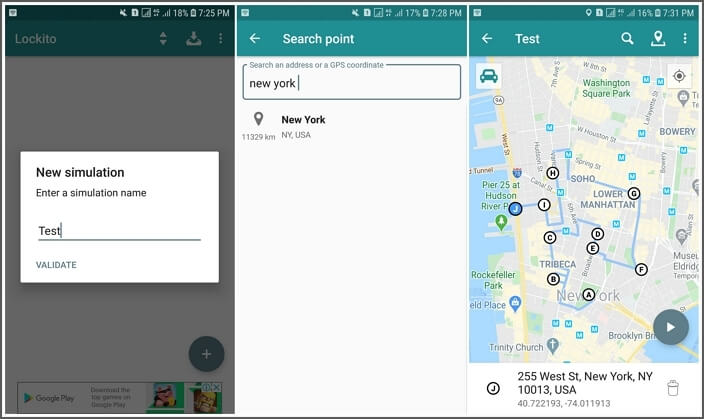 Step 4: You can also adjust the speed of the simulation up to 180 kilometers per hour. Altitude can also be adjusted to your required value too.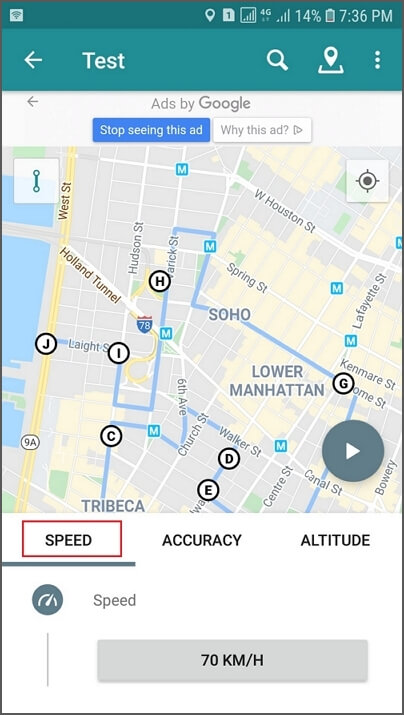 Step 5: You can get highly accurate simulation when you change your location method in your phone setting to "Phone only".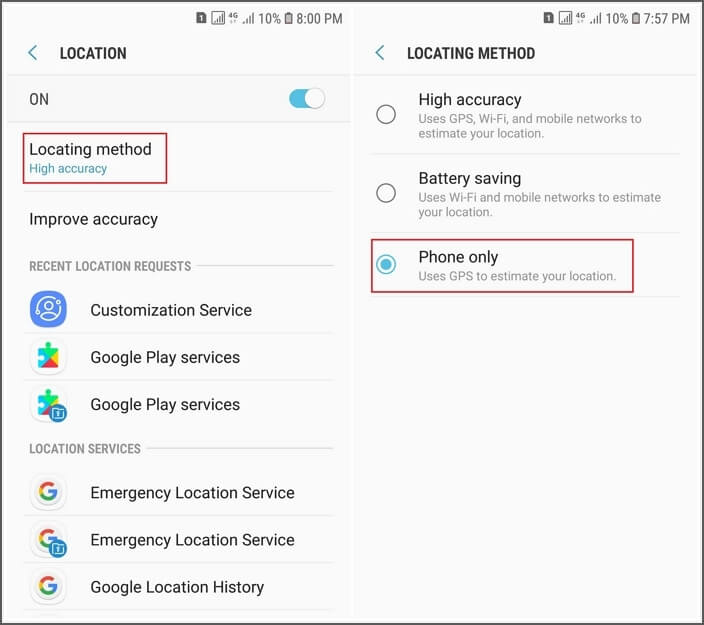 Step 6: Now tap the "Play" to start simulating your fake itinerary. And there you go, you have faked your phone location with Lockito fake GPS to somewhere else on the earth.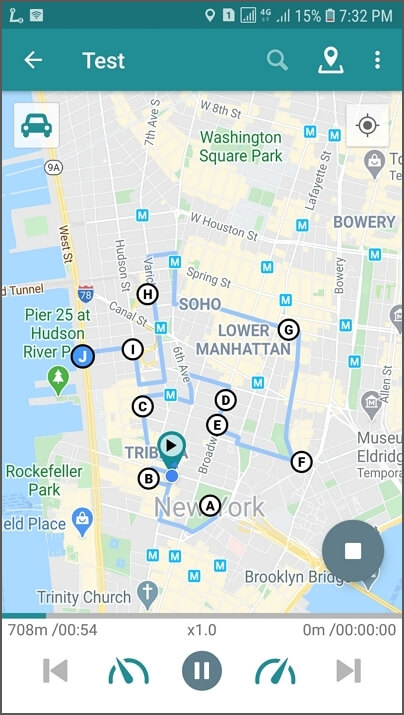 Now you can get access to the various other application with new fake enabled location from Google Play Store. You can also share the fake location and itinerary simulation to your friends with Google maps.
Part 3: Main Features and Advantages of Lockito
Lockito app offers some features which are safe to use and easily accessible.
Follow a Fake Itinerary

One of the main features of Lockito fake GPS is that it enables your phone device to follow the fake route on the map anywhere around the globe. For this purpose, you just need to select more than one number of points on Lockito map and then tap on "play". Please refer to the section "How to Use Lockito App" for further details.
Simulate a Static Location
Instead of following the route between points, Lockito also allows you to simulate a static location anywhere around the globe. For this purpose, you just need to select a single point on the map and then tap on the "Play" option.
Total Control of Speed, Altitude, and GPS Signal Accuracy
If you allow your phone to follow a fake itinerary, you can also adjust the speed altitude of traveling manually. Lockito fake GPS allows you to adjust the speed from 0-180 Km/h and with a wide range of altitudes. It enables you to enjoy all these features with high GPS signal accuracy.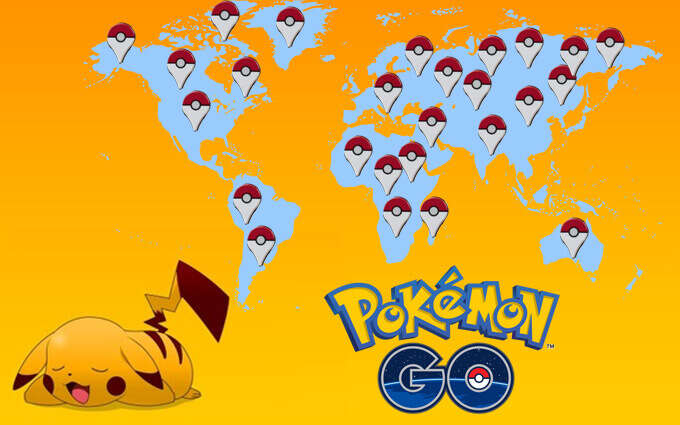 Lockito app has many advantages. You can play games like Pokemon Go without traveling physically to catch pokemons anywhere on the map. Several Pokemon Go users are trying to fake GPS location on their Android phone. Lockito Pokemon Go feature allows you to do this. Just follow some necessary steps below as without proper method you may also get banned by faking GPS location:
Disable the auto-updates of the Google Play Store and then go to "Settings > Apps > Google Play Services", disable it and uninstall updates.
Navigate to "Settings > Security & Location > Find my device" and turn it off.
Now, tap Lockito and run the fake simulation for the desired location.
And finally, open Pokemon Go app, there must be your new location in the game.
And recently, some Uber drivers have been caught using the Lockito app to simulate the fake itinerary. Lockito has been used to manipulate the route on the map and thus they can charge more from the riders.
For example, when rider book the ride from point A to point B, those drivers who use Lockito on Uber can fake the itinerary by simulating through point A to C to D and so on to finally point B. Thus, simulation covers more distance to reach at the final destination ends up inflating charges. We clearly do not recommend to use the Lockito app for this purpose.
Part 4: Limitation of Using Lockito
Although the Lockito app can be used safely on all kinds of Android devices without rooting your Android phone, this app has a limitation of not running on the iPhone operating system.
Lockito was basically created to use on Android device only, thus Lockito iOS is not available yet. However, maybe in the future developers may create the Lockito iOS version of this app. Until then, you may use the app recommended below for this purpose.
Part 5: An Ideal Alternative to Lockito for iOS Users - iMyFone AnyTo
For those using iPhone, iPad and iPod touch, Lockito app does not run on their system. But you do not need to worry as there are some apps available for iOS device users to fake GPS location. iMyFone AnyTo is one of these apps built for this purpose.
iMyFone AnyTo is one of the apps created for fake GPS location on most iOS versions, including the iOS 16. Just like Lockito, iMyFone AnyTo allows your iPhone, iPad or iPod touch device to change the location to anywhere on the globe and thus enables you to share the fake location with your friends and family.
What Make It the Best Alternative to Lockito:
You can change location to anywhere easily and instantly in single click.
iMyFone AnyTo allows you to create your own route to move along.
You can adjust the speed while simulating the fake route.
iMyFone AnyTo play and pause feature allows you to stop moving anytime along the fake route and play again to make it look real.
iMyFone AnyTo allows you to search any place on earth to change your location. You can also search coordinates of the location.
Historical Records feature saves your simulation in records so that you may follow the same path again in the future.
How to use iMyFone AnyTo to Fake GPS Itinerary on iPhone or iPad Like Lockito
If you want to play games on iPhone like Pokemon Go or other augmented reality games without travelling outside, iMyFone AnyTo is here for your help. Here are the step-by-step guides of using iMyFone AnyTo to simulate a route of your iOS devices.
Step 1: Download iMyFone AnyTo, install and launch on your computer/Mac, then click on "Get Started".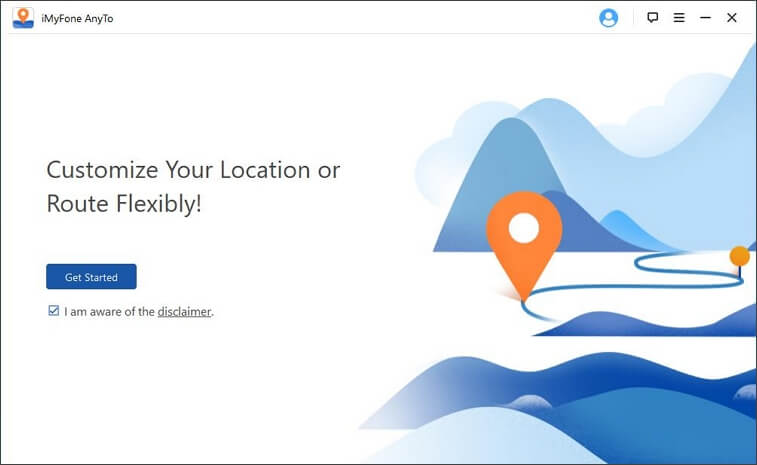 Step 2: Connect your iOS to the computer/Mac by using a USB cable. Grant permission and enter your screen password to complete this progress.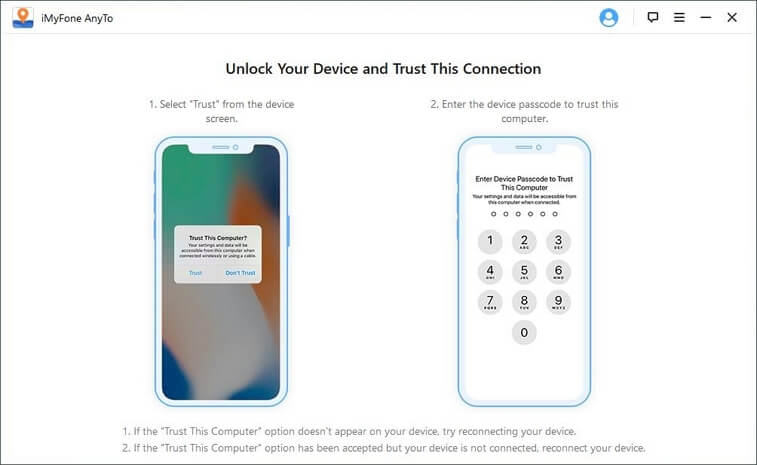 Step 3: After you open the app, select the "Two-spot Mode" option (the first one) on top right corner.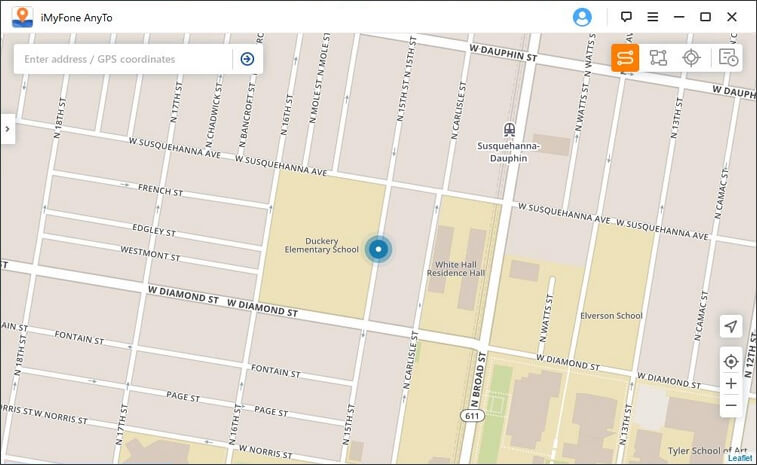 Step 4: Now you can select your destination on the map or search it through search box.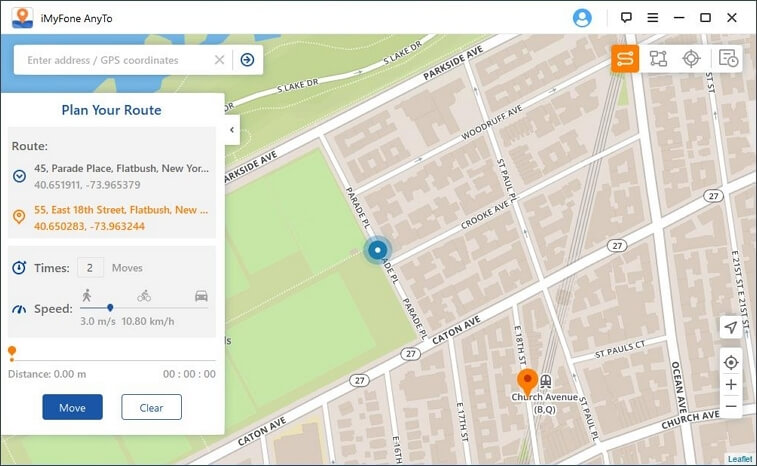 Step 5: Location details will be added in sidebar. Here, you can adjust speed of your movement freely. After you have adjusted the speed, tap "Move", the simulation will be started.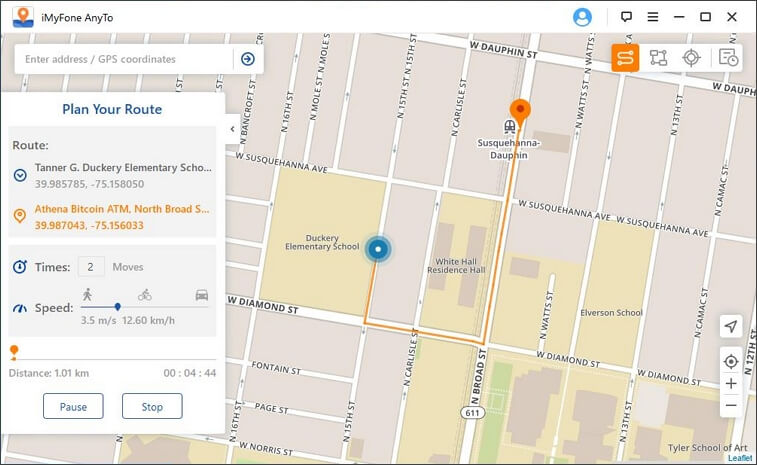 Step 6: When Two-spot route finished, a "Completed" window will pop up. You can also set the number of times to complete the route again and again.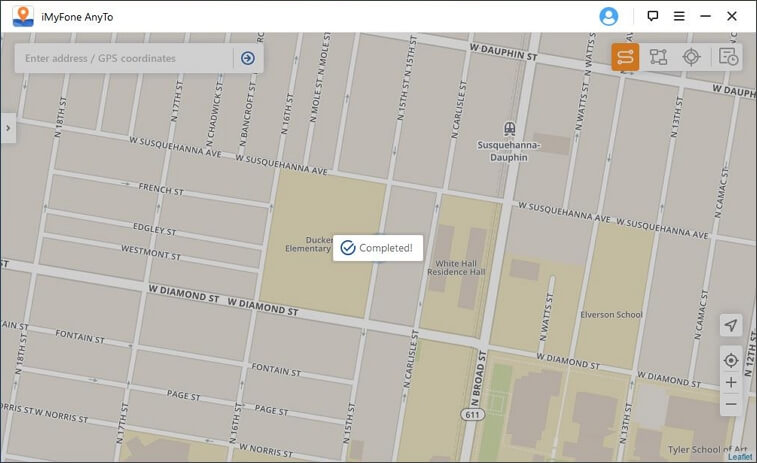 What's more, you can also set "Multi-Spot Mode" to play augmented reality games on your iPhone.
Step 1: Open the iMyFone AnyTo app and select the "Multi-spot Mode" (the second one) on top right corner.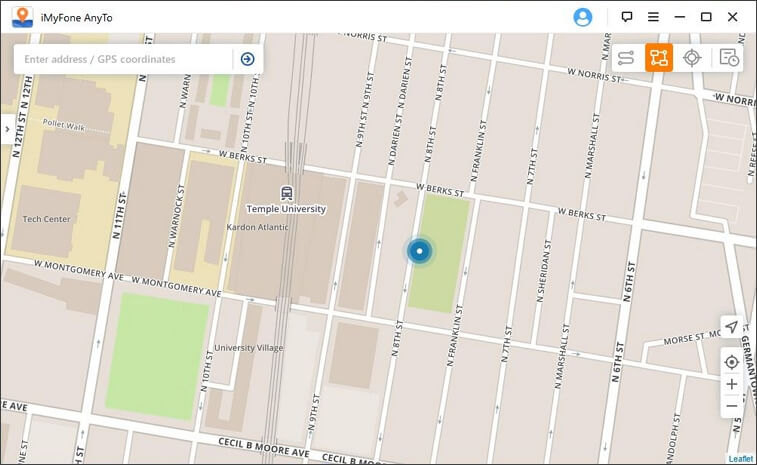 Step 2: Now select the location of different spots you want to move along on the map. You can also search them though search bar. All the multiple spots will be added to sidebar, here you can adjust the speed and number of movements through these spots.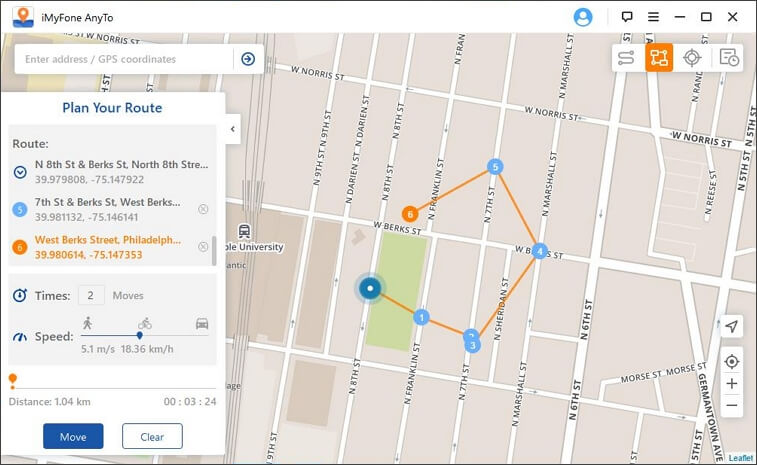 Step 3: Then, tap the "Move" and simulation will be started through these spots. A "Completed" pop-up will appear when the multi-spot route finished.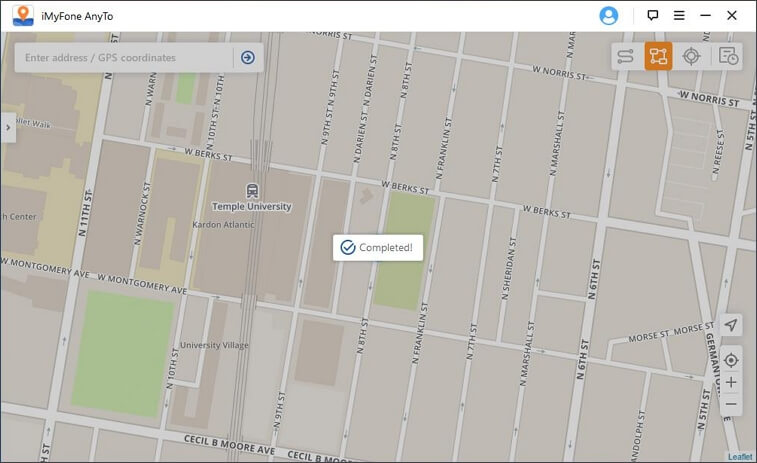 See, it is easy for you to use iMyFone AnyTo to make your phone follow a fake itinerary. What are you waiting for! Click the Try It Free button below and start to use iMyFone AnyTo to create your own route.
---
Conclusion
In this article, two of the location spoofing mobile apps have been discussed. These apps can fake your GPS mobile location and can also simulate between any points on the map to follow a fake itinerary. Lockito is built for this purpose to use on Android devices. The iOS version of Lockito is still not available thus, an alternative to it iMyFone AnyTo for iOS devices is available to download for free. These apps are the safest and most reliable to download and install in your device. Share your experience of using these apps and let us know what more features can be added to make it more reliable.