After recovering the lost files, some files are unreadable. It can be due to many reasons. The files may be corrupt, or the recovery process didn't process them properly. In this article, we will talk about how we can open recovered files that are not opening or corrupt in one way or the other.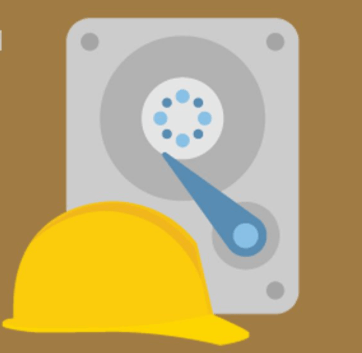 Part 1. Why Can't Recuva Open Recovered Files? How to Prevent It?
If you ever faced an issue where you can't open recovered files from Recuva, then you are not the only one. After recovery and restoring the files, files don't tend to open. It includes pictures, videos, and as well as documents files.
However, there could be many reasons for files not being opened. It can be due to file corruption, improper recovery or recovery failure, encryption on files, and data overwriting. But there are certain things that one can try to open recovered files. Given below are some suggestions.
Suggestion 1: The first thing you can try is to contact the Support Team of Recuva. There may be some missteps that you are making. The Support Team will guide you properly and offer you help so that you can open the recovered files. You can contact the Support Team through their website or their social media pages.
Suggestion 2: If you have tried recovery with Recuva multiple times and the file still doesn't open, try using a reliable recovery tool like iMyFone D-Back. It supports different file types and recovers all the files in three easy steps. Refer to the next part to see how to recover files with an iMyFone D-Back.
Suggestion 3: If files are overwritten, then the chances of data recovery are almost none. It is because new data is recorded in place of the old one. You cannot get your old data back if you don't have a backup. But if you have a backup, then you can use the Windows default feature of 'Previous Version". It helps the user to restore deleted, formatted, damaged, and modified files.
Prevention
Here are certain tips that users can follow to prevent this from happening again. If you are unable to open recovered files from Recuva, then you must follow these tips to make sure that you don't get into the same situation again.
Tip 1: If you have lost a file, immediately stop using the drive. The usage of the drive may overwrite the data and make it impossible to recover. Perform data recovery as soon as you can without interrupting the drive.
Tip 2: Make a habit of making a backup of files. In case of any mishap, you will be able to restore data from backup easily.
Tip 3: If you recover the deleted files, make sure to recover the files on a new drive. It could overwrite the existing data, which is the reason that data becomes unrecoverable.
Tip 4: Last but not least, use iMyFone D-Back in any data recovery situation. It is free to use and has an easy recovery process.
Part 2. The Efficient Way to Solve Recuva Can't open Recovered Files
2.1. Using iMyFone D-Back
iMyFone D-Back is indeed a better recovery tool than most recovery tools on the market. The reasons for it are having a higher success rate and compatibility across multiple platforms. Secondly, it also repairs the corrupted videos and images.
Moreover, it does not have a cap on recovery file size. The user gets to preview the data and recover only files that are needed. In contrast, Recuva takes much more time and steps to scan a disk and results in corrupt file recovery. Follow these steps to recover files using iMyFone D-Back.
Step 1: iMyFone D-Back has a free version that users can download from the iMyFone website. After downloading, install the tool and open it. The interface should look like this.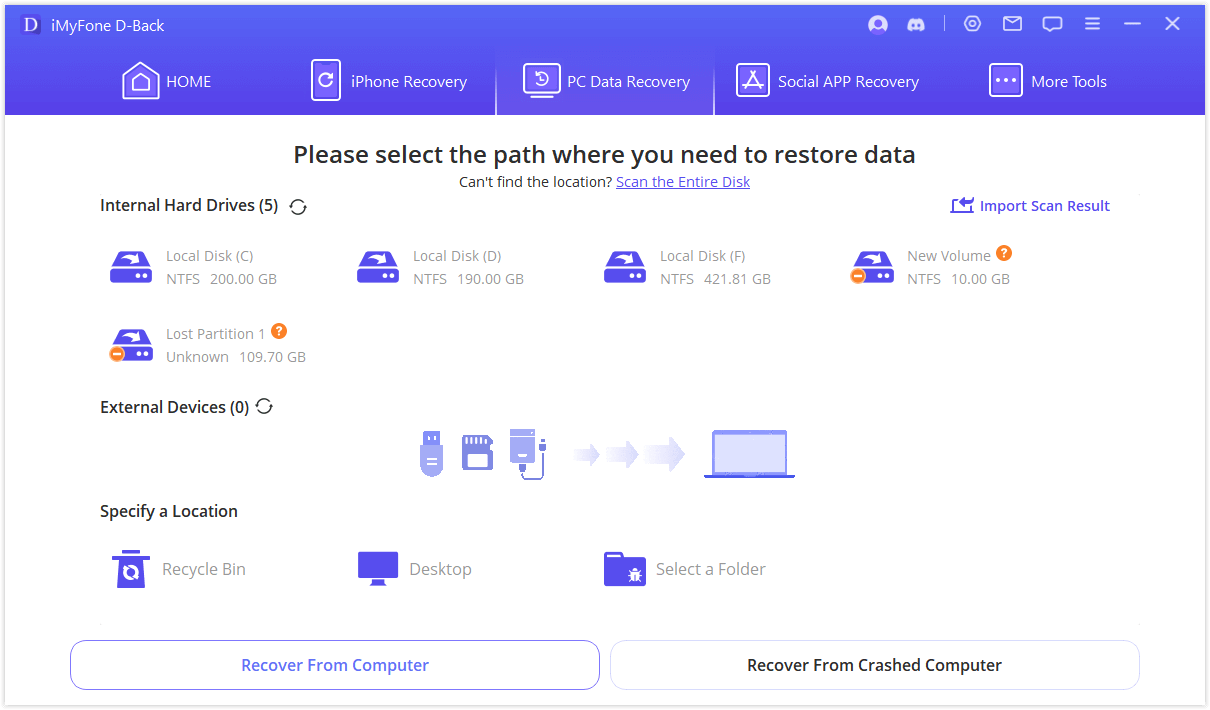 Step 2: Select the drive or folder from where you want to recover the data. Perform the scan so that deleted data can be recovered.
Step 3: As the scanning process finishes, iMyFone D-Back lists all the recoverable files. Select the files, choose the path where you want to recover the files, and click on 'Recover' to recover the files.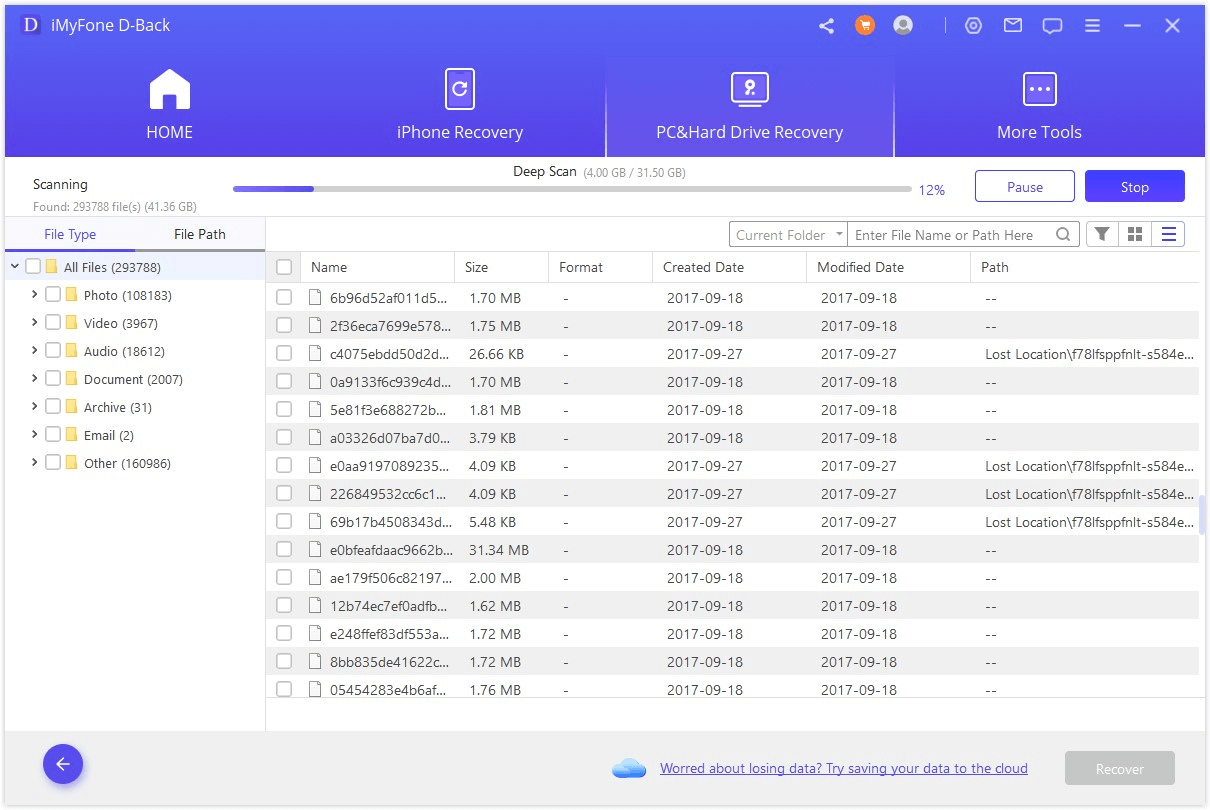 2.2. Another Method to Open Recovered File
Whenever file recovery takes place, the antivirus searches for any malware and puts the file in the encrypted folder. However, if something like this happens, you can do the suggested steps to open these files. First, clean the PC with an antivirus scan. Then use the decryption tool to decrypt the file. There are many decryption tools available online that you can use.
Another method to open the recovered files is to use the Windows Previous Version. It helps to recover the overwritten data that has been lost. However, If nothing works, then go to iMyFone D-Back, as it can help you to recover the files.
Part 3. FAQs about Recovering Files with Recuva
01

How much data can Recuva recover?
After using the Recuva recovery tool, it is safe to say that the free version of Recuva only helps the user to recover up to 80Mb of data. If you want to recover more files than 80Mb, then you can buy the professional version of Recuva.
02

Can Recuva recover corrupted files?
Yes. A deep scan of Recuva recovers lost and corrupt files as well. But these corrupt files may not open or work properly. You can then use a file recovery or file repair tool to fix the files and then try opening them.
03

Why can Recuva not recover files?
Although the success rate of Recuva is around 30-40%, there are some files that Recuva cannot be recovered from the drives. These include files that are overwritten. Once the file overwrites another, the old data is replaced by new, and it is almost impossible to recover overwritten data.
04

Why were Recuva recovered files/photos unreadable?
If the recovered files are unreadable, then it means that the file is damaged or corrupt. Use file repair tools and then open files/photos.
05

Why is Recuva unable to find file data on the disk?
It is because there is an error in determining the file system type, or the file could be in a raw data state. Along with that, there could be a snag or glitch in the storage drive or device.
Conclusion
After recovering the files, you cannot open them most of the time. It is because the recovery tool is not good and has a low success rate of recovery. Use iMyFone D-Back as it has a good rating and a higher success rate of recovery than many tools. It has a friendly user interface and wizard that guides the user throughout the whole recovery process. It can also repair your images and videos during the recovery.