Antiviruses are crucial for our computers. Without them, any malware can harm the computer in various ways. These are capable of deleting files that are a threat to the computer. However, in some cases, important files are also deleted. This article will see how to recover the files deleted by Antiviruses.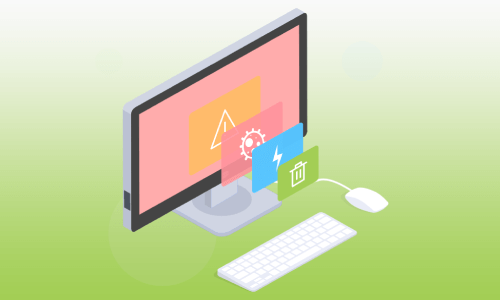 Part 1. Recovering Files Deleted by AVG Antivirus/Avast/McAfee/Bitdefender/Kaspersky
1.1 [100% Help] Recover Files Deleted by AVG Antivirus/Avast/McAfee/Bitdefender/Kaspersky
One of the most accessible data recovery tools is the iMyFone D-Back. It allows the user to recover any data deleted accidentally or due to any other reason. In this case, if Antiviruses delete the files, they can be recovered. iMyFone D-Back has a very high success rate in data recovery.
iMyFone D-Back is compatible with Windows and macOS systems. It has different categories of backup. It has an interactive and simple interface allowing the user to recover files without having prior knowledge and experience. You can also preview the files before starting the recovery. It will enable the user to select the files on file types and select appropriate files to recover.
Let us see how we can use this tool to recover files deleted by Antiviruses:
Step 1. Go to the website and download iMyFone D-Back. It will take a few minutes to download. Install it and open the tool.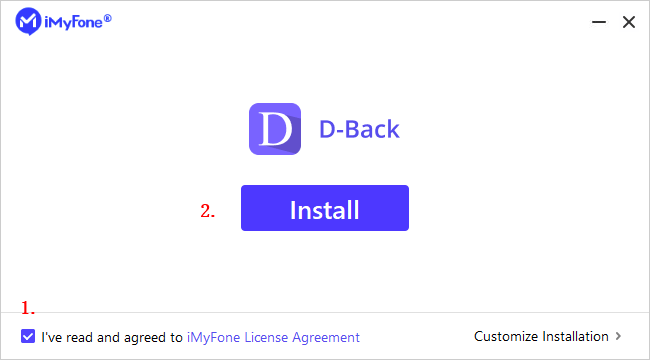 Step 2.
Choose a drive from which the file is deleted. It will start the scan. After scanning, you can preview all the lost files.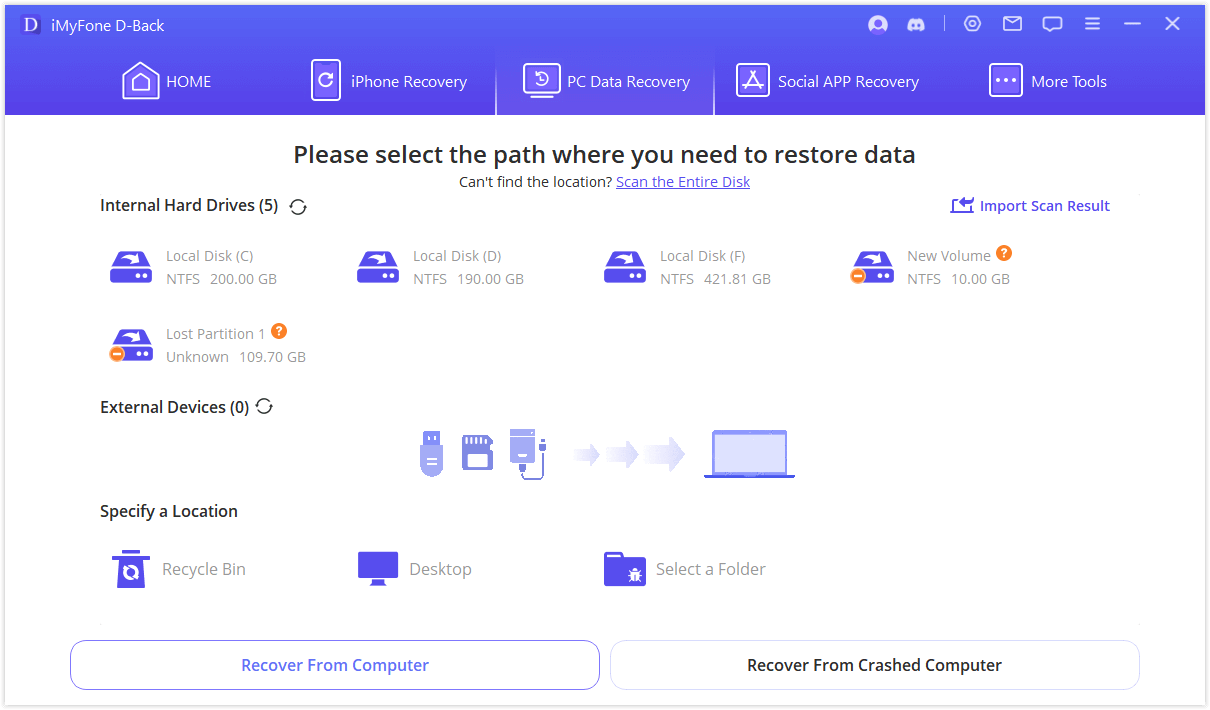 Step 3. Scroll and select the files that you want to recover. Click on "Recover" after choosing the path you want your file to go.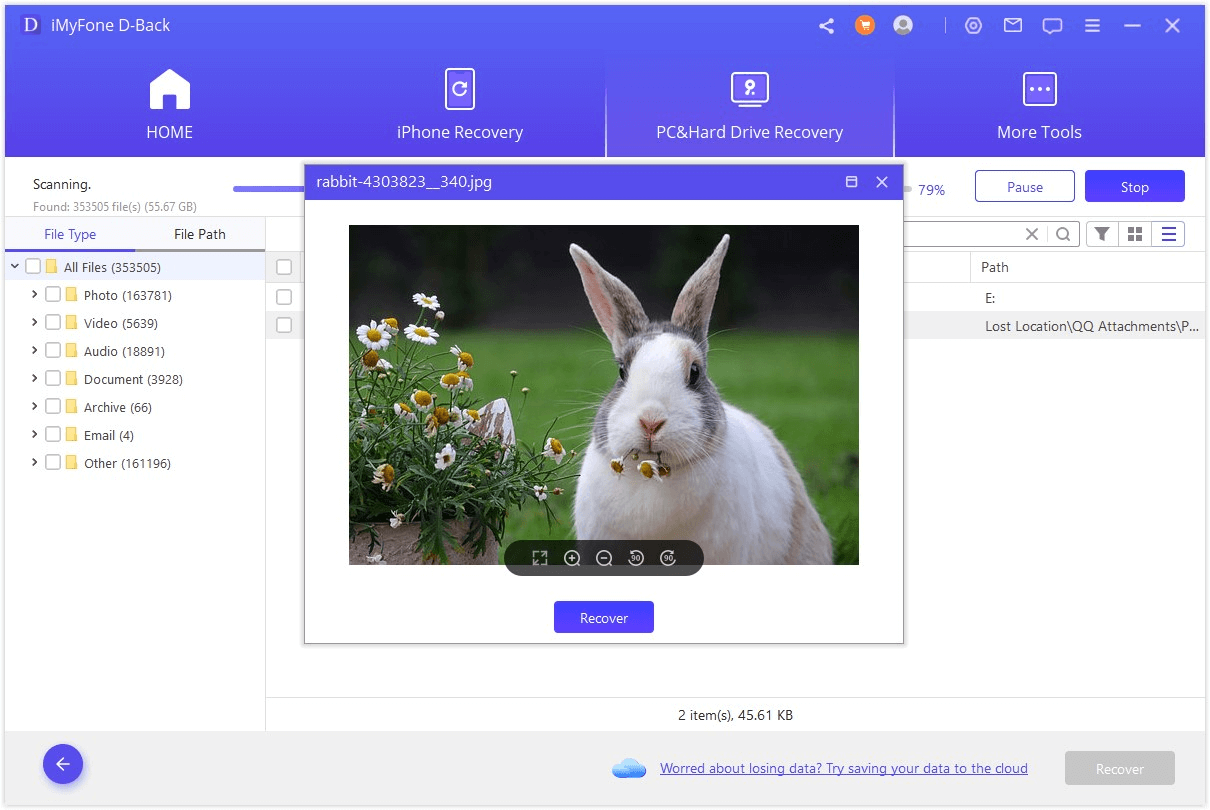 1.2 Methods to Restore Files Deleted by AVG Antivirus/Avast/McAfee/Bitdefender/Kaspersky
1

Windows File Recovery
Another way to restore or recover the deleted files by Antiviruses is Windows File Recovery. It is a free tool and can be downloaded from the Microsoft Store. It recovers the files that are potentially lost forever.
Step 1. After downloading the tool, open it. Here, you will see an interface just like the command prompt.
Step 2. To recover the whole drive, you need to enter a command. The command is demonstrated below for ease.
Winfr Src: Dest: /mode of recovery /switches
You need to enter the drive instead of "Src." And replace 'Dest' with the drive's letter you want to make the destination.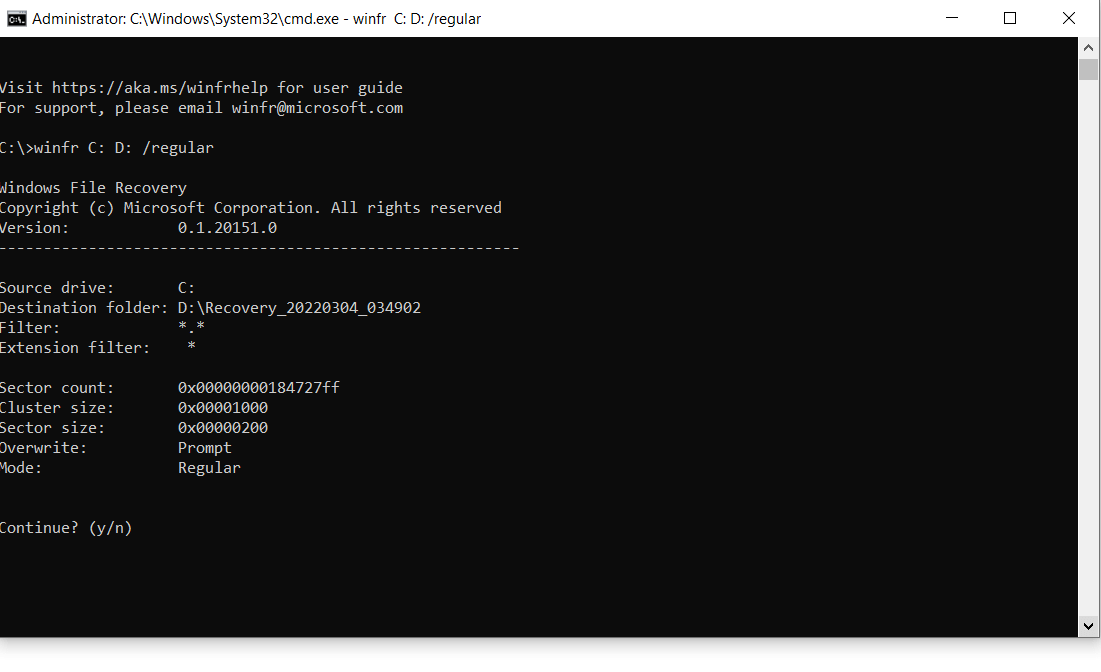 Step 3. There are two types of recovery in this tool. You can write "regular" or "extensive" in recovery mode. Moreover, switches are to determine the file type if you want to be specific about your recovery.
2

CMD Prompt
CMD prompt is an alternative way if you don't want to download and install anything on your computer. It is a built-in feature of Windows. To recover any lost file, you can use the CMD prompt.
Step 1. Open CMD prompt, press "Win+R," and type cmd. Hit Enter and CMD will open.
Step 2. Now, you need to see the drive letter of the drive you need to recover files from. You can see that on This PC.
Step 3. In the command line, type "chkdsk DriveLetter: /f." Here, change the drive letter with the actual drive letter you want to recover. Another command is "attrib -h -r -s /s /d DriveLetter: *.*". This command is to show all the hidden, unavailable, and archived files.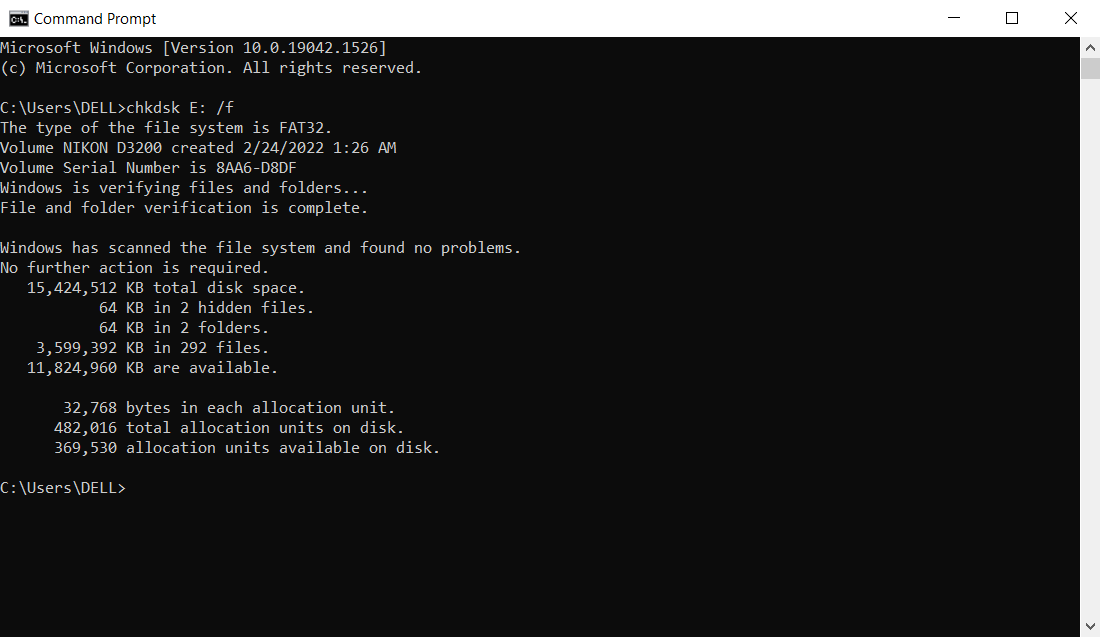 Part 2. Things Should Be Pay Attention to-Files Deleted by AVG Antivirus/Avast/McAfee/Bitdefender/Kaspersky
2.1 Why does my antivirus keep deleting Files
All Antiviruses protect the computer from malware or threats that can cause damage. Antiviruses' built-in feature to keep deleting these kinds of files.
Different Antiviruses have different kinds of deleting mechanisms. Most Antiviruses have a quarantine folder in which all the threats are stored with encryption. So, even if they are harmful to the computer, they cannot do any harm. After a time, these files are deleted.
Additionally, some Antiviruses directly delete any harmful files. However, it is for the betterment and safety of the computer. The deleted files can quickly be recovered.
2.2 How to stop AVG Antivirus/Avast/McAfee/Bitdefender/Kaspersky from Deleting a File
To stop Antiviruses from deleting a file, you can follow these steps. Most Antiviruses have the same settings. So, it will work for all of them. An example of Bitdefender is shown below.
Step 1. Open Bitdefender and click on "Protection" on the left-hand side.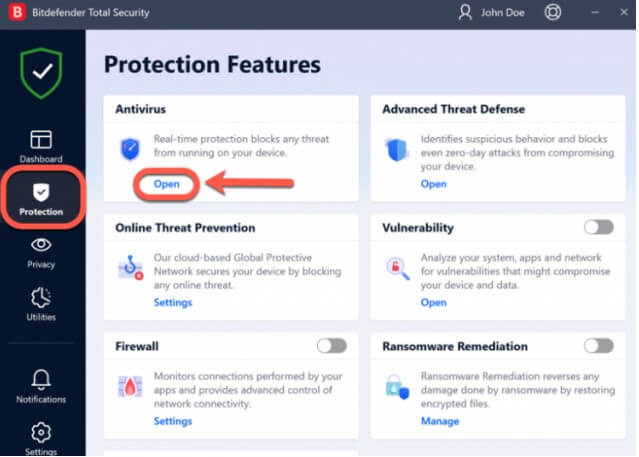 Step 2. Go to settings and click on "Manage Exceptions." This will allow you to make exceptions for files.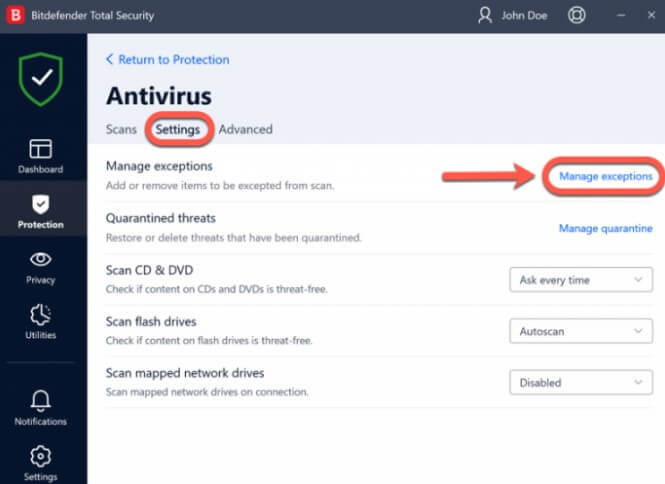 Step 3. Click on "Add an Exception" and browse the file you don't want the Bitdefender Antivirus to delete. Click on "OK" and then save your settings.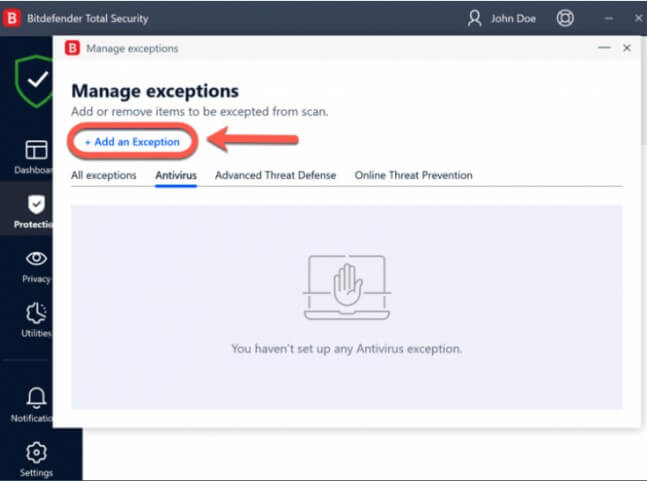 Part 3. FAQs about Antivirus Deleted Files
3.1 Do Antivirus delete files
Yes. Most Antiviruses, including Avast Antivirus, delete the files that seem to be a threat to the computer. Usually these threat files are not sent to Recycle Bin; they are permanently deleted by the antivirus just like you would 'SHIFT + Delete' anything. However, the user can turn on or off this option of deleting the files by antivirus. If you don't want your data to be deleted by antivirus, you can go to "Windows Defender." Under the "Virus & Threat Protection section," you can remove this exclusion of automatically deleting the files by antivirus.
3.2 How to recover deleted files from Avast Antivirus
There are different ways to recover the deleted files from Avast Antivirus. The first and foremost option is the iMyFone D-Back. It is a simple yet effective tool that can bring all the deleted files back. Moreover, there are other solutions to recover files, including "CMD," "Windows Previous Version," and "Windows File Recovery." These tools can help the user recover the deleted files from Avast Antivirus in no time.
3.3 Antivirus deleted my files how to recover
It is a trait of antivirus to delete any file that may harm the computer. Otherwise, detecting the malware is not a solution to stop virus attacks on your computer.
Antivirus deletes the files for the safety of the computer. But these files are recoverable. Different tools mentioned in the article can help the user retrieve the lost or deleted data.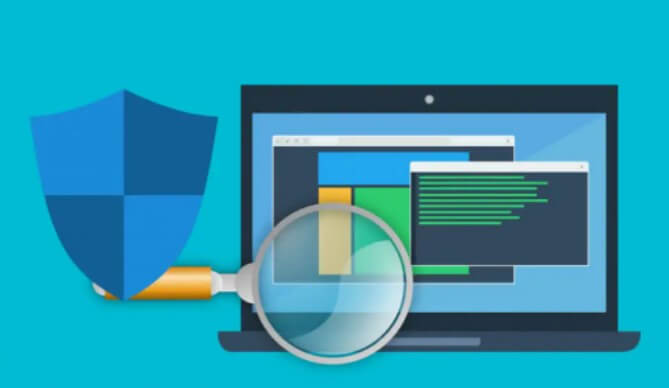 3.4 An antivirus program automatically deletes quarantined files. How to fix it?
Whenever an Antivirus suspects a threat from files, these files are encrypted and moved to a protected folder. In this way, the specific file cannot damage the computer. These are known as quarantined files. The user can decide if the antivirus deletes the quarantined file or the user can delete it manually. However, if antivirus is given the authority to delete the potential harmful quarantined files, these files are automatically deleted. The fix for this problem is to use a data recovery tool to retrieve the lost data. There are plenty of recovery tools available, including the iMyFone D-Back, which works like a charm and brings all the data back as before.
3.5 Bitdefender deleted files without asking and how to restore
If Bitdefender deletes the files without the consent or permission of the user, then there are few ways to bring that data back. The first essential recovery tool is "Windows File Recovery." You can find this tool on the Microsoft Store. Additionally, there is a Windows built-in feature of "Restore Previous Version." The user can use these methods to recover the deleted files. But if the user wants a professional recovery tool, then iMyFone D-Back is the best alternative to these methods.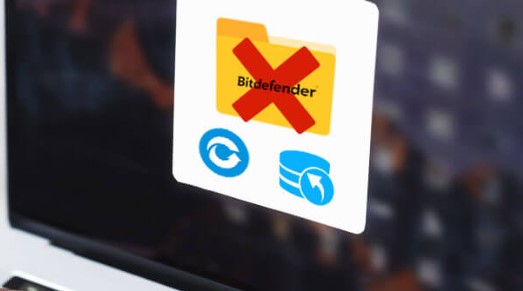 3.6 How to recover files moved to the chest by Avast Antivirus
Avast Antivirus is a famous antivirus with a very low percentile of false alarms for viruses. When it encounters a threat, it puts the (potential threat) files into a 'Virus Chest.' Unlike all other Antiviruses, it does not delete the files. But it keeps them in the virus chest so that the user can examine the file. If the user wants a file to recover from the virus chest, he can follow these simple steps.
Step 1. Right-click on Avast (system tray) and click on Virus Chest.
Step 2. All the quarantine files will be shown. Click on the horizontal dots next to the file you want.
Step 3. Click on Restore or Restore and add an exception. But to be on the safe side, Avast recommends the user scan the threat file one more time to make sure the file is legit.
Conclusion
Antiviruses are an essential part of a computer system. They keep the computer safe in all kinds of situations. Even if malware or viruses harm the computer, they can automatically stop it from doing so. However, in this protection against viruses and malware, the Antiviruses deleted some files. The recovery of these files is not difficult. iMyFone D-Back is available to recover all sorts of data quickly. Moreover, Windows file Recovery and CMD prompt also provide a similar data recovery service. iMyFone D-Back is a much more professional and organized tool than others. It is simple and involves only three steps.