How to Delete A Yahoo Email Account from PC/Mobile Phone
Category: PC Data Recovery
4 mins read
Wondering how to delete your old Yahoo email account to switch to another mail service provider, or simply looking to clean up your digital presence? In this article, we will explain how to delete a Yahoo email account, recover Yahoo emails account and deleted emails. Let's get started on this guide to learn how to delete Yahoo email account permanently.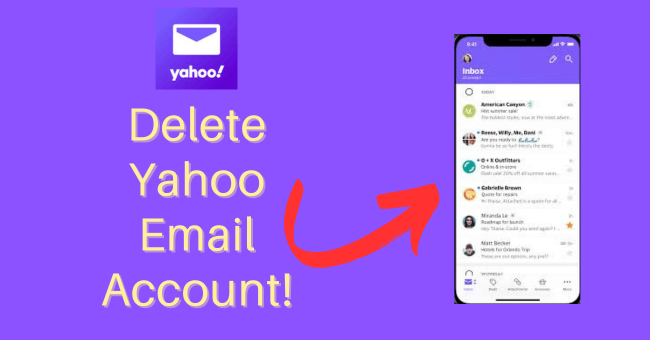 Part 1 - Why Delete a Yahoo Email Account?
Deleting a Yahoo email account can be a crucial step in enhancing your online security, particularly in light of Yahoo's dangerous data breaches. According to Information Is Beautiful, Yahoo owns two of the world's largest data breaches, exposing millions of user accounts.
In 2013, all 3 billion of Yahoo's accounts were affected by a hack that exposed security questions and answers.
In 2014, more than 500 million accounts suffered a loss of significant information, including account names, passwords, and dates of birth. Yahoo did not disclose either of these breaches to the public until 2016.
In 2019, a database containing more than 2.7 billion email addresses was found, some of which had Yahoo domains.
If your Yahoo account information has potentially been exposed, it is highly recommended to delete your Yahoo account to prevent hackers from abusing your account and any other accounts registered with the @yahoo.com email address.
Part 2 - How to Delete a Yahoo Email Account?
Deleting your Yahoo email account is a simple process. We will cover both desktop and mobile methods for your convenience.
1. How to Delete Yahoo Email Account on Desktop
Visit the Yahoo Account Deletion page (edit.yahoo.com/config/delete_user).
Sign in with the Yahoo email account you want to delete.
Read the information provided about account deletion, and then click "Continue delete my account"
Confirm your identity by entering your email address again.
Input the CAPTCHA code and select the option "Yes, terminate this account"
2. How to Delete Yahoo Email Account on Mobile Phone
2.1 Delete Yahoo email account from Yahoo app.
Launch Yahoo app on your mobile device.
Tap the "Manage accounts" option
Select the account you want to delete and Clic "Account info".
Turn the toggle off for the Yahoo email account you want to delete.

2.2 Delete Yahoo email account from iPhone

Open the Settings app on your iPhone and navigate to the Mail section. From there, select the Accounts option.
If you have multiple email addresses set up, select your Yahoo mailbox.
Next, choose the option to delete the account.
inally, confirm the deletion by tapping on "Delete from my iPhone".

Part 3 - What Happens When You Delete a Yahoo Email Account?

Deleting a Yahoo email account results in several consequences that you should be aware of before proceeding. Firstly, you will lose access to all your emails, contacts, and any other information stored within the account. This loss is irreversible, as the account cannot be recovered once it has been deleted. Additionally, all linked Yahoo services, such as Yahoo Messenger and Flickr, will also be terminated. Moreover, your email address will be deactivated, and it may become available for someone else to use in the future. It's essential to consider these outcomes and weigh the pros and cons before making the decision to delete your Yahoo email account.

Before deleting your account, ensure that you have backed up important emails, contacts, and files to avoid losing crucial data.
Notify your contacts about the impending account deletion and provide them with an alternative email address to reach you.
If you have used your Yahoo email address for any online accounts or services, update your login information to avoid being locked out.
Consider setting up an auto-reply for your Yahoo email account to inform senders of your new email address, prior to deleting the account.

Recover Deleted Yahoo Email Account and Yahoo Emails

1. How to Recover Yahoo Emails Permanently

Before you delete your Yahoo email account, it is better to have some backups of your account data, such as recovering the deleted emails from Yahoo Mail Trash. But if you have already cleaned the trash, can you still restore emails permanently? Don't worry! iMyFone D-Back can help you. This powerful data recovery tool is designed to retrieve lost or deleted emails even without backup.

Recover lost or deleted emails, messages, contacts, photos, and other data from your device.
Compatible with various data loss scenarios, including accidental deletion, device damage, and data corruption.
Supports multiple platforms, such as iOS, Android, Windows devices and MacOS.
Preview recoverable data before final recover.

Guide to Using iMyFone D-Back to Recover Yahoo Emails

Step 1: Download and install iMyFone D-Back on your computer.

Step 2: Launch the iMyFone D-Back application and select a location to restore your deleted emails.

Step 3: Click on the "Scan" icon to initiate a scan for your deleted Yahoo emails. Once the scanning process concludes, you can review the emails and choose the ones you wish to restore going forward.

Step 4: After the scanning process is complete, you will see a list of recoverable Yahoo emails. Use the preview feature to select the specific emails you want to recover, and then click "Recover"

2. How to Recover Deleted Yahoo Email Account

If you change your mind within 30 days of deleting your Yahoo email account, you may be able to recover it by visiting the Yahoo Account Recovery page (login.yahoo.com/account/challenge/username). Keep in mind that this option is not guaranteed, and the success of recovery depends on the amount of time that has passed since account deletion.

Part 5 - FAQs About Deleting Yahoo Email Account

1

Can I delete individual Yahoo emails instead of the entire account?

Yes, you can delete specific emails by selecting them in your inbox and clicking the "Delete" button.

2

What is the difference between deactivating and deleting a Yahoo email account?

Deactivating your account temporarily disables it, while deleting your account permanently removes it and all associated data.

3

Can I recover my deleted Yahoo email account after 30 days?

Unfortunately, once the 30-day window has passed, it is highly unlikely that you can recover your deleted Yahoo email account. However, you can use the third-part data reovery software like iMyFone D-Back to recover your deleted emails without backup.

Conclusion

If you are concerned about online security, data breaches, and protecting your privacy, it is best to delete your Yahoo email account. Remember to back up your data before deleting your account, or use iMyFone D-Back to recover all your deleted or lost emails. With this secure and reliable data recovery tool, you no longer have to worry about any data recovery issues.