RAID is the short form of Redundant Array of Independent Drives, or it is also known as a Redundant Array of Inexpensive Drives. It is a simple technology that increases the hard drive's performance and redundancy. Moreover, the reliability of data storage is also increased with RAID. There are many types of RAIDs, but we are going to talk about RAID 0 and RAID 5 specifically.
Let us see what RAID 0 and RAID 5 represent and how we can recover the data if RAID is damaged.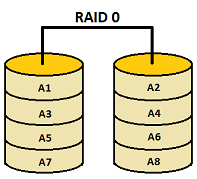 Part 1. Something You Must Know about RAID0 and RAID5 on PC
1

What is RAID0/RAID5?
RAID 0 is the first type of RAID, and it gives the user a good experience of performance along with good read and writing speed. It is because RAID 0 requires a minimum of 2 hard drives, and there is no overhead. It has no redundancy, and the user can quickly fetch data. Basically, in RAID 0, the data are split into at least two parts and stored in 2 different drives. If you lose any individual disk, then all the data will be lost. However, it is not recommended to use RAID 0 for critical data.
RAID 5 requires at least 3 hard drives. It stripes the data across different drives and also offers distributed parity. It can work up to 16 drives and has a good redundancy. Its performance is very good because of the striped blocks. However, the user should know that RAID 5 has good reading capabilities, but writing is slow due to parity. It is a cost-effective method, and it can rebuild the data if you lose a hard drive with the help of checksums.
2

Why did RAID 0/RAID 5 Get Damaged?
RAID 0 and RAID 5 have different reasons why they get damaged. Let us talk about RAID 0 first.
RAID 0 common causes of failure and damage include interruption of a bad sector on the drive. We also know that if one hard drive fails, the data is lost in RAID 0. If RAID 0 is partitioned and the partition is damaged, then the user will be unable to read or even see the partitions. Moreover, a virus attack is a very common cause of the failure of RAID 0 as it can significantly affect the data in the hard drive.
Coming to RAID 5, controller card issues can cause parity loss. This happens mostly when the rebuild is in process. Secondly, if anything causes the rebuild to fail, whether it be a power outage or anything, your data may get damaged in RAID 5. We know that the best thing about RAID 5 is redundancy, but when the RAID is physically damaged, there is only one point of failure. It is very rare that hard drives fail simultaneously but rebuilding RAID 5 puts stress on the disks, and this results in RAID 5 damage.
3

What is RAID 0/RAID 5 Recovery?
RAID 0 recovery is simply restoring the data and reconstructing the drives in the RAID 0 environment. It provides zero redundancy, making it very difficult to recover data. If anyone wants to recover RAID 0, then array configurations and reconstruction of identical drives are a must. External software is used to determine and analyze the files in the array as it helps in the data recovery process.
RAID 5 recovery means to recover and restore the data from the architecture of RAID 5. It is a little complex as RAID 5 includes multiple drives and has good redundancy.
RAID 5 recovery includes many steps as it has a different storage system. The data recovery of RAID 5 includes multiple factors, including disk size, disk sequence, type of parity, number of disks, and offset pattern. However, to recover RAID 5, the user needs to find the data and set the parameters first. Then, it can be recovered using manual means or recovery software.
Part 2. Best Free RAID 0/RAID 5 Hard Drive Data Recovery Software
Data recovery is not as complex as it was before. Plenty of data recovery software allows the user to recover the RAID 0/RAID 5 hard drive. iMyFone D-Back Hard Drive Recovery Expert is one of the tools that allows the user to recover lost data. The user just needs to select the drive from where you want to recover the data, and then the tool will work its wonders.
Let us see how we can recover data with an iMyFone D-Back Hard Drive Recovery Expert.
Step 1: After downloading and installing the tool, open it. Select the drive that you want to recover the data from.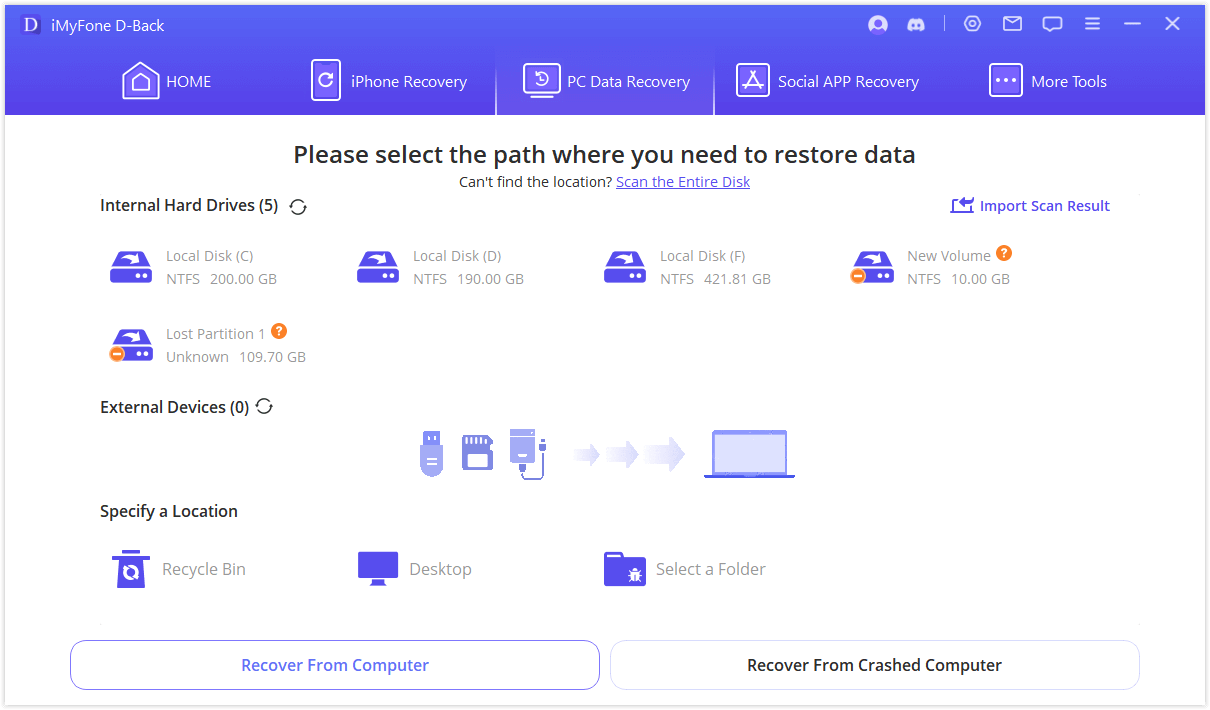 Step 2: Scan the drive; you will see all the recoverable files when the scanning is finished. The user can then preview all the files.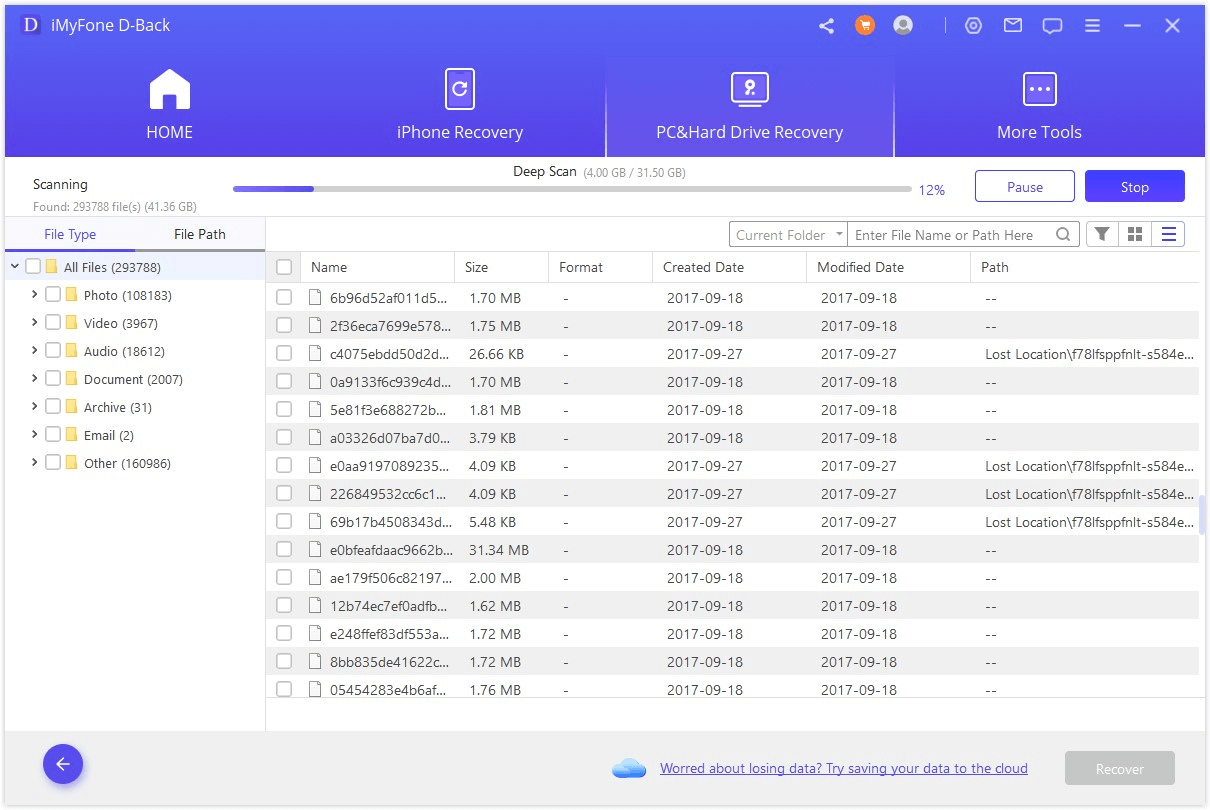 Step 3: Select the files that you want to recover and click on "Recover". Choose the path where you want to save the restored data.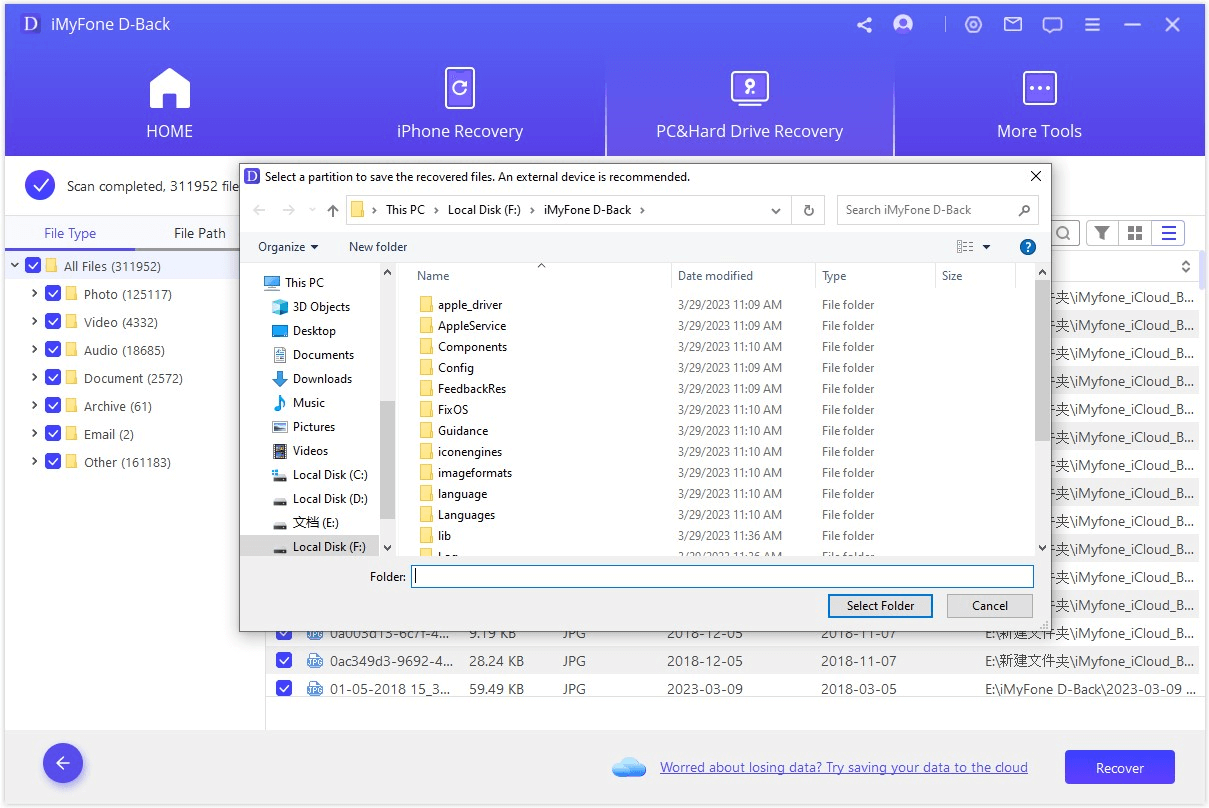 Part 3. FAQs

1

How do I fix a failed RAID 0?
To fix a failed RAID 0, turn off your computer and remove the hard drive. Insert a new hard drive with the same or greater storage capacity. Turn the computer on and press "Ctrl + I" to enter the ROM UI. Press 2 to delete the RAID volume and then use the arrow keys to select RAID 0 volume. Delete the volume and confirm it. Press 1 to create RAID volume and then follow instructions to create a new RAID 0 volume. Exit the ROM UI.
2

How to rebuild RAID 0/RAID 5?
If the user wants to rebuild RAID 0/RAID 5 without losing the data, then follow the steps in this sequence. Firstly, prepare the array and connect it to your computer. Recover the array parameters and then rebuild the new array. Write your required data to a new array and then copy the data back. In this way, the user can restore RAID 0/RAID 5.
Conclusion
RAID 0 and RAID 5 are two different entities that have different properties and functions. In this article, we have discussed both of these types in detail and how one can recover or even rebuild the RAID. However, the best way to recover the data is an iMyFone D-Back Hard Drive Recovery Expert. It is a professional data recovery tool that uses advanced techniques and has an excellent success rate of recovery. It has a trial version available that users can download and check the authenticity of its data recovery.