LaCie external hard drive helps you restore and share many files on your PC or other devices. Many people around the globe tend to use this tool to preserve their data.
However, sometimes you tend to lose the important files from Lacie's external hard drive, and there can be various reasons behind this whole drama.
Whatever the reasons behind this issue, we'll tell you how to recover data from Lacie's external hard drive.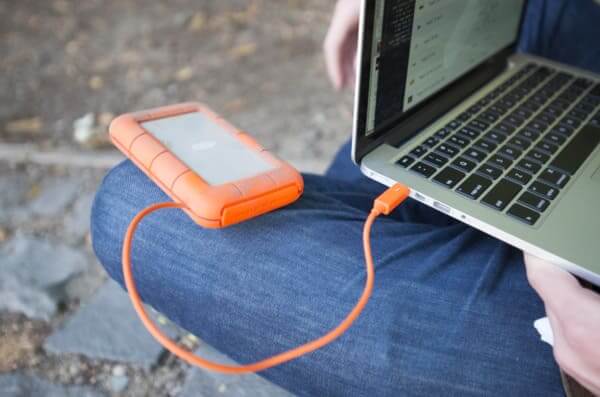 Part 1. Recover Data from Lacie's External Hard Drive
1.1 Can Seagate's Data Recovery Services Help Recover Deleted Data from LaCie's External Hard Drive
Using Seagate services to recover data from a hard drive has advantages and disadvantages. It would help recover the hard drive from Seagate when it gets damaged and you find it difficult to connect the hard drive to the PC. Remember, Seagate will charge evaluation fees irrespective of whether your issue is solved.
Moreover, recovering the hard drive through Seagate is fairly lengthy as you'll need to send and receive the Lacie hard drive, which can take a lot of your time.
Hence, if you don't find any issue with your hard drive as it gets connected to the PC without any issue, you can follow the method below to recover data from Lacie's external hard drive.
1.2 Just 3 clicks-A Reliable Data Recovery Expert Help Retrieve Lost Data from Lacie's External Hard Drive without Data Loss
No one likes losing data from Lacie's external hard drive, but that's something you can't take control of. Hence, whenever you face data loss using Lacie external hard drive, you should use iMyFone D-Back.
It has some sensational talking points, and every talking point of this software speaks volumes. The best thing about this software is that it helps retrieve the data lost in multiple situations. Whether you lose the data due to a partition or damaged hard drive, the iMyFone D-Back will take care of your data.
How to recover data from LaCie's external hard drive:
Step 1. Install iMyFone D-Back
After visiting the official webpage of the iMyFone D-Back Hard Drive Recovery tool, you'll need to download the software and get it installed afterward.
Later, you need to start the program and connect Lacia's external hard drive to the PC via a cable. You'll need to navigate to the location from which you've lost the data.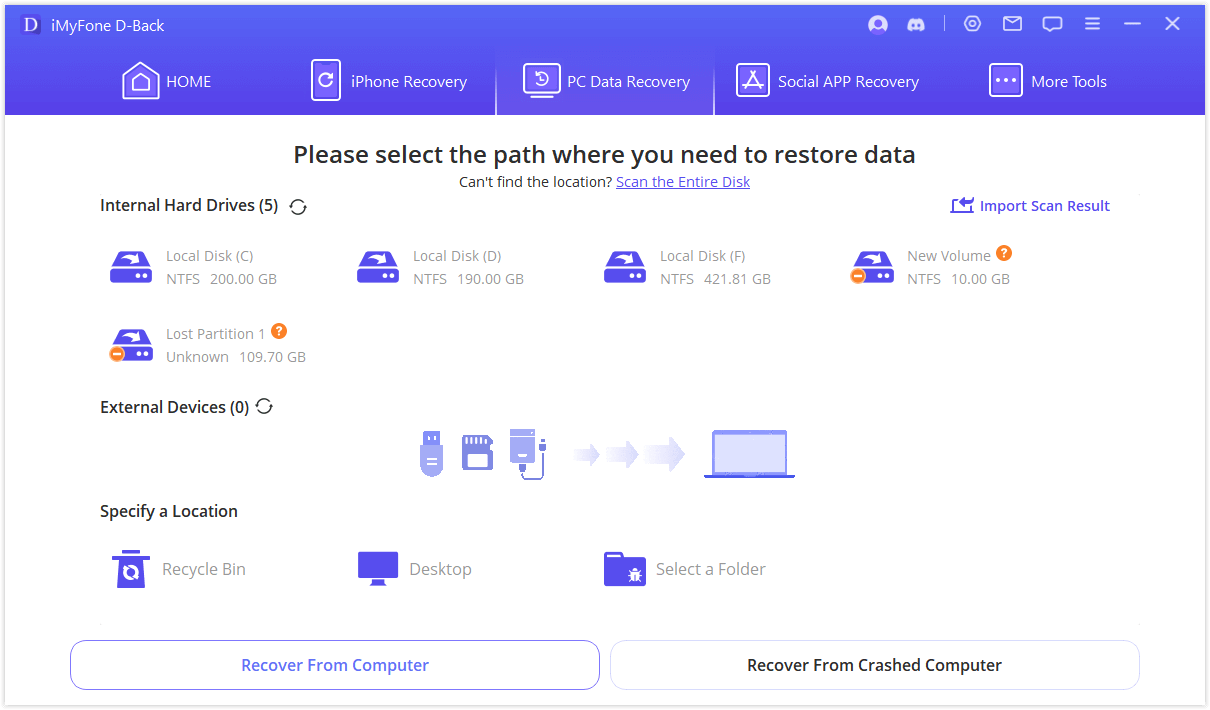 Step 2. Scan the file
After connecting the external hard drive to the PC, you'll need to hit the" Scan" option to start scanning the files you've selected.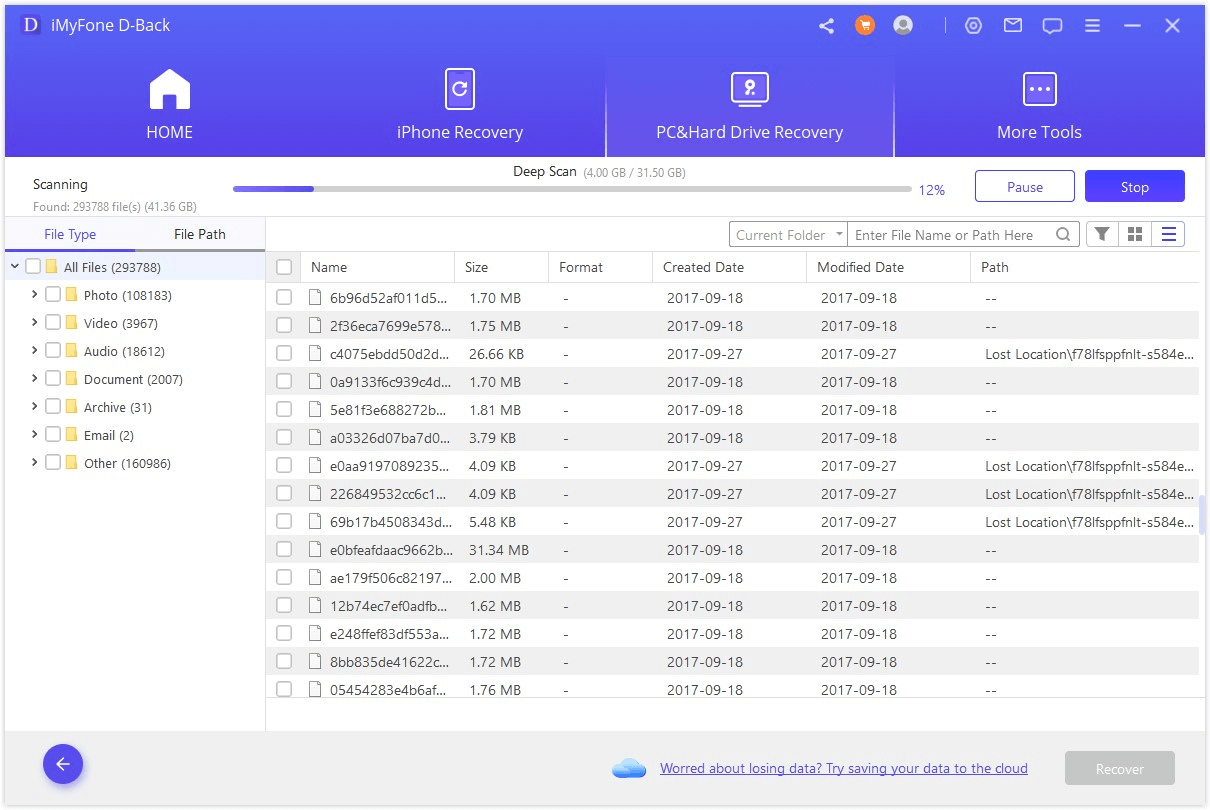 This process takes some moments, and you'll need to preview the files before getting the files restored.
Step 3. Recover the files
In the last phase, your task is to tap the "Recover" icon and start retrieving what you deleted accidentally on the external hard drive.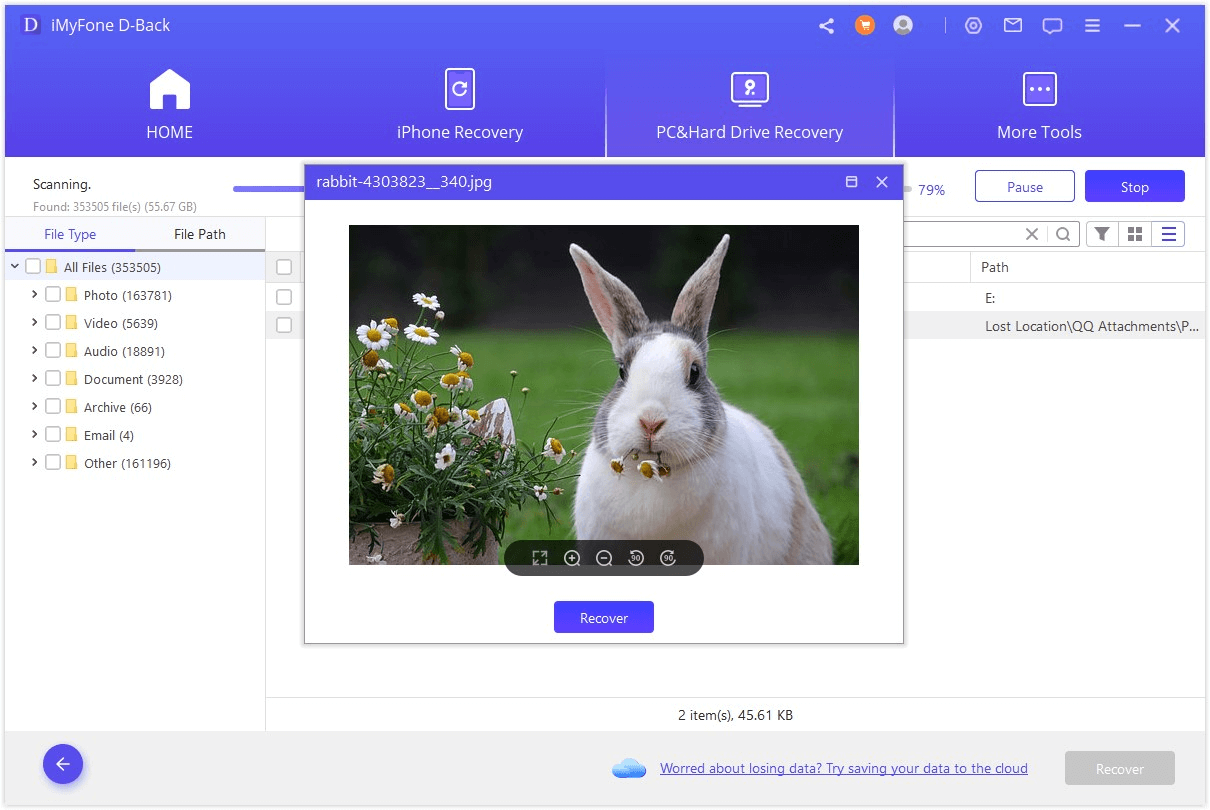 Once the recovery process gets completed, you'll need to get the recovered files downloaded to your favorite destination.
Part 2. Gift!-Free Tips for External Lacie Hard Drive
2.1 The Reasons behind Data Loss from Lacie External Hard Drive
Telling you the exact reason behind LaCie's External hard drive is a bit too much to ask for, but you can assume some things to be the main reasons for this issue.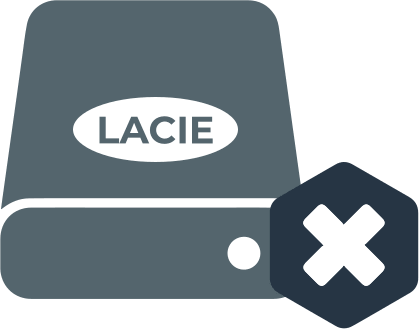 A human error might cause chaos as sometimes you tend to delete the data accidentally.
The attack of viruses can also make your external drive data disappear.
If a physical error occurs to your hard drive, things look worse for you.
Power outrage can also cause data loss.
2.2 Lacie External Hard Drive Not Showing Up, What Can You Do?
When you opt to connect a Lacie external hard drive to a PC, it appears in Device Manager. However, if your computer doesn't detect the hard drive, you'll need to navigate to the" Search" icon and type Device Manager.
After launching Device Manager, you'll need to visit Disk Drives, or you can hit the "+" to see the full list. If you can't find your external hard drive in the list, you can reconnect the hard drive after unplugging it.
Part 3. FAQs about Lacie Data Recovery
3.1 How can I recover files from LaCie's external hard drive?
If you create the backup of your Lacie external hard drive, you can retrieve the data when you accidentally delete the data. However, if you forget to back up data, retrieving the files won't be easy unless you take the magnificent services of an iMyFone D-Back.
3.2 Lacie external hard drive lost data suddenly; how to fix it?
When the LaCie external hard drive tends to get corrupted or damaged, you might lose the important data, and losing data doesn't please anyone. Hence, you'll need to follow a few steps using iMyFone D-Back to get the corrupted data back on your PC.
3.3 Lacie files disappeared; what can I do to get the lost data back?
It happens when you try to store data on LaCie external hard drive after formatting; the data on the external tends to gets disappear out of nowhere.
It is indeed an alarming situation, and no one wants to get stuck in this situation. Luckily, you can scan your hard drive using the iMyFone D-Back to restore the important data you might have lost when the files disappeared when you tried to preserve data.
3.4 Accidentally deleted data from LaCie's external hard drive. Can I recover the lost data?
Many people ask this question, and the answer is yes, you can get your data back. There are two simple ways to restore your accidentally deleted data.
First, you'll need to ensure that you've backed up the data as in this way, you can restore the data from the backup. Second, you can try recovering the data using iMyFone D-Back, as it might be the quickest and simplest way to put things in order.
Conclusion
Several reasons can cause LaCie external hard drive data loss, and you can't do anything. However, you can retrieve the files using iMyFone D-Back.
It is the most recommended data recovery courtesy of the quality services and accuracy this tool offers.