Do you have a pressing need for your dashcam film, but it's gone missing? Rather than becoming frustrated, you should find a reliable solution. So here we are to unveil the tried-and-true method to retrieve video from dash cam. In this article, we will give in-depth insights on how to recover deleted dash cam footage/video.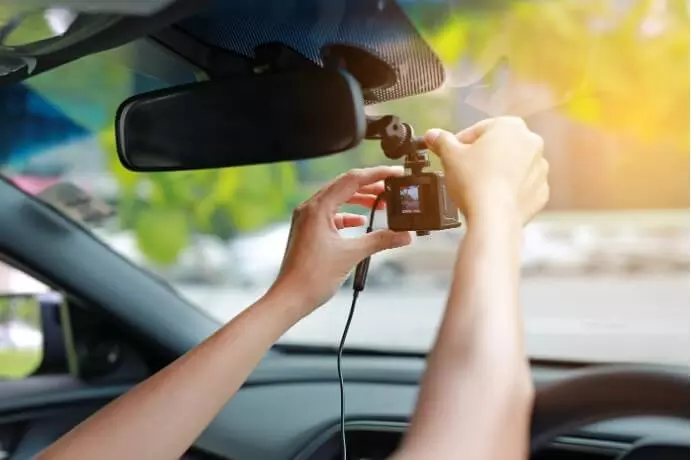 Part 1. How to Recover Deleted Dash Cam Footage
The Dashcam is a driving recorder or a car DVR essential to your car accessories. Its footage can be a single proof to show the other driver's reckless behavior, but unfortunately, there's a possibility of data loss or corruption. You don't need to worry about it anymore; using an iMyFone D-Back Hard Drive Recovery Expert is the best option that can work for practically every Dashcam.
iMyFone D-Back Hard Drive Recovery Expert is one of the most reliable software for recovering data from various storage devices. If you've recently lost your dashcam footage, we can confidently say that the iMyFone D-back hard drive recovery expert is a lifesaver that helps you recover deleted dash cam footage.
1.1 Use a Data Recovery App to Retrieve Deleted /Overwritten Video from Dashcam Footage (Any Brand)
Want to find out how this software can make things easier for you? Here are its main features.
Main Features of iMyFone D-Back Hard Drive Recovery Expert:
Lost partition recovery is more accessible as the data recovery software can recover everything within a few minutes.
This data recovery software can also recover data from clicking hard drive.
With its lightning-fast scanning speed, you can scan hundreds of thousands of files without waiting for hours.
Get unlimited scan and file preview that's free. Hence, you can scan and preview your files simultaneously before recovery.
Introduce the unique algorithm and easy-to-use interface to make data recovery easier for you.
You can recover your specific file by using the file filter option to filter out all the additional files while helping you recover your recommended file.
Features of iMyFone D-Back Hard Drive Recovery Expert clearly show that this software can be the one-stop answer for your question: how to recover overwritten dash cam footage. Now, let's move forward to all the methods to recover dashcam footage.
We've already overviewed the iMyfone D-back hard drive data recovery Expert; now it's time to unveil the simplest method to use it. We all know that the data we've lost mistakenly from our hard drive or SD card never got deleted; instead, they remain hidden.
You can dig out all your lost data from the dashcam SD card through the iMyfone D-back by following three simple steps: Select > Scan > Preview & Recover. Here's how you can put these steps into use.
Step 1. Software installation on your PC
Before proceeding toward the recovery process, you need to install the software on your PC by clicking the install button. As you click it, the software starts to install.
Note
The software is available for both Windows and Mac.
Step 2. Plugging in an External device and Select an external device
As you've installed the software, now plug in the respective external device from which you want to restore your data. Kindly Make sure it is detectable.
Now, select the device you want to recover your data. As you've chosen it, the recovery process will start to begin.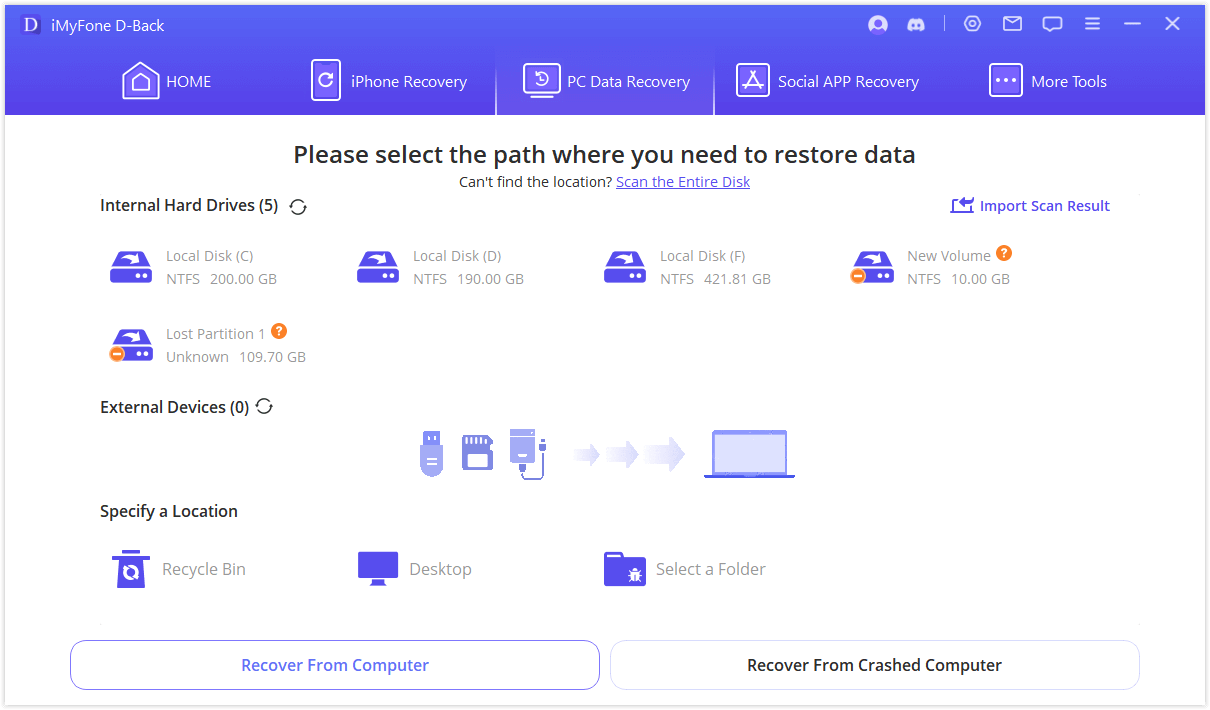 Step 3. Data scan
As the recovery process starts, the software will conduct the all-around scan; it's up to you if you want to proceed with the scan, as you can pause or stop it.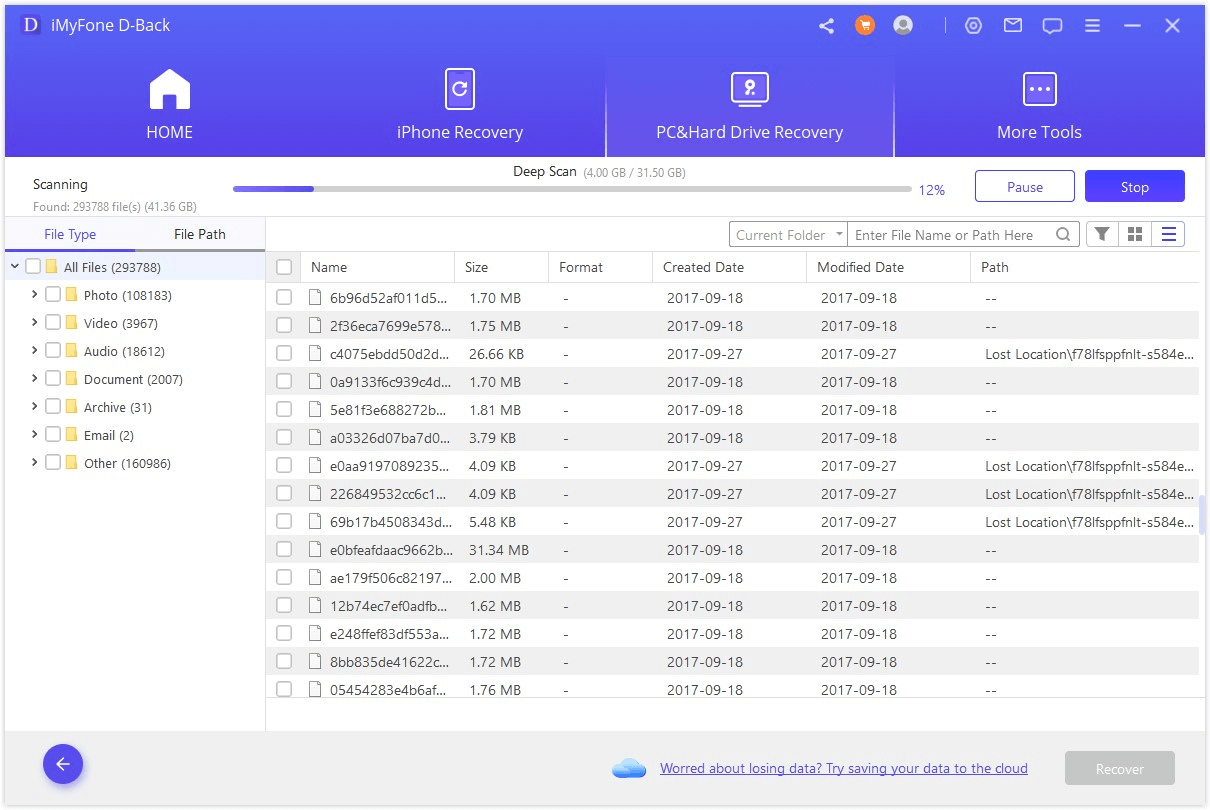 Note
Scanning time varies with the size of your data and the performance of your computer.
Step 4. Preview and Recover Files
With the scan results, you can locate the targeted files and preview them before proceeding with the recovery. At last, click the recover button to retrieve lost video from dash cam and select the safe location to save them.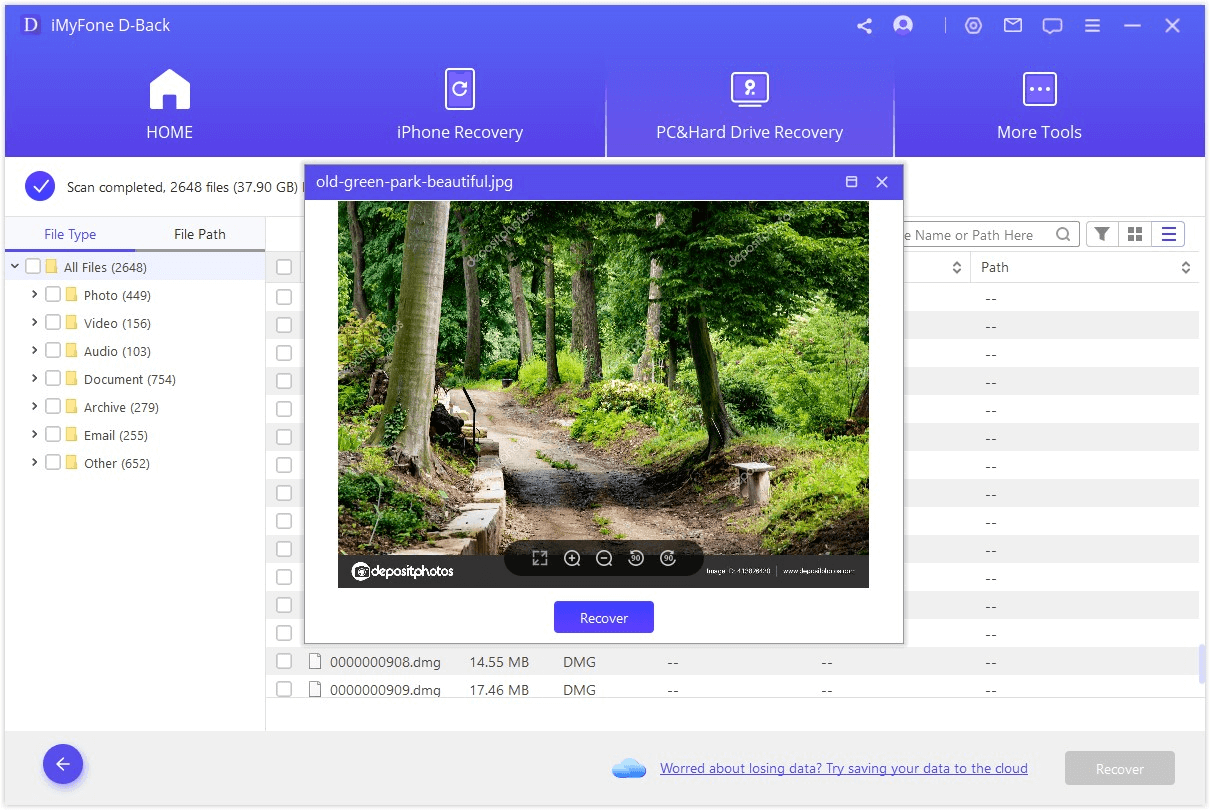 1.2 Use Other Possible Methods to Recover Deleted Dashcam Footage
You can follow some of the manual fixes if you wonder how to retrieve video from the Dashcam. Manual fixes might help you overcome the situation, but one of the most accessible methods is using the iMyFone D-Back Hard Drive Recovery Expert.
Fix 1. Drive Reinstallation
The first thing you can do is reinstall the driver. You should connect your dashcam SD card to your computer to do so. Then you can follow the following steps.
Step 1. Right-click on "This PC" and select "Manage"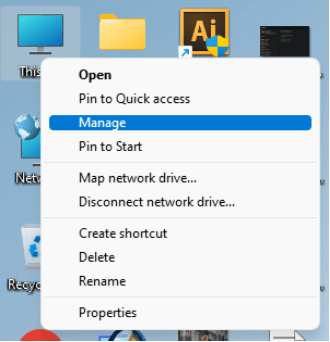 Step 2. Now click the "Device Manager" and double-click the "disk drives option".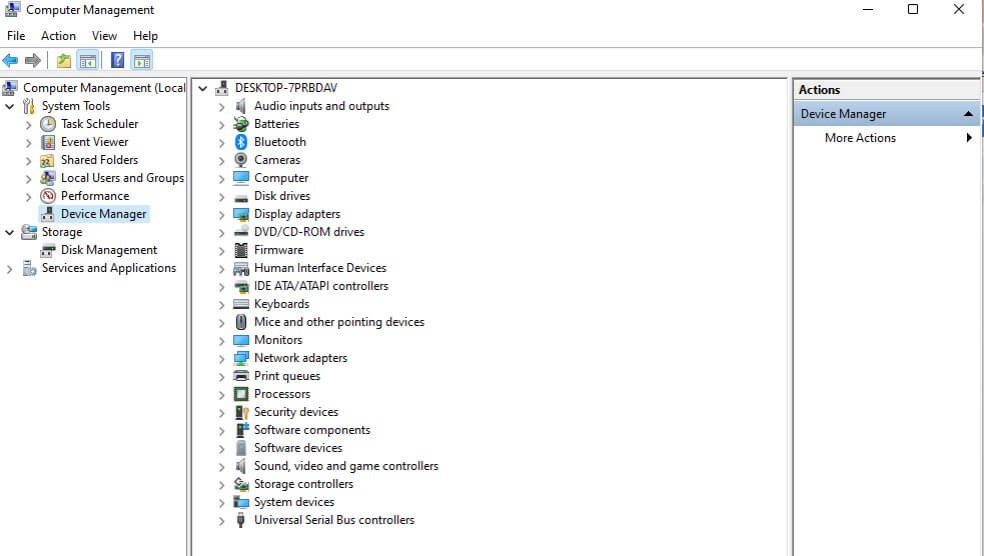 Step 3. Now, right-click on your removable dash cam sd card. After selecting uninstall, click ok.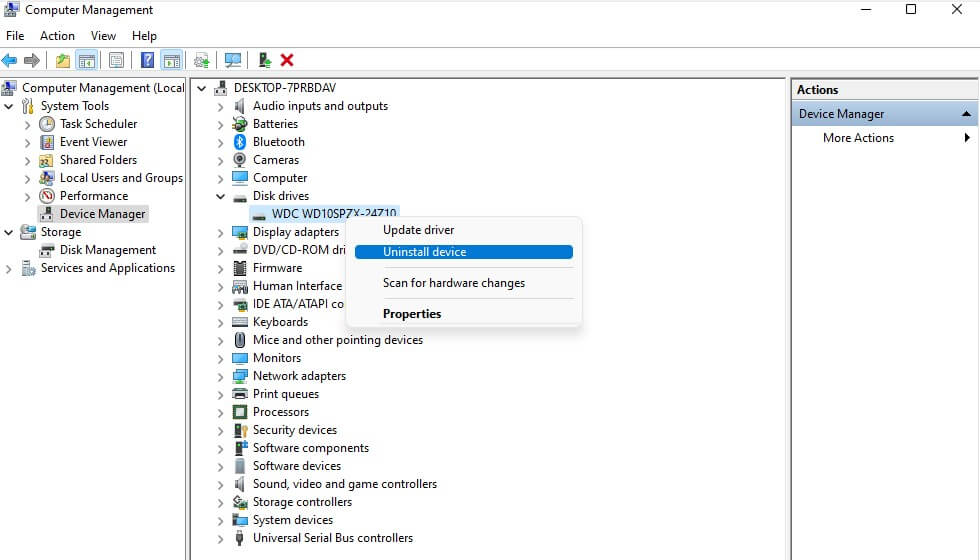 Step 4. Finally, disconnect your sd card and reboot your computer.
Fix 2. Assigning New Drive Letter
Connect your car dash cam's SD card to your PC.
Step 1. Open the Run dialogue box by pressing the Windows+R key.
Step 2. Search diskmgmt.msc. To open up the disk management and check all the available hard drives.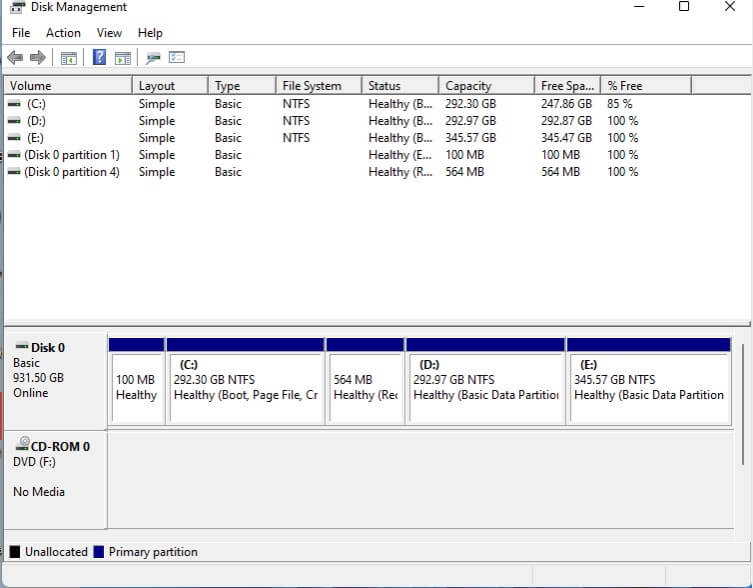 Step 3. Right-click the specific drive letter you want to change and click on the change drive letter and paths.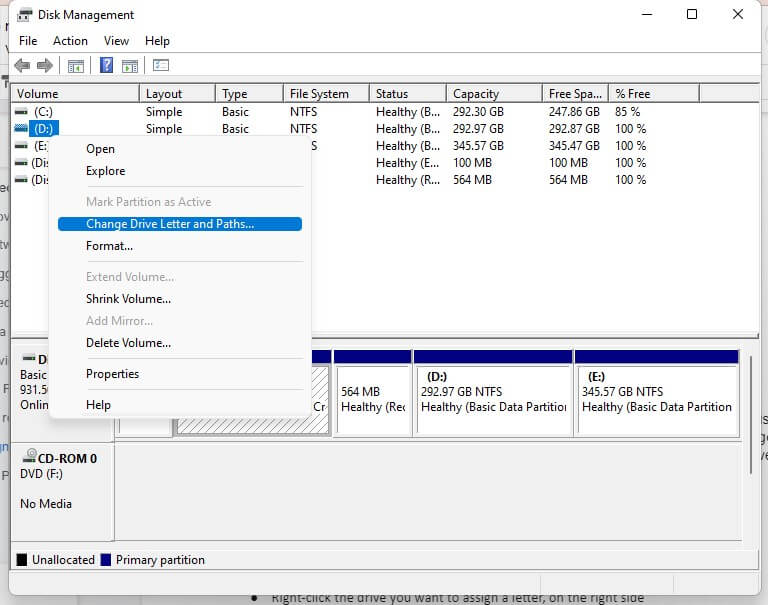 Step 4. Now, click the add button; after selecting the new drive letter, click the change button.
Part 2. Tips to Avoid Losing Videos on Dashcam after a Car Accident
Before heading towards suggestions, we need to know what's the reason behind data loss from your Dashcam:
2.1 Why is Your Dash Cam Lost Video
Dashcam footage gets saved into SD cards, and they are more prone to corruption and deletion. Footage loss or card corruption may occur due to various factors; we've listed some of them below:
It is improperly removing the SD card from the Dashcam.
Recording videos when the storage gets full or the battery is low
The SD card just expired as it came with a limited lifespan.
Connecting SD card to the system containing malware problem or having a virus
Using incompatible device driver
Exceeding the limit of erase/ writing cycles may cause the bad blocks on SD cards.
2.2 How to Avoid Losing Videos on Dash Cam
You can avoid losing your videos by following these simple tips:
You can use the emergency lock feature to prevent your footage from getting overwritten after any unpleasant incident. You can directly push the lock button to protect the video file, and don't forget to unplug your Dashcam. After that, save the video recording to your computer.
Don't forget to turn off the Dashcam whenever you try to remove your SD card. Aside from that, you should make sure that your car is parked.
If you find any malware or virus in the card, immediately stop using it as it might cause continuous overwriting, making you lose your data.
Part 3. FAQs about DashCam Video Recovery
Let's discuss some essential FAQs that you should know about DashCam Video Recovery:
3.1 How long does a dash cam keep footage
With the 16GB micro SD card, Dashcam can hold up to two hours of recording before overwriting all the old recordings. That's when the cam is set to record 30 frames per second at 1080P.
3.2 Is it a good idea to delete my dashcam footage
You can delete your dashcam footage if you've already created a backup of your footage. If you don't need any of the footage, it's up to you whether you want to save or delete it.
3.3 How to retrieve the dashcam footage after formatting the memory card
You can restore any of your Dashcam lost or formatted footage by using the iMyFone D-Back Hard Drive Recovery Expert. We've already mentioned its simplest method in part 1 of this article; you can follow that if you were to find the answer to your question: how to retrieve video from the Dashcam.
3.4 Can you recover the Tesla dashcam footage
You can recover tesla dashcam footage using one of the best iMyFone D-Back Hard Drive Recovery Expert software. Whether footage is deleted or lost accidentally, you can recover it. You have to follow three steps to Select> Scan > Preview & Recover.
Conclusion
Accidents are inevitable, especially losing your data from your drive or SD cards when you need it the most. If you want to avoid getting into a situation like losing all of your footage from the Dashcam, you need to manage your data on the cam sensibly to avoid future repentance.
But still, if you find yourself in any frustrating situations where you're just wondering how to retrieve video from a dashcam, you can recover your footage from the most trustable iMyFone D-back hard drive data recovery expert. Using it will give you significant relief and ensure that your data is recovered and your privacy is protected.