The external hard drive is one of your ideal data storage devices since it offers your computers a significant amount of storage space, making it perfect for data backup and information sharing.
However, an external hard drive may become corrupted and unreadable, and consequently, all of the files, images, music, videos, and other media are gone.
This might be a stressful situation for you, but knowing how to recover an unreadable hard drive can save you a lot of headaches. This article will go through how to recover an unreadable hard drive in considerable detail.
Part 1. Recover Files from Unreadable External Hard Drive with Free Advanced Tool
As we all know, an external hard drive is one of the most often utilized external drives for storing all of your critical data on your computer. However, owing to its mobility, an external hard drive may not be as reliable as intended, as it is more likely to become corrupted than a local disk. When an external hard drive gets corrupted, it becomes unreadable, and you are unable to access any of the data on it.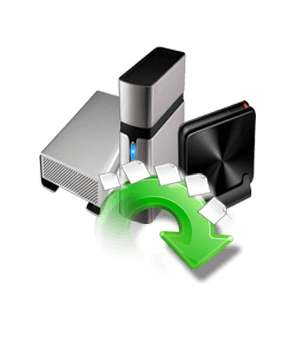 It is rather frightening if you require some crucial data from it but can not access them since the external hard disk has become unreadable. If you are experiencing the same problem, do not fret, as iMyFone D-Back has your back.
Main features of iMyFone D-back Hard Drive Recovery Expert:
It has a deep scan feature to locate and recover all lost, erased, or unreadable data on your device.
Its specialized algorithms allow it to scan at a rapid pace while also enabling you to pause and resume the scanning process at per convenience.
The filter tool allows you to easily find a missing file by type, date, or name, saving you a lot of time.
You may scan the lost data for free and then preview photographs and documents before recovering it to ensure that what was lost can be restored.
It also features an add-on tool to repair corrupted videos when the recovered videos and pictures are no longer accessible due to corruption.
Now you are all set to begin the process after knowing how this software offers the best solution to your problem of recovering data from an unreadable external drive with these intriguing features.
Step 1: The first step to recovering files from an unreadable external hard drive is to download, install, and launch the software on your device.
Step 2: Connect the external device from which you have to recover the unreadable data. Then choose that particular device from which you wish to recover data and press it to commence the unreadable data recovery process.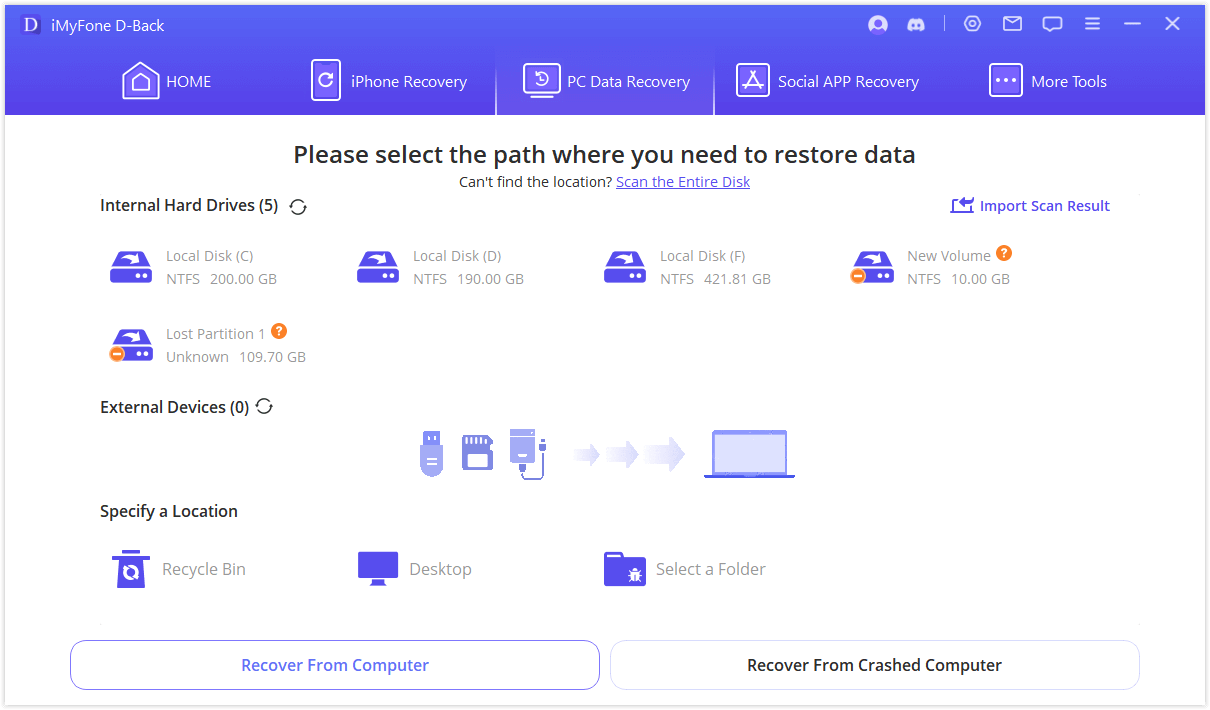 Step 3: In this step, the software will perform an all-around and thorough scan of the specified external drive in order to locate and recover every inaccessible data on your device.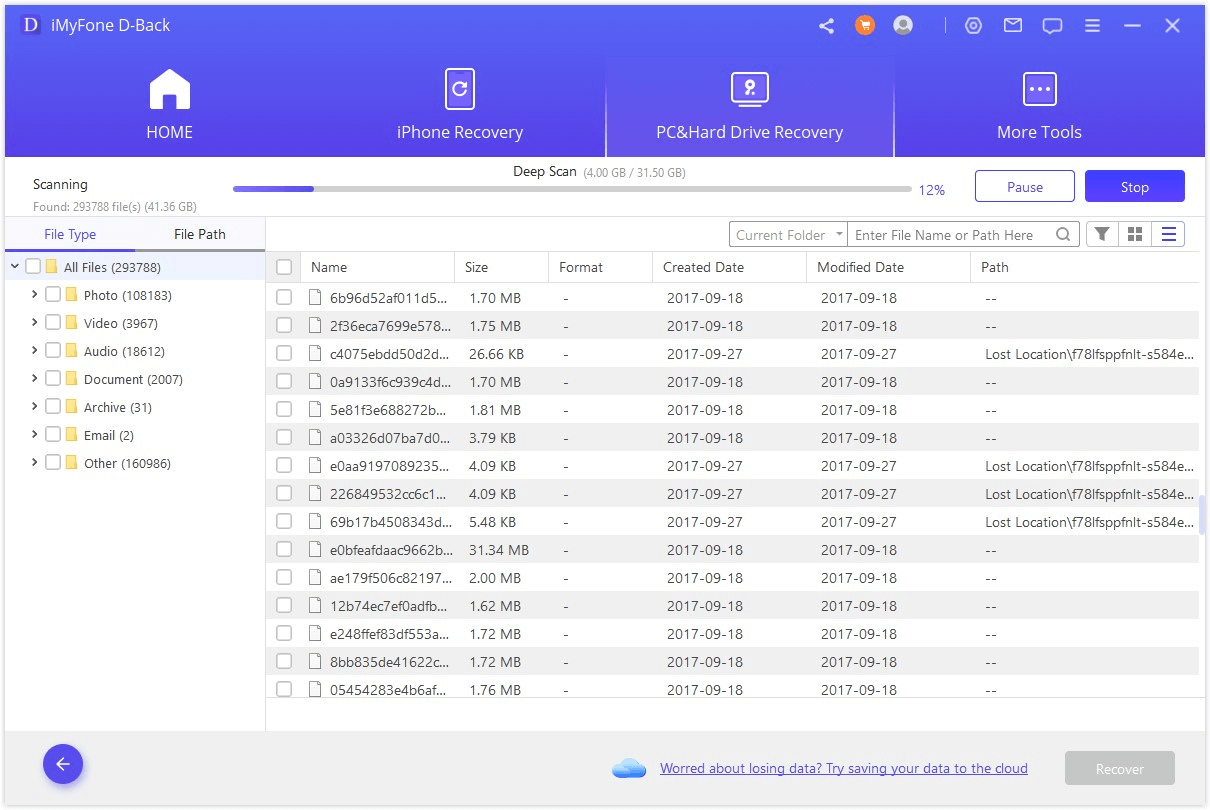 Step 4: As soon as the scanning procedure is completed, you will be able to see the damaged files you wish to restore. Click the recover button and choose a safe location to save the files.
Pro Tips about Recover from External Hard Drive
It is possible to recover data from an unreadable external hard drive. However, act swiftly and avoid trying to restore your important files from an unreadable external hard disc using any questionable techniques.
Below, we've mentioned the issues along with the best tips to fix and restore your external hard drive data. Let's first discuss the causes:
Why Does My External Hard Drive Say Corrupted Unreadable?
The external portable hard drive is susceptible to damage because of the fact that how delicate the device is often overlooked. Consequently, the drive may have a range of issues, the most common of which is that the external drive becomes corrupted or unreadable.
When this happens, your operating system fails to read or access the external drive, and an error message appears.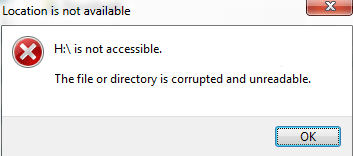 This notification signifies that the disk's file is corrupted or unreadable. You may be concerned about why your external hard drive says corrupted unreadable.
There might be several reasons for the external drive being unreadable. In this part, we will go through some of the most common reasons for disk corruption:
Virus Attack:
Virus infection or malware attack arises from negligent and unsafe surfing or downloading a malicious file from a dubious source. Such an error might ruin your external hard drive's file system by converting it to RAW.
Power Failure:
An unanticipated power outage may potentially affect the computer and the connected external disks and corrupt its files.
Malfunctioning Ports:
While activating the external device, you must ensure that the USB ports on the PC and the disk are both operational; otherwise, the system may corrupt your external drive.
Mishandling:
One of the most common reasons why an external hard drive says corrupted unreadable is because the device was mishandled while being removed from the PC and without utilizing the safely removed hardware. Or, if you hit the device by accident, it may have suffered internal damage, making it hard for the system to access the data.
How to Fix Unreadable External Hard Drive?
Since you now understand what causes the external drive to get corrupted, you may be able to prevent it. However, if it has already gotten corrupted, you must be wondering how to fix an unreadable external hard drive.
The procedure is simple. In this part, we have covered three of the most popular techniques for quickly repairing your external storage device.
Use the CMD Prompt Utility to Run the CHKDSK Command
CHKDSK checks the drive's condition, file system, and format information for physical and logical faults. Follow the below steps to fix the issues:
Access the command prompt by typing "cmd" into the start menu. It's better to open it as an administrator.
Type chkdsk D: /f command. (Please note that the "D" letter can be changed with your drive.)

The program will scan the disk for a short time before instantly resolving any discovered issues. This step will help you to analyze the issues. Once the issue is found, you can then repair, or format the hard drive accordingly.

In case you want to repair the drive, you can simply type this command "Chkdsk D: /r/f" and press enter. (The "D" letter can be replaced with your desired location).

This will scan the drive and fix if any issues will be there. When using a command prompt, be cautious since inputting the wrong command might cause substantial damage to the computer.
Update the USB Device Driver
There might be a risk that the external device's driver is outdated. You may update the driver by using the Device Manager function in Windows. Below are the steps to update the USB device driver:
Open the device manager. Locate the driver under "Universal Serial Bus Controllers" and double-click it.

Click on the update driver option. Now, wait for the manager to determine if it is a defective driver or not, and you may proceed.
Format the External Drive
You should only take this step if your device's file system has gone RAW. This option should be selected when you do not plan to retrieve the data contained therein. The steps are:
Open "My computers",choose your external drive from the list of available disks.
Right-click on it and select Format. If the file system is RAW, switch to NTFS and click OK.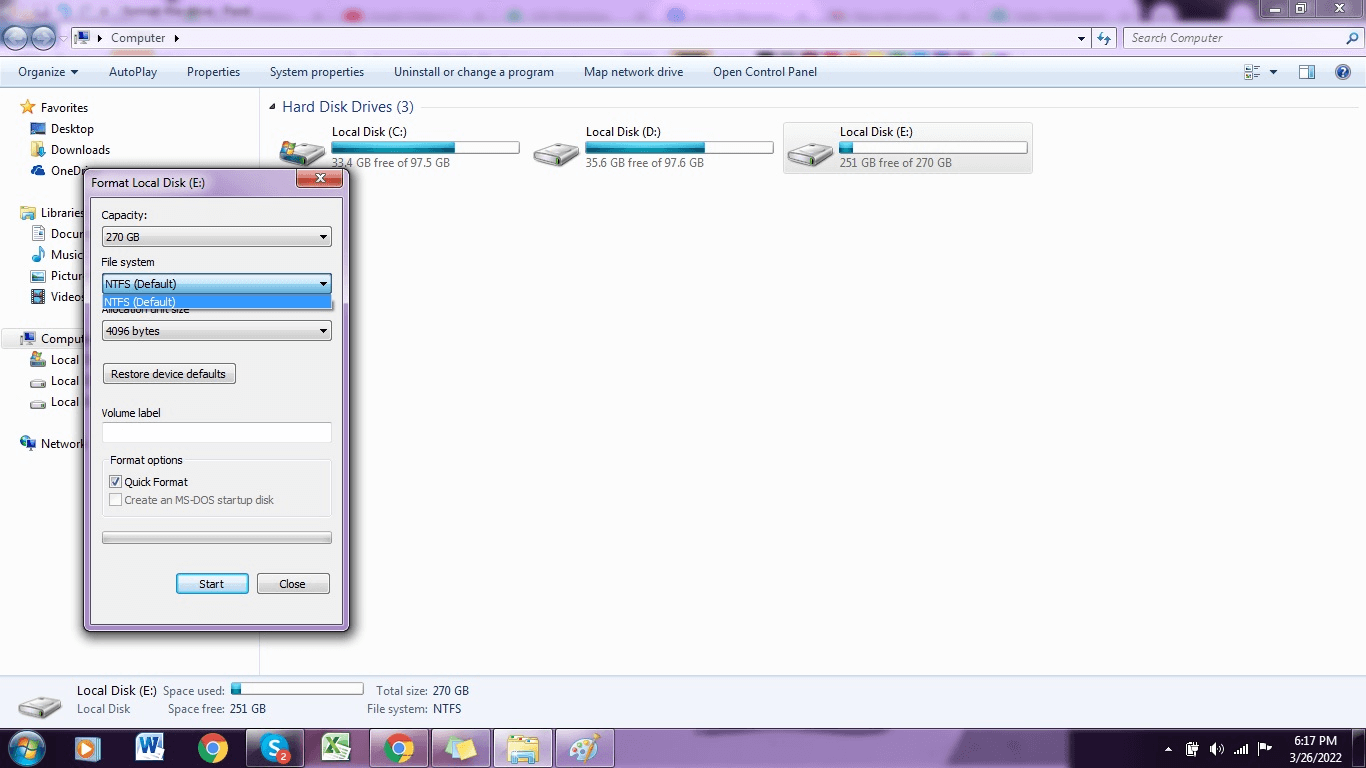 Part 3. FAQs about Recover Data from External Unreadable Hard Drive
1

How to Recover Permanently Deleted Files from An External Unreadable Hard Drive?
Whether your essential data has become corrupted or permanently erased, you can easily recover deleted files from an external unreadable hard drive using the methods we've mentioned above.
2

How to Recover Data From a Damaged External Hard Drive?
You do not need to panic if your external hard drive has been damaged for whatever reason; you can still retrieve the data. To recover data from a damaged external drive, install the D-Back Hard Drive Recovery Expert and simply utilize it by following the steps mentioned above.
3

How to Avoid External Hard Drives Being Unreadable?
The external device becomes corrupted and ultimately unreadable for various causes. Being careful might save you from trouble.
Be careful while handling the drive.
You should place the external drive on flat, level, and non-slip surfaces.
Always take caution while removing an external drive and remember to "use safely remove hardware."
Conclusion
When there are no backups, a corrupted and unreadable external hard disk may be a terrifying experience. Fortunately, the problem may be resolved without data loss; you can recover lost files before fixing corrupted drives.
This article covered nearly all you need to know about recovering files from an unreadable external hard disk and repairing it without formatting the data.
We have also provided you with the greatest data recovery tool, the iMyFone D-Back. With the aid of this great program, you can restore your data from any corrupted external drive. So, if your external device has become unreadable, do not worry; this efficient program has your back.