ZIP file formats are frequently utilized because they compress files without compromising their original quality. These files might include any compressed data, including audio, video, photos, documents, PDFs, databases, and so on, making file loss much more painful.
So, if you are worried about how to recover deleted ZIP files from pc/android, this article will explain to you several options, including using the iMyFone D-back Hard Drive Recovery Expert.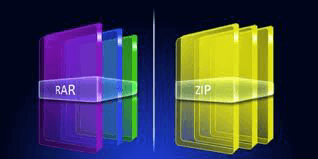 Part 1. How to Recover Deleted ZIP Files from PC with ZIP File Recovery Software(Windows/Mac)
Deleting ZIP files storing your vital data is sometimes unavoidable, creating many troubles. However, there are several solutions to recover deleted ZIP files, including using a reliable data recovery program. Let us have a look at some frequent solutions.
1.1. Recover Deleted ZIP Files with the Most Efficient Method
Using ZIP file recovery software is one of the most effective solutions with higher recovery rates. You are in safe hands with the iMyFone D-back Hard Drive Recovery Expert. This program is a ZIP file recovery software that can quickly recover ZIP files without causing data loss.
Let us look at some of the key features that make it one of the best data recovery software:
Over 1000 file formats are supported by this robust data recovery solution, including ZIP files.
It is capable of recovering data from a variety of locations.
It can recover data deleted, corrupted, or inaccessible data.
The efficient algorithms of this program allow you to scan at greater speeds while pausing and restarting the process at your ease.
It allows you to search for missing data and preview it before scanning.
It offers a straightforward digital interface that even untrained users can quickly recover data.
The software's filter function saves you time and effort by rapidly discovering a lost file by type, date, and filename.
All you have to do to recover lost ZIP files with this software is follow these simple steps:
Step 1: Download and install software
Download the software version compatible with your operating system and install it on your computer.
Step 2: Select the location
Once the software has been launched on your system, you will see the main interface, displaying several locations. Select the location where the ZIP files have been lost and proceed to scan.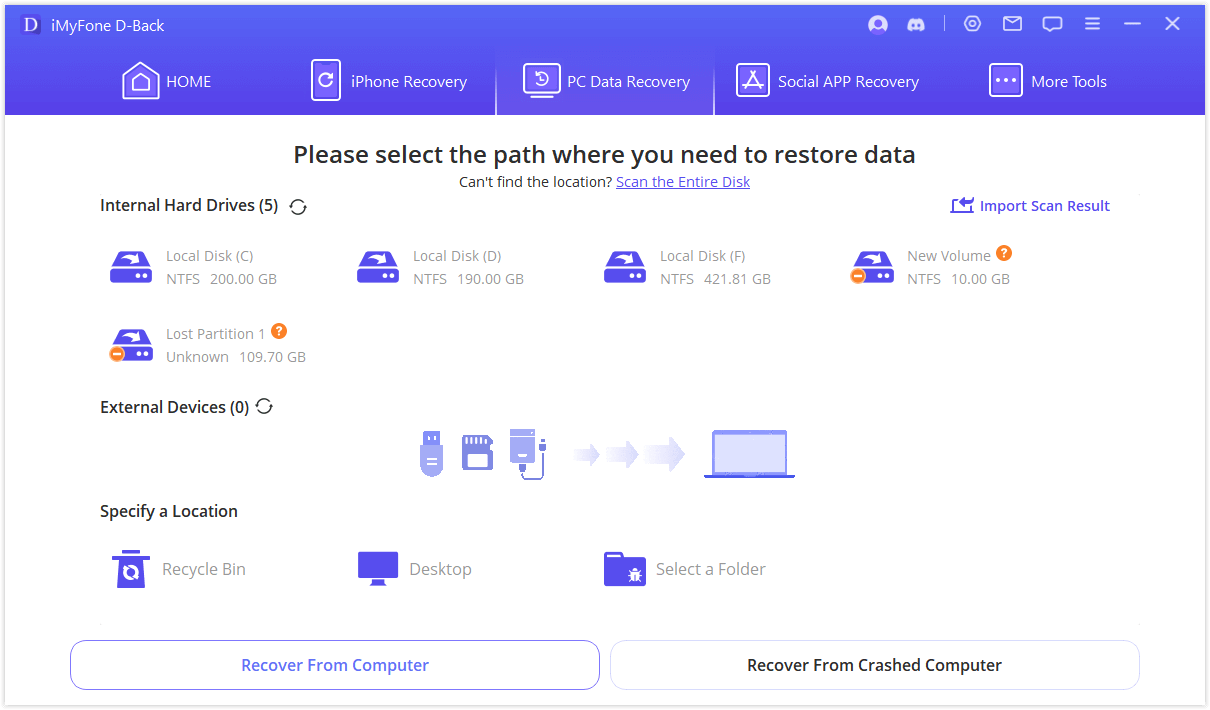 Step 3: Scan the location
The software will begin scanning the location for lost files. The scanning progress will be displayed on the screen, and you can pause or stop it.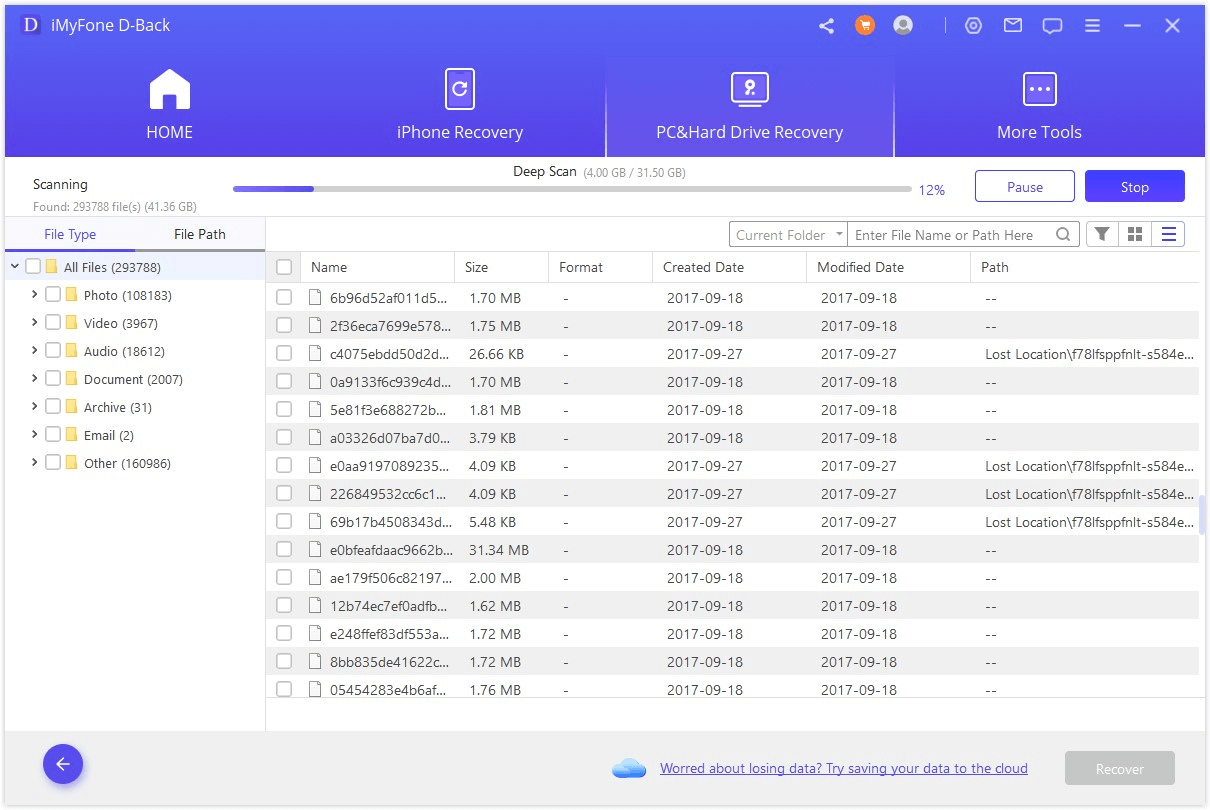 Step 4: Preview and recover
The software will display all recovered files into their appropriate categories when the scan is complete. When you have found the files you want, just click on it and then click the recover option. After that, you can save the files.
1.2. Recover Deleted ZIP Files with Other Free Methods from PC
While data recovery software is an effective solution, other free methods can help you recover lost ZIP files from pc. Following are some of the standard solutions:
Method 1: Via File History
The File History feature in Windows may be used to recover deleted ZIP files. This is a straightforward procedure if you have utilized this tool to back up your disk files.
Open the Control Panel on your screen and select System and Security from the provided interface.
You will find the File History option in System and Security; click here and proceed.
Click on Restore personal files.
Now it will display the files available to be restored. Select the files you wish to recover and click on restore.
Method 2: Recover from Recycle Bin
You may discover the files in the recycle bin if they are not permanently erased. Follow these simple steps to recover deleted ZIP files from the recycle bin:
Double-click the Recycle Bin icon on your desktop to open it.
Search for the file you want to recover.
Right-click on that selected file and choose the restore option.
Part 2. How to Recover Deleted ZIP Files in Android Phone
If you accidentally erase your ZIP files on android, data recovery software can help to recover deleted ZIP files on android. You can use iMyFone D-Back to complete the task. The program has various top-notch features that make it the ideal option; the following are the primary features:
It scans the Android phone's selected location for lost data quickly.
The app allows you to restore various data types selectively.

It offers three recovery options:

a) Data recovery directly from the device

b) Data recovery from a Google backup

c) Data recovery from a broken device

You may preview files before restoring them using it.
It works on both rooted and non-rooted Android phones to retrieve data.
It allows you to recover and export data in a variety of formats.
There are many thirds party apps available in the online market that can help you recover the zip files from Android, and there is nothing wrong with using them for your zip file recovery.
We are here to discuss one of those software resources that make it easy for you to undelete the zip file from the Android device. D-Back is the software that provides you the facility to get back the zip files from the Android device. The best thing about this software is that it can help you access your smartphone even if it has a broken screen. Isn't it amazing! You can also access your data from the locked Android device and recover the zip file from the Android device.
After getting a brief introduction to the software, now, it's time to know how it works. Read it carefully, follow the instruction written below, and get back zip files from the Android device!
Step 1: First of all, you have to download the software iMyFone D-Back, install it on your laptop or PC, and launch it to use. After installation, you have to choose the recovery mode from Android data recovery.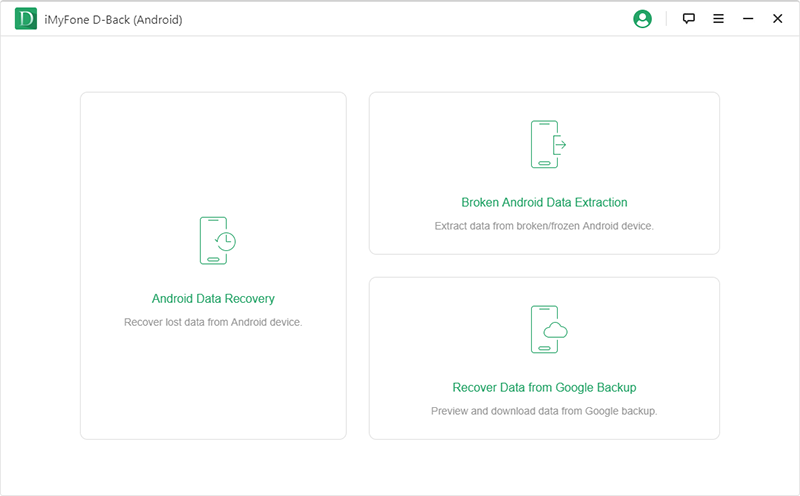 Step 2: The next step is to enter your phone details into the form. Enter the name of your Android device, the model of your phone, and then hit the "Next" button. You can select your device information from the drop-down menu.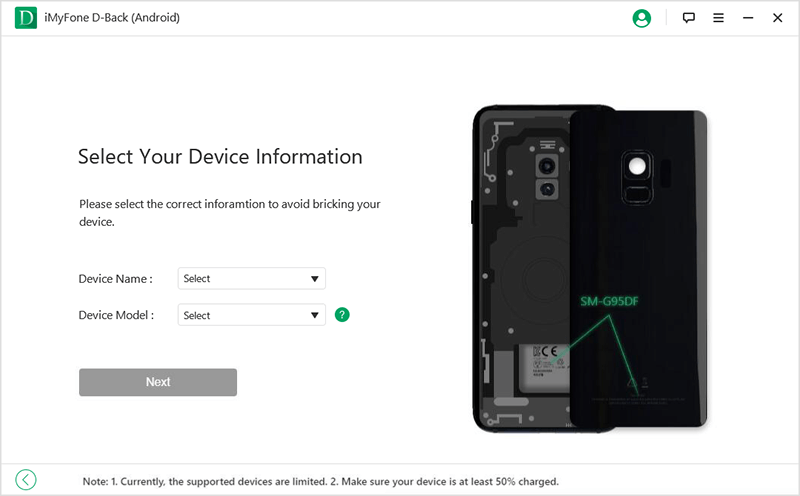 Step 3: The data package, according to your device model, will start downloading on your device. Make sure that your computer is connected with the internet, preferably, and the Wi-Fi is stable during this process.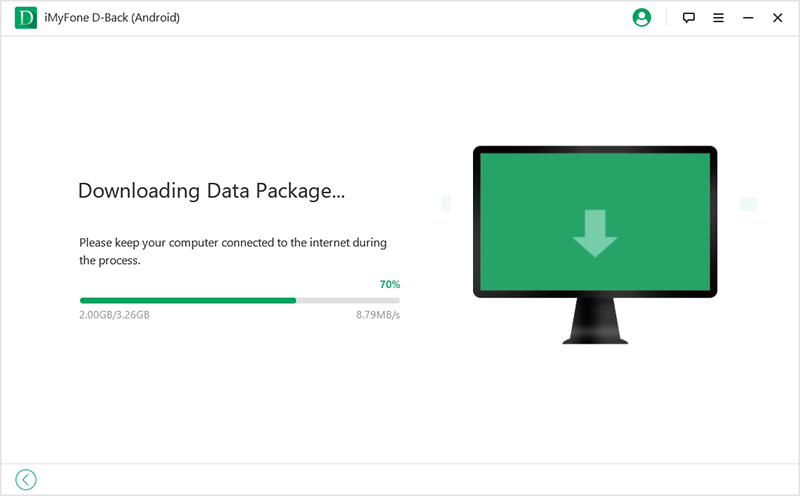 Step 4: After that, connect your smartphone with PC via USB cable. The software will help you thoroughly to enter the downloading mode in just 3 steps.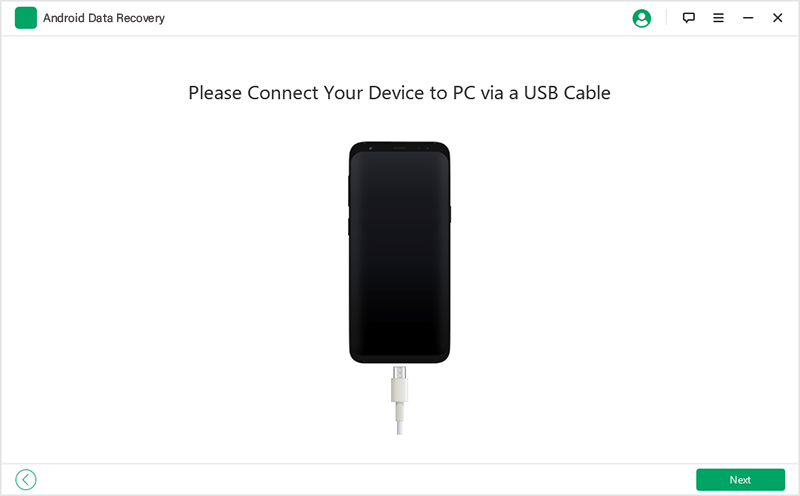 Step 5: Select the file types that you want to recover, and you can also select all files for ease of recovery process. Hit the "Next" button to start analyzing the files.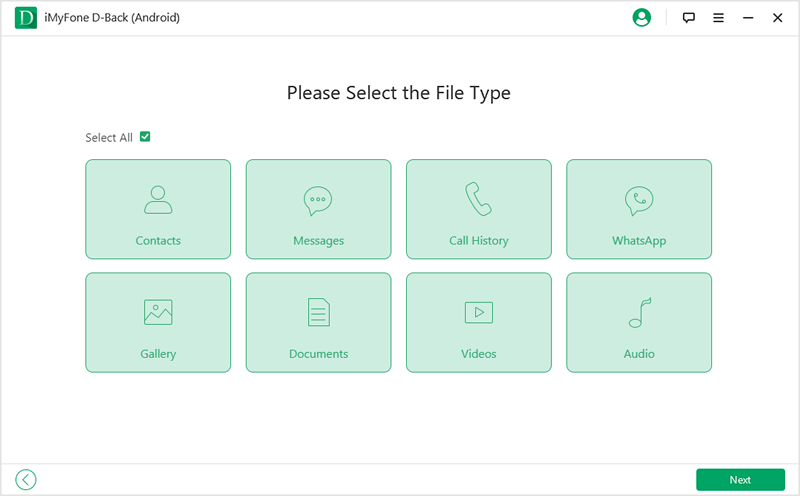 Step 6: Choose the files that you want to preview before recovering. After previewing, choose the files that you want to recover, hit "Recover," and the zip files will be restored to your computer system.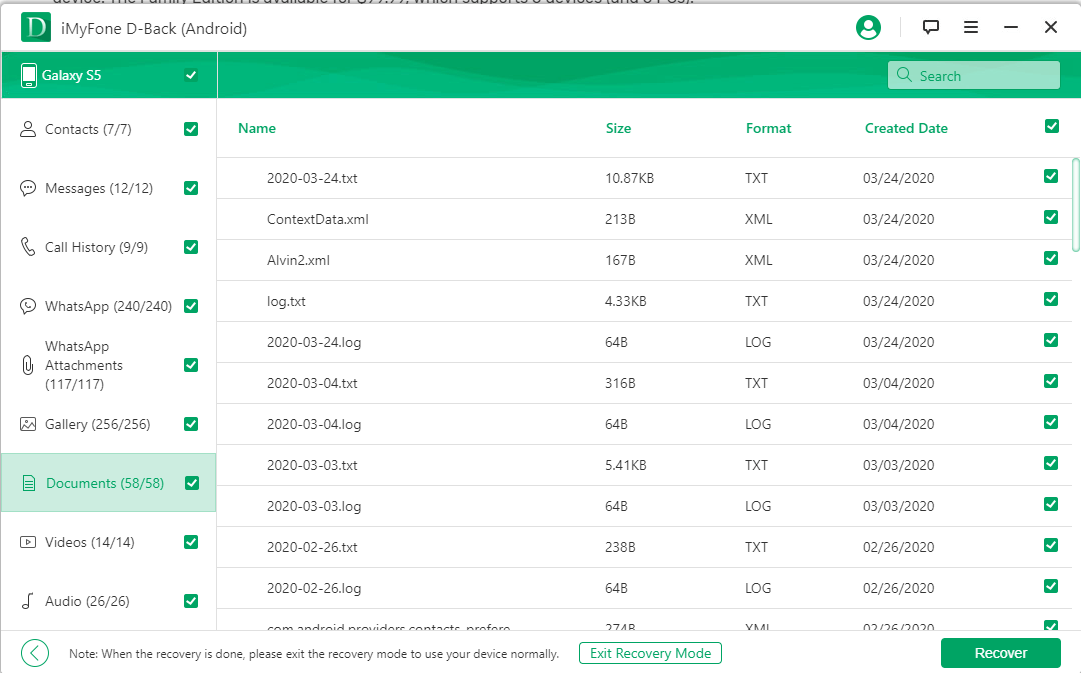 Pro Tip: Why were My ZIP Files Disappeared? How to Avoid it?
It is essential to be aware of several typical scenarios that might result in file deletion and avoid them in the future.
Scenarios that cause ZIP file deletion
If you remove files from your computer and then empty the recycle bin or hit Shift+Delete, it will permanently erase the data.
If you do not have a backup, converting a partition from MBR to GPT will wipe out your data.
Files can be damaged by a hardware failure or a faulty external hard disk.
Data loss can also be caused by incomplete file system conversions, such as NTFS5 to NTFS.
Anti-malware software identifies some files as virus-infected and removes them from your computer right away.
Tips to avoid these scenarios
Install an efficient version of the anti-virus application on your computer and keep it updated.
Back up and preserve all of your data regularly on various storage devices such as an external hard drive, a flash drive, and cloud storage.
Don't hurry and make sure a file is no longer valuable before deleting it.
Installing pirated software from unknown sources is never a good idea.
Do not use your device excessively to avoid overheating, as overheating can cause damage to your essential data.
Part 4. FAQs about Recovering Lost ZIP Files from PC
1. Can I recover permanently deleted ZIP files?
You can recover permanently deleted ZIP files by employing an efficient data recovery software like iMyFone D-Back by following a few simple steps enlisted above.
2. How to recover a damaged ZIP file?
You may use WinRAR to fix damaged ZIP files since it features a built-in data repair function. All you have to do is follow these simple steps:
Open WinRAR on your computer. You can find the location of the corrupted ZIP file in its address bar.
Select the corrupted ZIP file and select the Repair button in the toolbar.
Browse to select a destination to save the repaired file, then click OK to begin repairing the damaged ZIP file.
You can dismiss the file repair window and access the destination folder to inspect the fixed ZIP file once the process is completed. You will find the repaired file with the name Rebuilt.filename.rar or rebuilt.filename.zip.
3. How to recover corrupted ZIP file?
You may simply recover a corrupted ZIP file using the System File Checker. Follow these simple steps:
Open a command prompt as an administrator.
Run the command "sfc /scannow".
Press "Enter" and let the SFC handle the rest.
After the procedure, reboot Windows, and the process is completed.
4. How to compress and extract ZIP files?
To compress ZIP file, follow these steps:
Right-click on the folder you want to compress and choose 'add to archive.'
Under the General tab of the Archive name and parameters dialog, you will be asked to confirm Archive name, Archive format, and compression method.
Now, select Normal from the Compression method drop-down menu. To measure the size, go to Split to volumes, size option, and set archive size and unit.
Click OK in the Archive name and parameters window, and the file will be compressed using the specified settings.
To extract ZIP files for free, use the following steps:
Right-click any ZIP file.
Click the extract here option. If you want to extract it to any other location, then click on extract files and then select the location.
Conclusion
The loss of essential data saved in a ZIP file might cause you undue anxiety. Luckily, there are various techniques for recovering and restoring a deleted file's valuable content. If your data is not in the Recycle Bin and you do not have a backup, data recovery software like iMyFone D-back Hard Drive Recovery Expert can help you.
However, to avoid all of these hassles, it is necessary to be cautious and avoid scenarios that result in data loss.