Vimeo is a brilliant video hosting program where you can store your video. However, many people have been facing the issue that their videos get deleted from Vimeo unexpectedly, and they haven't got any clue about this whole chaos.
Can you recover deleted video from Vimeo?
Regardless of the reasons that urge your videos to get deleted, being able to recover data from Vimeo is more critical. Luckily, this post reveals the best way to recover deleted videos from Vimeo.
Part 1: How to Recover Deleted or Lost Video from Vimeo [Recommended]
The best way to recover lost or deleted videos has to be iMyFone D-Back Hard Drive Recovery. You can't stop talking about this data recovery, as this is damn good.
Using this excellent tool, you've got the opportunity to recover data from hundreds of storage devices with ease.
On top of that, iMyFone D-Back Hard Drive Recovery offers an intuitive user interface that makes the data recovery process perfect.
Features
It empowers you to recover 1000+ file types.
D-Back Hard Drive Recovery Expert offers a simple user interface.
It offers an easy scanning and recovery process.
You can preview data before recovering the data.
It supports Windows partition recovery.
You can retrieve deleted data from Vimeo.
How to recover deleted video Vimeo using iMyFone D-Back Hard Drive Recovery?
Step 1: Install iMyFone D-Back on your PC and start the program.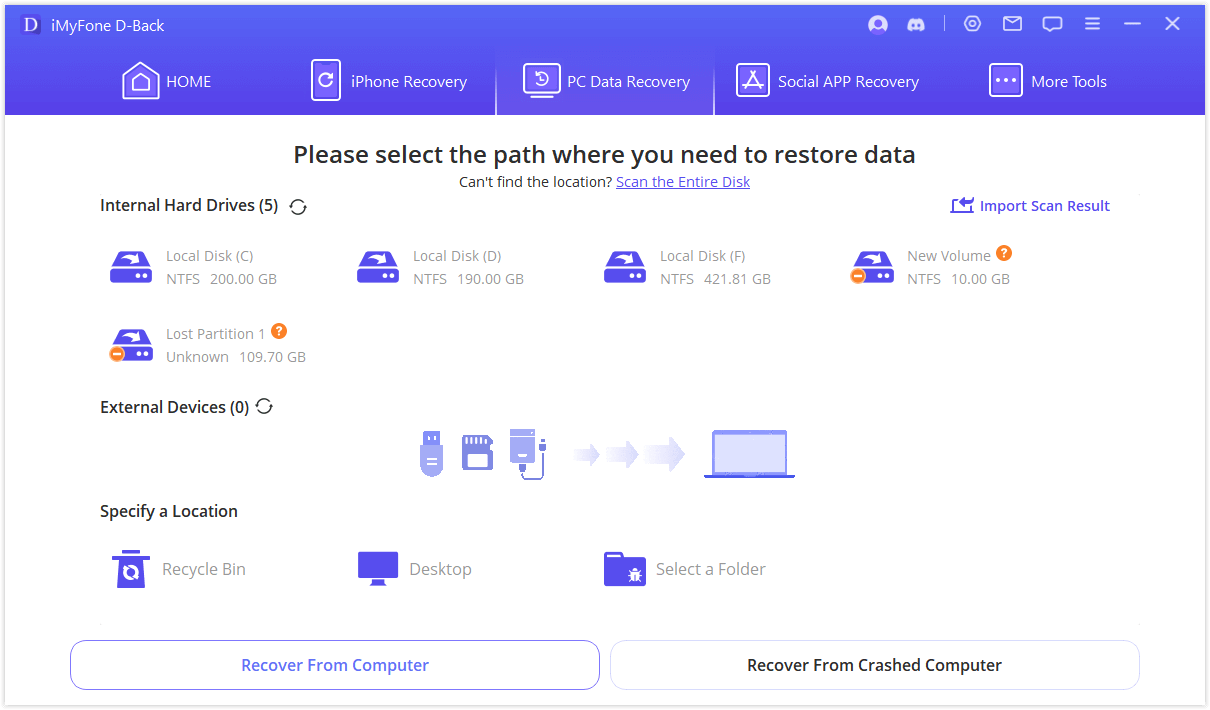 Step 2: Navigate to the folder on your PC where you had lost the Vimeo videos (You deleted the videos from your PC after uploading them to Vimeo, and then Vimeo removed them from their website). Next, tap on the "Scan" icon to start scanning for your data.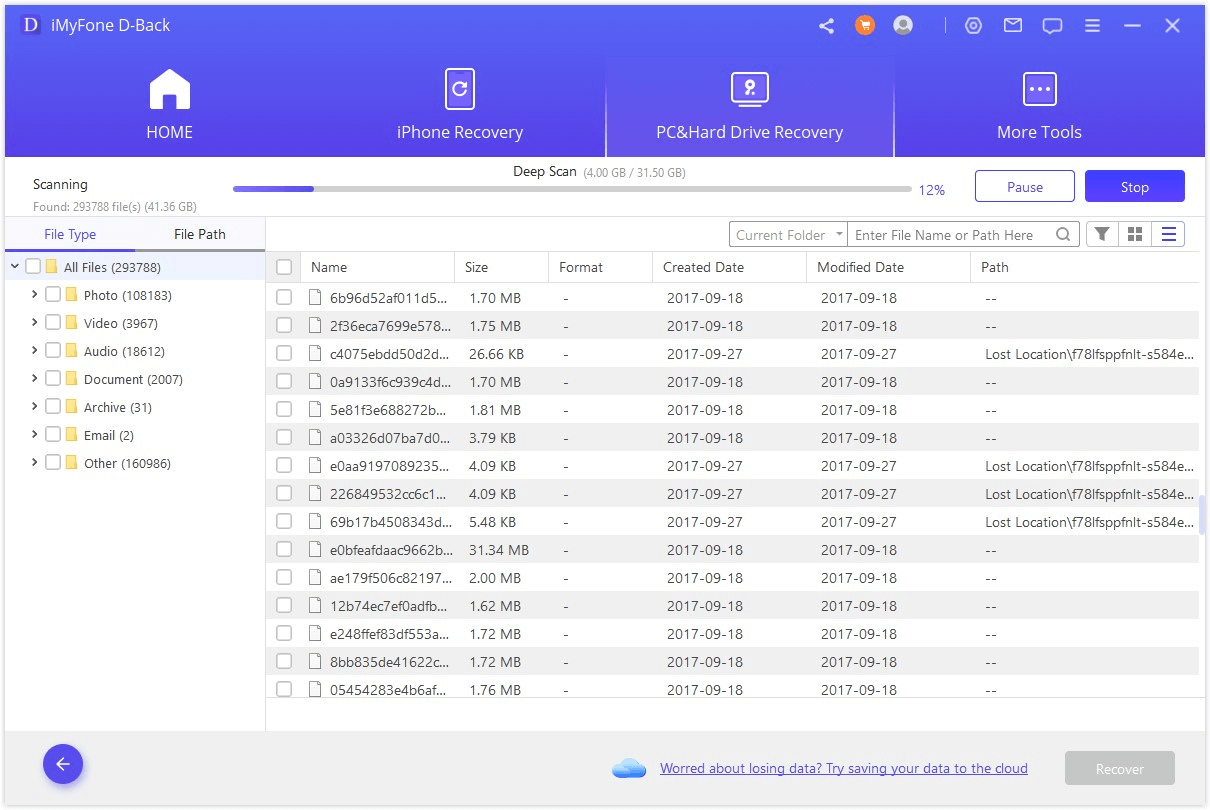 Step 3: Preview the Vimeo data and get it restored after tapping the "Recover" icon.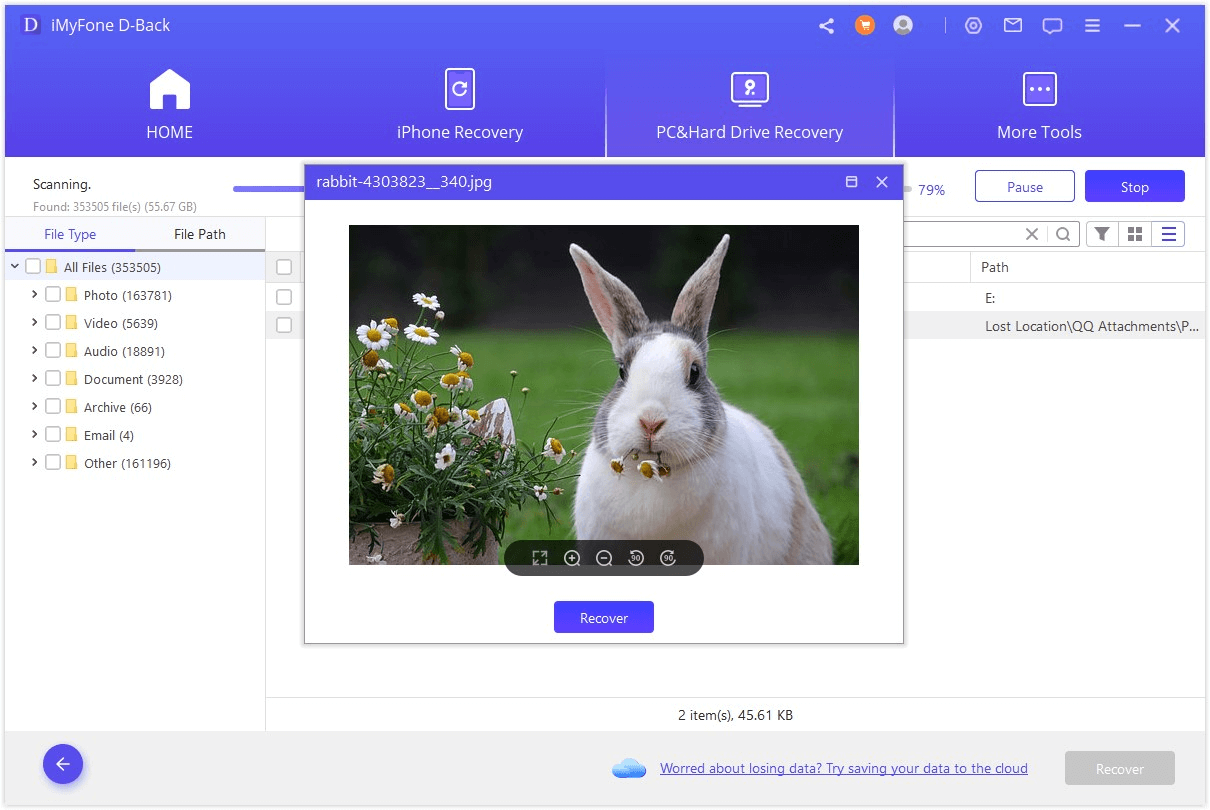 Part 2: Why did Vimeo Delete my Videos?
Vimeo has different plans for you, as every program offers various features. You can get the list below to find out the different packages Vimeo comes up with.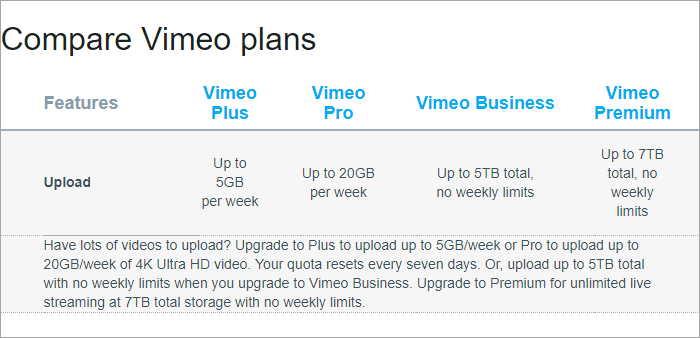 As you can see from the photo above that you can upload many videos depending on your Vimeo Plan. If you're getting a basic membership, you can only upload 5 GB in total with 500 MB of video per week.
Vimeo says that if you tend to switch from an advanced plan to a basic one, the videos you've uploaded might be moved to archives; it happens when the Vimeo account exceeds the limits you can upload the video. After one year, your video will permanently get deleted from the archives.
Thus, when you know that the videos you had stored on your Vimeo account got deleted, you'll need to upgrade your Vimeo to ensure you can upload more videos without seeing them deleted.
Part 3: FAQs about how to Recover Deleted Vimeo Videos
1. How to Delete Videos on Vimeo?
You'll need to follow the guide below if you're looking to find deleted videos from Vimeo.
Step 1: Enter the Vimeo account credentials after launching the "Vimeo homepage".
Step 2: Tap on the "Videos" icon and select the videos you'd like to delete. Next, press the three dots option and hit "Delete" to remove that video.
Step 3: Enter your Vimeo account password and press the "Delete" icon again to confirm deleting the Vimeo video.
2. How to find deleted Vimeo videos?
Move to the Archives for the Vimeo videos you've deleted unintentionally or videos deleted due to Vimeo Plan's limit getting exceeded.
Vimeo stores the videos in Archives for 1 year; after 1 year, your videos will be removed permanently.
If you intend to access the deleted videos from Vimeo, you'll need to launch the Archives to serve your purpose.
3. Why are my Vimeo videos not showing up?
If you're unable to access your Vimeo videos, the first thing you'll need to do is check whether your Vimeo account has exceeded the limit. If it happens, your Vimeos videos get deleted, and if it's been 1 year since your videos got deleted, you won't be able to recover them.
To recover the videos in this situation, you'll need to opt for iMyFone D-Back.
Final Words
Losing the Vimeo videos without knowing the main reason always hurts. However, you can recover deleted videos on Vimeo by reading this post. It comes with one of the most efficient ways to help you recover data in the shape of the iMyFone D-Back.
You won't find any better data recovery tool than the iMyFone D-Back, as it empowers you to recover deleted data in original quality.