Losing your important files from the computer is indeed stressful. However, do you know what is even more annoying? Having to use software to recover them is not user-friendly at all. Many software options out there don't come with a user-friendly interface. Instead, they make things even more confusing. If you are looking for easy-to-use data recovery software, GetData Recover My Files is the best option!
Part 1. Recover My Files Review
Recover My Files is software that offers quick data recovery, making it worth using the program. This program does the deed within minutes rather than spending hours finding the lost files and then trying to recover them. It is loaded with unique features and benefits, making it a must-have for anyone who has lost any data.
1.1 Main Features of Recover My Files
The main features of Recover My Files that set it apart from other competitors are as follows:
This software finds all the lost data from your windows computer and shows you an entire list. Even if some files were formatted, this program could recover them. Most of the get data Recover My Files reviews praise its utility.
With the help of the built-in file previewer, you get the liberty to recover only those files that you need. The software shows you all the lost files, and you can choose which ones you want back.
The feature of 'search' within the software makes things relatively easy for you. You can easily filter the files according to your requirement, and it would let you find the desired file easily.
The interface of Recover My Files is entirely interactive. It is tidy, hence doesn't cause any confusion.
This software is quite speedy in performing all its actions. It can search and recover a file you had lost a long time back within seconds.
The software offers an in-depth search facility. It lets you see those critical files you deleted years back and want to have now.
1.2 Pros and Cons of Recover My Files
The Recover My Files software review showcases the following pros and cons:
Pros
Loaded with extensive features.
Offers a quick recovery.
It lets you search and recover only those files that you need.
It makes it possible to sort the files according to type and size.
Cons
This software is expensive as compared to other alternatives available.
Part 2. Better Alternative to Recover My Files- iMyFone D-Back
If you are looking for an alternative option, you can surely go for the iMyFone D-Back. It is an easy-to-use software, ensuring to recover all the files you need.
2.1 What can D-Back Hard Drive Recovery Expert do for you
D-Back Hard Drive Recovery Expert is your savior if you want your lost files back. The best part about it is that you can make it work for iOS. No matter what kind of gadget has failed the data, you can get it back through this software.
Main Features about iMyFone D-Back:
You can quickly recover from external drives, USB, and SSD cards.
The software supports more than 1000+ file types.
The files can be previewed before recovery.
Free scanning of the files.
You can also use the filter feature to search only the required files to save time.
The working of this software is relatively easy. You need to follow some simple steps, and your files will recover.
Step 1. Download iMyFone D-Back and Install it.
Download the software from the official website. As it works for Windows and Mac, you can easily install any software version from the website.
Once the entire software is downloaded, you need to install it on your computer. Click the download file, hit 'install,' and choose the desired location.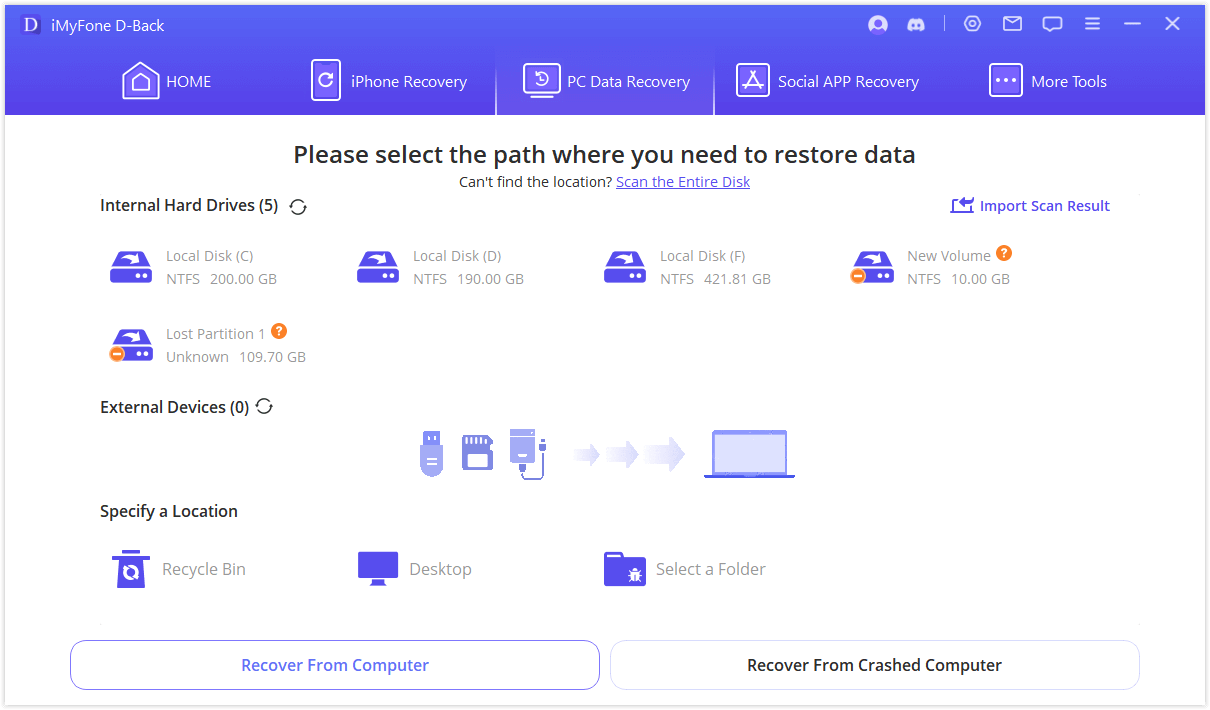 Step 2. Scan the targeted location.
Select a location and choose the option 'scan.'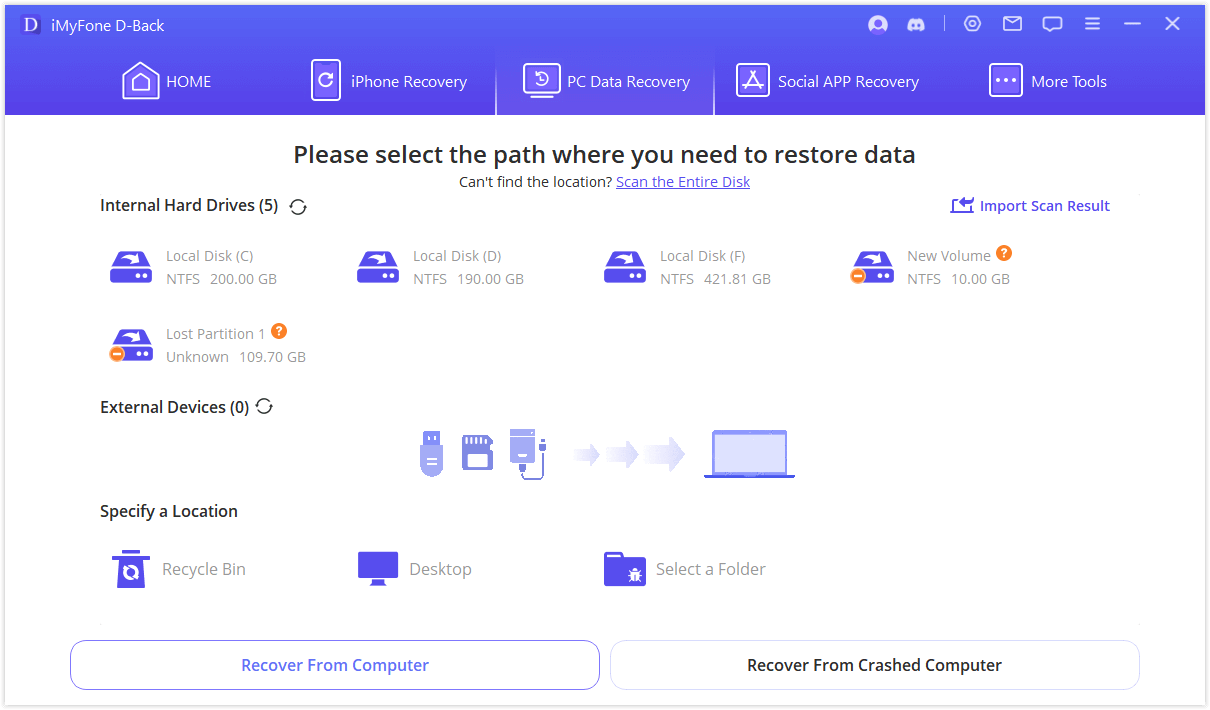 The software will keep showing you the progress as it scans your lost files. If you want to stop the scanning process for some time and then resume, you can do so by clicking the options shown in the upper right corner of the window.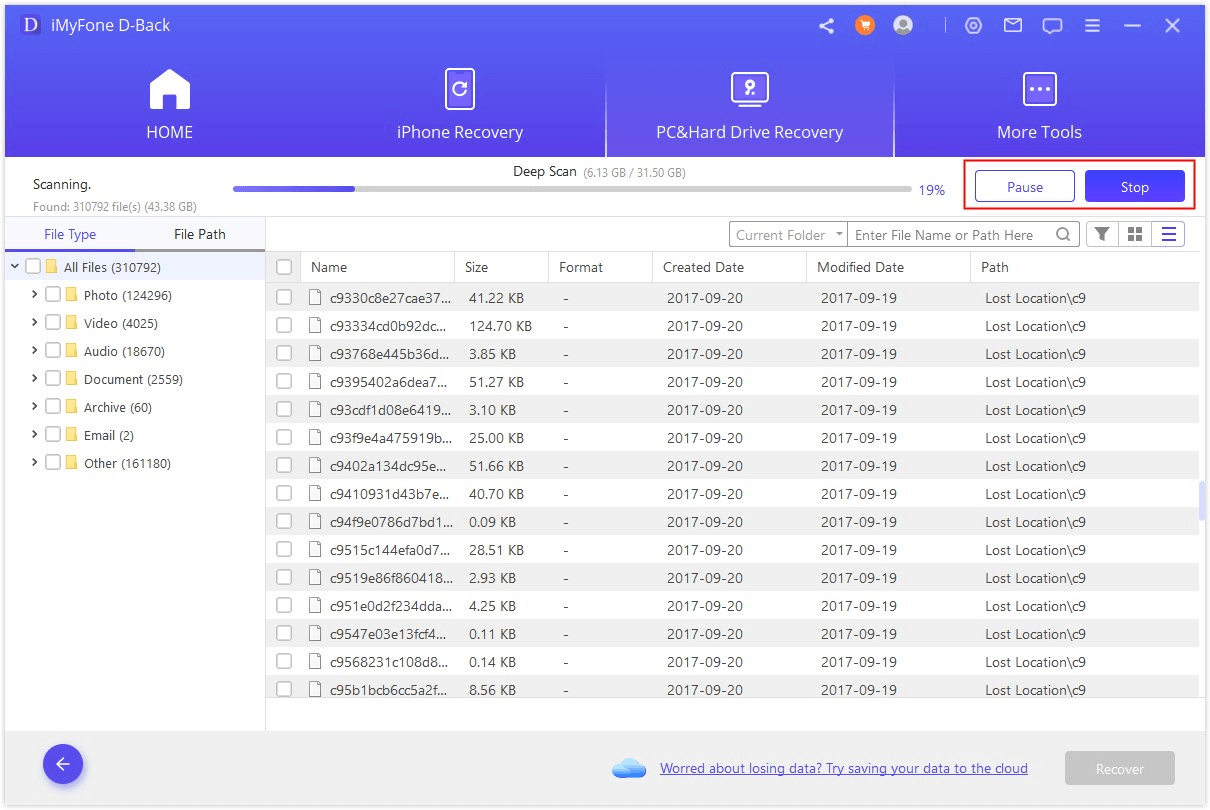 Step 3. Select and recover files.
Now you can choose the files you need to recover and then bring them back to your computer. If you want them all, select all and hit the recovery button.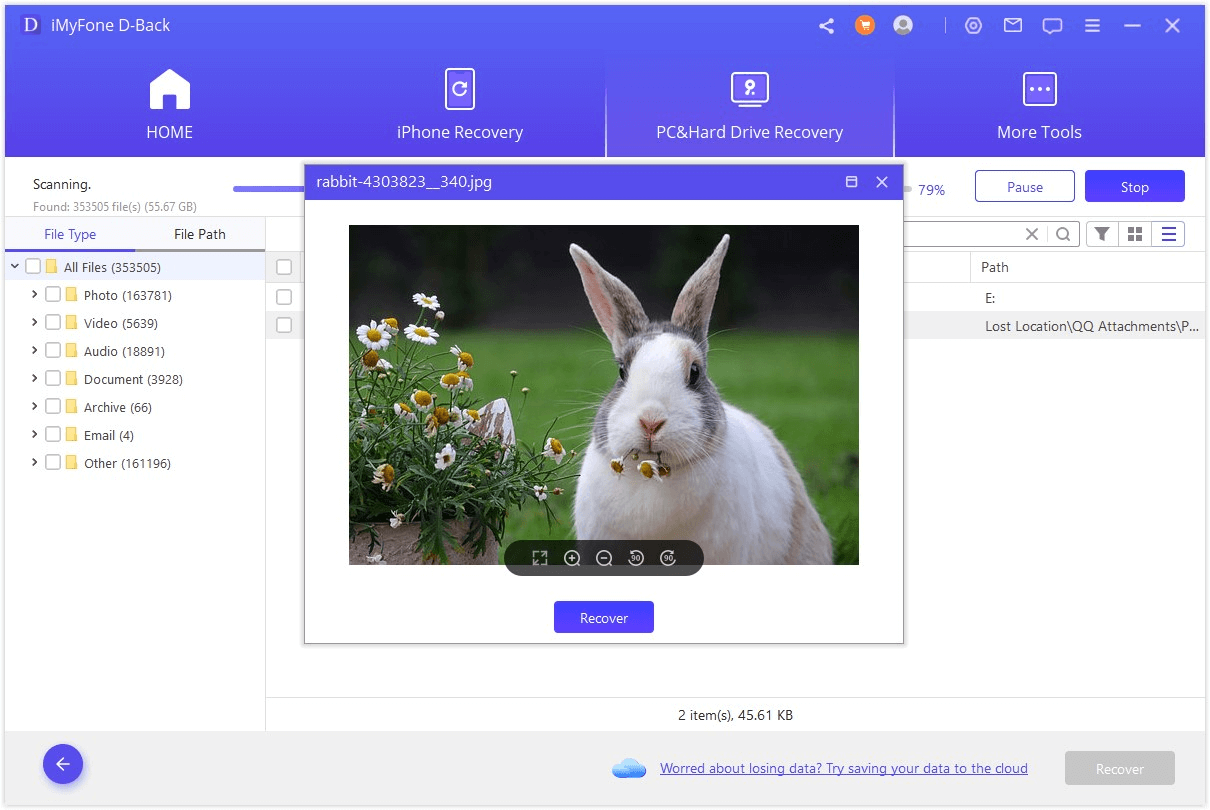 2.2 Comparison Between D-Back Hard Drive Recovery Expert and Recover My Files
| Festures | iMyFone D-Back | Getdata Review My Files |
| --- | --- | --- |
| It supports Mac and Windows | | |
| User Interface | User-friendly | Very engaging |
| Quick and Deep Scan | | |
| Cross-Platform Compatibility | | Not Widely Compatible |
| Preview the Files | | |
| Files Filter Option | | |
| Scan and Preview Data for Free | | Have to pay ahead |
Part 3. FAQs about Recover My Files
3.1 Is Recover My Files Legit/Safe
Yes, Recover My Files is a secure software that you can use to recover your files without the fear of losing your security.
3.2 How Can I Free Download Get Data Recover My Files
You can free download the Get Data Recover My Files through the software's official website. It is the safest place from where you can get it from.
3.3 Get Data to Recover My Files Activation Key; Where Is It
Once you buy the software from their official website, the activation key will be sent to you by email. It will also be available on the web page to make your final purchase.
Conclusion
Recover My Files is a great choice to recover the deleted files from a device. It is filled with great features, making recovering data relatively fast and easy. You can easily preview and select the specific files to recover or choose all of them for retrieval. But this software has some limitations, and it's pretty expensive. You should try the iMyFone D-Back if you want the best alternative. It's a great tool that can quickly restore your files. So, save your time and effort and use this software!