Filling a spreadsheet with all the information can take very long, and if your PC crashes or Excel crashes, then all of your hard work will be in vain. Did you know that you can recover unsaved Excel files on your PC? Well, here we will discuss the top 5 ways to do it.
Part 1. Where Are Excel Temp Files Stored on Windows?
An amazing feature of Microsoft Office that comes as a default feature is that it keeps saving your file as you work. In this way, those temporary files are automatically saved while you are working and not saving the file yourself.
Have you seen the Auto Recover menu when you restart your PC and Excel if your PC crashed while you were working? It is where you can recover your temporary files. However, sometimes this menu does not open automatically. In such a case, you can manually access those files by following this path on your PC.
"C:\Users\UserName\AppData\Local\Microsoft\Office\UnsavedFiles".

Remember that instead of "UserName" you will open the folder named with your user name on your PC. So, open this path on your PC, and you will find the temporary Excel files there. Now it will be much easier to open those files and recover any of the data you did not save. So, none of your hard work will go wasted.
Part 2. How to Recover Unsaved Excel File on Windows
Finding the temp files alone is not what you need to know. Knowing how to recover the unsaved files on your Windows PC is also essential as it will help you save all your hard work. Here we will be discussing the top 4 methods you can use after knowing where excel temp files are stored.
Method 1. Manually Reocver from Temp Files
The first method you can try is manually saving the workbook after finding the temp files. It is one of the easiest and quickest methods. However, finding the temp files is essential for this process to work.
Open the location where you found the temp files and all the temp files you want to save.
Now click on file on the right top and then select Save As.

Now enter the location where you want to save that file.
Lastly, you will need to go to that location and find your excel workbook file saved there. Thus, all of your data will also be saved.
Method 2. Recover Unsaved Workbooks
The next method you can use is recovering the unsaved workbooks on your PC. For this method to work, you will not need to know the location of temp files. Thus, half of your work will be reduced in this method. Below are the steps you can follow to recover the unsaved workbooks.
Open MS Excel on your PC and create a new file.
Now click on the File tab and go to the Open option.
Select recently, and you will find the recovery option at the bottom of the list.

Now you will see a window with all your unsaved files from MS Excel.
Simply choose the one that you need to recover and open it and then save it on your PC.
Method 3. Restore Previous Version
Sometimes we have some versions of our Excel files saved on the PC while some are not. In that case, we can view the previous versions which are unsaved and then restore them from there. The process is easy, but you need to follow all the steps carefully for it to work.
Open MS Excel on your PC and open the most recent saved file.
Click on the File and then Info.
Now manage the workbook, and you will find autosave files.

Select and click on the file to save it. See the preview of the file and then restore it.
Rename the file, and you can open it as a saved file on your PC.
Method 4. Recover Temp Excel File from OneDrive
The last method to try is recovering temp files from OneDrive storage. However, you must be configured with OneDrive for this method to work.
Open the OneDrive app on your PC and click on it, then select View Online.

Now open OneDrive Recycle Bin, and you will find the file you are looking for.

Recover and save the file on your PC.
Part 3. How to Recover Deleted Excel File without Knowing Excel Temp File Location
Sometimes finding the location of the temp excel files that got deleted without saving can not be that straightforward. In that situation, you may not find any of the methods above to work for you.
In such circumstances, you need to recover the temp files more smartly and quickly; for that, D-Back for PC from iMyFone is the best choice. It is one of the best hard drive data recovery software that you can use.
Other Features of D-Back for PC:
It can recover all the deleted files from any storage device, including HDDs, SSDs, USB drives, SSD Cards, etc.
D-Back for PC supports data backup for over 1000 file types, including all media, documents, and archives.
Before you recover your data, you can preview it, saving much of your time.
D-Back for PC also works to recover data from windows partitions like formatted, corrupted, and raw partitions on your storage medium.
Step 1.Once you install and run the D-Back for PC tool, you need to select a location on your PC that your lost excel file stored.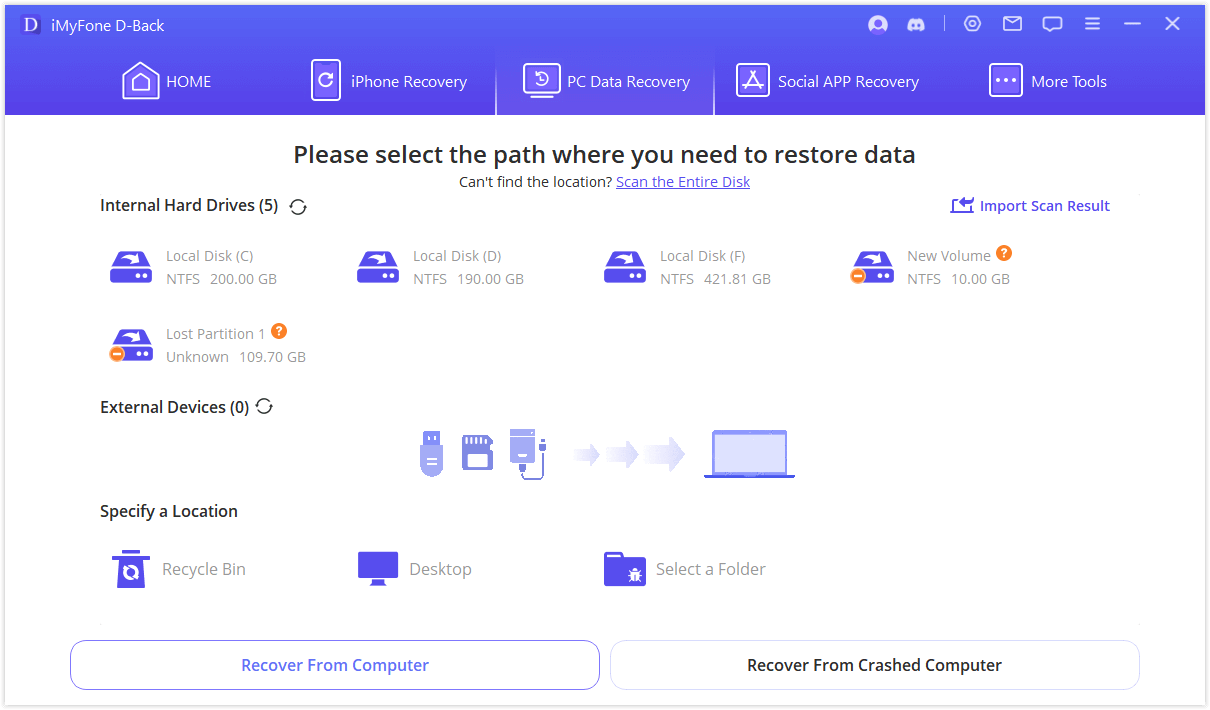 Step 2.Now start the scan to see all of the lost files.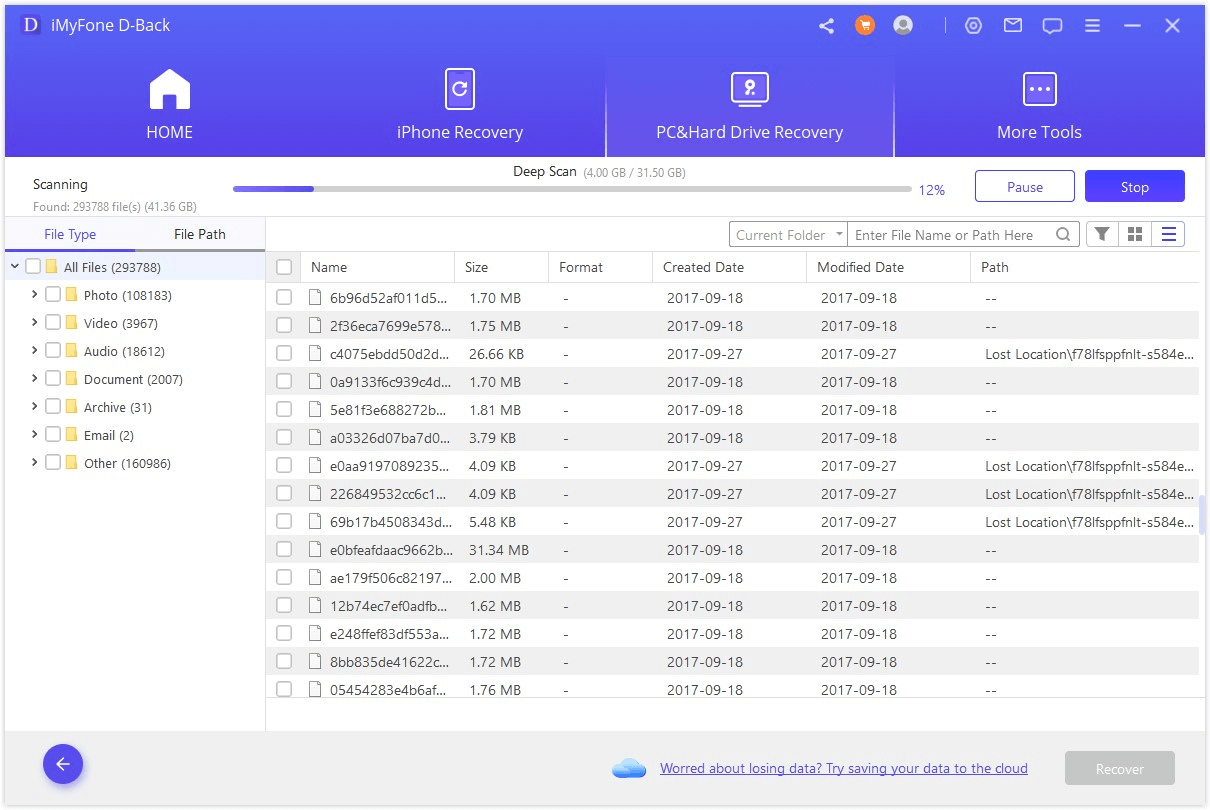 Step 3.After the scan, you can go through the files you want to recover. Go to Document section to check the excel files there.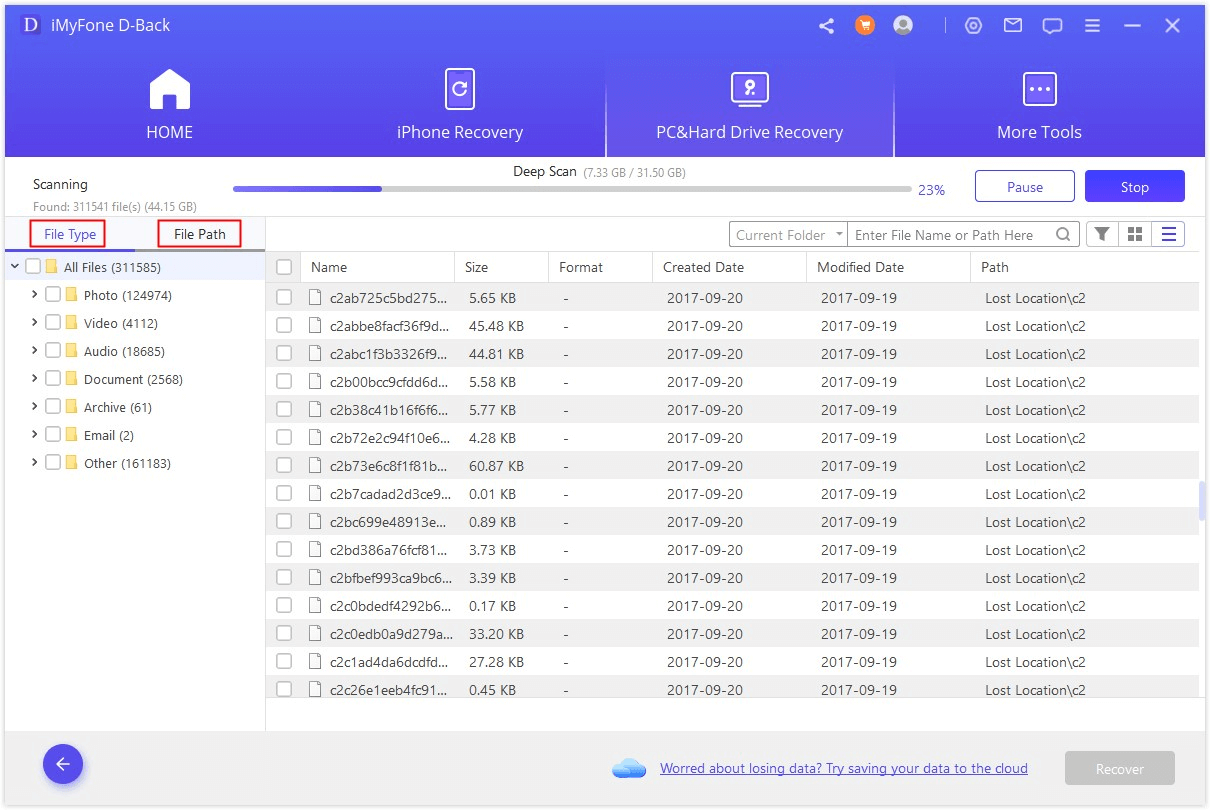 Step 4.Preview before you finally Recover the excel files. That allows you to restore the exact file you need.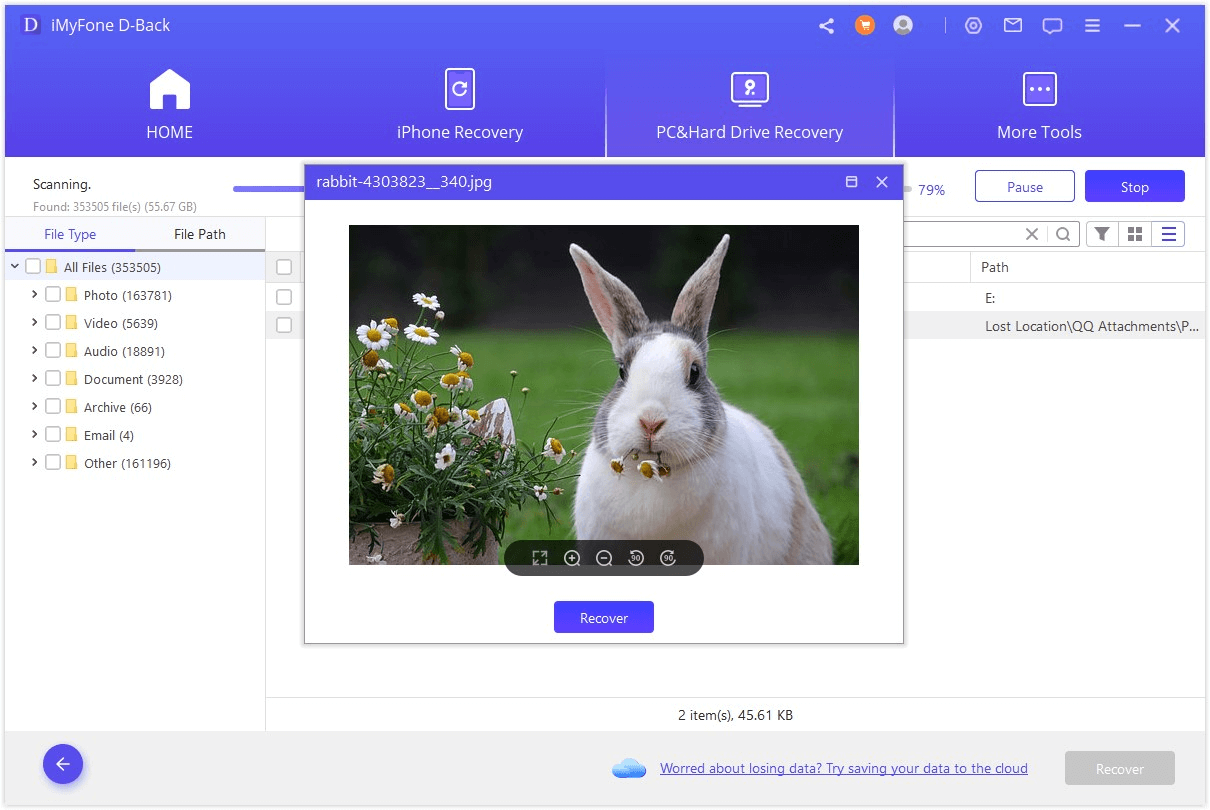 Step 5.Finally, recover those files and specify the location on your PC to save those files.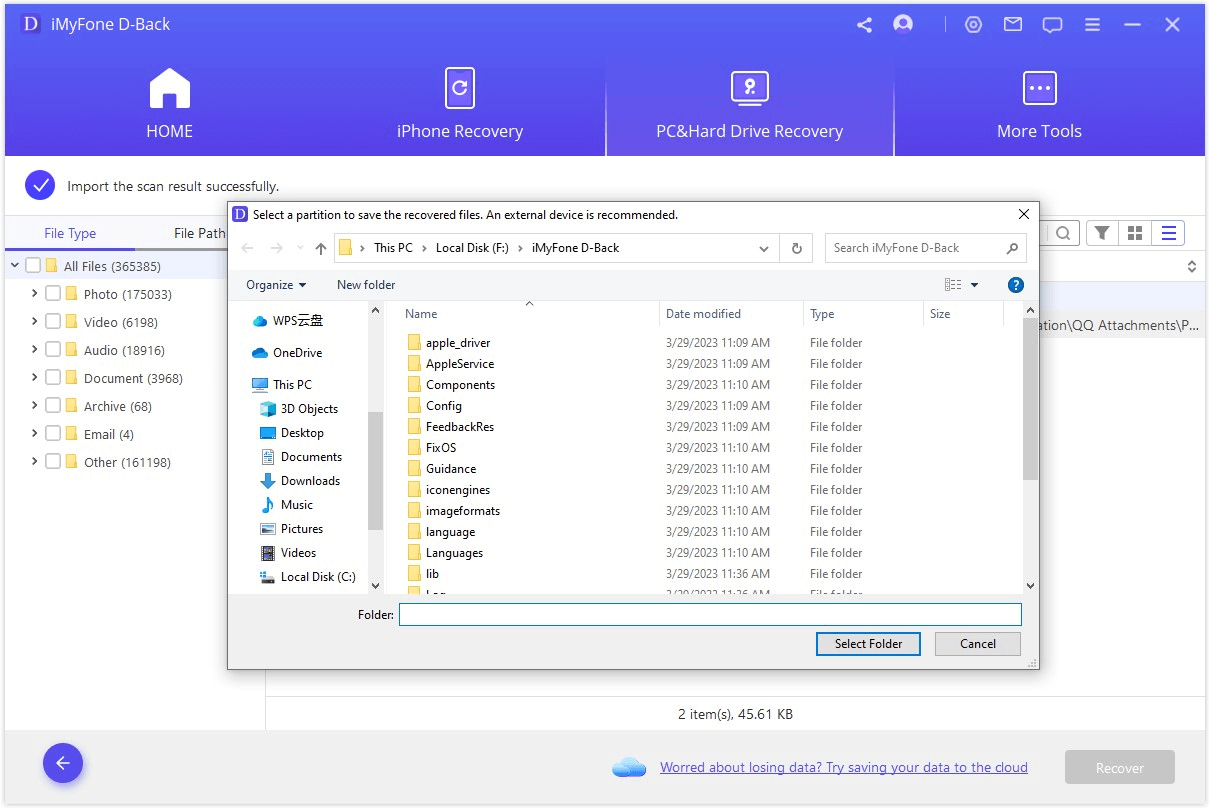 With these steps complete, you will have your lost excel temp files recovered.
Conclusion
Knowing how to recover unsaved and deleted Excel File can save you a lot of time if the system crashes or you forgot to save the file before quitting. With the five methods we were discussing here, you can easily recover that Excel file, so select the one that offers the easiest experience for the highest productivity.