Ever thought of creating a fake iMessage but then stopped because you did not know whether it was possible? Maybe you wanted to escape a boring situation or prank your buddies. This article will make what you wanted to do with the fake iMessage possible.
Top 5 Fake iMessage Generators for iOS 15/14/13/12 ( and Earlier)
It is possible to create a fake iMessage on your iOS devices. Below, we show you 5 best online fake iMessage generators you can use:
iOS 7 Text
This fake iMessage generator lets you choose the message window settings, choose the connection settings, add a message (including pictures), and even choose the battery percentage. All the options are available in the left-hand column of the iOS 7 Text window. The fake iMessages it generates can be used for most of iOS versions, including iOS 15/14/iOS 13/iOS 12.
Fake iPhone Text Messages
This online program will let you create fake iMessage with timestamp and then either download them as an image or as an animation to your iOS 15/14/13/12 (or earlier). All you need to do is enter the contact name, date, time, your message, images and then press Sent. You can indicate the message got delivered by clicking Received.
iFake Text Message
This fake iMessage conversation generator will let you customize the message window by adding a name, battery settings, and connection settings. The user is allowed to add a message and customize its appearance. After simulating the conversation, a user can generate its image.
Fake iPhone Text Generator iOS
This fake iMessage generator supports the latest iOS 15/14/iOS 13 elements. The generator options are available in the left-hand column. A user gets to choose the settings available on the chat screen such as the contact name, the clock time, the words which appear on the send button and more. You can also change the battery percentage and connection. To add a message, you need to click Message, type your message, and an emoji or even upload a picture and the tap Add Message.
iMessage Fake Chat
This fake iMessage generator will let you create fake conversations which resemble real iMessage chats. It lets you choose the iPhone settings including the battery options, the connection, and the settings available in the chat window. To add a message, you just need to click Messages at the top-right of the page. After you are through with simulating your fake iMessage chat, you get to download its snapshot.
Advanced Tip: How to Delete iMessage Permanently On iOS 15/14/13/12
Maybe you wish to sell or recycle your iOS device. You may have private messages on the device you wouldn't want anyone else to read. Using the conventional means to delete the messages will not work. They can still get retrieved. However, you can delete the messages permanently using iMyFone Umate Pro.
Key Features of iMyFone Umate Pro
It can bulk-delete iMessage data.
It allows you to wipe all data types from your iOS device without any chance of recovery.
You can make iMessage data irrecoverable by deleting it permanently.
You can scan iMessage data deleted using conventional methods and erase it completely.
You can get to preview your data before erasing it.
How to Erase All/Individual iMessage Data
Step 1: Connect your device to the computer. Trust the computer if it is the first time connecting to it. Launch iMyFone Umate Pro.
Step 2: Tap "Erase Private Data" and then tap "Scan". Wait as your device is scanned.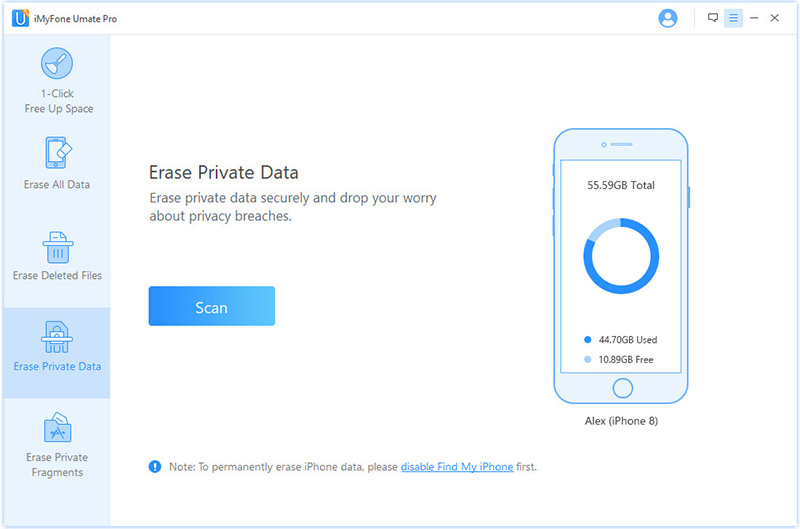 Step 3: Preview the scanned data and select the iMessage chats you wish to delete. Tap "Erase Now". A warning window will appear.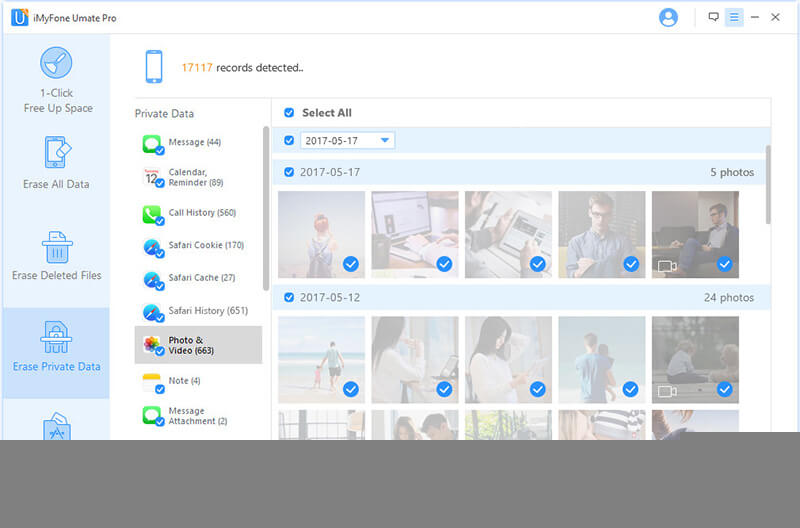 Step 4: Choose the security level and then type "delete" to confirm. Tap "Erase Now" again to initiate deleting. Keep your device connected to the computer.