The phone app in your iPhone shows everything about your calls and call history. This means that it allows you track received, outgoing calls and even missed calls. However, having your call history may lead to some unwanted issues and hence, deleting them is advisable in most cases. This article is going to show different steps involved in deleting call log on iPhone.
1

Erase Your iPhone Call Logs Permanently
The Importance of Permanently Erase Call Logs on iPhone
Why erasing call histories permanently on iPhone? Is it important?
Of course YES! Permanently erasing your call history from iPhone is very important to ensure that your data cannot be retrieved by wrong hands. By simply deleting your call history, it exposes your data to data criminals who can retrieve them easily by using data recovery tools.
This is bad because your personal data could be used to defraud you or used against you in a negative way. Therefore, permanently deleting call logs on iPhone will protect your data privacy as they cannot be retrieved by anyone even in cases where your device is sold or donated to another person.
How Can Your Erase Your iPhone Call Logs Permanently?
The best way to do that is by using the iMyFone Umate Pro or iMyFone Umate Pro for Mac. The Umate Pro utilizes some powerful erase modes to ensure that your data is erased and can never be recovered by even the most sophisticated data recovery tools.
You can use the "Erase private Data" mode to erase your iPhone private data to ensure that they are safe from data criminals. You can also use the "Erase Deleted" mode which can erase previously deleted data done through normal means. The Umate Pro will scan your iPhone for these deleted data and erase them permanently so that they cannot be recovered. The following are the steps involved to permanently delete your call logs on iPhone.
Step 1: Run iMyFone Umate Pro on your PC or Mac and connect your iPhone to it.
Step 2: Choose the Erase modes that suits your needs.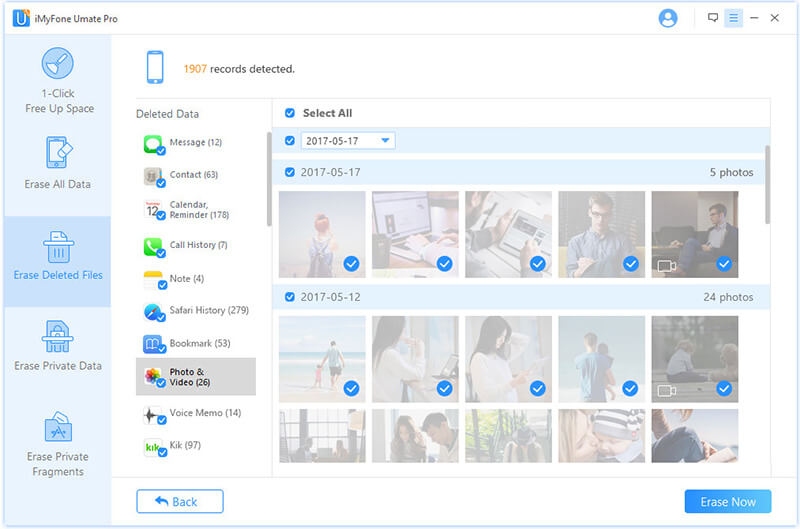 Step 3: Click on the "Erase Now" button to erase iPhone Call logs permanently.
Other Key Features of the Umate Pro
Clear up all hidden junk files for FREE, including App caches, cookies, crash logs etc.
1 click to free up iPhone space by deleting temporary files, compressing photos, exporting photos/videos to PC, removing Apps etc.
Permanently erases iPhone messages, call histories, photos, videos, Whatsapp messages etc.
Erase files and data deleted in normal ways to make them unrecoverable
Erases all data permanently without leaving a chance of recovery, giving you a totally new iPhone
---
2

Delete All Calls and Clear All Call Logs on iPhone
The essence of these is to clear your device of any call history. In fact, at the end, it should leave a blank screen. Fortunately, the steps involved are simple as seen below:
Step 1: Go to "Recents" from your phone append then go to "All" tab.
Step 2: Tap on the "Edit" button and then "Clear".
Step 3: You will be required to confirm it by selecting "Clear All Recents"
---
3

Delete a Single Call from the Call Log on iPhone
The swipe system has made it easy to delete single calls from call log. This is normally used when you want to retain your call log but also want to delete a call trace for any reason. The following are the steps:
Step 1: Go to "Recent" list and swipe left or right on any call involved.
Step 2: Tap "Delete" button as it shows up.
At the end, it takes away just the single call from many calls in the call log. Note that if the intention is to delete multiple calls then this is not the best way to do it.
---
4

Remove Multiple Calls from Call History on iPhone
Unlike the method above, the "Edit" option remain the best for removing multiple calls from call history on iPhone. The reason is that it is faster when compared to the swipe method. The following are the steps:
Step 1: Go to "Recents" then tap "All" and then tap "Edit".
Step 2: Tap minus button and then tap "Delete".
Step 3: Repeat the process for removing other calls and then click on 'Done" when you finish.
---
5

Clear Missed Calls Only from
There are times when you just need to clear missed calls only for reasons best known to you and the steps are as seen below:
Step 1: Delete a single missed call by either using the swipe approach or the Edit method that has been described above.
Step 2: Delete all missed calls by going to the "Recent" menu, tap "Missed" button then "Edit" and then "Clear".
---
6

Hide the Recent and Favorite Contacts on the App Switcher Screen
It is sometimes desirable to hide recent and favorite contacts on the app switcher screen especially if you do not want your private contact exposed. The following are the steps required:
Step 1: Go to your iphone Settings.
Step 2: Tap Contacts, Mail and Calendars.
Step 3: Tap "Show In App Switcher. You can find it right under the contacts session.
Step 3: Toggle Off the options for Recent and favorites.