Why Umate Mac Cleaner
More
Cleanable Junk Files

Clean Up Junk - Slim Down Your Mac in 2 Steps
There are tons of unnecessary junk files in every corner of your Mac and killing them is the top priority. Umate Mac Cleaner helps to remove these junk files from your Mac and free up more disk space with 2 steps.
Quick Clean
With one click, Umate Mac Cleaner automatically detects all the unwanted files that can be deleted at any time and remove them from your Mac without effort.
System Junk

App Junk

Trash Bin

iTunes Junk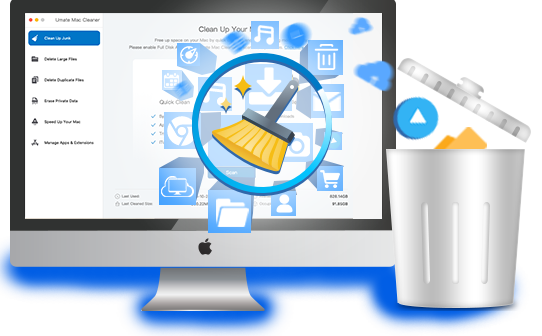 Deep Clean
In addition to quick clean feature, Umate Mac Cleaner offers a deeper cleaning mode for your Mac. It deeply scans your Mac and locates specific types of junk files. You can delete them selectively to release more disk space. Give your Mac a full cleanup with deep cleaning!
iOS Junk

Downloads

Unused Disk
Images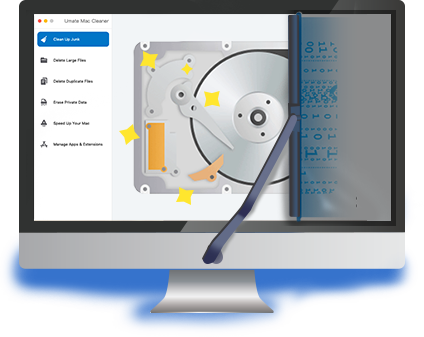 Delete Large Files - Find & Remove Big Size Files
This feature allows you to locate all the files that over 50MB and delete them in a flash to get more available space for your Mac.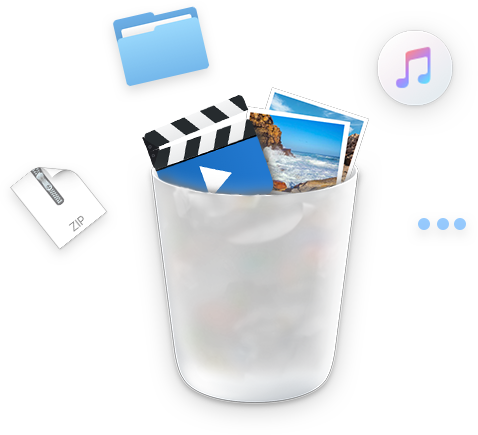 Large files are one of the biggest reasons for low disk space on the Mac. You just fill those big files up and forget to empty them. And Umate Mac Cleaner will help you to locate and remove all the target files that are over 50MB, including images, documents, audios, videos, archives and other.
Delete Duplicate Files - Clear Out the Duplicates Completely
When your Mac starts to run out of space, deleting those duplicate files is also helpful to get your precious space back and declutter your hard drive.
Your Mac's hard drive will accumulate a large number of duplicate files over time. Deleting them one by one can be time-consuming, and Umate Mac Cleaner can make things easier. It allows you to select a file directory on your Mac to find and delete those duplicates accordingly.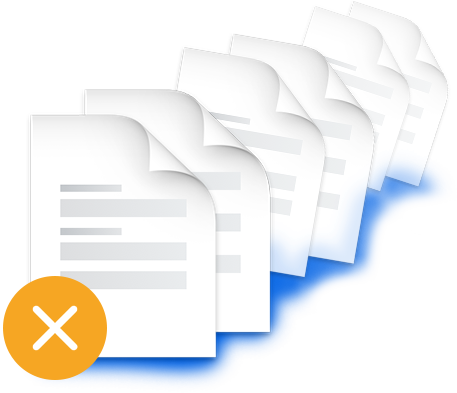 Speed Up Your Mac - Make Your Mac Run Faster with 4 Ways
You can disable login items, deacivate heavy consumers, remove launch agents and release RAM to significantly make your Mac run faster and improve its performance.
Disable Login Items
Disabling login items that launch every time when you turn on the Mac can effectively increase your Mac's running speed.
Deacivate Heavy Consumers
Some programs consume CPU on your Mac heavily and you can deacivate all of them at once with this app.
Remove Launch Agents
Those tiny helper applications grab your Mac memory and slow down the device. Why not just remove them?
Release RAM
Free up more RAM on your Mac and create more available disk space for storing more important files.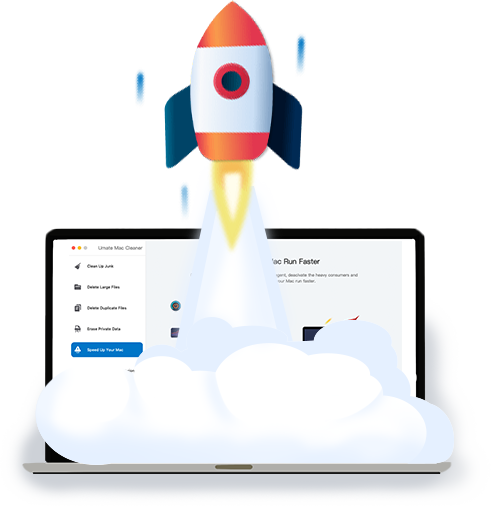 Erase Private Data - Protect Your Privacy in 5 Aspects
Umate Mac Cleaner can erase Mac usage traces and private data to avoid privacy leaks. Goodbye privacy leaking, hello safer Mac.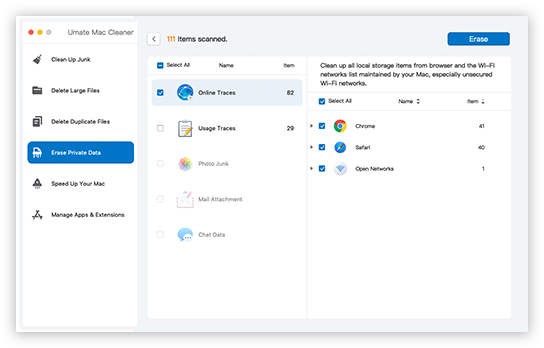 Online Traces
Web browser keeps a record of every page you visit in past browsing sessions. And Wi-Fi connection history, especially unsecured Wi-Fi networks, are also saved locally on your Mac. Umate Mac Cleaner guards your privacy by removing the online traces in a flash.
Supported Files:
HTML5 Storage
Autofill Values
Last Session
Browsing History
Cookies
Download History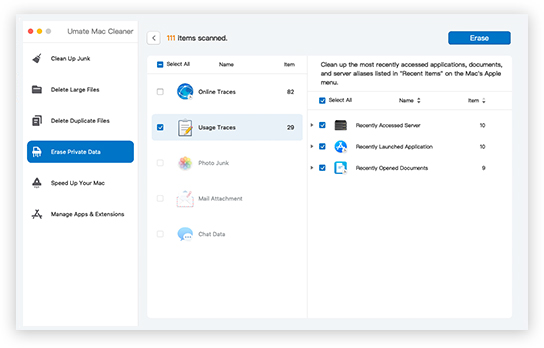 Usage Traces
Some usage traces on your Mac, including recently accessed applications, documents, and server aliases listed in "Recent Items" on the Mac's Apple menu, are also part of your private stuff. With Umate Mac Cleaner, you can instantly remove these usage traces and keep your Mac clean.
Supported Files:
Recently Launched Application
Recently Accessed Server
Recently Opened Documents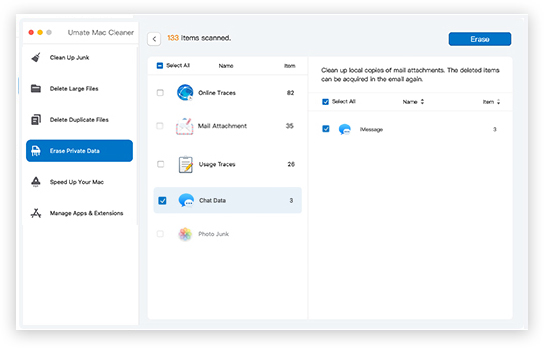 Chat Data
The chat data like images, gifs, videos, text files, zips, etc from iMessage are locally stored on the Mac, which may involve your privacy of conversations. So removing iMessage chat history is also a must to do for keeping your Mac away from the threat of leaking privacy.
Supported Files:
Chat Sessions from iMessage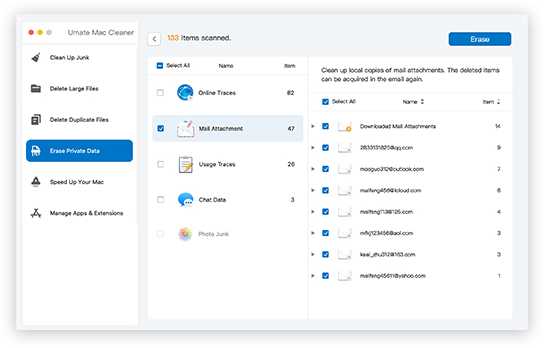 Mail Attachments
Umate Mac Cleaner removes local copies and downloaded files of mail attachments from your Mac, but it will not delete the items that have been modified. The deleted items can still be accessed and downloaded in the email again, if you want to restore them.
Supported Files:
Cache Files from Email Account
Downloaded but Unmodified Files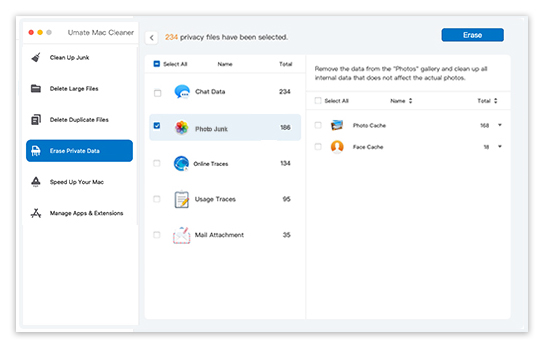 Photo Junk
The "Photos" app from your Mac automatically creates photo cache and face cache in the photo library whenever you add a new picture. This feature can clean up all the cache files left over by "Photos" without removing any actual photos.
Supported Files:
Manage Apps & Extentions - Get A Younger Mac in 2 Solutions
Uninstalling memory-eating applications and removing undesired extensions are like another extra weight loss for your Mac, making it younger by regaining more free space.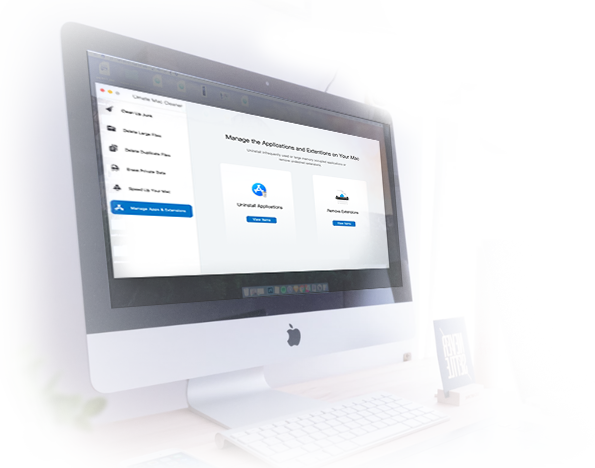 Uninstall Applications
Uninstalling memory-hogging applications is definitely a quick way to release more space on the Mac. Umate Mac Cleaner allows you to remove unwanted applications along with their associated files.
Remove Extensions
The browser extensions you rarely use may slow down your web browser. Getting rid of those undesired extensions can efficiently speed up your browsing and make your Mac run smoothly.
Check If Your Mac Can Run Umate Mac Cleaner
Supported Devices
MacBook

MacBook Air

MacBook Pro

iMac

iMac Pro

Mac Pro

Mac Mini
Supported OS
macOS 11 (Big Sur)

macOS 10.15 (Catalina)

macOS 10.14 (Mojave)

macOS 10.13 (High Sierra)

macOS 10.12 (Sierra)

mac OS X 10.11 (El Capitan)

mac OS X 10.9 (Mavericks)
Supported Files
System Cache

Old Backups

Cookies

Duplicates

Photo Junk

Large Files

Browser Cache
Get Start with Umate Mac Cleaner
Easy operation and intuitive user interface makes it easy to use, even for novice users
1: Install Umate Mac Cleaner
Download, install and launch Umate Mac Cleaner
2: Select A Desired Feature
Select the appropriate feature according to your needs, and then the software will start to scan for your Mac.
3: Clean Up and Optimize Your Mac
After scanning, you can follow the on-screen prompts to operate accordingly for cleaning and optimizing your Mac.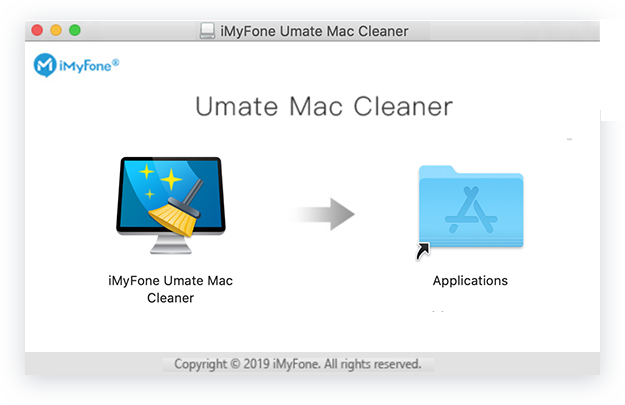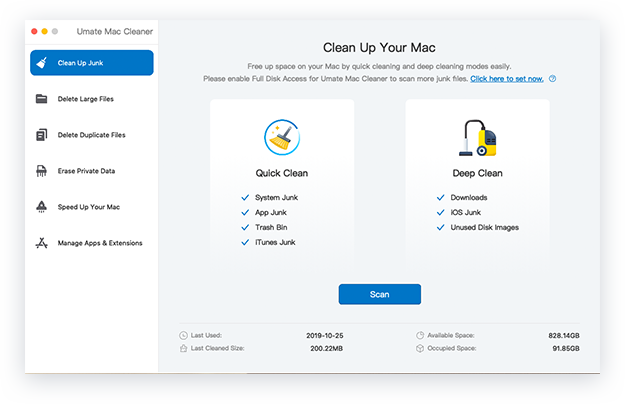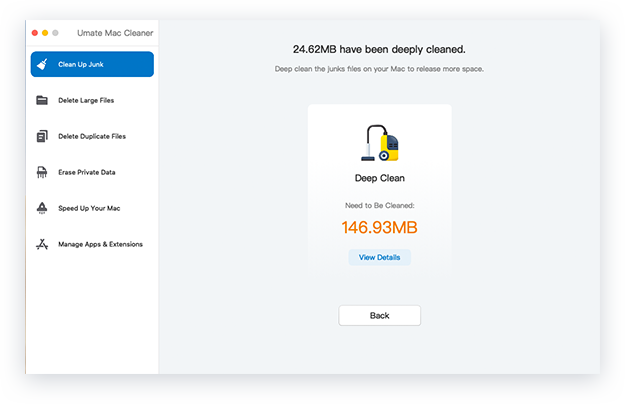 Users' Reviews

Gordon
It works! I feel that my Mac is much faster after using the software. Recommend it!

Karina
It is simple to use with nice UI, very supported and effective.

Omar
Great app and easy to use! It scans and cleans my device so fast. Really does what it's supposed to do.
More Reviews >
Umate Mac Cleaner
Scan, Click, Clean - So Easy to Get a Faster Mac