What is macOS Big Sur? It is the latest update to macOS. It is a complete package with pros and cons both, as is the case with every operating system. In the following article, we will examine some of the most common macOS Big Sur issues and fixes for a flawless experience.
Issue 1. Failed to Install macOS Big Sur
If you failed to install the latest macOS Big Sur on your Mac, that can be due to several reasons. And you can solve the problem accordingly.
Solution 1: Check device compatibility
It is important to make sure that your device is compatible with the downloaded version of the software otherwise. Below is the compatible devices of macOS 11 Big Sur:
MacBook 2015 and later
MacBook Air 2013 and later
MacBook Pro late 2013 and later
Mac mini 2014 and later
iMac 2014 and later
iMac Pro 2017 and later
Mac Pro 2013 and later
Solution 2: Reboot your Mac in Safe Mode
If your Mac gets stuck during the macOS Big Sur installation, then you can try to reboot your Mac in Safe Mode and resolve the problem. Here's what you can follow:
Click the Apple icon in the top-left corner on your Mac and select "Shut Down".
While your Mac starts, press and hold the Shift key.
When you see the login window appear, release the Shift key.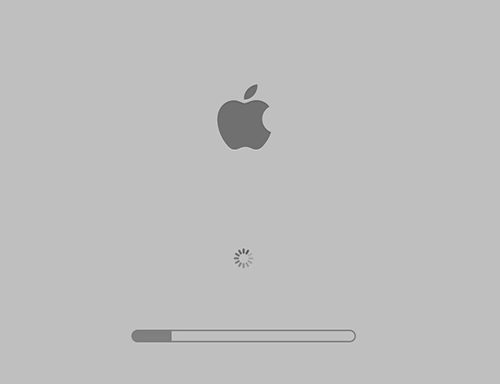 Solution 3: Check if your Mac has enough free space
If you failed to install the latest macOS Big Sur on your Mac, the second thing that you need to do is to make sure if your PC has enough free space to download the operating system. If no, you need to get more available storage to solve the problem. You can try these ways to release more space for your Mac:
Empty the trash on your Mac.
Delete large and old files.
Remove downloaded files that are useless.
Clean up cache files on your Mac.
Uninstall apps that are rarely use.
Remove old iOS backups.
Delete old Mail attachments.
However, it might be difficult to determine which files are safe to be deleted in case you need to free up space. As a solution, you must install a Mac cleaner tool to help you get more available space safely and efficiently. Umate Mac Cleaner is one of the best. Through a thorough scan, Umate Mac Cleaner identifies junk files, duplicates and large files that are utilizing gigabytes of data but are of no use to you and you can get rid of them in a single click.

You can choose the cleanup features of Umate Mac Cleaner to release more available space for your Mac, like "Clean Up Junk Files","Delete Large Files" or "Delete Duplicate Files". Then hit the "Scan" button for scanning your Mac system on how much junks can be deleted on each section. At last, click the "Clean" button to get rid of these useless files in minutes. After that, you will get several GBs available space for your Mac to install Big Sur.
Issue 2. Mac with macOS Big Sur Not Turning on
One of the most common problems that Mac users are facing is that their Macs aren't turning on after the macOS Big Sur has been downloaded. This could be due to a range of problems with very simple solutions. Make sure that if this problem persists, you first try all the solutions listed below before contacting your MacBook operator.
Solution 1: Check the Power Cable
If restarting your Mac doesn't work, there might be a problem in the Mac Power Cable, and it's best to try it at a different outlet and to tighten all the fixtures to make sure that they are in place and working.
Solution 2: Reboot your Mac in Safe Mode
Lastly, if none of this works, you can always boot your Mac in a safe mode which can be done by first shutting it down and then restarting it while holding down the Shift key. This process might take some time but it will most probably turn your MacBook on safely.
Issue 3. Apps not Working on macOS Big Sur
Another common issue with the macOS Big Sur is that the Apps are not working whether it is Zoom, Safari, Mail, Photoshop, and even Music. These apps reportedly either stop working and unexpectedly crash or blank out on the screen and due to this; the users not only face a delay but might also lose important unsaved work. 
Solution 1: Reinstall the apps that cause the problem
To solve this issue, the first and foremost solution is to uninstall and reinstall the application that is causing a problem. By reinstalling, the application will update to the latest version and will hopefully start working.
Solution 2: Check if the apps works well with Big Sur
If the issue persists, it is always better to check if the application is compatible to run on macOS Big Sur or not.
Issue 4. macOS Big Sur Keep Freezing
Another one of the common macOS Big Sur known issues is that the Operating system is freezing. Particularly with macOS Big Sur, users have reported unexpected freezing followed by a system restart which hinders the performance of the user.
How to Fix: Since freezing is a performance issue, optimizing the overall performance of the Mac can be a suitable process to overcome this problem. Some ways in which this can be done is by Umate Mac Cleaner which has a maintenance feature that can not only keep an eye on your Mac's performance but also optimize it for the best experience from time to time.
What can Umate Mac Cleaner do to improve your Mac's performance?
Disable automatically-launched startup items.
Deactivate those heavy consumers which occupy memory.
Remove the launch agents that eat up the disk space.
Free up RAM to get more space for your Mac.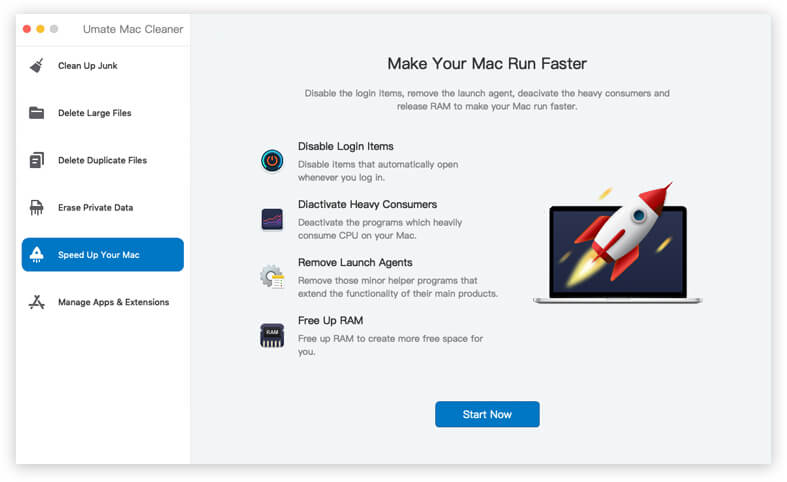 Using Umate Mac Cleaner to improve Mac performance is more professional, secure and time-saving compared to manual operations. The Mac runs 2x faster in performance during our test.
Or you can check out more ways to fix Mac keep freezing issue, just Click Here.
Issue 5. macOS Big Sur Keeps Restarting
One of the most recurring macOS Big Sur known bugs is it keeps restarting on its own. In most cases, the unexpected restart might be due to malfunctioning software that is installed on your Mac along with hardware glitches which might concern the CPU or the hard drive. If this issue persists, you can follow the steps listed below to overcome it. 
Solution 1: Check all malfunctioning apps
Firstly, it is the best idea to check all malfunctioning apps and to safely remove them and shift to Trash to avoid any further inconvenience.
Solution 2: Run an Apple Hardware Test
You can run an Apple Hardware Test to allow Apple to diagnose and remove malfunctioning software and glitches. So run the test, upon turning on your mac, Press Option + D keys to launch the Apple Diagnostic Test.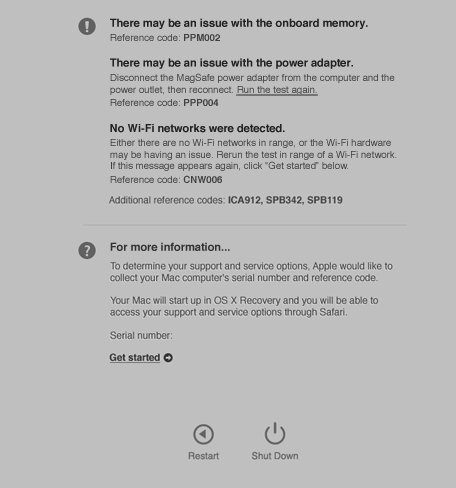 Issue 6. macOS Big Sur Battery Drain Issue
A recurring issue that arose for a lot of users was that after installing the macOS Big Sur latest update, their Macs showed a battery service warning which is unusual and frustrating for people who have a brand new mac or whose mac has not suffered many Battery cycles, however, for people facing these issues, there are a couple of steps that they can follow to bring their Mac batteries into good shape again.
Solution 1: Reset PRAM on Mac
To fix your battery issues, the PRAM (Parameter Random Access Memory) can be reset which controls settings and configurations of the keyboards, desktop, volume, and battery settings. By resetting the PRAM, you can go back to default settings and the issue can be resolved. Below is about how to reset the PRAM.
Shut down your Mac.
Press the power button and press and hold Command-Option-P-R keys immediately.
Hold the keys until you hear a startup sound or until the Apple logo appears and then disappears and then release the keys.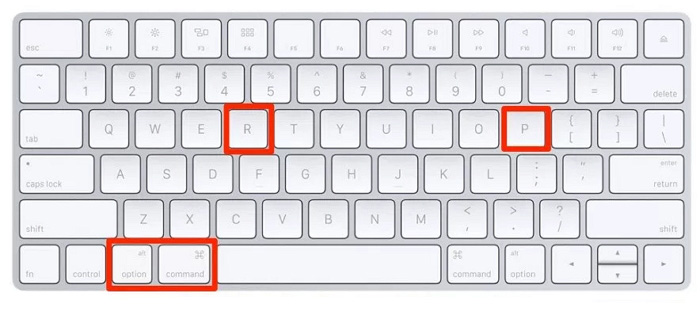 Solution 2: Uninstall apps that are draining CPU and battery
If this still doesn't work you can always download Umate Mac Cleaner that can detect and remove applications that are draining your CPU and battery life and this can be tracked for all your applications on the Activity Monitor.
Issue 7. macOS Big Sur Wifi Not Working
One of the most agonizing macOS Big Sur Issues is the glitch in the wifi connection. Most of the users complained about a loss of wifi connection after the upgrade and this can be fixed in just a few steps.
How to Fix: The first thing that you must do is forget the network that you were previously connected to and then reset the SMC which not only helps solve glitches but common bug related issues linked to connectivity, power, battery, and fans as well. Below is how to reset SMC on your Mac.
Shut down your Mac.
Hold the left Shift+Control+Option keys down, then press and hold the power button down. Then release all of them after 10 seconds.
Then turn on your Mac again.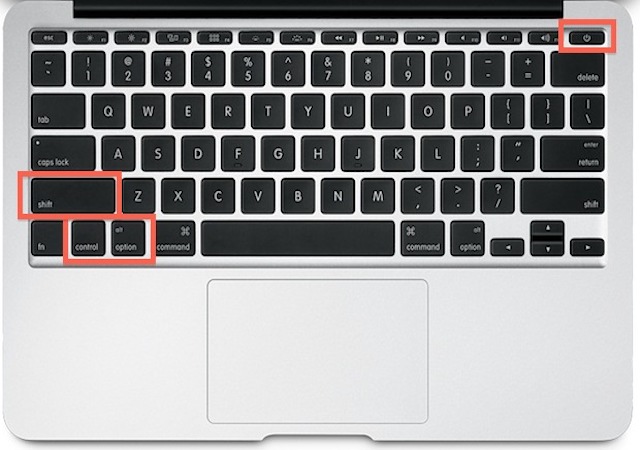 Issue 8. macOS Big Sur Finder Not Working
The Mac OS Finder is no doubt one of the most important tools in the file manager and it comes in handy when trying to access documents and applications which are not readily present on the desktop at all times. Therefore, if the finder stops working or doesn't respond, it can be a hassle for a lot of people who depend on it however; it can be solved in a few steps. 
Solution 1: Force Quit your Finder
Firstly, you must Force Quit your Finder and then Restart it to troubleshoot it.
Solution 2: Check any third-party plugins
Or you can check for any third-party plugins which might be hindering the performance of the Finder App on the macOS.
Solution 3: Restart your Mac
make sure to restart your Mac which will reboot it and automatically troubleshoot and flush out any bugs that might be causing this problem. 
Issue 9. Bluetooth is Not Working on macOS Big Sur
Bluetooth is a necessity when you are using your Mac to connect to various wireless devices which will not only assist you but will help enhance your experience of being virtually connected to the world.
How to Fix: If you're having problems with your Bluetooth connectivity, follow the steps below to restore your connection. Firstly, Press Shift Option and click the Bluetooth icon in the menu bar. Next, select Debug and Reset the Bluetooth Module and press OK to continue.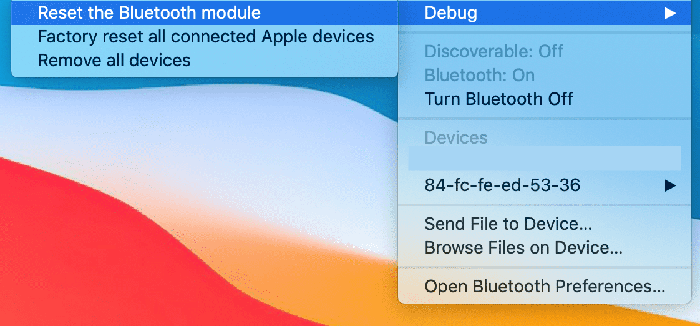 Issue 10. Touch ID Disabled Unexpectedly on macOS Big Sur
Some Users claimed that their touch IDs stopped working once they downloaded the macOS Big Sur. To avoid any inconveniences and invasion of privacy, it is better to deal with this problem as soon as possible through these simple steps.
Solution 1: Reset the SMC
reset the SMC of your Mac. Just hold the left Shift+Control+Option keys down, then press and hold the power button down.
Solution 2: Re-add your fingerprint registration
Or you can remove and re-add your fingerprint registration to re-establish the Touch ID security.
Issue 11. macOS Big Sur is Running Slow
Even though it is logical for a software update to be faster than the previous one, it is often speculated that the macOS Big Sur is slowing the Mac down which is leading to trouble and frustration for the user. Even though the Mac OS Big Sur might be slowing down due to several problems, here are a few steps in which you can speed up your Mac and ensure a swift performance. 
Things that might be slowing down your Mac are undetected apps running in the background, along with extensions and old apps that take up a lot of energy and data from the CPU. Here is a more detailed guide on how to fix the issue: Top 10 Ways to Fix macOS Big Sur Running Slow
Issue 12. Can't Sign in to iCloud after macOS Big Sur Update
For many users, their Mac gets stuck on iCloud, and or they get an error that they cannot connect or sign in at that time. However, if you cannot sign in to iCloud on Mac, try conducting these troubleshooting steps below. 
Solution 1: Make sure that you are using the correct Apple ID and password
Please make sure that you are using the correct Apple ID and password for your Apple login. Secondly, remove all your apple accounts and place all your data into a new folder safely.
Solution 2: Remove the keychain
Or try to remove the Keychain and restart your laptop again. After rebooting and automatic troubleshooting, this issue of logging in will go away.
Conclusion
Some users have been facing a few macOS Big Sur problems after download. These problems are usually related to troubleshooting issues and malfunctionings. By downloading Umate Mac Cleaner, you can overcome most of these problems in the click of a button and it can also optimize your Mac regularly with regular checks and balances of your Mac. In just a few steps, you can get a faster and cleaner Mac to run Big Sur well. Just get the software to fix most of macOS Big Sur problems now!