For iOS 15/14 users, especially 16GB and 32GB iPhone, getting stuck or running out of space is common. If small-storage iPhone clusters with much junk files, its performance will be affected. There are many third-party programs claiming to clean iOS junk files but most of them are not free. How to clean iPhone junk files easily without any cost? Please read on the article and get two methods to clean junk files for totally free.
Method 1. Clean Junk Files Directly from iPhone
iPhone junk files, including temporary and corrupted files, caches, cookies, crash logs generated by third-party apps, can pile up to an astonishing amount and slow down the speed of your iPhone hugely.
To delete junk files on iPhone, the first step is to find all the junk files by checking each application. Not all the applications are with the totally same path, but most of them are in common. Here we take YouTube app as an example.
Open the app, tap on the Menu button, which is three dots ranking vertically on the upper right corner; then select the Settings. Under PRIVACY, tap on Clear watch history and Clear search history respectively to clean all the cache generated during past using time.
It will goes the similar routine: Settings > Clear History as for other applications.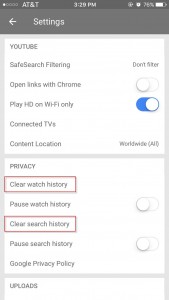 This method could be a little troublesome as you need to open each app one by one to find the junk files and clean iPhone. Moreover, some hidden junks (like temporary files) cannot be cleaned.
Method 2. Clean iPhone Junk Files from PC/Mac (iOS 15 Supported)
Tired of cleaning up junk files on iPhone manually? iMyFone Umate Pro, a professional iPhone cleaner would be the best choice for you with smart scan and one-click cleaning functions. It provides the free function of clear up junk & temporary files. Yeah, totally free!
Key Features:
Clear up junk & temporary files for free - delete 30+ useless files, like app caches/cookies/temp files/crash logs, downloaded temp files, user storage files and corrupted files etc.
Manage media files - compress & delete photos, bulk delete videos. And all original photos and videos will be backed up before deletion and compression.
Erase deleted files - find and permanently erase previously deleted files (call history, messages, photos etc.) to avoid privacy leakage.
Erase private files - permanently erase all kinds of personal iPhone files, 100% unrecoverable! All WhatsApp/WeChat/Kik/Viber chat history, messages, photos, videos, contacts, Safari history included.
Recently received reviews: macworld.co.uk, getintopc.com, pocket-lint.com, macbed.com etc.
Step 1: Quick and Complete Space-saving Analysis
iMyFone Umate Pro owns the particular technologies for complete space analysis. No matter which types the junk files are, the software can scan and search them on your iPhone quickly by clicking "Quick Scan" from "1-Click Free Up Space" tab.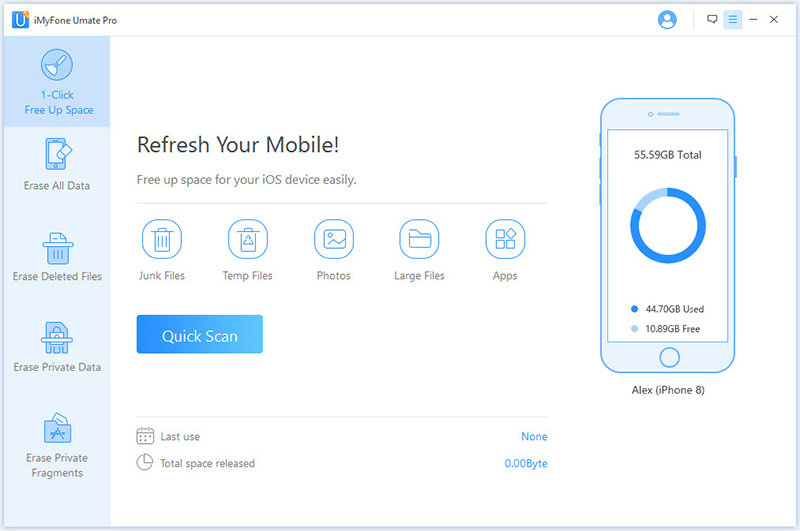 Step 2: One-click Cleaning Removes Junk Files Easily
The One-click Cleaning function of iMyFone Umate Pro can remove junk files by the true One Click. As soon as you click the Clean button, all the junks can be deleted in few minutes, which saves much energy and time for you.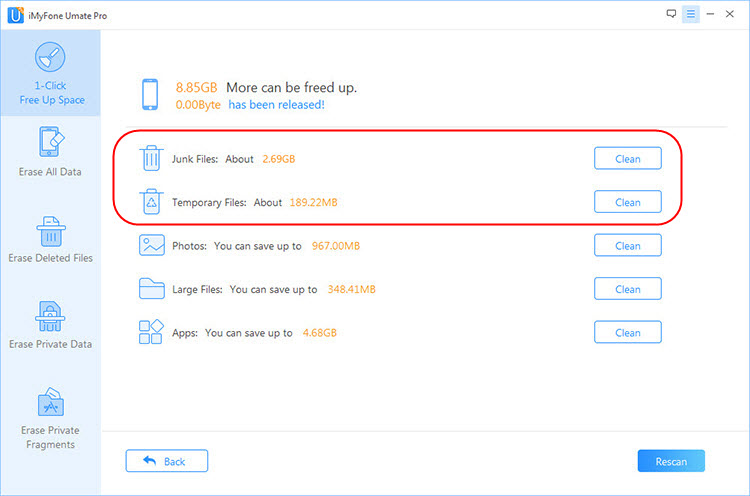 And to ensure the safety of your important data, User Storage Files like photos and videos will be automatically backed up to your PC before deletion.
With iMyFone Umate Pro, to clean junk files can be achieved easily and freely. What are you waiting for? Just get it right now!
Note
If you want to clear up or delete music on your iPhone, please try this iPhone music transfer (iOS 15 Supported), which can freely transfer iPhone music between iPhone and iTunes/PC, as well as delete and export iPhone music.
Tips: Junk File Types on iPhone/iPad/iPod Touch
Your iPhone 8/iPhone 7S/iPhone 7S Plus stores many data with what you do. Usually that is used to make things simpler for you, for instance tracking down a site you've visited or obtaining a call you missed. If you're focused on someone seeing something they shouldn't, you may clear the history for your various services in your iPhone, or erase everything completely. These junk files could cause frequent slow running of your respective iphone.
The underneath are the type of junk files that could hinder your iPhone from working well after scanning with iMyFone Umate Pro.
Junk File Types:
App Caches: The cache and off-line files include images, snapshots, video/audio media info, etc. which can be created to improve files access temporarily. But with time they may occupy over 1 Gigabyte space absurdly. Every time you initiate an App, you must wait for a very long time to let it load these data.
App Cookies: App cookies are often small text files and given ID tags which might be stored with your program data subfolders. They are created by using your apps which uses cookies to hold track of the movements in the program, assist you to resume the place you left off, remember your registered login, theme selection, preferences, as well as other customization functions.
App Temp Files: When processing complex calculations and data exchanges, iOS Apps will produce temporary files, which is to be rarely used again whenever they fulfilled the statistical purposes. These one-off data were made to get removed whenever you quit the Apps.
App Crash Logs: If an app is freezing or crashing regularly, iOS may generate corresponding crash logs in your devices to help you iPhone diagnose any issues. Crash logs contain information in what the app was doing right before the crash. These redundant system usage report and app crash logs are useless in most cases,
Download Temp Files: The failed or unexpectedly terminated download/ iTunes syncs will cause temporary or media files that are corrupt too. They are area of the Other on the iPhone and they can be seen through iTunes. A specific situation could be more serious due to old-school iTunes syncing method for The devices still using iOS 14 or below.
Photo Caches: When some alternative apps access and employ Camera Roll, Photo Stream, Photo Library data, they may create cache files, which record the photo thumbnail along with other info.
 Storage Files: If earlier you used the browser of iPhone file or explorer software, that permits an option to research the disk by using idevices, you might have stored some files in your iPhone or iPad. In case you have ignored them, iMyFone Umate Pro shows them up so that it is possible to choose and delete these useless files.
iTunes Radio Caches: iTunes Radio is an excellent recreation centre soon you found considerable cache files there. Along the lines of "peace of mind", iMyFone Umate Pro smartly clears iTunes Radio caches for example the text or image files with the recently played albums and podcasts.