Most iPhone users are not familiar with "Other" storage. However, it is one of the major causes that your iPhone is in shortage of storage, and you seem can not find a way to delete the data that is stored in "Other". If you want to get to know what has been stored in your "Other" storage and how to free up space here, don't miss this article, we will introduce 3 methods to clear them. First, let us take a quick view of basic knowledge of "Other" storage.
An Overview Introduction of "Other" Storage on iPhone
Q1: What is "Other" storage on my iPhone?
Lots of people even don't understand what "Other" is. Simply put, "Other" storage includes everything that doesn't fit into pre-existing categories. This contains browser cache, cached email messages & attachments, iTunes backups, notes, voice memos, call history, etc.
To make it clear, you can see the picture below. The WhatsApp app size is 30.8MB, however, 'Documents & Data' contain 135MB of data which is stored in your "Other" data.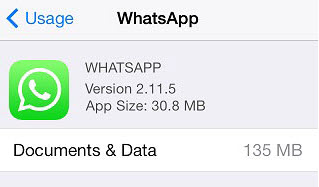 Q2: How can I check the "Other" storage on my iPhone?
On your iPhone:
Open "Settings" on iPhone. Select "General" > "iPhone Storage", then you'll see a bar graph showing all your iPhone storage occupy, and the lightgrey one would be "Other" storage.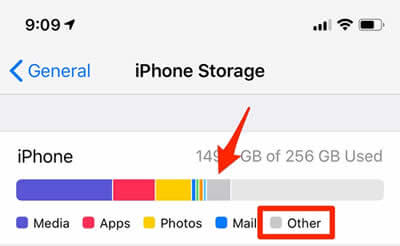 Through iTunes:
Connect your iPhone to a PC or a Mac, then open the iTunes app. Next, click the "Summary" option, you will see the "Storage" section. Move the mouse pointer on the yellow part and then you will find out how much space is consumed by "Other" storage on your iPhone.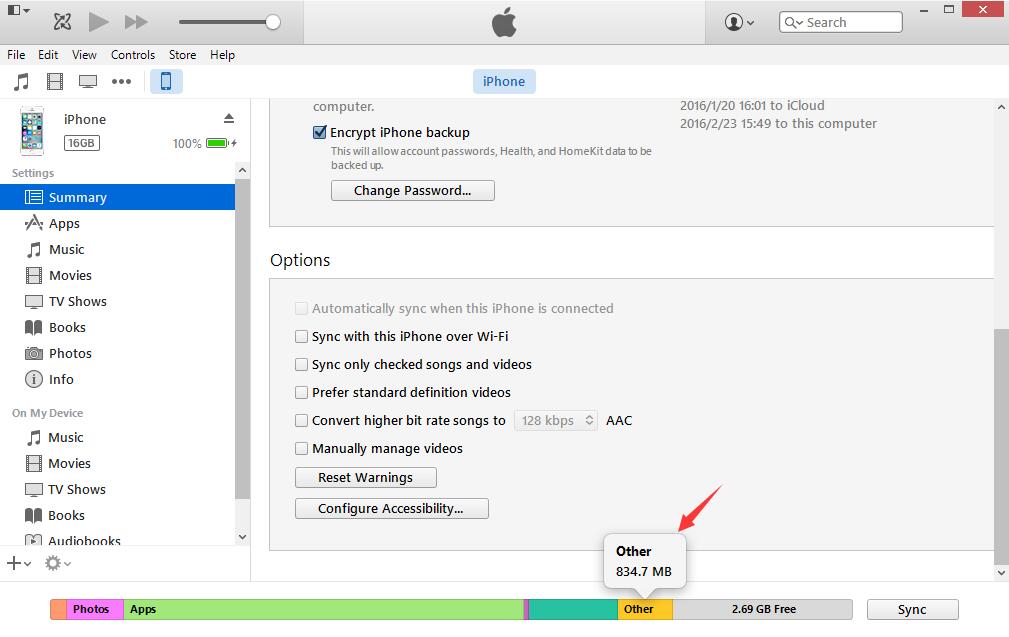 3 Effective Ways to Clear "Other" Storage on iPhone
There are a few options on how to delete "Other" data on iPhone. You can clear "Other" data on iPhone manually, or use tools to help you do it quickly and efficiently.
To do it manually, you can reset your iPhone, or uninstall and reinstall all the apps one by one to erase Other data.
01

Backup and reset your iPhone
The way to erase all caches and temporary files is to backup your iPhone to your PC, Mac or iCloud account and wipe your iPhone. This will guarantee all temporary files and caches are deleted. After wiping your iPhone you can restore the backup through iTunes to recover your contacts, songs, pictures and apps.
Plug your iPhone to your computer, open it through iTunes and hit "Back Up Now" and wait until your iPhone syncs. Then, go to "Settings" > "General" > "Reset" > "Erase All Content" on your iPhone. Once the iPhone is wiped, plug it back into your computer. Open iTunes, choose the right backup data and hit "Restore Backup".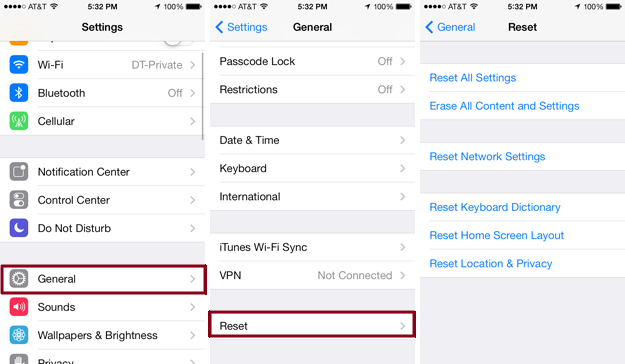 02

Reinstalling your apps to clean App Cache
You can see how much space does these apps occupy on your iPhone, just go to "Settings" > "General" > "Usage". Click on each app, you will see the size of the app itself and the size of "Documents & Data" it made. If your "Documents & Data" section has taken up too much space, you can delete the app and reinstall it. This should remove the temporary files created by the app and clear some memory space.
Frankly speaking, usually, we don't recommend you use this method cause it will erase all data on your current phone, especially you have some precious data inside. To restore these files, we suggest you to make a full backup of this app first.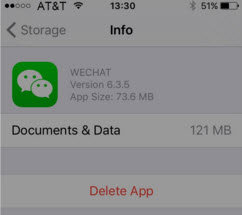 03

Permanently Get Rid of "Other" Storage on iPhone
Designed to specifically take care of these junk files and temporary files, iMyFone Umate Pro or is one of the most efficient tools to clear "Other" space on iPhone. It provide with both Windows and Mac version so that you can use it easily on your computer.
Key Features of iMyFone iPhone Eraser
The biggest benefit of using iMyFone Umate Pro is that it removes unnecessary files safely and efficiently. Manually clearing "Other" can be risky if you are not sure what you are doing. But iMyFone Umate Pro offers a safe, fast and reliable way to remove temporary files which will guarantee to free up space of the "Other" section on your iOS device, including iOS 15 devices.
3 Steps to Clear Other Data from iPhone
Step 1. Connect your iPhone to your computer and launch iMyFone Umate Pro.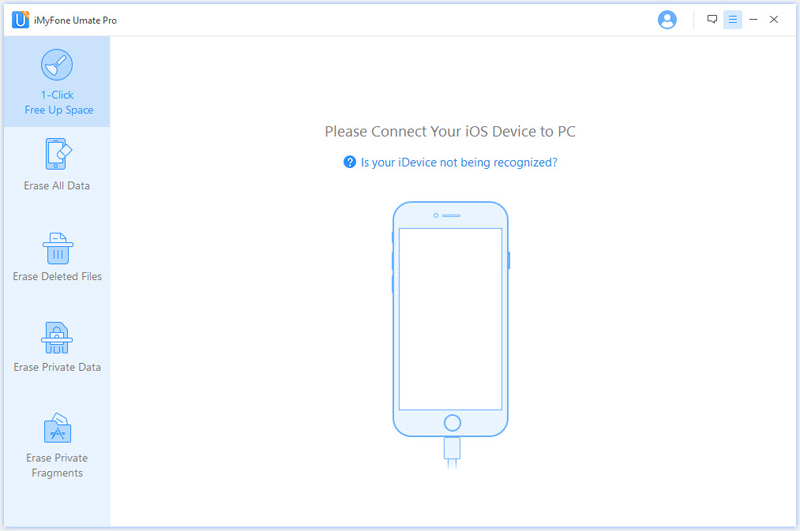 Step 2. Hit "Quick Scan" button, when it finished scaning your iPhone, it will show you how much storage and types of data that can be cleaned on your iPhone.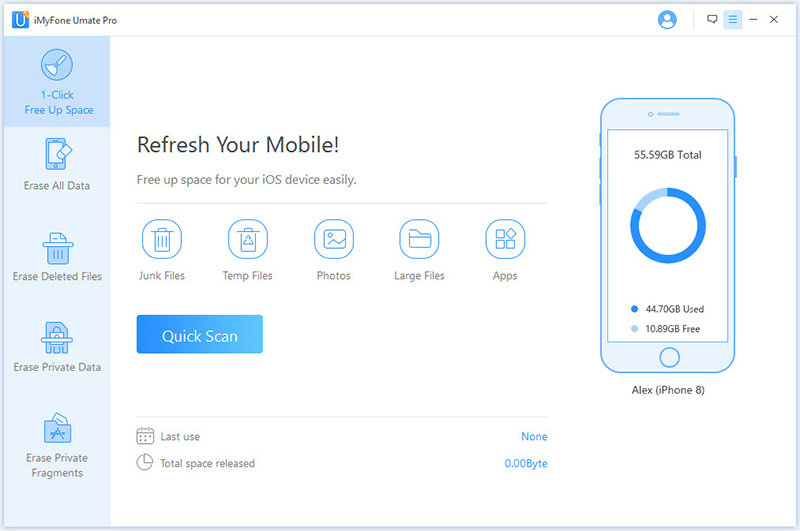 Step 3. Click "Clean" beside "Junk Files" to start the cleaning process. When it finishes, you can turn to "Temporary Files" for clearing your space.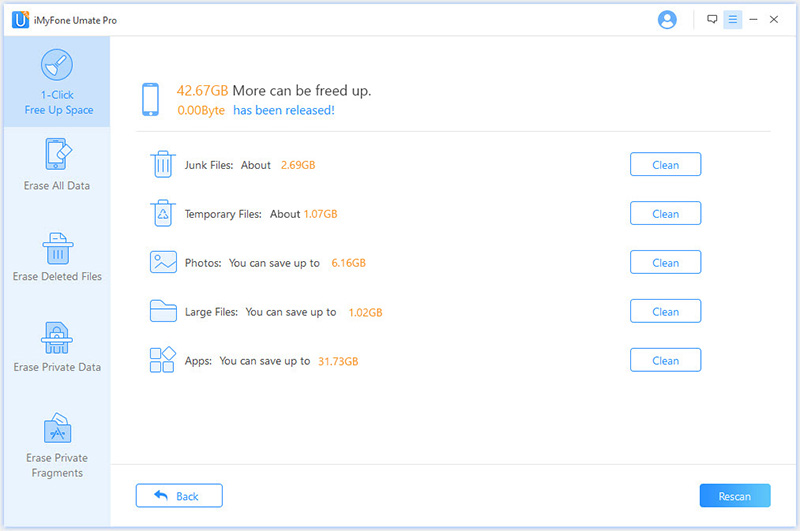 Note: To completely clear up "Other" data from iPhone, it's also suggested to permanently erase all your previously deleted data using iMyFone Umate Pro via "Erase Deleted Data" tab.
You can also learn from a video tutorial:
3 Extra Tricks to Reduce "Other" Storage on iPhone
If you do not want reset your iPhone or reinstall 3rd-party apps, you can always clear "Other" data on iPhone manually by erasing voicemails, browser caches and browser history (Safari and Chrome)etc. These are also effective ways to hand over some storage space in "Other".
1
Erasing Voicemail
Deleting voicemails on iPhone is a bit tricky. Voicemails are stored on your iPhone's memory, and while swiping a voicemail and hitting "delete voicemail" seems to do the trick it actually doesn't. To permanently erase them you can:
Step 1: Open "Voicemail" on iPhone.
Step 2: Go to the "Deleted Messages" list you can hit the "Clear All" button to erase all of them at once.
If the button is grayed out, it may be because the list is too big, or because your iPhone is having a processing glitch. If that's the case you need to swipe them one by one and hit delete voicemail.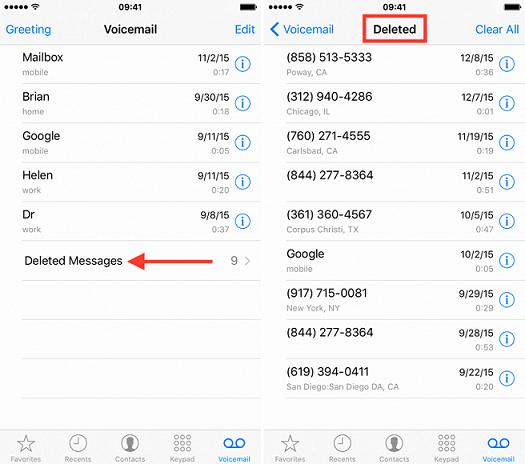 2
Clearing Caches and Browser History
Chrome and Safari are the two most popular browsers used on iPhone. You can erase the caches and history in Safari by follow the steps below:
Step 1: Go to "Settings" > "Safari" > "Clear Cookies and Data/Clear History and Website Data" depending on your iOS 15.
Step 2:
Safari: Scroll to the bottom to find "Clear Cookies and Data/Clear History and Website Data" and confirm it by clicking the pop-up box.
Chrome: Open Chrome, hit the Google Menu button on the right hand side (looks like a stack of three dashes, then go to "Settings" > "Privacy" > "Clear Cache".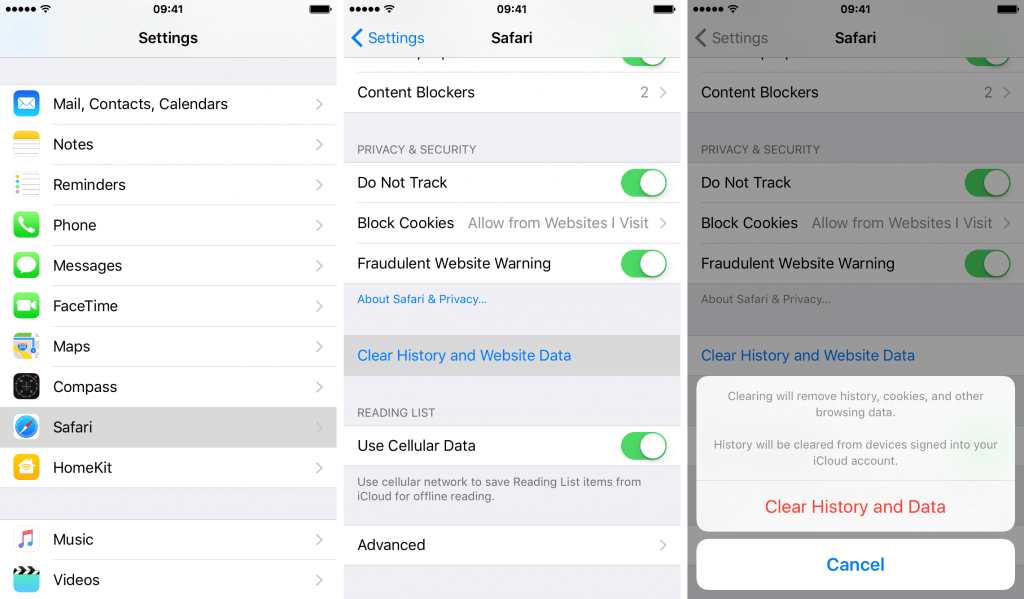 3
Clear old messages
Text messages only take minimal storage, but those who prefer to share photos or videos would definietely consume a huge storage all the time. To change the saving period, you can go to "Settings" > "Messages". Head in to "Message History" and set up the time for iPhone to keep your message. Choose "1 Year" or "30 Days" instead of "Forever" to clear up messages in time.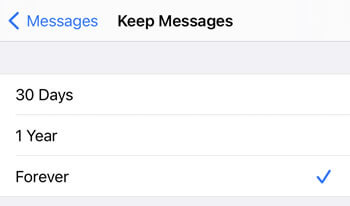 Conclusion
By reading the above solutions, we can see that manual operation could be a hassle. So sometime, we need a tool, iMyFone Umate Pro to clear "Other" space on iPhone.
Well, I guess you have a basic understanding about how to delete other storage on your iPhone now. And any comment about the article will be greatly appreciated.