Everyone wash hands when they get dirty. But what about your iPhone/iPad/iPod? Most of us get annoyed, when our iPhone gets slow and stuck often because of unnecessary files and bulky Apps. Or sometimes we are not able to install new apps due to less storage available. Or you want a browsing experience without saving history and clear your cookies and cache at the end of browsing each session?
Manully Clear Caches on iPhone 12/12 Pro/11/11Pro/XS/X
Clear Safari Cache on iPhone 12/12 Pro/11/11Pro/XS/X
Cache of a browser play a vital role in performance of an iPhone or iPad. How to clear cache on iPhone XS/X/8s/8/7s/7/6s/6? We can begin with Safari cache.
Go to "Settings" app on iPhone. Search for Safari logo.
Tap on the Safari logo and you will be directed to a new list view show settings for Safari.
Scroll down and you will find an option "Clear History and Website Data". Tap on this option.
Perform above steps will clear Safari cache on iPhone 12/12 Pro/11/11Pro/XS/X, including browsing history, cookies and all those credentials saved on different websites. Now your Safari browser will be just like a new one.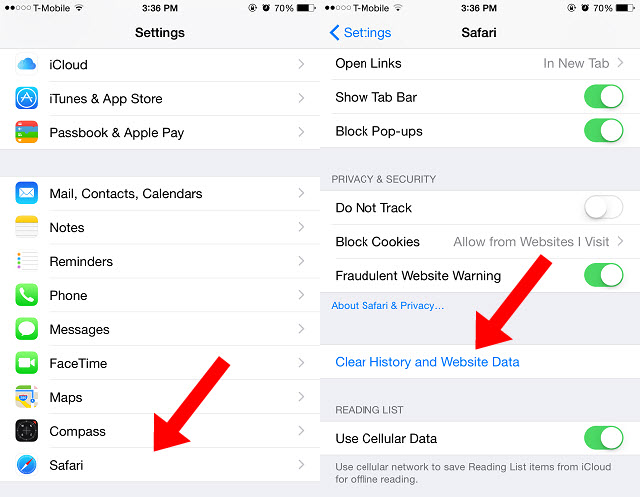 Or the other solution is to change the browsing mode to private mode.
But it's a tricky process for those who have less knowledge of these functions. And you can't use these functions all the time like you may forget to remove your history or blocking cookies and you can't also always browse in a private mode.
Clear All Apps Caches on iPhone 12/12 Pro/11/11Pro/XS/X
For individual apps, there is no proper way to clear cache on iPhone except uninstalling apps. And there is no quick way to clear all the app's cache except you clean one by one. Now we are going to learn how to clear app cache on iPhone 12/12pro.
Go to Settings > General > iPhone Storage.

The apps at the top are the ones occupying the most space.

Tap on an app to see how much Documents and Data it has. This is all the cache, login details, and offline content the app has accumulated over time.
If it looks like a lot, tap Delete App.
Repeat for all your "heavy" apps.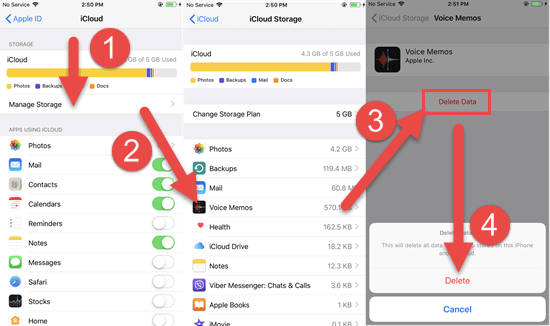 Now go to the App Store and reinstall the apps you just deleted. You'll notice they'll have far less Documents and Data, which means you've successfully purged the cache.
One Click to Clear Caches on iPhone 12/12 Pro/11/11Pro/XS/X
All-in-one Solution to all such problems is iMyFone Umate Pro or iMyFone Umate Pro for Mac, World's no. 1 iPhone cleaner specially designed to speed up your iPhone/iPad/iPod by clearing iPhone cache and optimizing the storage. Now you can get more storage without deleting your favorite videos and photos, or reinstalling the apps manually to delete one by one, but the very simple operation with one click can erase all the caches permanently. Cleaning cache in iMyFone Umate Pro is free trial.
Key Features:
Clear up junk & temporary files and caches - Clear junk and temporary files hidden in each app, including 30+ types of useless files.
Delete in bulk - 1-click to mass delete photos/videos/apps from iPhone to free up huge storage.
Permanently erase deleted files - Manually deleted files are still recoverable, which can be found out and permanently deleted.
macworld.co.uk, Makeuseof.com , Cultofmac.com give high comments for iMyFone iPhone Cleaner.
Umate Pro fully compatible with iOS 15.
iMyFone Umate Pro is very easy to use. It just takes 3 steps to start cleaning your iPhone/iPad/iPod.
Step 1: Install iMyFone Umate Pro. Connect your iPhone/iPad/iPod with it and you are ready to go.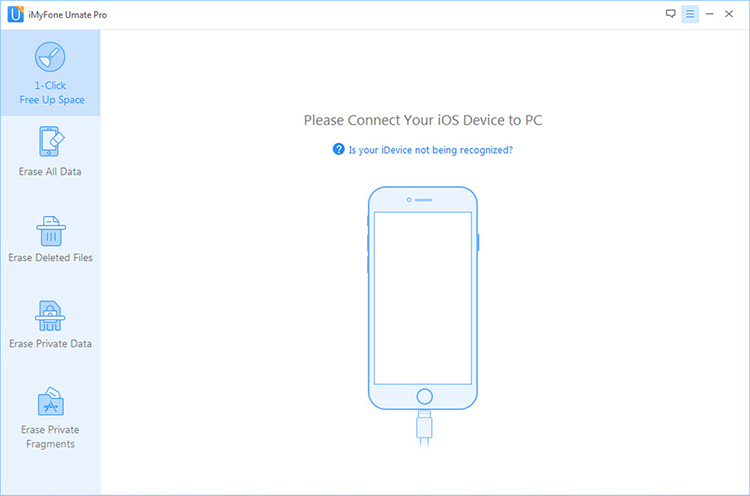 Step 2: Hit "Quick Scan" button and it will show you how much space can be cleaned on your device.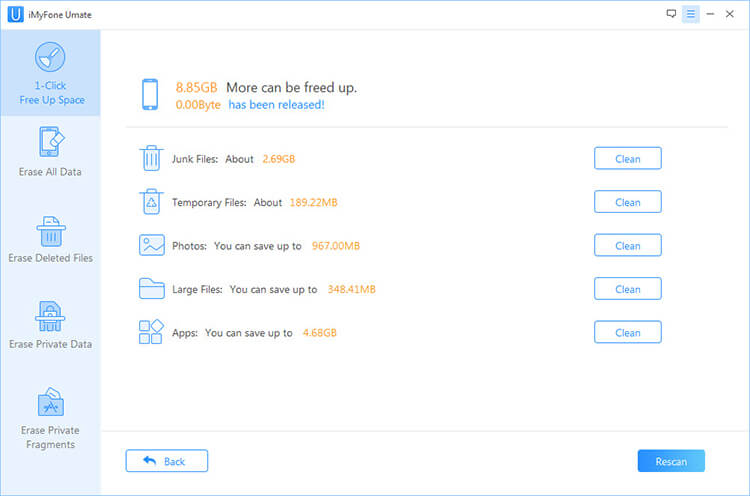 Step 3: Tap "Clean" button of "Junk Files". Then you select the useless data to be cleaned.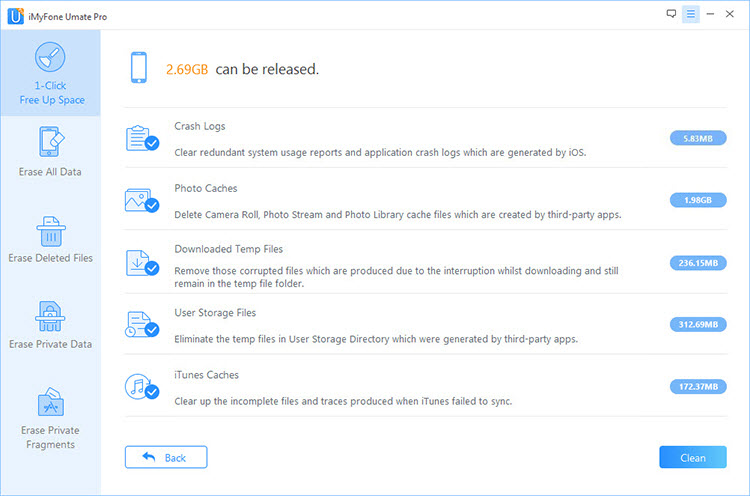 Note
You may only see 4 types of junk files, crash logs, photo caches, download temp files and user storage files, but other types of junk files, like app cache files, app cookies files, app temp files, will be cleaned as well when running "Junk Files".
---
What iMyFone Umate iPhone Cleaner Can Do for You?
1.Remove Temporary Files, Delete Cookies, Clear Cache
If your iPhone has less on board storage. Then it will be very hard for you to get extra space for new music, apps and photos. iMyFone Umate Pro has a feature to get more space by removing temporary files, deleting cookies, clearing cache ios. Whenever you open any app it creates some temporary files, when app is closed, these files still remain open and consume lots of space. You don't know how to delete cookies on iPhone 12/12 Pro/11/11Pro/XS/X? iMyFone Umate Pro can help you delete cookies on your iPhone with just one click.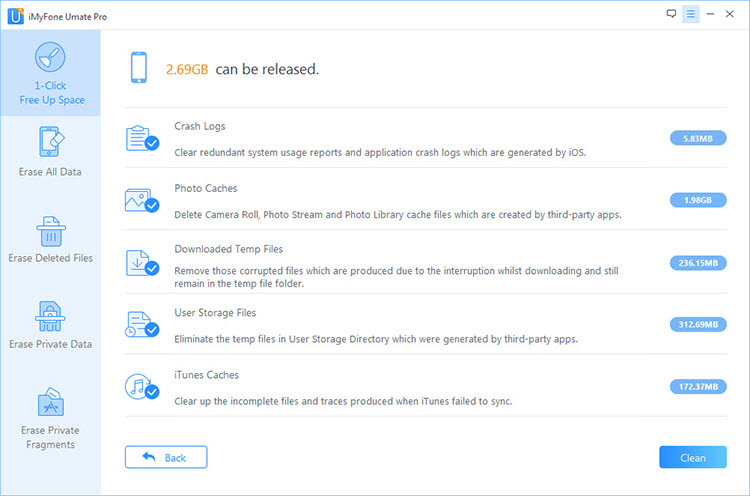 ---
2. Compress Your Photos
With this feature you can free 75% of your photo space on your iOS device. Original photos will be saved in a backup and quality of your compressed photos will remain good to share photos on social networks. The visible quality of photos will not be damaged.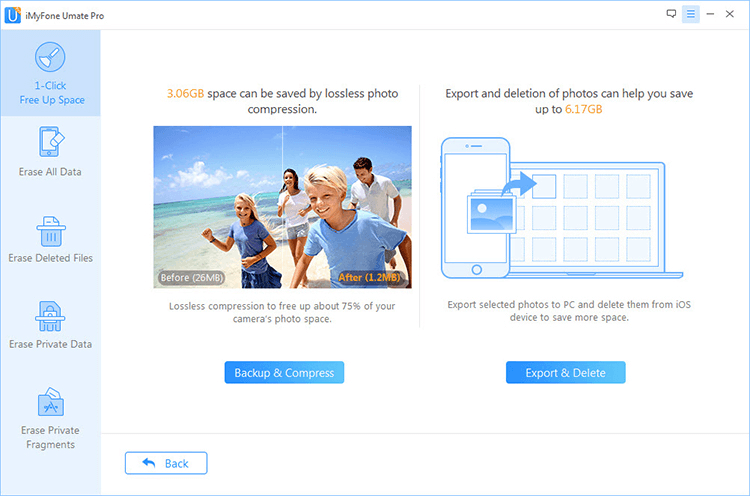 ---
3. Delete Large Files
Some large files, like movies, videos, audio books, would occupy much space on your iPhone. You'd best trasfer some to computer and delete them from your iPhone not only for more space but also for better performance. It will reclaim much free space. Large files can be managed according to different file sizes or different file types.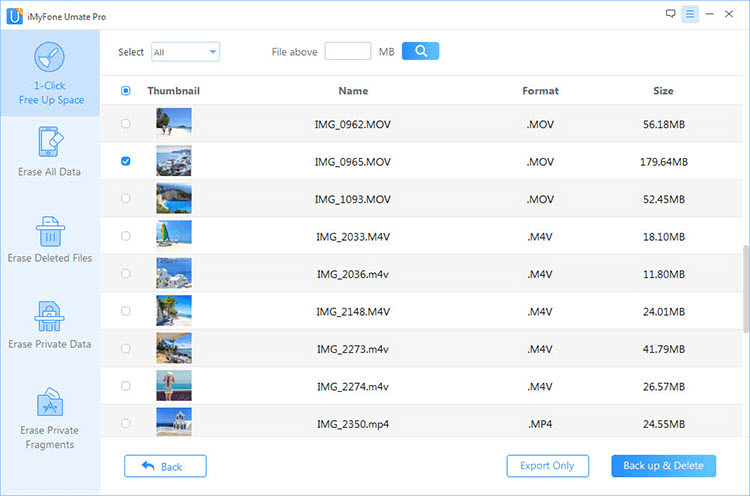 ---
4. Remove Unused Apps
iMyFone Umate Pro is also very handy when you want to remove apps that are used less or are never used. You can select apps from the list and click remove. All the selected apps can be uninstalled once, so you don't need to uninstall it one by one from iPhone.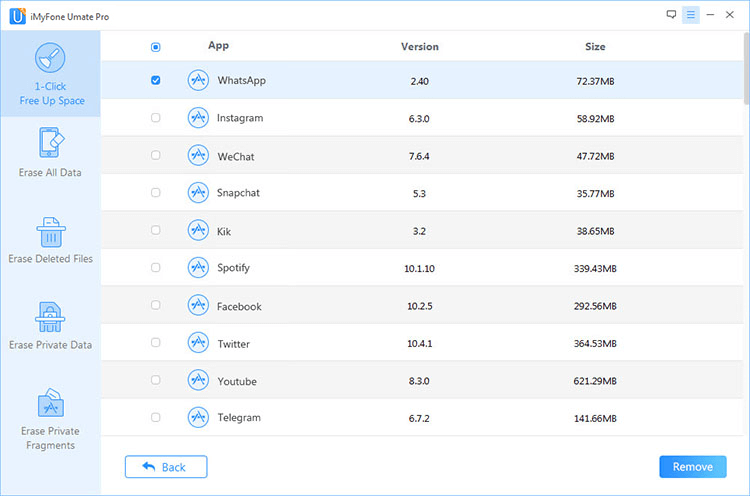 ---
iMyFone Umate Pro is not only perfect because it clears cache iPhone 12/12 Pro/11/11Pro/XS/X and provide you free space, but it also helps you to create backup of everything that you remove from your iPhone/iPad/iPod. So if you feel that your iPhone, iPad or iPod Touch is getting slow or it crashes or even there is no available space to install your favorite game or app, just open iMyFone Umate Pro and connect your iDevice. Scan your device and have tons of free space on just one click. If you have no idea about storage and apps you are using on your iDevice, don't worry, it's time to boost your device. Free download iMyFone Umate Pro for windows and start saving space for your iPhone. If you are using a MAC, don't worry, iMyFone Umate Pro is available for Mac as well!