Deleting voice memos from iPhone can save you up a lot of storage space. Not to mention the improvement in performance that will come about as a result. However, you might be wondering as to why the obvious is being stated here.
Well, if you look closely, what has been mentioned is "deleting" voice memos rather than "removing" them completely and permanently. There is a subtle difference between permanently erasing something and simply deleting. The former means that the data becomes completely inaccessible, while the latter means the data can still be retrieved using data recover software and other methods. So it really depends on what you want in the end.
How to Manually Delete Voice Memos on iPhone (Recoverable)
Voice memos are no doubt very useful. The voice memos app lets you store a number of songs, speeches, interviews and a myriad of other types of audio files.
However, the space in your iPhone is limited and like any other device, it gets used up. Once this happens, it is quite obvious that the need arises to delete some files to save space. One way is to delete some of these voice memos.
Go the Voice Memos app.
All your voice memos will be displayed there. Tap the specific voice memo.
Tap the trash icon appeared below and confirm it by tapping Delete [Voice Memo Name].
You can tap one by one voice memos to delete.
Note
This way to delete voice memos just simply makes data invisible, you can easily access them again with recovery tool. If you want to be safe and avoid any private files getting leaked, then it is highly recommended that you erase the files permanently.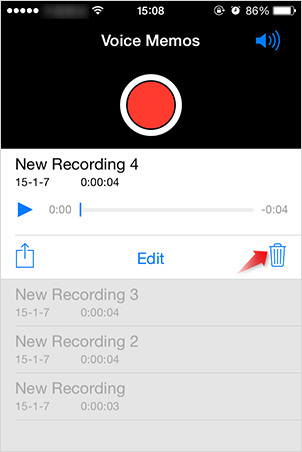 How to Permanently Delete Voice Memos from iPhone
In order to permanently erase the deleted Voice Memos, you will need to use a professional iPhone data erasing tool. iMyFone Voice Memo Eraser or iMyFone Voice Memo Eraser for Mac is one of the best iPhone data erasers that you can use to quickly and permanently delete Voice Memos from your iPhone. Data deleted by Umate Pro is 100% unrecoverable so you won't have to worry about any privacy leak once you delete your iPhone contacts with this tool. Apart from deleting Voice Memos, this useful tools offers plenty of additional features.
Key Features:
Find the previously deleted voice memos and permanently delete them from iPhone, 100% unrecoverable.
Permanently erase all your private data, including Messages, Contacts, Photos, Videos, Call History, Safari Data, Password, etc.
Preview files before deleting them. It prevents you from accidently deleting files that you want to keep.
Permanently erase any traces/fragments left by deleted files so that they can't be recovered.
Fully compatible with iOS 11, and the latest iPhone X, iPhone 8, iPhone 8 plus.
Hundreds of media give think highly of iMyFone eraser, such as the famous ones, MacWorld, iPhoneinCanada, APPKED, etc.

Steps to Permanently Delete Voice Memos from iPhone
Step 1: Connect your iPhone to the computer and launch iMyFone Voice Memos Eraser.
Step 2: Choose "Erase Deleted Files" option and click on Scan button to let it scan.
Step 3: Preview and select the "Voice Memos". Tap Erase Now button.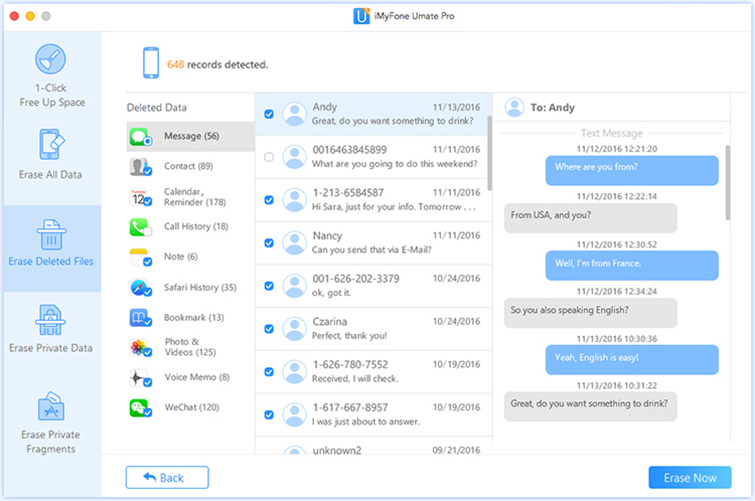 Step 4: Then type in "delete" to confirm. At last, click "Erase Now" again.
Other Key Features of iMyFone Eraser
1

One-click Cleanup
This feature allows you to clean up your device in order to save space. As the name suggests, the function is so easy that all you need to do is simply click a button and the rest is up to the software.
You can use it to save space by compressing photos. You can also transfer photos to your PC in a jiffy. Additionally, iMyFone lets you delete and back-up videos and photos, or bulk delete Apps in one-click.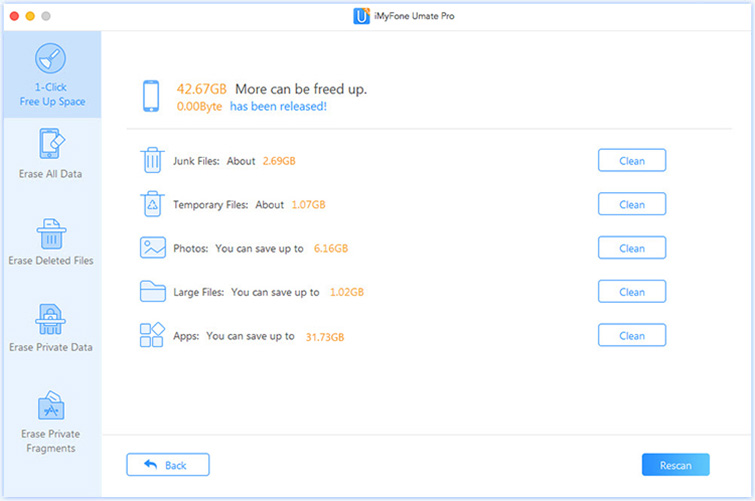 When to Use this Function
Get more space for new photos and videos or any other files.
Too many junk files and temp files slow down your iPhone performance.
Export photos to computer and delete them to free up space.
Quickly erase useless apps in bulk.
2

Erase All Data
This is a very simple yet a really strong function that allows the user to erase all the data in one go. Yes, with this, you do not have to go through the trouble of deleting each and every file one by one.
When to Use this Function
Sell your iPhone and permanently erase all your data without chance of recovery.
There are some unknown errors that caused your iPhone work abnormally.
3

Erase Private Data
This is quite a unique feature of the software. Certainly, there must have been a number of occasions where you feared your private data might be seen by someone else or that your device might get hacked.
In order to relieve you of all these worries, iMyFone Umate pro comes with the function to let you erase private files. It allows you to select files individually so you can preview the files that you want to delete. This is an amazing feature as you do not have to worry about deleting other important files unnecessarily.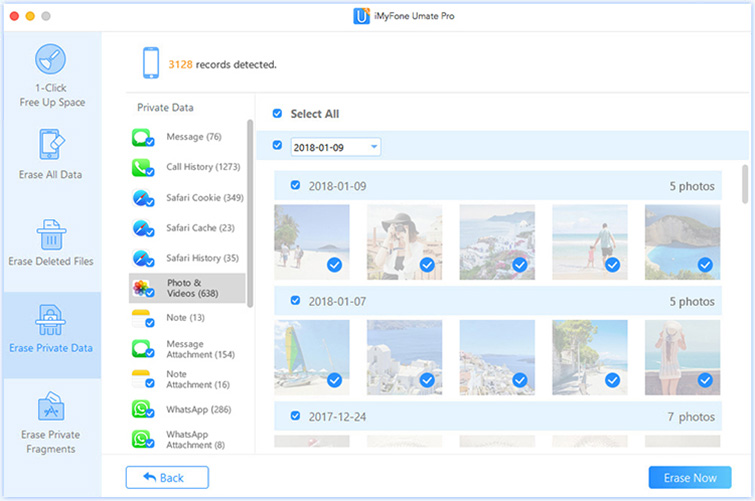 When to Use this Function
Prevent someone from reading your personal data.
There are so many business info that need to keep secret forever.
When you plan to permanently erase your Message, Call History, Photos, Videos, Safari Data, Notes, WhatsApp Messages & Attachment,WeChat Messages & Attachment, Kik Messages & Attachment, Viber Messages & Attachment.
4

Erase Private Fragments
This features lets you scan out all the incomplete traces or fragments left by 3rd-party apps. You can choose to permanently destroy them so as to protect your private info. This is the safest way to protect your private data in 3rd-party apps from being leaked.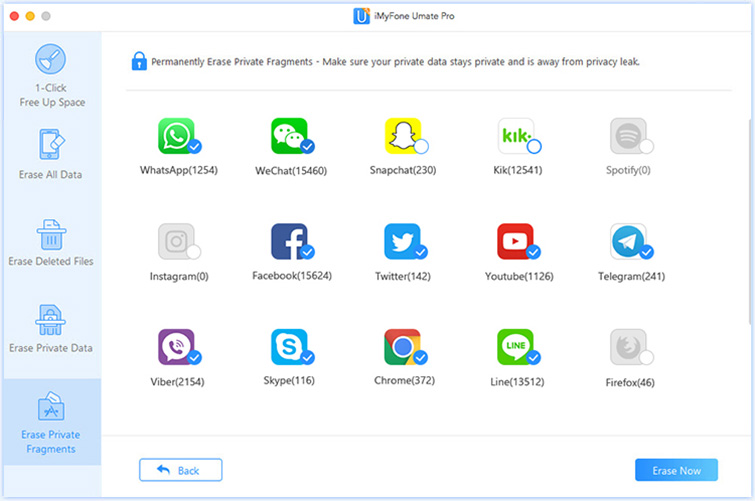 When to Use this Function
Erase third-party app data to free up space.
Prevent some recovery software from retrieving your messages & attachments.
Completely remove third-party app data to avoid privacy leak.
How to Export Voice Memos to Computer & Delete Them on iPhone
If you want to Export Voice Memos to Computer and also happen to use to sync your iPhone, then it's easy enough. Just follow these instructions:
Step 1. Open iTunes and connect your iPhone to your computer. Select iPhone icon from the iTunes menu.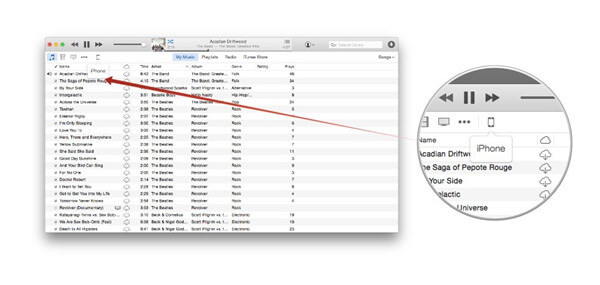 Step 2. And click the Music tab at the left sidebar.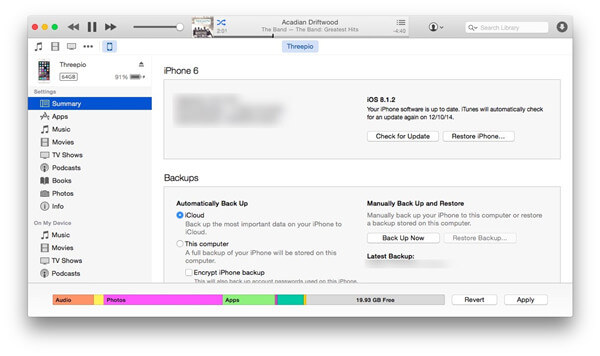 Step 3. Select "Sync Music" and "Include voice memos."

Step 4. Click on Apply in the bottom right corner. Then all your voice memos will be downloaded to your iTunes Library, you can drag them to your desktop or anywhere you want them stored.