Whatsapp is the most commonly used chat tool in our daily life, it greatly facilitates people's contact. However, this also caused a lot of potential risks.
Increases the risk of privacy leaks.
Someone could snoop through your WhatsApp Chat History.
Takes up too much space cause the phone running problem.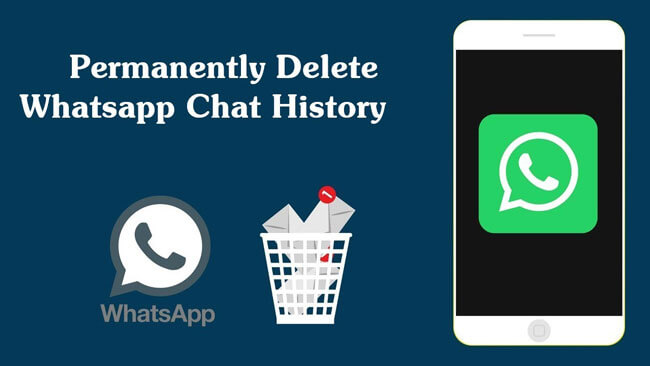 But one thing you should know is that deleting WhatsApp chats from App doesn't mean you have permanently erased them. The chats can be stored in a backup or Google account.
In this article, I will explore the most useful method to you to delete the WhatsApp chat history permanently for free!? Let's get started!
We can delete our WhatsApp Message History with the methods below:
Method 1: Delete WhatsApp Messages from Chat
Both for iPhones and Android Phones
The most direct way to delete WhatsApp messages is in the app itself. You can delete individual messages, conversations, groups, or your entire chat history by following the steps below. Deleted messages are permanently deleted from your phone.
To delete individual messages from a conversation
Open WhatsApp and go to the chat window with the message you want to delete.
Tap and hold on the message.
Tap Delete > Delete for me.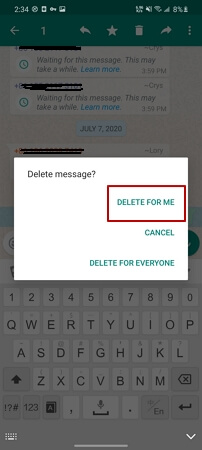 To delete group chat
To delete a group chat, you first need to exit the group.
In the main Chats screen, tap and hold on the chat you wish to delete.
Tap more options from the right pane.
Exit group > EXIT
Tap and hold the group chat again, then tap the delete icon to Delete.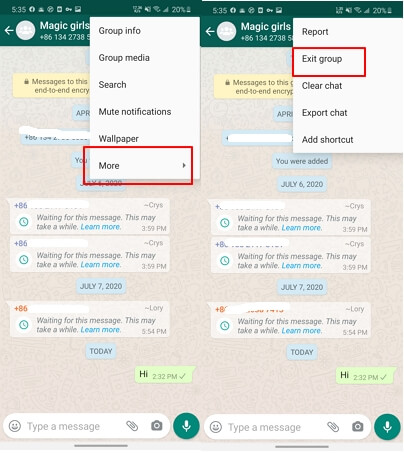 To delete or clear your entire chat history
Go to WhatsApp > Settings (Swipe down from the top of the screen to access the Settings) > Chat >Chat History.
Scroll to the bottom and tap Delete all chats: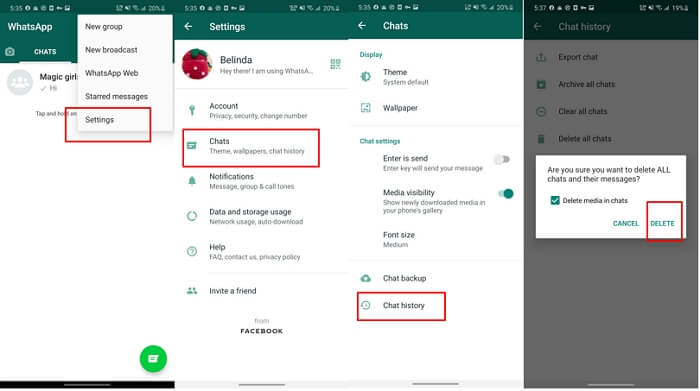 Note
Using "Delete All Conversations" or "Clear All Conversations" will not remove you from any groups. Clear All Conversations will delete all messages but leave the conversations in the Chats list.
Method 2:Delete WhatsApp Messages Permanently for Both iPhone & Android
Both for iPhones and Android Phones
Deleting messages for everyone allows you to delete specific messages you've sent to an individual or group chat. But here are some preconditions you should be noted:
Make sure the recipients is using the latest version of WhatsApp.
Recipients using WhatsApp for iOS may still have media you sent saved to their Photos, even after the message is deleted from the WhatsApp chat.
You won't be notified with a message if deleting wasn't successful.
You only have about an hour after you've sent a message to request to Delete for Everyone.
Now, follow the guide on how to delete WhatsApp messages from both sides.
Open WhatsApp and go to the chat containing the message you want to delete.
Tap and hold the message. Optionally, select more messages to delete multiple messages at once.
Tap Delete > Delete for everyone.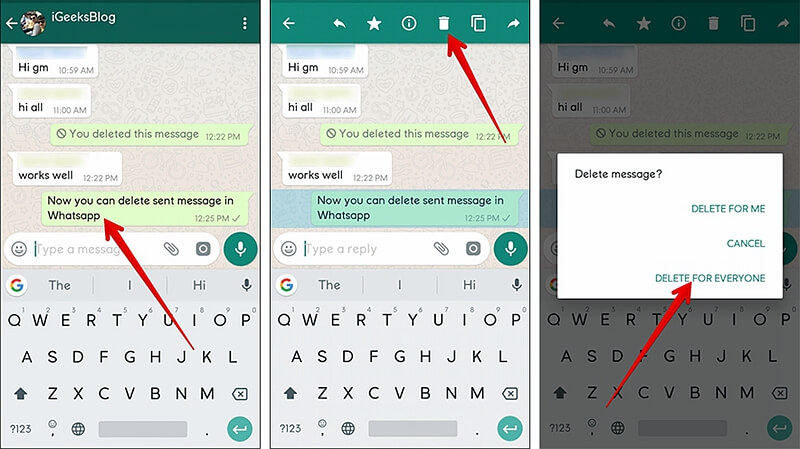 Method 3: Permanently Delete WhatsApp Messages from Backup
For Android Phones
We know that WhatsApp have the feature to back up data in specific time. So, if you want to delete WhatsApp chats permanently then you should delete the backups by following the instructions below.
Before you begin, consider the following:
Your chat history backup files are saved in the /sdcard/WhatsApp/Databases/ folder.
You cannot open these folders outside of WhatsApp.
You will need a file manager to delete these files.
To delete your backups:
Launch your File Manager.
Tap the WhatsApp folder, a list of all WhatsApp sub-folders will appear.
Tap and hold the Databases file.
Select Delete.
Method 4.Delete WhatsApp Messages from the Google Account
For Android Devices
You need to access Google Drive from a computer by visiting drive.google.com. You can find all of the WhatsApp storage backups here (the backups will be here only if you accepted this when installing WhatsApp).
To disable the automatic backup option we have to go to Settings icon >> Settings >> Chats >> Chat backup >> Back up to Google Drive >> Never.
If you followed correctly the steps above, then you should have deleted the WhatsApp conversations for good. Remember, you will not be able to recover the conversations after following these steps.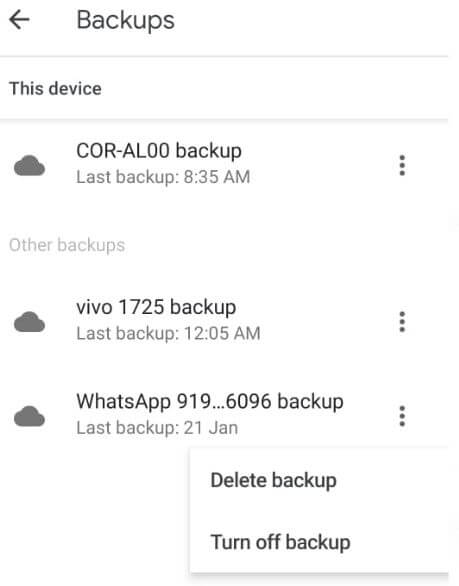 Method 5: Delete WhatsApp Chat History Permanently with the Third-party
For iPhone
How do you make WhatsApp chat history unrecoverable, then? Here we recommended a WhatsApp eraser App to you - iMyFone Umate Pro. Not only can it help to delete your WhatsApp chat history forever but all kinds of other private data from iPhone/iPad/iPod touch also! Moreover, the data erased by Umate Pro won't be recovered by any data recovery tool.
Benefit A Lot from Umate Pro:
Preview and select WhatsApp messages, photos, videos, attachments, and other private data to completely erase.
Wipe private WhatsApp fragments that the app leaves behind, which are also for Snapchat, WeChat, Line, Viber, and 10+ third-party apps.
Find out and permanently delete data that you previously deleted, including deleted WhatsApp messages.
Video about How to Permanently Delete iPhone Whatsapp Message
Steps to Delete WhatsApp Chat History via Umate Pro
Step 1: Download and install iMyFone WhatsApp Eraser on your computer. Open it and connect your iPhone with a cable.
Step 2: Click "Erase Private Data." And let it scan your iPhone.

Note: You can also choose "Erase Deleted Files" to scan previously deleted WhatsApp data or select "Erase Private Fragments" to wipe third-party app traces.

Step 3: When scanning done, it will show up all the private data of your iPhone. You can preview and select WhatsApp chat history.

Step 4: After that, you can click on "Erase Now" and then confirm to begin.
iMyFone WhatsApp Eraser was highly spoken of for secure erasure by getintopc.com, MacWorld, APPKED and 100+ more professional software review sites.

FAQ about WhatsApp Messages Deleting
1

Will uninstalling & reinstalling WhatsApp delete chat history?
Will I lose chats if I uninstall WhatsApp? Not absolutely. Your WhatsApp chats are automatically backed up and saved daily to your phone's memory. If you uninstall WhatsApp from your phone, but don't want to lose any of your messages, be sure to manually back up your chats before uninstalling.
---
2

Are deleted WhatsApp chat history gone forever?
If you don't care that someone could use a third-party tool to recover your conversations from your phone, then maybe it is indeed "enough". However, anyone who is even a little bit technically savvy could easily recover your private conversations. If you exchanged any important information, they could even use sensitive information to steal your identity in a worst-case scenario.
So what we can do to protect sensitive data from being leaked is to completely erase WhatsApp chats from our own iPhone instead of leaving deleted chats recoverable. iMyFone Umate Pro - WhatsApp Eraser is the only iPhone eraser that supports third-party apps, you should give it a try.
For any question or problem, please leave a comment below.