If you want to know what will happen when you delete WhatsApp for the purpose of privacy protection, then one of the solution you can imagine is to delete WhatsApp or its account. There may be some questions that confuse you, now let's fild out them all.
Part 1. What Happens when You Delete WhatsApp?
1

What Happens When You Delete WhatsApp App?
Deleting or uninstall WhatsApp app will clear all the chat records on your phone.
You won't be able to open WhatsApp and access the previously received messages.
If I uninstall WhatsApp will I be removed from groups? Yes, you will be removed from all the WhatsApp groups.
And when that happens, others will see the text 'xxx left' in the group.
2

What Happens If I Delete My WhatsApp Account?
If I delete my WhatsApp account how will it show on my friend's phone? WhatsApp doesn't send a direct message to your friends that you have deleted the account. In case no past chat exists, then your friends will see an Invite button next to your name on Android. On iPhone, you will not appear in their WhatsApp contacts list at all. When you delete your WhatsApp account, a few things happen that remove your presence from the app entirely:
Delete your account info and profile info.
Delete you from all WhatsApp groups
Delete all your messages on this phone and iCloud Backup
Delete your payment history and cancel any pending payments.
Your phone number will also no longer have an association with the company.
Your data will theoretically be removed from WhatsApp's servers.
People will not be able to message you. However, if your chat thread exists on their WhatsApp, they can message you. They will see a single tick next to such messages. But you will not receive those messages.
The WhatsApp settings will also be deleted.
For android, you can access the downloaded via any gallery app inside the WhatsApp folder. For iPhone, if you haven't saved the downloaded photos and videos to your local album, then you will lose them after deleting the account.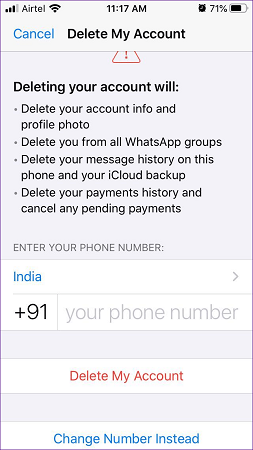 This is what happens if you delete your WhatsApp acount, but if you want to clear all the WhatsApp contents to protect your data privacy then deleting WhatsApp account is not a good way. Next we are going to learn how to delete WhatsApp account on iPhone and the best way to clear all WhatsApp contents permanently.
Part 2. How Do You Delete Your WhatsApp Account on iPhone?
How do you go about actually deleting your WhatsApp account? It's actually ridiculously easy.
Make sure you have the latest WhatsApp on your iPhone.
Launch WhatsApp and go to "Settings" -> "Account" -> "Delete My Account".
Enter your phone number and tap "Delete My Account" to confirm.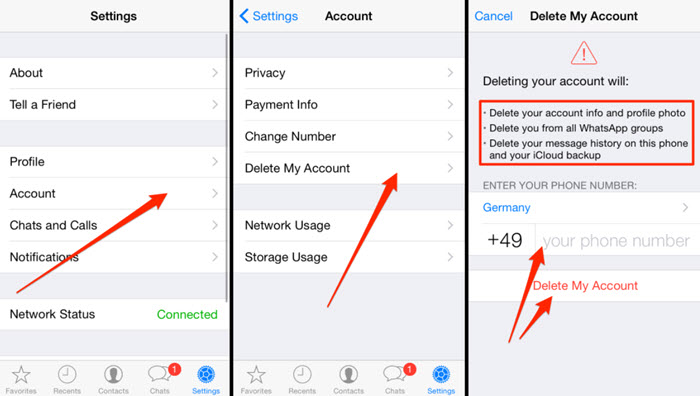 Part 3. How to Permanently Erase WhatsApp Chats to Avoid Privacy Leak?
If you want to delete your account, you need to take a few steps first to make sure that everything goes smoothly. And that cannot ensure 100% data erasing. It's still possible to recover the data from your WhatsApp account.
To permanently delete all of your chat logs, pictures, and other material from WhatsApp so that it is totally unrecoverable on your phone, you'll need a professional tool. One program that you can use is iMyFone Umate Pro iPhone Data Eraser, it has a few erase modes that are particularly helpful here:
Key Features:
Permanently Delete WhatsApp Chats: It allows you to preview and remove your selected WhatsApp history and media permanently and render it unrecoverable. You can also delete private data from other apps as well.
Wipe Deleted WhatsApp Files: Simply delete files are still left on iPhone which you can find and completely destroy them.
Completely Erase WhatsApp Data Fragments: This is another important erasing modes. This permanently deletes fragments of your apps that are left behind, even when you uninstall them.
1-Click Operation: Ensuring that both the data be erased completely and the operation be simple.
iMyFone Umate Pro is fully compatible with iOS 15 and highly spoken of many well-known medias, like macworld.co.uk, Makeuseof.com, Cultofmac.com etc.

Simple Steps for Fully Deleting Your Private WhatsApp Data
Plug your device into your PC and run Umate Pro iPhone Data Eraser.
Click on "Erase Private Data". (Or click on "Erase Deleted Files" if you want to erase deleted WhatsApp data.) The application will then scan your device. Soon enough, you will see private data from different apps displayed.
Choose the private data for WhatsApp and confirm that you want to delete it.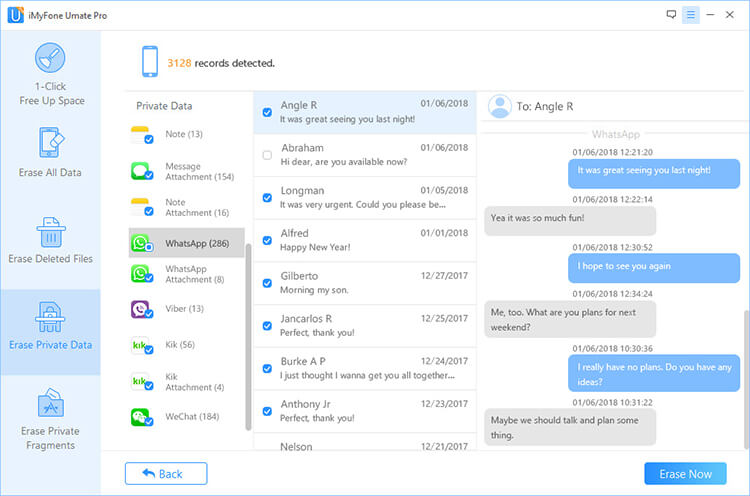 Umate Pro is the only iOS data eraser supporting to permanently delete WhatsApp data. It will clear your iPhone of all this WhatsApp data and it will erase it permanently so that no one can hack your iPhone and see previous chat logs or pictures and video that you may have sent. This is an extra layer of protection for your privacy if you intend on truly deleting your WhatsApp account.
Conclusion
Why We Need to Permanently Delete iPhone Private Data? If you only manually delete data or the WhatsApp account will not permanently delete files, then you are faced with the problem that other people could potentially find your data. To be able to have true privacy, you need to make the data impossible to recover, which is why using software like Umate Pro is a good idea.