My mother always try to check my call history iPhone, so boring! What should I do to delete delete call history iPhone? -- Jessica
Do you think simply delete text messages, call history or other information on your iPhone is absolute safe? Definitely not. All your deleted data are still saved on your iPhone iOS 13, even though you cannot see them, and they can be recovered by recovery software. So we should erase permanently these data, meaning completely overwritten them so that they could not be retrieved by any tool.
Part 1: Mannually Delete Call History on iPhone
Open the Phone app icon on your iPhone. Then tap "Edit". so you're able to tap "Clear" to delete the whole call history or just tap each read circle before each call to delete it respectively.
As it mentioned above that it can't ensure your data secure to delete call history on iPhone in this way. Just do it and now we'll give a step by step guide to permanently delete call history on iPhone.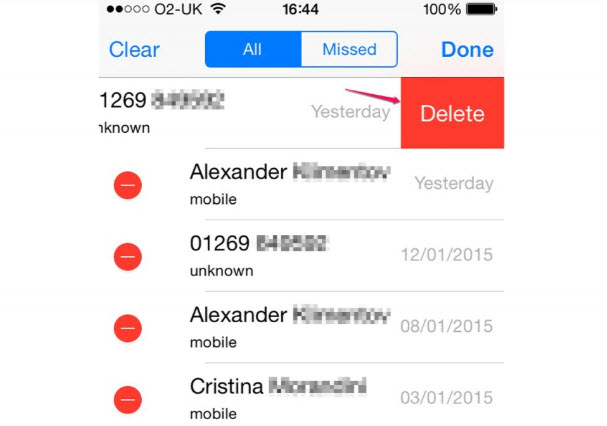 Part 2: Free Way to View Deleted Calls (Invisible Normally) on iPhone iOS 13
This is just simple if you connect your device to the iMyFone Umate Pro or iMyFone Umate Pro for Mac. The good thing is that the Umate Pro scans your device for free, including the scan of deleted iPhone call histories. The following steps apply:
Erase Deleted Files: The Umate Pro will erase your iOS 13 call history permanently, it scans your device freely for already deleted data, identify these sensitive data and delete them permanently in such a way that it will never be recovered by any data recovery tool.
Erase Current Private Data: By using the "Erase Private Data" mode, it will permanently erase iPhone data: personal messages, call histories, contacts, WhatsApp messages, photos, videos etc. The erased data can never be recovered making your personal information totally secured.
Fully compatible with iOS 13 and receive lots of positive reviews from macworld.co.uk, getintopc.com, pocket-lint.com, macbed.com etc.
Step 1: Connect your iPhone to Umate Pro.
Step 2: Choose the "Erase Deleted File" mode.
Step 3: Scan your device for free and you will see all kinds of deleted records, your deleted call histories and other personal data.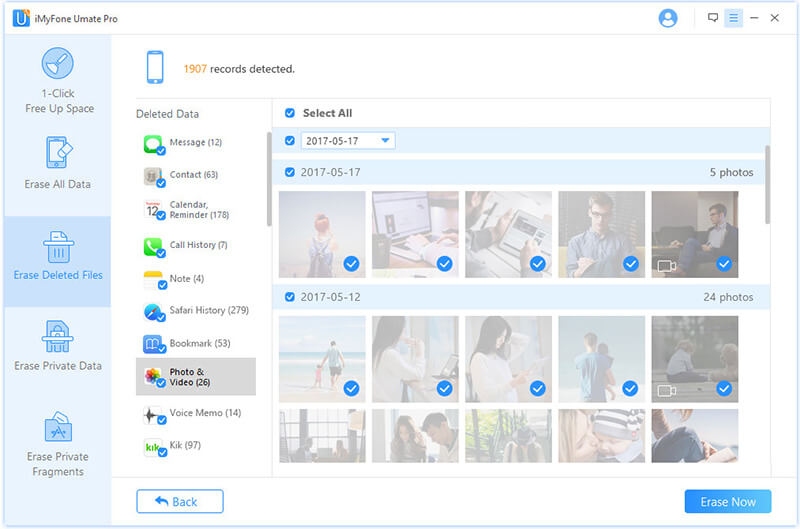 If you have found out that the deleted sensitive call histories are still on your iPhone, in this case, Umate pro which is one of the world's best data erasers will help you to permanently erase your deleted iPhone call histories.
Part 3: Permanently Erase call history (Current & Previously Deleted) on iPhone
Like said earlier, the Umate Pro is one of the best when it comes to iOS data erasure and privacy protection. The Umate Pro ensures that your iPhone data does not fall into the wrong hands like data criminals who could use them against you. And it's the only iPhone eraser that can permanently erase third-party App data.
Steps to Permanently Erase iPhone Call History
Step 1. Choose the "Erase Private Data" mode, and "Scan" your iOS device for a full analysis.
This software integrates more than 25 analyzing technologies, and it can scan and analyze data smartly.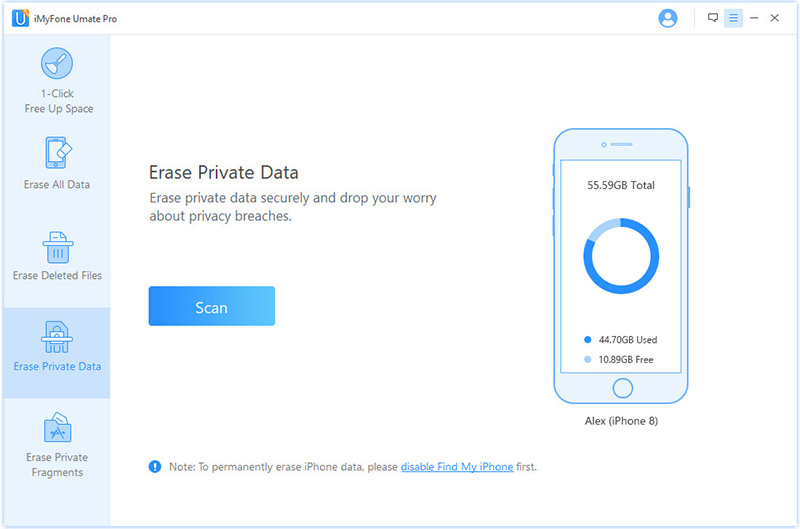 Step 2. When the scan finished, the program will show you all the personal data on your iPhone. Among which, you can find "Call History", where you can preview your call histories and select the records that you want to erase.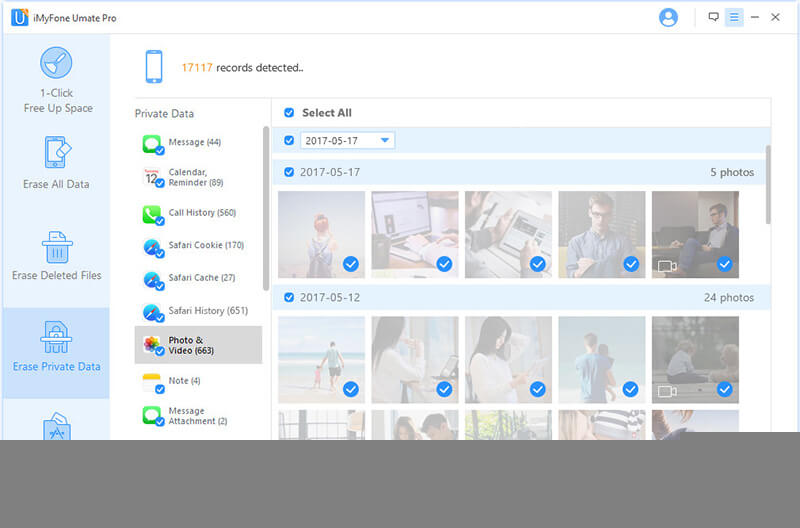 Step 3. Click "Erase now" button to erase permanently the call history for your iPhone.
Note
To erase the previously deleted call logs, the process is almost the same.
Main Features of iMyFone Umate Pro
Permanent Erasing Data: The truth is that any data erased by the Umate Pro is unrecoverable. This is because the software is designed to prevent even the best and most modern data recovery tools to recover data from a device.
Preview and Selectively Erase: This tool will not erase just everything it sees. The beauty of it is that it will give you the option of previewing and selecting the data you want to erase completely. It keeps you in total control and this is why it is the best.
Erase Previously Deleted Files: Even if you have made a mistake of erasing your files by simply deleting it from the Delete button, Umate Pro can rescue you by scanning your device, identifying those deleted files and then erase them completely.
Erase All iPhone Data: Umate Pro will help you erase all your iPhone data like messages, whatsapp, photos, videos etc instead of using just normal factory reset which is insufficient. This is important especially if you intend selling off the iPhone or donating it to someone.