Over the last decade, smart phones have slowly but surely taken over this world. However, no gadget is perfect and neither is your iPhone. Suppose, you are in the middle of an online transaction and your iPhone freezes. Despite repeated attempts it shows no signs of life. In such a case you need to soft reset iPhone or hard reset it.
Part 1: What is Soft Reset and Hard Reset?
Question asked: "If I reset my iPhone will I lose all my contacts and data?"
Well, with recent developments in cloud computing, all your contacts, pictures and videos get saved to your email by default. Therefore, it is unlikely for you to lose any contacts, photos, documents or videos. However, an iPhone hard reboot will erase all your settings which include, email logins, wallpapers, ringtones and other such features.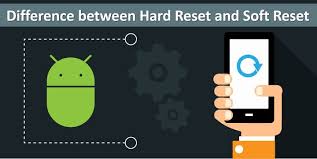 Soft Reset
Refers to simply restarting your iPhone, in other words, reset iphone to factory settings without itunes. It is a basic procedure to bring back your frozen OS to working condition. One should perform soft reset when his iPhone is lagging or hanging mid operation such as during net browsing, online shopping or payment of bill.
Hard Reset
Takes place when you format your iPhone to revert to factory settings. It erases all settings and makes your phone completely clean. Hard reset needs to be done when your OS has corrupted or your iPhone is encountering severe lag issues.
Part 2: Soft Reset Your iPhone from Settings
If you want to format your iPhone completely, you can do it either through its settings or through iTunes.
Step 1: Backup your data with iCloud to prevent any unwanted data loss.
Step 2: Go to settings and tap on reset menu.
Step 3: Select "Erase all content and settings" followed by "Erase iPhone" option.
Step 4: On completion your iPhone will revert back to its factory settings and prompt you to continue with the restoration process.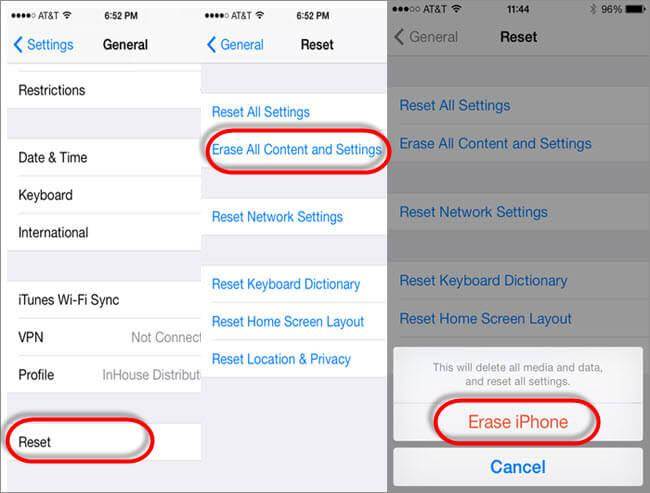 Part 3: Two Methods to Hard Reset Your iPhone
Method 1: Hard Restart iPhone Using iTunes
Step 1: Connect your gizmo to the Mac or PC.
Step 2: Open iTunes and let it recognize your device.
Step 3: Confirm your device and select restore from the summary panel.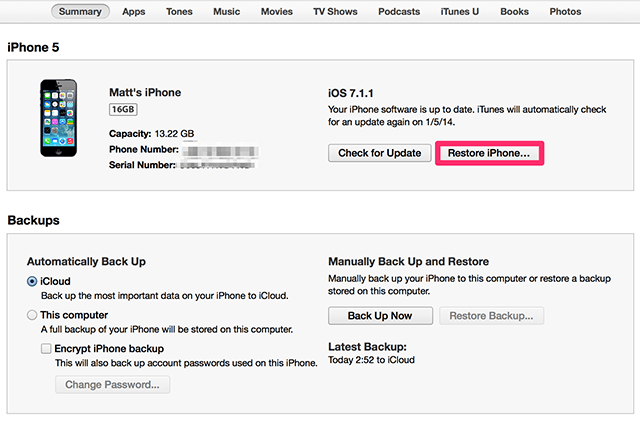 Method 2: iPhone Hard Reboot to Erase iPhone Data - iOS 11 Supported
A third option is available which neither involves soft reset iPhone nor a hard reboot. It facilitates selective data deletion and can be performed with iMyFone Umate Pro or iMyFone Umate Pro for Mac .
Step 1: Download iMyFone Umate Pro and connect your iPhone to the computer.
Step 2: Choose "Erase Private Data" mode and scan for it. Once scan is complete, it will display all files, data, photos and videos present in your phone.
Step 3: Delete files selectively.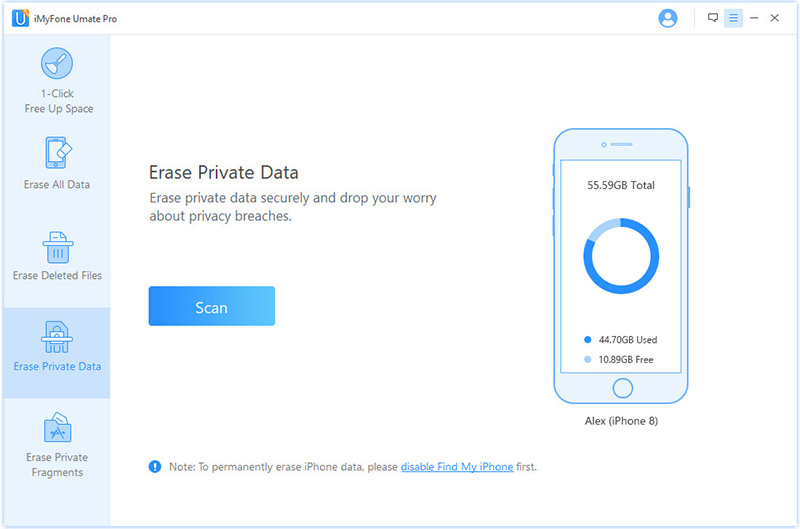 Key Features of iMyFone Umate Pro
No recovery possible at all- Previous device will be erased for personal security.while hard reset can't delete data saved though iCloud. br>
Preview and erase-Allows users to view messages on PC and confirm before deleting them permanently. Prevents useful and vital data from getting deleted. br>
Erase selectively-Unlike hard reboot, you can select files you want to erase. Prevent the need of hard reboot which one needs to reinstall all the useful apps lover again. br>
Erase previously deleted data-Saves you from hard reset by providing permanent deletion option as iCloud automatic backs up photos and videos. br>
Summing Up
Besides performing a soft reset iPhone, if anyone wants to get rid of any unwanted data permanently, then he should opt for iMyFone Umate Pro. They not only provide privacy, but also help to keep your gizmo's software in top notch condition.