Safari counts as one of the best internet browsers in the world and it is also the default browser on Mac. Having such a large number of users it is important for the browser to perform properly on all fronts. But some users face a significant problem regarding the default MacOS browser. They have complained about Safari slow on Mac. The problem is really frustrating, especially when it is your only go-to browser. But the issue is not permanent and below we have mentioned a few tips and tricks that will fix the slowed down Safari browser!

Why is Safari So Slow
So, before we start, let's figure out this problem first: why is Safari so slow?
Well, there could be several reasons for Safari being so slow on Mac. Being the default browser, it stores a lot of data or there could be some optimization issues which could be making the browser so slow. Let's look at the common reasons a bit thoroughly;
1. There could be too much data and cache
Safari stores an awful lot of data but there are also many images and HTML files which are saved as cache. This is basically done in order to make the browser faster. But in the long run, it does the opposite. So, if you are using the browser for a significant amount of time, Safari starts storing an incredible amount of data which puts a lot of pressure on the processor, making it slower.
Quick Guide: To fix a slow Safari caused by caches, please refer to tip 1.
2. Preferences
After getting the Safari, quite naturally users will change the settings as per the preferences. You will also set the home page and the search engine and even set the destination for the downloaded files. So, all these settings are saved into "Preferences" folder but somehow if it gets corrupted the browser will perform slowly.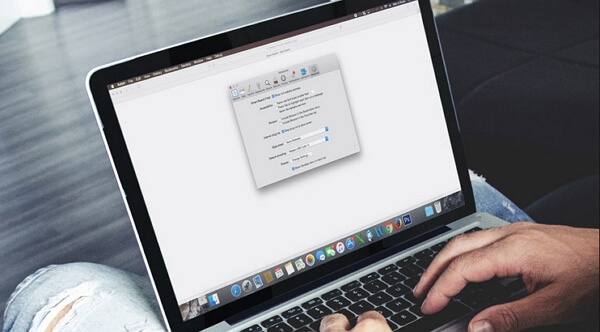 3. Glitch with Extensions
The extensions are available for all type of browsers, and Safari extensions are also in trend. But they are in reality only third-party add-ons which may interfere with the performance. Ways to effectively remove extensions from Safari are mentioned below.
4. Autofill
One of the unique features of Safari is Autofill. The browser memorizes all your passwords and numbers so that you can have easy access. But there is a limit to it. Too much stored data on Autofill may impact the performance of the browser resulting it to freeze. The steps to clear Autofill are mentioned in method 4.
5. Outdated Flash or Java
Most of the browsers require plug-ins like Flash or Java to play videos or any type of animated content. But these plug-ins can really drag down the performance of the browser if they are not updated.
So, these are all the main reasons for Safari becoming so slow on your Mac. But don't panic, there are multiple ways to fix the issue depending on the cause.
5 Useful Tips to Fix Safari Running Slow Issues
1. Clear Safari History and Cache
Simply clearing those burdened files will enhance the performance significantly. And there are two ways discussed below.
1.1

Manual operations
Step 1: Navigate to "Preferences" from "Safari".
Step 2: Then, go to "Advanced" via "Privacy".
Step 3: After that, click on the "Show Develop menu in the Menu Bar" and select "Empty Caches" option.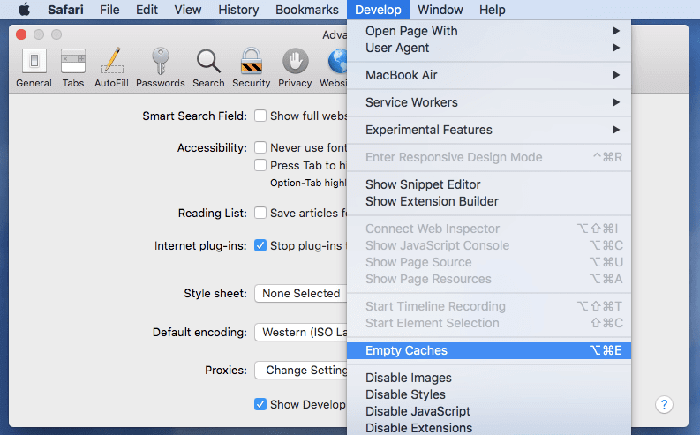 This is the way to empty the cache files but in order to clear the History you have to do the following;
Step 1: Launch Safari and go to "History".
Step 2: After that, just tap on "Clear History".
This is the manual way to perform the procedure but there is a better way and it involves the use of a 3rd party app.
1.2

Automatic cleaning within 1-click

If you think manual cleaning is too cumbersome, or clearing caches from Settings doesn't work at all, then the better way to clear out cache files and data history is to use 3rd party cleaning apps, such as Umate Mac Cleaner. This method is safer, more efficient and more thorough. And most importantly, the operations are very simple. Let's have a look how to use Umate Mac Cleaner to clear Safari caches and boost performance.

Step 1: You need to install and launch Umate Mac Cleaner.

Step 2: In the program interface, click on "Erase Privacy Data" and start scanning.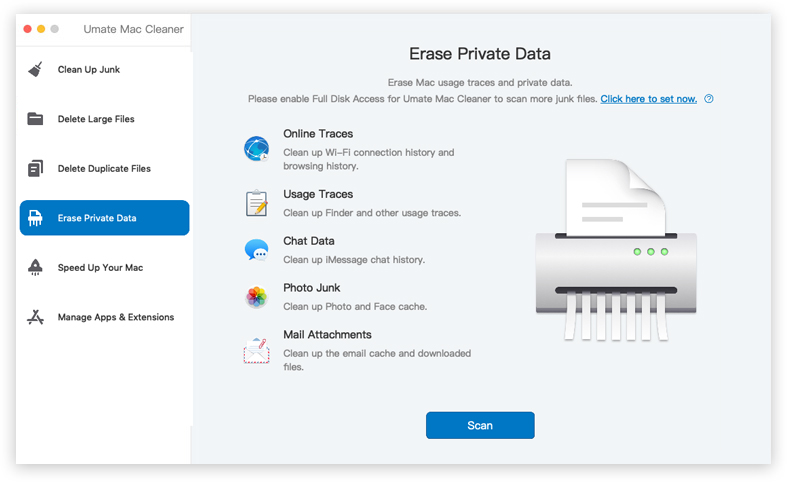 Step 3: After that, select Online Traces and you will be able to view all the caches and cookies generated by Safari. Select it and Click on "Erase" button.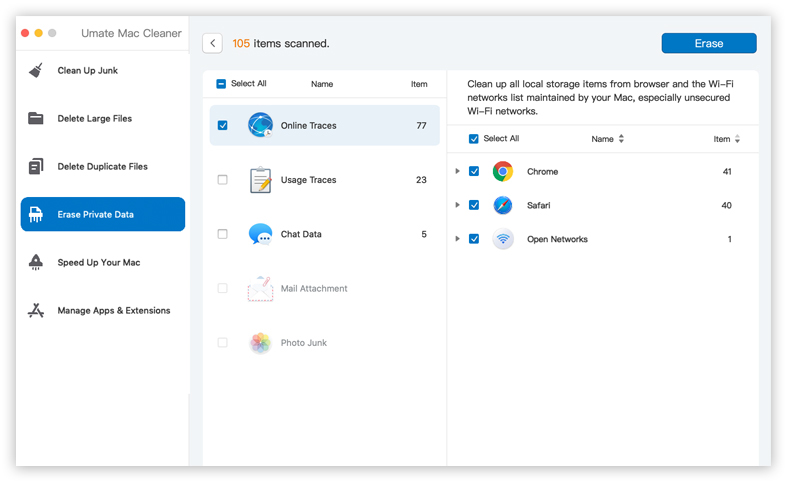 As you can see from the app interface, you will also be able to clear cached data from other browsers like Chrome, Firefox and more. This Mac cleaning app offers other advanced features to speed up your Mac as well, like clearing usage trackers, cleaning up junk files, erasing iMessage data and more.
2. Remove Safari Extensions
Sometime Safari running slow issue could be due to the third-party add-ons or extensions. The core solution is quite simple here; you just have to remove the extensions to increase the Safari performance.
There are two ways to remove Safari extensions, you can do it manually or you can use the above mentioned Umate Mac Cleaner to do it for you. The later one will allow you to uninstall extensions in bulk.
2.1

Manual operations
Step 1: Select Safari and then navigate to "Preferences".
Step 2: Followed by a click on "Extensions". Now, for each of the extension, you can use the checkbox to disable it or completely uninstall from your Mac.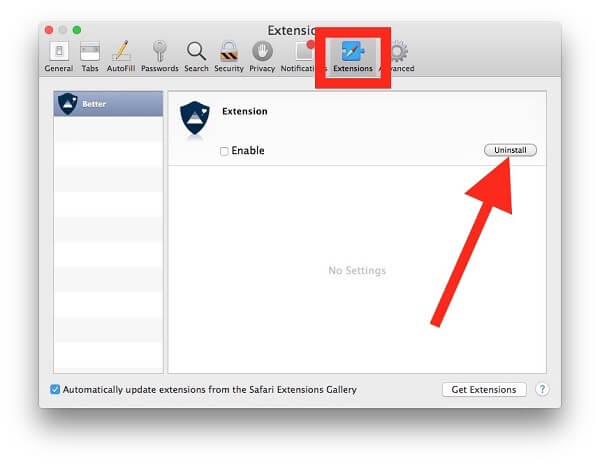 2.2

Batch remove with Umate Mac Cleaner

Follow the steps below to remove Safari extensions using Umate Mac Cleaner;

Step 1: Select "Manage Application & Extensions" from the left panel of this app.

Step 2: Click "View Items" under "Remove Extensions" option to begin scanning process.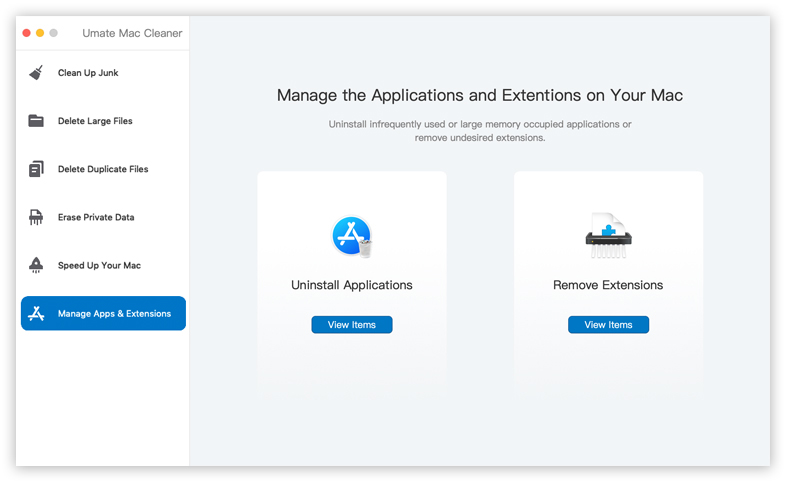 Step 3: Choose "Safari Extensions" from the scanning result and you will see all the installed add-ons as well as their size. Check those you don't need and click "Remove" button.
3. Delete Safari Preferences File
If still, Safari working slow on MacBook, then you can easily fix it by deleting the "Preferences" file integrated with the browser. The said procedure is actually very simple, let's have a look. Here's how to make Safari faster;
Step 1: Exit Safari on your Mac and launch "Finder".
Step 2: You can use "Command + Shift + G" to launch, as it is a shortcut.
Step 3: Just enter ~/Library/Preferences/ and hit "Enter".
Step 4: Now, you have to look for a file name "com.apple.Safari.plist" and simply delete it.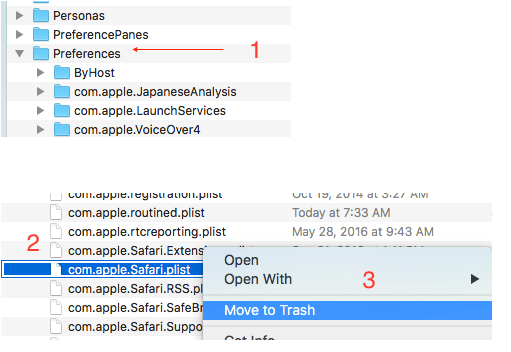 But there is a downside to this procedure. If you execute then all the browser settings will also be deleted.
4. Remove Autofill on Safari
If you are still asking why is Safari running so slow on my Mac? Then, the previous method didn't work for you or just you failed to integrate them properly.
Don't worry, Safari is still fixable with other available solutions. This method that we are about to discuss is a bit different, as it is regarding the "Autofill" feature of the Safari browser.
The feature is especially handy when it comes to passwords and numbers. Still, there is a possibility of making Safari super slow if it has stored too much data. So, the best possible way to fix it is to turn off the said service. So, here's how to speed up Safari:
Step 1: Launch the Safari Browser on your Mac.
Step 2: Navigate to "Preferences" from the "Menu Bar".
Step 3: After that, just go forth and select "Autofill" tab.

From here, you will be able to disable the service for any user. Simply click on the button called "Edit" and the data stored on the Autofill will be visible. Now, you can just delete the Autofill that you don't require.
5. Update Mac Operating System
If you are using an older version of MacOS, then it could be the cause behind the slow performance of Safari. All you need to do is to update the OS immediately.
But before you proceed, you need to prepare your Mac for the said procedure. First, you need to make a backup of the files and you also need to free up space for installing the updated version of MacOS. We recommend using Umate Mac Cleaner for cleaning the undesired files from your Mac because it is 100% safe. And then, follow the steps below.
Step 1: First, you need to visit the App Store.
Step 2: Go to the Top Menu and check for available updates.
Step 3: If you see your desired software update, click "Update" and wait for the latest MacOS to get downloaded and installed.
Step 4: Upon completing the procedure, the Mac will be restarted.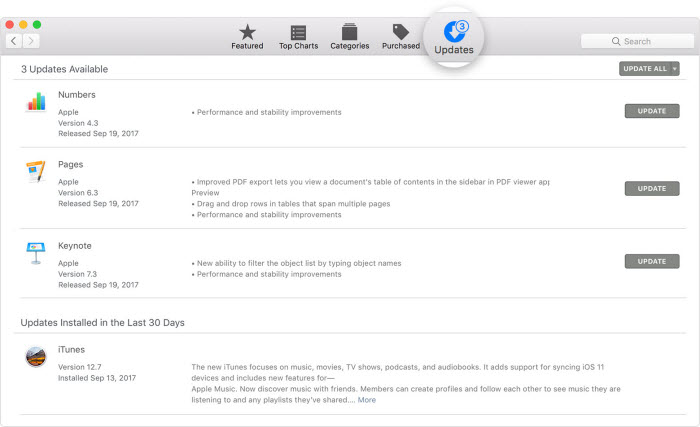 Hopefully, after updating the OS, Safari will perform as it is supposed to.
Recommended: Speed Up Safari and Even Your Mac in a Jiffy
Even though all the discussed fixes are excellent, and they are equipped to make the Safari run faster; Umate Mac Cleaner is still a better and more efficient way to achieve the said speed. It is a great cleaner application which can clean up the junk files and send your Mac back to its optimal condition. The app is even capable of fixing Safari browser, clearing up its junk files and speeding it up.
So, if you are wondering, how do I speed up Safari on my Mac or how to speed up a Mac, Then stop looking around, Umate Mac Cleaner is definitely the best option to move forward.
Reasons & Advantages
Easy installation and operation, especially designed for Mac beginners or users who hate troubles.
This app will do the scanning and detecting job automatically, thus increase your efficiency.
All-in-one tool that contains advanced speedup and cleanup capabilities.
Cost-effective and available for 5 Mac devices.
Significantly free up 40% disk space and make the Mac/Safari run 3X faster.
Recommended and trusted by many famous tech sites like Macworld, MakeUseof, Cult of Mac and more.

Everything You Can Do with Umate Mac Cleaner
Clean Up
Speed up
Erase Privacy
Manage Apps & Extensions
Introduction
- Quick cleaning
- Deep cleaning
- Disable Mac startup items
- Deactivate high-CPU apps
- Remove launch agents
Wipe Mac usage traces and personal private data
- Uninstall applications
- Remove extensions
Cleanable Files
System junk, app junk, trash files, installed package, iTunes cache and broken files, iOS junk, downloads, large files, unused disk images and more.
Login items, secret launch agents, heavy consumers and more.
Online traces like cookies and browser history, iMessage chats, recent usage traces, mail attachments, photo junk and more.
Unwanted apps as well as related files, internet extensions, Quicklook extensions, Spotlight extensions, dictionaries extensions and more.
Overall Ratings

Ease of use:
Effectiveness:
Performance:
Write in the End
There are actually multiple ways to speed up Safari browser on MacBook/iMac Pro. The solutions are very simple, each associated with different Safari slowdown issue. But using Umate Mac Cleaner is still the better option, no matter the issue, the app will fix it up within minutes. Just go for it!