Now that Citrix Receiver has been replaced by the faster and more up-to-date Citrix Workspace, many users are scrambling to uninstall the older format to make way for the new. The process for doing a complete uninstall of Citrix Receiver isn't as complicated as you may think. Still, it does require following some pretty essential steps to avoid any mistakes. However, there is an easy way to safely uninstall Citrix Receiver for Mac users.
In this post, I will show you why we don't need Citrix Receiver anymore and how to uninstall it for safety and free! Let's get start now!
Part 1: What is Citrix Receiver?
The Citrix Receiver was developed and launched in 2009 as a tool that allows you to connect to virtualization platforms like XenDesktop. It allows you to run virtual desktops on your computer. This is incredibly handy for remote workers, IT departments, and team-based projects. It is a safe platform for sharing information because everything you complete is stored on a remote server instead of your local device. This way, you won't unintentionally transfer compromised files or grant access to information others should not see.

A good example would be a manager accessing their employee's PC. Citrix creates a secure connection using HDX protocols built on top of ICA protocols. This way, you can use all of your peripherals across the servers to communicate with remote devices.
Part 2: Citrix Receiver is Unnecessary on Your Mac
The Citrix Receiver application was discontinued and superseded by the new, up-to-date Citrix Workspace. This means you should not still be using the native Citrix Receiver app because it no longer receives support. Even though you can still find the program through third-party sites for downloading, you will not receive security fixes or patches that plug any potential holes in the program. The further we get from the date of stopped support, the more likely the program will become susceptible to attack and infiltration.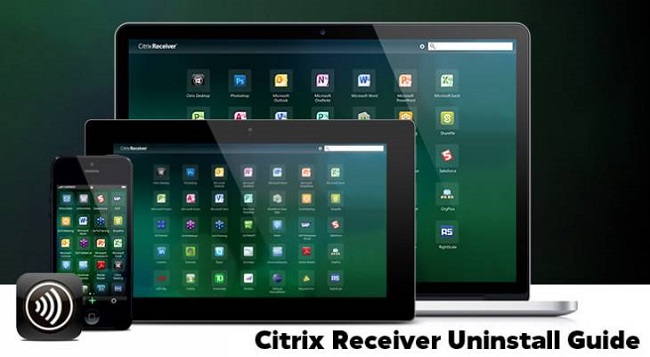 You will most likely lose the ability to connect to the Citrix Cloud service if you still use the out-of-date Citrix Receiver. This is because the required TLS (Transport Layer Security) 1.2 cryptographic protocol is no longer supported by the older Citrix Receiver application. Without that protocol, you cannot create a secure connection.
Don't worry if you are confused by the upgrade in applications. You will still get all the same functionality of Citrix Receiver when you upgrade to the new Citrix Workspace application. You will even get some new features and tools that help smooth out some of the older security and speed issues. Before you can upgrade, you need to uninstall the Citrix Receiver app from your Mac entirely to avoid conflict with the new application.
Part 3: How to Uninstall Citrix Receiver on Mac Manually
The good news is that Citrix Receiver has a built-in uninstaller utility. This is because it came preinstalled on many machines of that era. Companies wanted to quickly remove it from systems that would not use the technology to free up space and resources. Unfortunately, sometimes the uninstaller would automatically remove itself after a new install of Citrix Receiver was placed on a device. For that reason, you need to know how to manually uninstall and remove the application from your Mac OS and other devices.
Here is the step to uninstall manually:
1 – Start by locating your Download folder and looking for the Installer Package you downloaded when you first installed Citrix Receiver. If you do not have this package available, you can find the file on the Citrix website and get the download package from the Mac client.
2 – Double click the file to check it and mount the .dmg file.
3 – Look for the disk image and locate the uninstaller file. Once found, double-click the file to launch it.
4 – Find and select the file called "Uninstall Citrix Receiver."
5 – Follow the instruction dialog on your screen step by step to ensure you have completed the uninstall procedure.
6 – At one point, you will need to enter your name and password to ensure the uninstall has occurred on your Mac.
7 – Restart your Mac.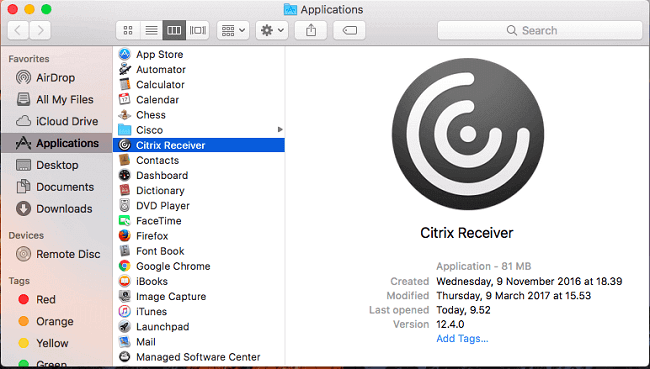 Tips
Once you have completely uninstalled the Citrix Receiver from your Mac, you will still need to go back and remove any and all related files so there will not be any conflict with the new application.
The easiest way to do this is by leveraging the "Go to Folder" feature available from the Go menu of your Finder.
1 – Go to the app folder and look for "Citrix Receiver.App", then drag that into the trash.
2 – Open your Finder and click on the Go menu. Select Go to Folder.
3 – Type /Library into the box.
4 – Look for the following files, then drag them to the trash:
/Internet plug-ins/CitrixICAClientPlugIn.plugin
/LaunchAgents/com.citrix.AuthManager_Mac.plist
/LaunchAgents/com.citrix.ServiceRecords.plist
Note
These are the launch agents that will speed up your Mac by not conflicting with other start-up programs.
5 - Go back to the Go menu and type /users/Shared to locate the /Citrix/Receiver. Locate the Integration folder and then put that in the trash.
6 - Locate the /Library from the Go menu and locate, then drage the following files:
/Internet plug-ins/ CitrixICAClientPlugIn.plugin
/Application Support/Citrix Receiver
Citrix
Config
Module
/Preferences/com.Citrix.reciever.nomas.plis
/Preferences/com.Citrix.reciever.nomas.plist.lockfile
/Preferences/com.Citrix.recieverFTU.AccountRecords.plist
/Preferences/com.Citrix.receiverFTU.AccountRecords.plist.lockfile
7 - Go to /Application and drag all the apps you previously added in Citrix Receiver into the trash.
8 - Go to this file: /private/var/dB/recipients and drag then trash these files:
Citrix.ICAClient.bom
Citrix.ICAClient.plist
9 - You're all done! You can now empty the trash.

Part 4:Remove Records Generated by the Follow Me Data feature on Citrix Receiver

The Citrix Receiver application came built with a service called Follow Me Data. The goal of this service was to make it easy to log back into servers and instances you have already accessed. The software wanted to make every experience you had as seamless and efficient as possible. To altogether remove Citrix Reciever from your Mac, you need to remove the Follow Me Data.

1 - Browse to these folder locations and clear their contents by placing them in the trash:

~/Applications/Citrix/FollowMeData
~/Library/Application Support/ShareFile
/Library/PreferencePanes/FMDSysPrefPane.prefPane

2 - Go do and delete the following files. These contain installation details and your user data:

/private/var/db/receipts/com.citrix.ShareFile.installer.plist
/private/var/db/receipts/com.citrix.ShareFile.installer.bom
~/ShareFile
/private/var/db/receipts
com.citrix.ShareFile.installer.plist
com.citrix.ShareFile.installer.bom

Now you have removed any trace of Citrix Receiver and safely uninstalled it from your Mac system. It is now safe to install the new Citrix Workspace application, but you may want to restart your Mac first. Also, always double-check to make sure nothing is left in your trash can. That way, a new install won't conflict with similar files still on your system.

Part 5: Uninstall Citrix Receiver On Mac Using Umate Mac Cleaner

You don't need to operate a series of complicated processions shown above with the use of Umate Mac Cleaner. It is a professional program to help you remove or delete things you don't want in your Mac. With just a few clicks, it can help you uninstall Citrix Receiver on your Mac. The one more advantage of this App is that you can select the files you want to keep and delete what you needn't anymore so that you can delete Citrix Receiver on your Mac and keep the files you feel it is important to you.

Just three steps you can finish all procession!

Step 1.Install Umate Mac Cleaner and open it on your Mac. Then log in to it. Swipe down to "Manage App & Extension".

Step 2.Tap "Uninstall Application" and click on "View Items" to load all Apps on your Mac. Then you can see detailed information about your Mac's software like install date, size, use frequently, and so on. It can help you decide which App you can delete permanently.

Step 3.Click the "Uninstall" button, and you can remove the App you don't want to use anymore.

Part 6: FAQ about Citrix Receiver

1

How do I reset my Citrix Receiver on my Mac easily?

The easiest method is through the icon in your system tray. Right-click on the receiver icon. Click "Advanced Preferences" and locate the option to "Reset Citrix Receiver." Click on that option and select Yes, then OK. This should reset your version of Citrix Receiver. This process is also the simplest way to reset your Citrix Workspace application as well.

---

2

Where is Citrix Receiver on Mac?

You can still find old installs of Citrix Receiver on their website www.Citrix.com. The easiest way to see if you have it installed on your Mac is to click on the Finder. Select Applications in the left sidebar and then look for any reference to Citrix in that folder.

---

3

How do I open a Citrix file on a Mac?

Citrix is a communication tool that allows you direct access to files from remote locations using specific protocols. As long as you have access to the file, you can quickly select them using the Citrix File folder in the finder. First, you open the Citrix File folder in Finder, then drag the file and drop it onto your desktop. All you have to do then is double-click the extracted file to open it up.

Conclusion

As you can see, if you choose uninstall citrix receiver manually, the procession is a little complicated and you may handle wrong if you not so familiar with it. So, the way we most recommended is use Umate Mac Cleaner to help. It is 100% safety and help you remove fast. Try to use this tool if you can't handle it for yourself!