What if you suddenly forget the pin to Viber hidden chat and you need to open the private chat, perhaps, for a very urgent business deal? You could get mad at that very time, no doubt! You should not wait until such happen before you have a solution ready.
There are many other different situations where you need to open your Viber hidden chat but find it difficult to do. We are going to show you the solution and you will find it particularly useful, especially if you are presently trying to open the hidden private chat. However, what exactly is Viber hidden chat?
What Exactly Is Viber Hidden Chat
These are chats on Viber that are hidden away in a different section and can only be opened using a certain Pin. Hidden chats will not appear in your regular chats list. People use this measure to have privacy on certain chats. So, it can be beneficial but how would you hide the chat?
How to Hide A Chat in Viber iPhone
As already mentioned, hiding your chat have some benefits, especially privacy. So if you want to hide a chat on Viber, you just need to follow the simple steps below.
Open Viber on your iPhone.
Choose the chat you want to hide and click.
Now, swipe the chat to the left.
Proceed to choose Hide chat and follow the prompts.
Once created, enter the 4-digit Pin and the chat will not show in the regular chats.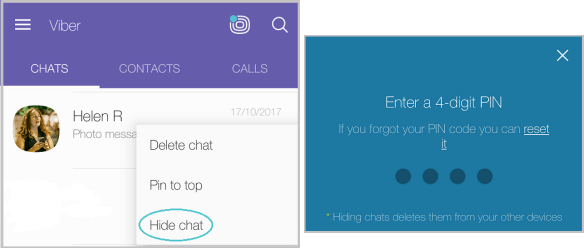 Now that you have known how to hide the chat, what about opening it? The steps below can help you.
How to Find and Open A Hidden Chat in Viber iPhone
Go to your Viber Chats interface.
On the search bar above, put your 4-digit PIN or use the name of the chat.
The hidden chat will be shown.
Now, click on it and input your 4-digit PIN to open the message.
That is all. Very simple, right? But….wait, what if you want to unhide a chat you already hidden? There is a different step to do that. Follow the steps below.
How to Unhide A Chat on Viber iPhone
Go to your Viber Chat interface again.
Swipe the screen to the left or just select the gear icon on the top-right corner of the interface.
Now, move down to locate "Unhide This Chat" option.
Click on the "Unhide this Chat" option and type your 4-digit PIN (you may choose to scan your Touch ID).
Once the PIN is confirmed, the chat will be visible in your chats interface.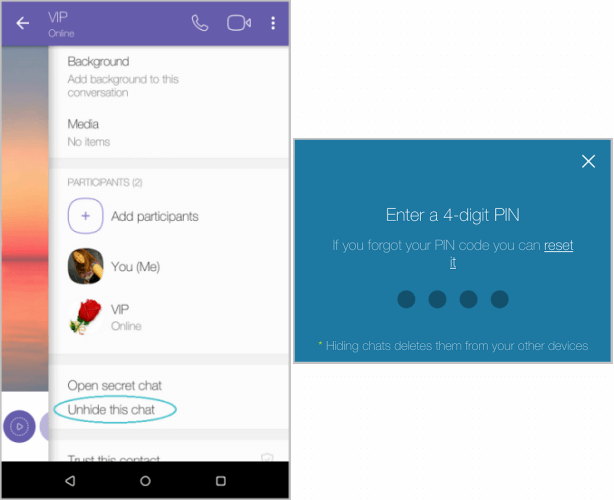 With all the steps above, you can hide, find, or unhide a previously hidden chat. It is not complicated at all. So now, what if you want to delete the Viber message for privacy reason? That may sound impossible, but we have a solution.
How to Safely Delete Viber Hidden Chat for Privacy Protection
Deleting your Viber hidden chat from the screen is almost impossible, but you can use a wonderful program to get it done quickly and safely. The app program in question is called: iMyFone Umate Pro iPhone Data Eraser.
iMyFone Umate Pro is a software program specifically designed to help you erase or completely delete any unwanted Viber hidden chats/messages from your device for privacy reason. Below are few of the great features of Umate Pro.
Key Features:
Preview and Select: You can first preview the chats and select the particular ones you no longer need, then delete them at a go.
Existing & Deleted Chats: It scans everything stored in Viber including the existing files or previously deleted messages, and erases them forever.
Delete Viber Traces: Private fragments left by Viber or other apps will be completely effaced for privacy security.
Delete Caches: Caches resulting from your use of Viber and other activities can all be cleaned for free.
Steps to Completely Erase Viber Chat on iPhone
Step 1. Download and install Umate Pro. Connect your iPhone to PC using a cable.
Step 2. Choose erase mode to use. You can choose "Erase Private Data", "Erase Deleted Files" or "Erase Private Fragments" depending on your needs. Let it scan your iPhone.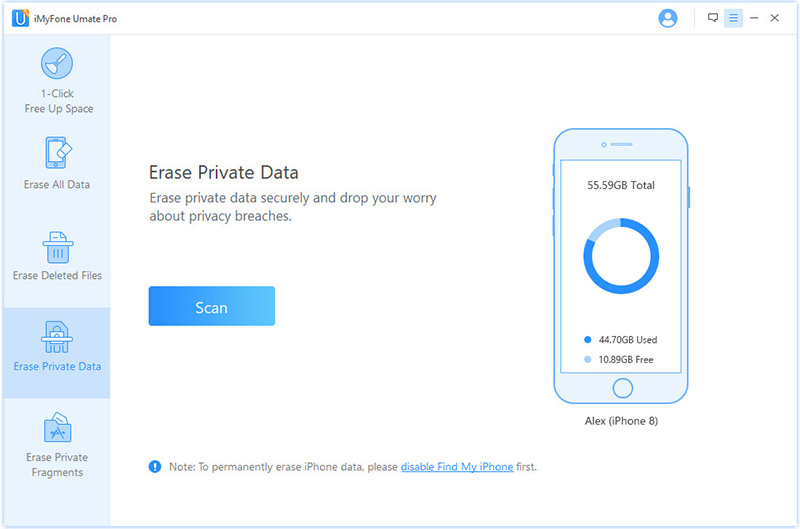 Step 3. When it's done, you can click file item from the left-side menu to preview data, like Viber, messages, call history, browsing history, notes, voice memos, WhatsApp and many other iPhone data. Select the Viber chats or messages or you want erase and click "Erase Now" button.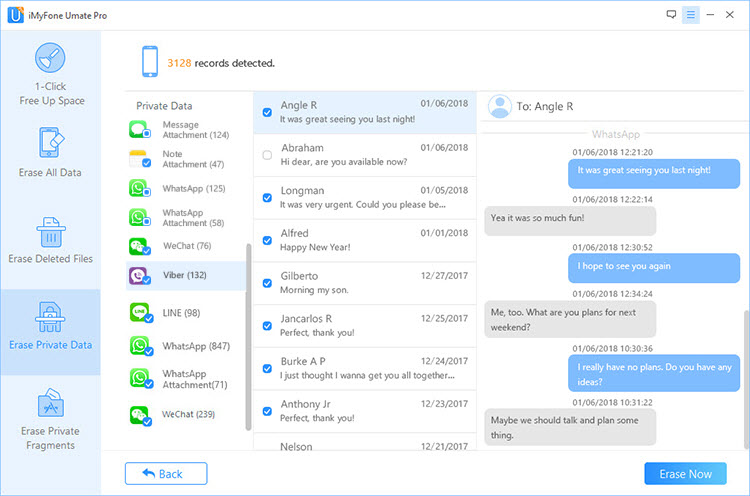 Step 4. Confirm the deletion by typing "Delete" into the box and tapping "Erase Now" again.
iMyFone Umate Pro allows you to do the scanning and operate previews for Viber existing chats, deleted chats or leftover traces for free. If you want to continue erasing the data, please
purchase the license and register first.
20% Off Coupon Code for iMyFone Umate Pro >>
How to Change or Reset Viber PIN
The last tip will guide you to change or reset your Viber PIN number.
On your Viber, open the More screen and click on Settings.
Go to Privacy.
Locate Hidden Chats and click.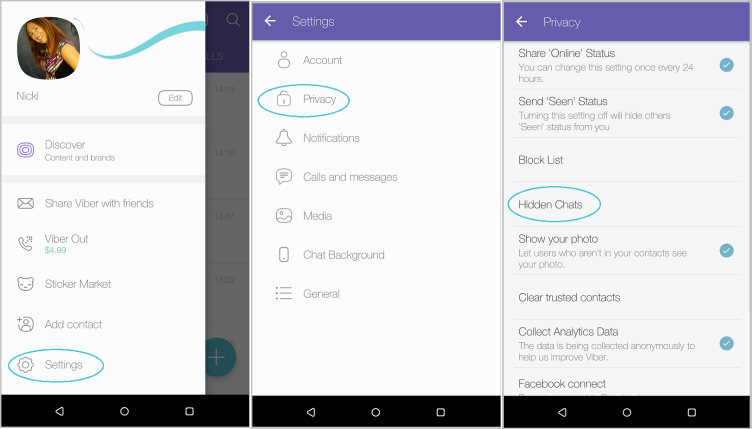 Select Reset PIN or Change PIN.
It will ask you to input your 4-digit PIN if you choose Change PIN.
Type in the new PIN and confirm it when you are asked to do so.

You should note that, if you reset your PIN, your current hidden chats will be deleted as well.