What is iPhone Safe Mode
iPhone Safe Mode is a way to run iOS on a jailbroken iPhone. It ensures that all the substrates (e.g. tweaks, themes, or other add-ons and extensions) that can cause trouble to an iOS system or to other tweaks are disabled once the iPhone boots into safe mode. This would help you to troubleshoot your iPhone or remove the substrates that are causing such problems.
Hence, with iPhone safe mode, you can easily uninstall any tweak because all of them are disabled. Safe Mode can also pop-up automatically if the iOS system detects a problem with any tweak. But there is a manual way to enter (enable) or exist (disable) safe mode on iPhone, and we've discussed these processes in the following paragraphs.
How to Enable (Enter) iPhone Safe Mode
If your iPhone starts malfunctioning, it's important you manually switch to iPhone safe mode. Once you are in the safe mode, all you need to do is to remove the last tweak you installed (because that's often the problematic tweak) to resolve the problem.
Here is how to manually enter safe mode on your iOS device:
Step 1: Turn your iPhone off.
Step 2: Once the device is completely turn off, turn it on by holding down the power button.
Step 3: Once your iOS device lights up, hold down the Volume down button until you see the Apple logo.
Step 4: When the iOS device has booted, it will be in safe mode. Now, you can remove any tweak or theme that's causing the issue.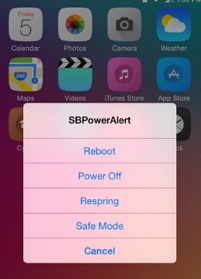 How to Disable (Turn off) iPhone Safe Mode
Sometimes, how to turn off iPhone safe mode may be confusing especially when your iPhone gets stuck in safe mode. But, you don't have to worry because there are many ways to disable iPhone safe mode. We've discussed 4 methods as follows:
1 Choose "Restart" from Safe Mode Notification
To choose Restart is the easiest way to back out of iPhone Safe Mode. This process doesn't have any complex navigations to it, and it can be done just with the following 1-step:
Click "Restart" from the Safe Mode pop-up message and your iPhone will restart. If the problematic tweak has been removed, your iPhone will be in normal mode.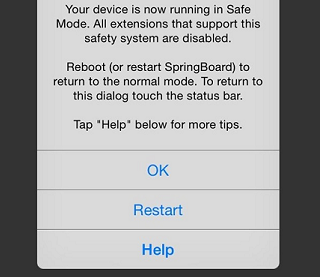 2 Hard Restart iDevice
When you restart from Safe Mode notification and it still leads you back to Safe Mode, then you'll need to hard restart your iDevice.
Step 1: Hold down the Power and Home button together until your device turns off completely and restarts.
Step 2: Ignore the "Slide to Unlock" that would appear on your iPhone screen, and wait for your iPhone to fully start. Your iPhone should be in normal mode afterward.
3 Delete Incompatible Packages
If your iPhone is still entering Safe Mode after a Simple and Hard restart, then you'll need to delete erratic and incompatible Cydia packages in the system. This often times is the trouble that the iOS system is facing.
Step 1: Open CydiaSubstrate and remove the last or problematic tweaks or extensions.
Step 2: Reboot your iPhone. If the iPhone boots correctly, then it would be in the normal mode.
4 Complete Reset iDevice using Third-Party App
If the above methods cannot help you fix the problem, then you should try this one. The iMyFone Umate Pro iPhone Data Eraser for Win or for Mac is an iPhone data erasing tool that can completely wipe out all the data on your iPhone and make it brand new. Umate Pro iPhone Data Eraser does more than just resetting your iPhone, it can erase previously deleted files and current iOS files on a jailbroken and non-jailbroken iPhones. It's recommended by lots of media, like MacWorld, iPhoneinCanada, APPKED, etc.
Key Features:
It renders all deleted data 100% unrecoverable even beyond the reach of strong recovery tools.
It can scan all previously deleted files and permanently wipe such files in order to leave no trace of them on your iDevice.
It ensures that all private data such as SMS messages, call history, photos, WhatsApp messages, Wechat messages, etc. can be selectively erased or wiped at one.
It offers other special functions such as erasing third-party apps and the needless fragments from your iPhone.
All junk files on your iOS device will be scanned and erased for free.
The Steps to Completely Reset your iPhone:
Step 1: Download and install iMyFone Umate Pro iPhone Data Eraser on your Mac or PC. Connect your iPhone to your PC using USB cable, and launch Umate Pro.
Step 2: Click "Erase All Data" mode and click the "Scan" tab to scan your iPhone for private data.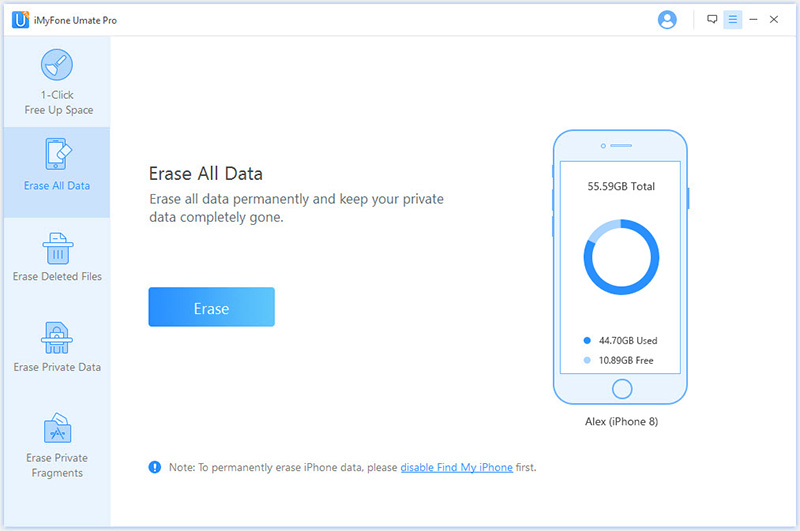 Step 3: At the end of the scanning process, all your private files will be displayed for you to preview before erasing. You can choose to select all or some of the files. After selecting the files to erase, click "Erase Now" button.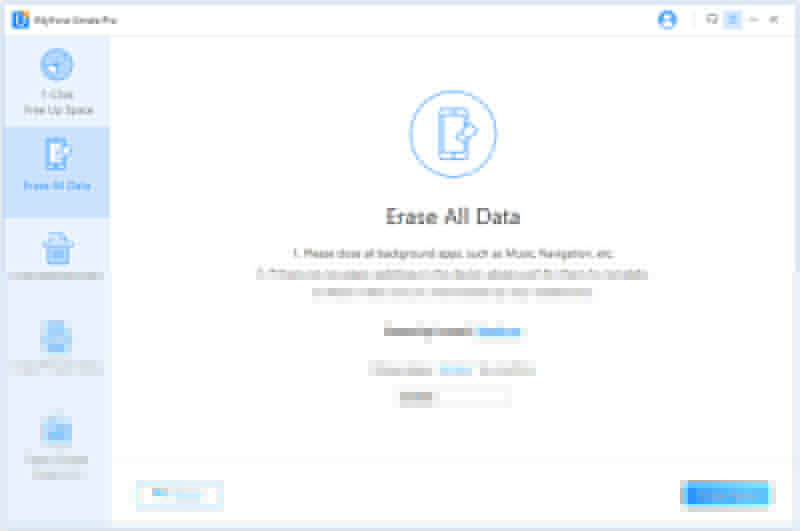 Step 4: Choose a security level and click "Erase Now" again to start erasing your private data.
Some Issues that Can Be Fixed by iPhone Safe Mode
There are several iOS issues that can be corrected by entering iPhone Safe Mode. Here are some instances when safe mode is needed:
When there is need to load only required extensions.
When you want to disable pre-installed tweaks.
When you want to prevent extensions from opening automatically.
When you want to delete tweaks that are no longer needed.
Now you should know how to enable or disable your iPhone safe mode after reading this article. If it did not help after a hard restart on your iPhone, then you can try a complete reset your iPhone by using a third-party reset tool like iMyFone Umate Pro, which can help you completely reset your iPhone and start all over again. So you can use your iPhone normally without any trouble.