What is iPhone Safe Mode?
iPhone Safe Mode is a way to run iOS on a jailbroken iPhone. It ensures that all the substrates (e.g. tweaks, themes, or other add-ons and extensions) that can cause trouble to an iOS system or to other tweaks are disabled once the iPhone boots into safe mode. This would help you to troubleshoot your iPhone or remove the substrates that are causing such problems.
Hence, with iPhone safe mode, you can easily uninstall any tweak because all of them are disabled. Safe Mode can also pop-up automatically if the iOS system detects a problem with any tweak. But there is a manual way to enter (enable) or exist (disable) safe mode on iPhone, and we've discussed these processes in the following paragraphs.
How to Enable (Enter) iPhone Safe Mode
If your iPhone starts malfunctioning, it's important you manually switch to iPhone safe mode. Once you are in the safe mode, all you need to do is to remove the last tweak you installed (because that's often the problematic tweak) to resolve the problem.
Here is how to manually enter safe mode on your iOS device:
Step 1: Turn your iPhone off.
Step 2: Once the device is completely turn off, turn it on by holding down the power button.
Step 3: Once your iOS device lights up, hold down the Volume down button until you see the Apple logo.
Step 4: When the iOS device has booted, it will be in safe mode. Now, you can remove any tweak or theme that's causing the issue.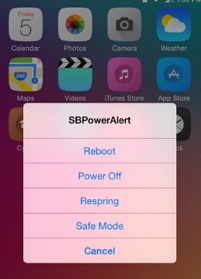 How to Disable (Turn off) iPhone Safe Mode
Sometimes, how to turn off iPhone safe mode may be confusing especially when your iPhone gets stuck in safe mode. But, you don't have to worry because there are many ways to disable iPhone safe mode. We've discussed 4 methods as follows:
1 Choose "Restart" from Safe Mode Notification
To choose Restart is the easiest way to back out of iPhone Safe Mode. This process doesn't have any complex navigations to it, and it can be done just with the following 1-step:
Click "Restart" from the Safe Mode pop-up message and your iPhone will restart. If the problematic tweak has been removed, your iPhone will be in normal mode.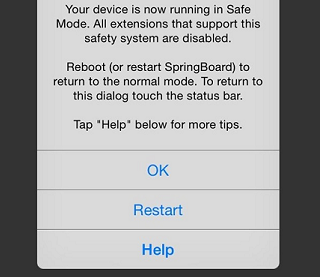 2 Hard Restart iDevice
When you restart from Safe Mode notification and it still leads you back to Safe Mode, then you'll need to hard restart your iDevice.
Step 1: Hold down the "Power" and "Home" button together until your device turns off completely and restarts.
Step 2: Ignore the "Slide to Unlock" that would appear on your iPhone screen, and wait for your iPhone to fully start. Your iPhone should be in normal mode afterward.