You pick up your phone and touch the screen to do your daily tasks like calling, messaging, using the internet, etc, but to your dismay, the bottom of your iPhone screen is not working. That means your iPhone is ignoring all the swipes and it is not recognizing any touch or taps at the bottom of your screen. This must be annoying when you find that the world's best phone is giving you this issue.
The Bottom part of iPhone screen not working but you don't know how to deal with it? In this article, you will not only find the reasons why this happens but also learn the best ways to fix this problem.
You can watch this video before reading the post
Reasons why Bottom of iPhone Screen not Working
When there are touch issues, you will not be able to use your iPhone properly. Before seeing the solutions, you should know why this issue is occurring. Let's see some common reasons for this issue.
You might have dropped your iPhone recently and the digitizer, which is the physical part of the display responsible for processing touch, stops working correctly.
If you attempt to jailbreak your iPhone but it does not go according to the plan, the device can become unresponsive.
If you are using a screen protector of poor quality, this issue may occur suddenly.
Sometimes even the error in software update can make the screen unresponsive.
The reason for this issue can be anything. Here are the top solutions that can eliminate it quickly so that you start using your iPhone again.
Way 1: Fix Bottom of iPhone Screen Not Working without Data Loss
How often we see that you are trying to fix an iOS issue and you lose your iPhone data in the process! Now, fix any kind of iOS issue in your iPhone without losing any data by using iMyFone Fixppo software designed to fix various kinds of issues in your iPhone. It works on all the models of iPhone and supports all the iOS versions like iOS 14/13.
Now try the Standard mode of Fixppo to fix this issue without losing data from your iPhone.
Step 1. Open Fixppo on your PC and click "Standard Mode". Connect your device to it. Click Next. Unlock your iPhone, the program will detect your device. If the device is not detected, put it in DFU or Recovery mode. The instructions will be given clearly on the computer screen. Follow them and put the device in DFU or Recovery mode.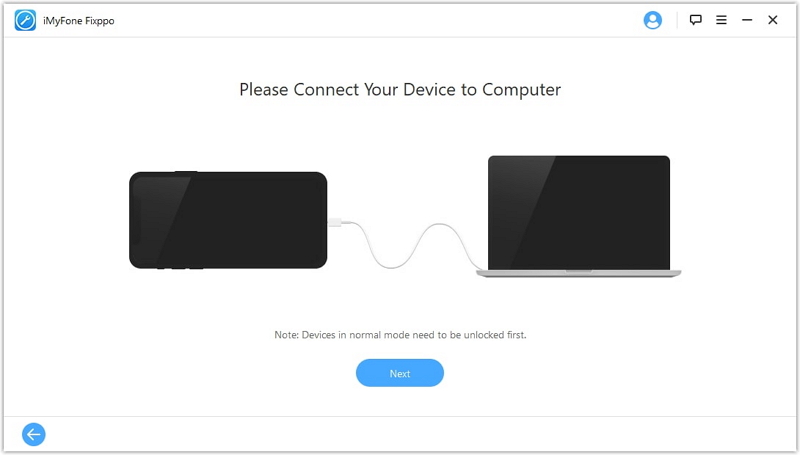 Step 2. After the device is in DFU or Recovery mode, the program will detect the device and display all the firmware versions. Choose any one version and click "Download".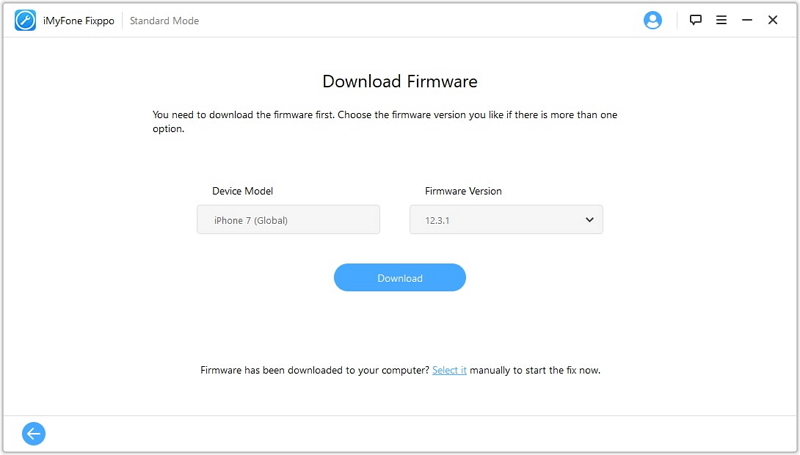 Step 3.After checking the device and firmware information, click on the Start button. The iOS fixing process will begin. After the process is over, restart your phone. The iPhone screen will be working correctly after the restart.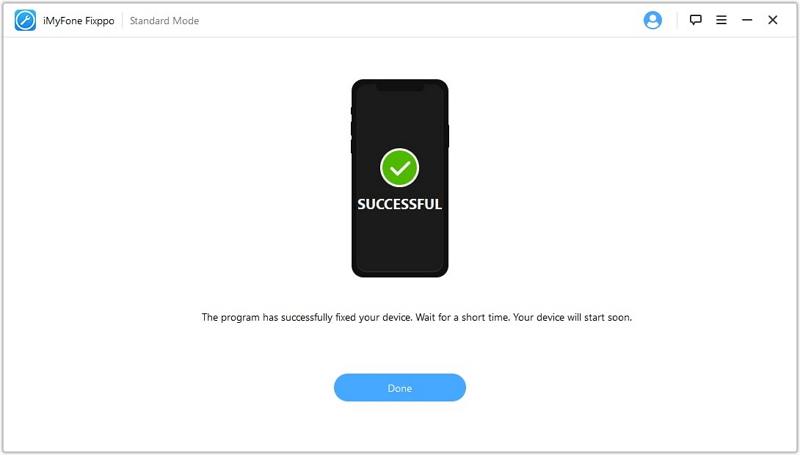 There are many positive reviews from the users and you can checkt the one below.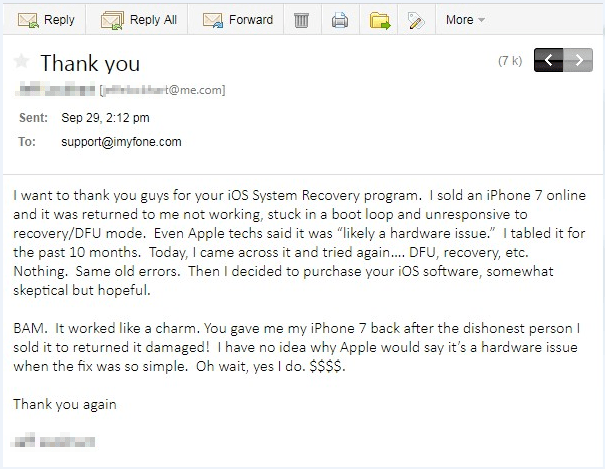 Way 2. Restart Your iPhone
The iPhone screen might not be working because of some processes running in the background. The simplest way to fix various iOS issues is to reboot your iPhone. Restart your device and check if the touch is working properly.
Step 1: If you are using iPhone 12/11/X or later models - Press and hold the Side button with any of the Volume buttons until you see the slider; if you are using iPhone 8 or earlier models - Press and hold the Side or Top button until you see the slider.
Step 2: Drag the slider to turn off the device. Wait for a few minutes and then turn on your iPhone.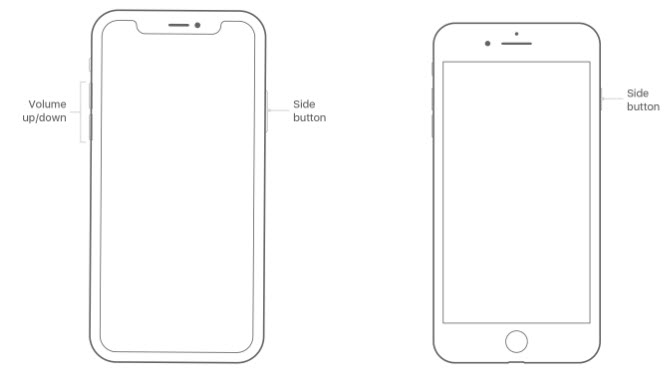 Way 3. Clean the Screen and Your Fingers
The next thing you should do is to clean the iPhone screen and your fingers. As you use your iPhone every day, oil, dust, moisture, residue or liquid can get stuck on the screen. This might interfere when you are tapping or sliding your fingers on it.
So, you need to clean anything and everything that might be interfering with the touch. Wipe the screen with a soft cloth and also, wash your hands and check if the iPhone is detecting your touch.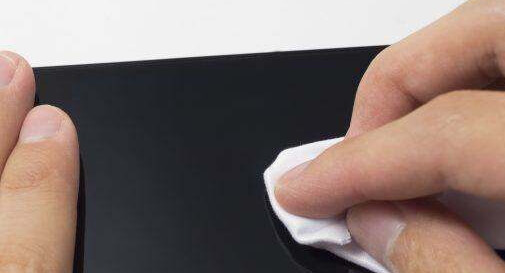 Way 4. Remove Screen Case 
Most people use a screen protector or a case on their iPhone as the screen is vulnerable to damages if you drop your phone accidentally. But sometimes the screen protector can also be the reason for the bottom part of iPhone screen not working problem. So, remove any case or a screen protector that you are using on your iPhone.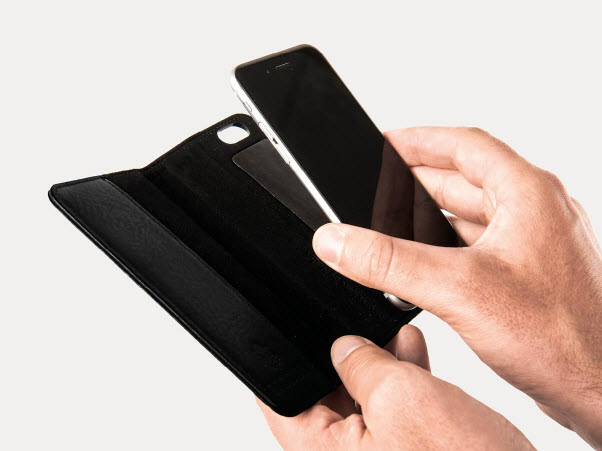 Way 5. Free Some Storage on Your iPhone
When the storage memory of your iPhone is full, your iPhone screen may become unresponsive. When you continuously use your phone, many videos, pictures and other big files get stored on it. Check the storage on your device.
Step 1: Go to Settings -> General.
Step 2: Tap on iPhone Storage.
All the details of your storage will be seen. This will also include the memory that is available on your iPhone. If there is no space available, consider deleting the data. Make sure that you make a backup of your iPhone before deleting any data from your device. 
Way 6. Delete Unnecessary Apps
When we have enough storage memory available, we tend to download numerous apps on our iPhone even if they are not useful to us. In some cases, the screen may be unresponsive only when you use a specific app. That app might not be compatible with the iOS version of your device. So, delete all the unnecessary apps from your device.
Step 1: To delete an app, tap on the app icon and hold it for a few seconds.
Step 2: Now, tap on the (x) mark on the top right of that icon.
Step 3: Tap on "Delete" when asked.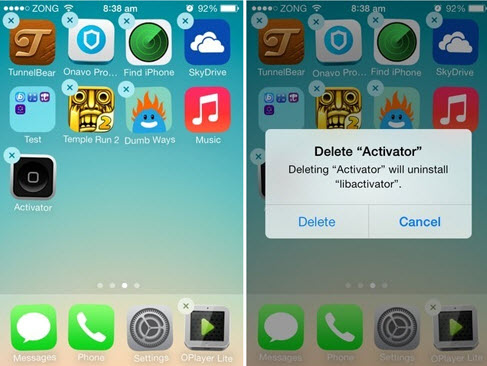 Way 7. Update All Apps
The old versions of the apps on your device can be the reason for this problem. If the bottom part of your device is not working while using the apps, consider updating all the apps from the App Store.
Step 1: Open App Store. Tap on "Updates" at the bottom.
Step 2: All the apps for which the updates are available will be shown.
Step 3: Tap on "Update All" that will be at the upper right corner of your screen.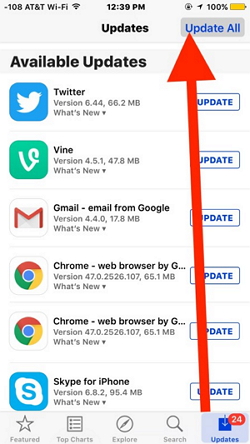 Way 8. Change 3D Touch Sensitivity
Even the 3D Touch feature on your device can be the reason for this issue. So, change the setting and then check if the bottom half of iPhone screen not working issue gets fixed.
Step 1: Go to Settings -> General -> Accessibility.
Step 2: Choose the 3D Touch. Toggle on or off the 3D Touch.
Step 3: If it is on, you can also change the 3D Touch sensitivity.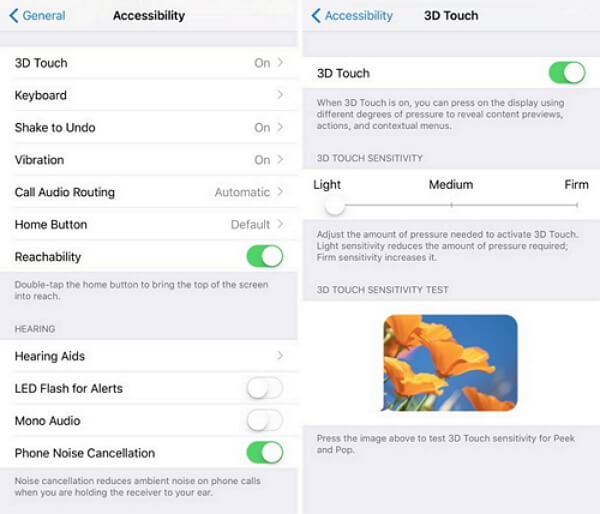 Way 9. Upgrade iPhone to Latest OS Version
The newer versions are pushed so that any software bugs on your iPhone will get fixed. Update your device and check if the issue gets fixed.
Step 1: Go to Settings -> General -> Software Update.
Step 2: Your device will start checking for new OS updates.
Step 3: If an update is available, tap on "Download and install".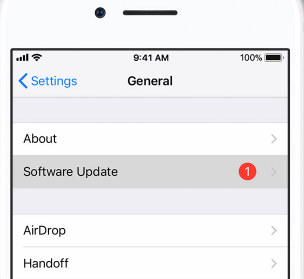 Way 10. Factory Reset Your iPhone
You can also try to fix this issue by factory resetting your iPhone. When you reset the iPhone, the entire iPhone data will be deleted and the settings will change to factory settings. Follow the steps given below to factory reset your iPhone.
Step 1: Go to Settings -> General.
Step 2: Tap on Reset and then tap on "Reset All Content and Settings".
Step 3: You will be asked to upload the data to iCloud. Tap on Erase Now and complete the process.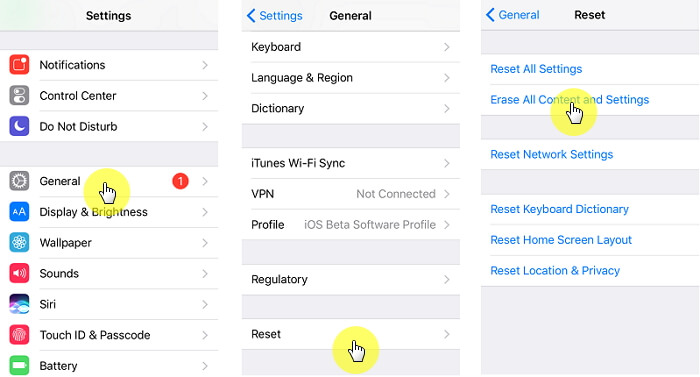 Way 11. Restore iPhone as New via iTunes
Many of the users have reported that their iPhone screen started to work after restoring their iPhone via iTunes. Even you can try this method to make your iPhone screen to work.
Step 1: Connect your iPhone to the computer and launch iTunes on it.
Step 2: In the iTunes window, click on "Device tab" that will be in the upper left corner.
Step 3: Now, choose Summary that is on the left side.
Step 4: Click on Restore Backup and confirm.
Step 5: Next, select the most relevant iTunes backup and click Restore. After the process is over, all the contacts, messages, notes, settings and calendars will be restored. Now check if the touch is working.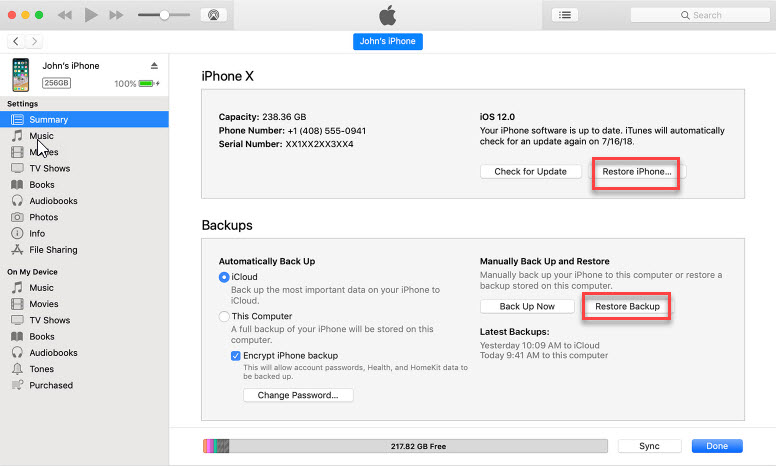 Tip. Back Up Your iPhone before Fixing
As you can see that you may lose your iPhone data while fixing. So, it is important that you make a backup of the iPhone data.
You can make a full backup of your device using official iTunes or iCloud before trying the above methods. If you don't want to lose the previous data of your device, you can use iMyFone D-Back software to select only the files you need to back up.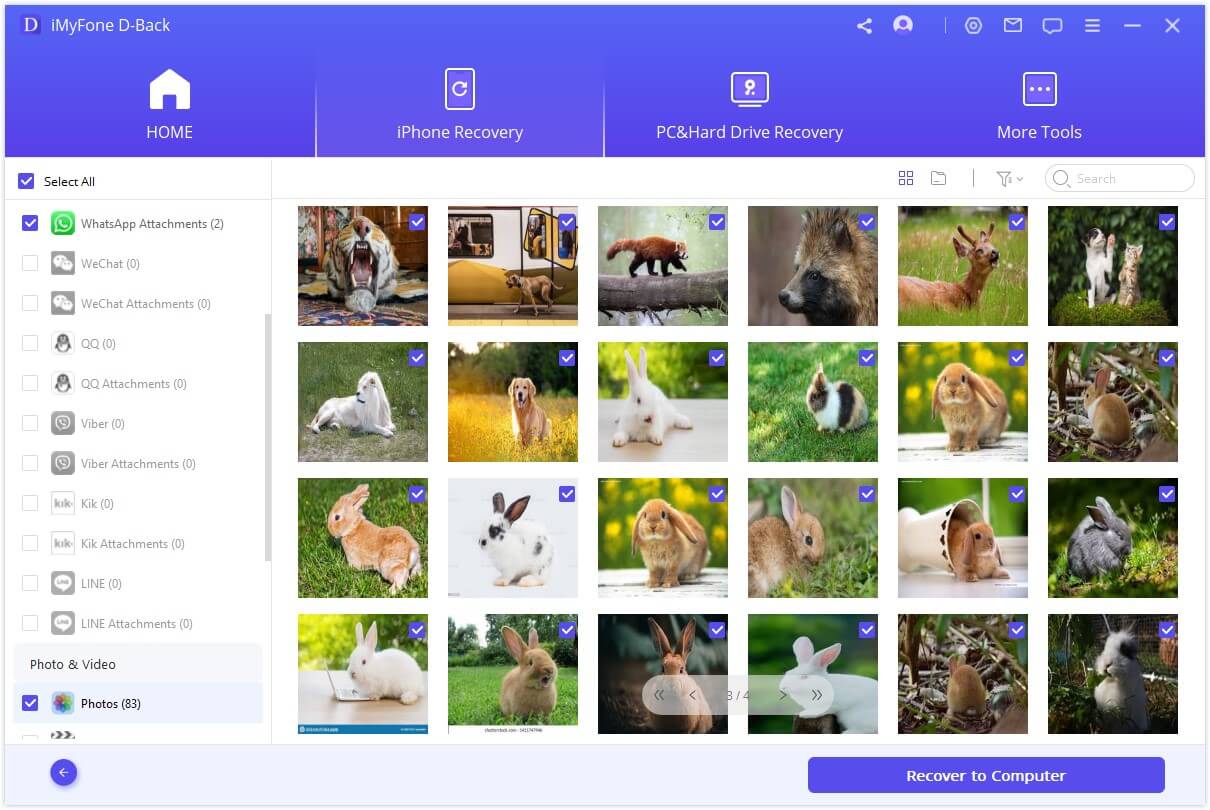 Conclusion
Now, you must be familiar with all the methods for fixing this issue. Follow the above steps carefully and fix the bottom of iPhone screen not working issue safely and quickly. Let us know in the comment section below if you have any other solutions.