Question
Hi, I'm here because my Gmail is not working on iPhone and I have to use it for some important work. It alerts me with 'Cannot Get Mail' and it says my user name or password is incorrect. I did enter the correct information. This is really strange. Is there any suggestion to fix this problem? Thanks!
We can understand the situation and this could irritate you when getting prompted to enter the correct password or username even when you have already done it. You may have something urgent and you have to check your email now, however your Gmail stopped working server issues. There are also some other problems of Gmail that actually happened to other users. When you met any problem with Gmail, this article is worth reading. We'll cover some potential solutions that you can attempt while such thing happens.
Common Gmail Not Working Issues on iPhone
Before we introduce the tips to execute when Gmail stops working, check out some of the common Gmail issues you might face.
Cannot get mail due to failed server

Error occurred while delivering the messages resulting in unable to send mail

Wrong username and password  

Unable to connect using SSL

Mail server being irresponsive

IMAP server stops responding
7 Tips to Fix Gmail Not Working Problem
1. Sign out Gmail Account and Sign back in
The foremost and the quick fix include signing out and signing in the Gmail account in your device when you find that Gmail stopped working on iPhone. Just open 'Settings' > 'Accounts & Passwords' > 'Google' > 'Delete Account'. Sign in now by again going to 'Settings' > 'Accounts & Passwords' > 'Add Account' > 'Google' and enter the details.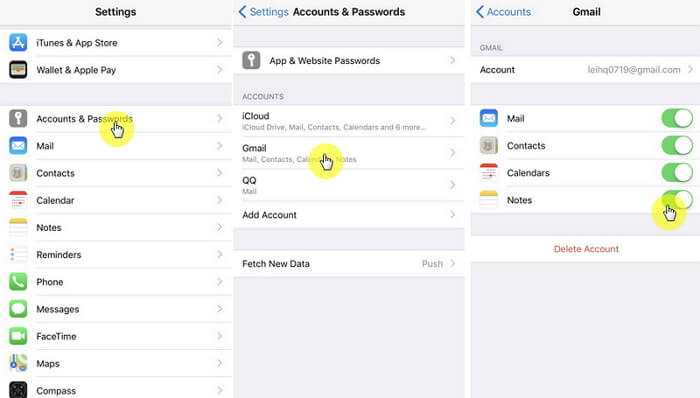 2. Verify Your iPhone User's Access
If the above tip didn't help, you need to run the Gmail website to get the complete details by checking alerts. Here are the steps:
Open web browser and visit gmail.com followed by typing in address and password.
When using iPhone, skip the pop-up asking you to download the app and tap on 'mobile Gmail site' link rather.
Check any box saying 'Someone has your password' or 'We blocked a sign-in attempt'. If this sort of alert is there, hit on the link that says 'Review Your Devices Now' or 'That Was Me' to fix the issue.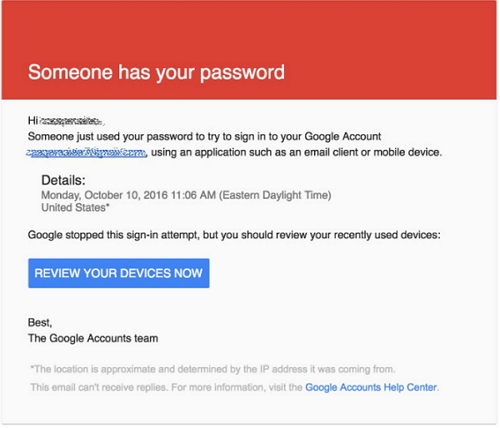 3. Check Recent Devices on Google.com
When Gmail is not working on iPhone, you should get into the 'Device activity & security events' setting and confirm your recent devices' activity. To do this, go to your profile icon at the top right corner and choose 'My Account' from there. Look for the 'Device activity & security events' option and click on it. After this, refresh mail on your iPhone and see your problem gets resolved. If it's still there, check out the further tip.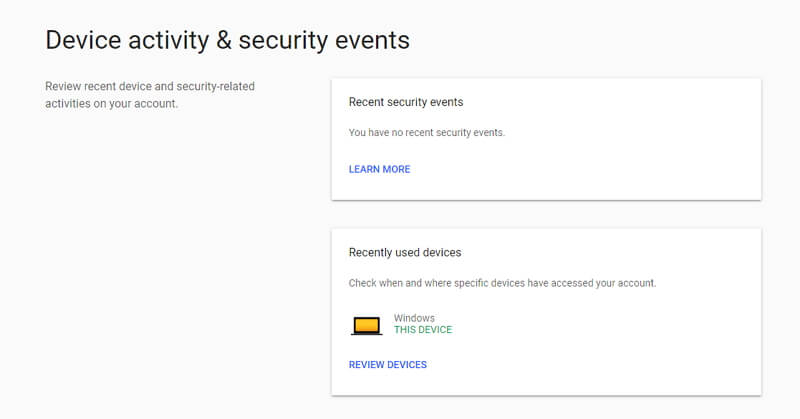 4. Do the CAPTCHA Reset
You can try the CAPTCHA reset when Gmail stops working on your iPhone. It is a fix gmail problem by unlocking Google's security features for the time in order to let the new device get connected to Gmail. To perform this, visit the CAPTCHA reset page and use your Google credentials to login. Click on 'Continue' now and post this, try to sign in to your Gmail account in your device. Hopefully it will work and from next time, Google won't forget your device.
5. Check If IMAP Is Enabled
IMAP is a technology that Gmail makes use of for mail exchanging process. If IMAP is disabled in your Gmail, there are higher chances that Gmail is not working due to this reason. The feature when turned off won't let you access your account and will act as hurdle in receiving or sending mails. To stop this problem, you need to enable IMAP through the following steps.
Head to your web browser and visit Gmail website.
Login with your details and choose the gear icon.
Select 'Settings' option from there and lastly hit on 'Forwarding and POP/IMAP'.
Ensure that IMAP is enabled or not by looking at the bottom.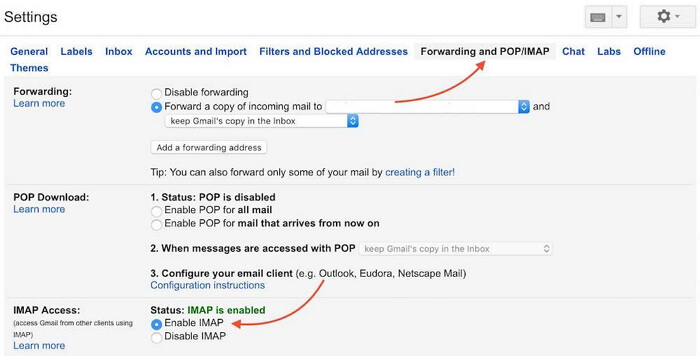 6. Reset Network Settings
Try to reset your network settings when Gmail stops working. This will reset your saved networks and passwords. Therefore, we would suggest making backup of that information if required. Once done, go to 'Settings' > 'General' > 'Reset' > 'Reset Network Settings'. Enter passcode and confirm resetting.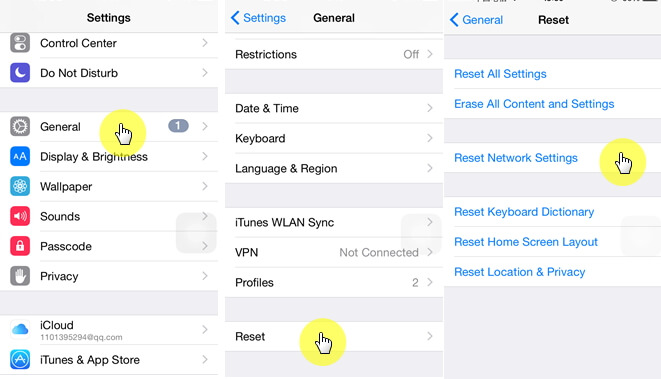 7. Fix Gmail Not Working on iPhone by Refreshing iOS without Data Loss
Unfortunately if the provided solutions didn't turn out to be helpful on each attempt and still your Gmail is not working on iPhone, a wise idea in such situation would be trying iMyFone iOS System Recovery , because there is a big possibility that the issue is occurring due to system malfunction.
This third-party tool is highly recommended since it's reliable and can fix all common iOS issues ultimately making the device back to normal. The problems include iPhone frozen issue, iPhone white screen, iPad blue screen, iTunes errors such as error 9 and so on. It was developped by iMyFone company which has been recommended by many famous media sites like Macworld, Cult of Mac, Payetteforward, Makeuseof and so on.
Apart from being the most compatible tool which supports all iOS devices, it helps the users repairing iOS problem they are facing without data loss in just 3 steps.
How to Fix Gmail Not Working on iPhone via iMyFone iOS System Recovery
Step 1 – To initiate, download and install the tool in your PC.
Run it later and make sure to connect your device with the PC using authentic USB cable. Once the device is successfully connected, choose the 'Standard Mode' panel from the screen.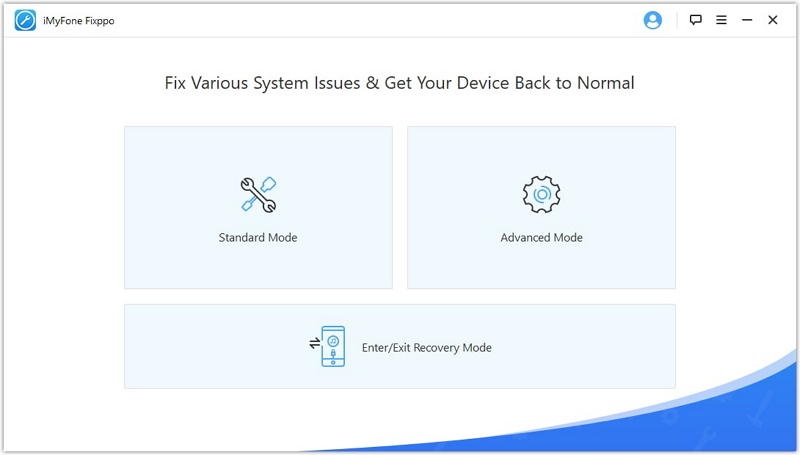 Step 2 – After this, you'll be prompt to take your iPhone in DFU mode. Don't worry about the steps, they will be shown on the screen. Just click 'Start', follow them and put your device in DFU mode for better detection.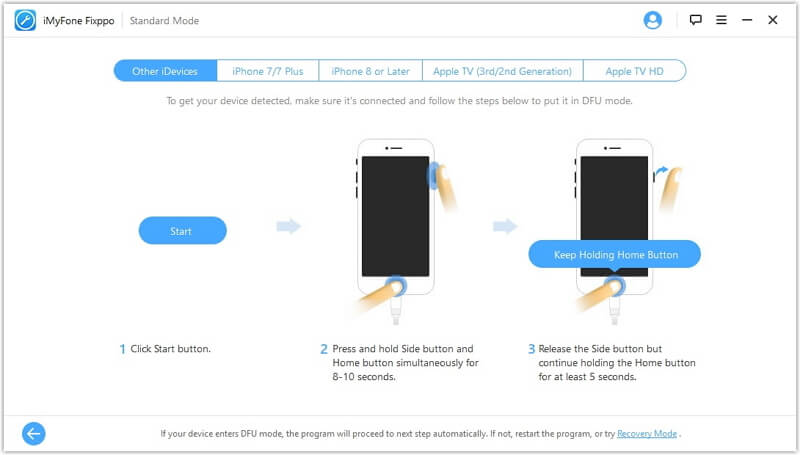 Step 3 – On successful entering into DFU mode, the program will recognize your iPhone and will offer you the matching firmware to make your device run smooth. Just hit on 'Download' and leave the rest on the program.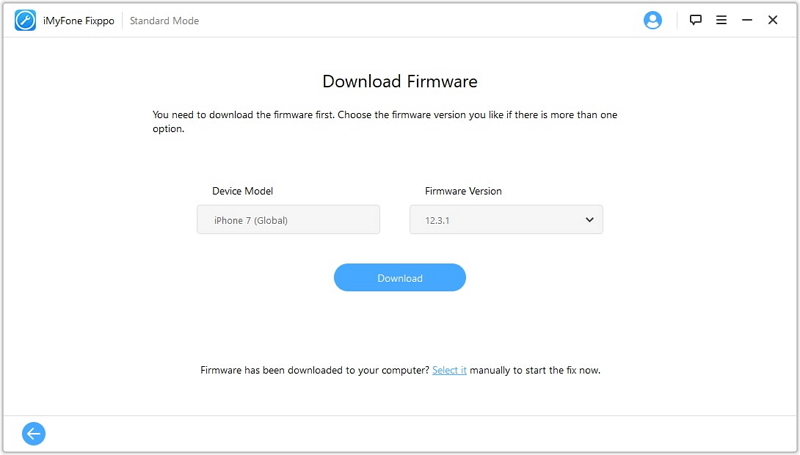 Once the firmware is downloaded, click on 'Start To Fix' and your iPhone will restart soon. Your Gmail will be back to normal in a while.