Question
I recently reset my iPhone 5 running iOS 11 but when I try to restore it from a backup I had created earlier, I keep getting the error "iTunes could not restore the iPhone because not enough space is available on the device." This shouldn't make any sense since the iPhone has been reset, all data deleted. To try and fix the problem I did a backup and reset the device to factory settings. Now I can't even restore the device. Any help on how to get the device set up again?
If you are experiencing this or a similar issue, we are going to attempt a step-by-step fix. Each of the solutions we outline below is designed to diagnose and then ultimately fix the issue. Let's get started.
1. Free up Your iPhone Space to Make Room for Restore
As obvious as it sounds, it may very well be that there isn't enough space on your device, hence the very poignant error message from iTunes. And before you argue with this statement, it may very well be that you are not aware of just how much free space there actually is on your device.
Therefore, it makes sense to see if iTunes is telling the truth or not. To do this go to Settings > General > Storage & iCloud Usage > Manage Storage and see just how much available space there is on your device. If you find that iTunes is, in fact, right, you might want to delete some unwanted apps and content to make enough space for the restore process to proceed successfully.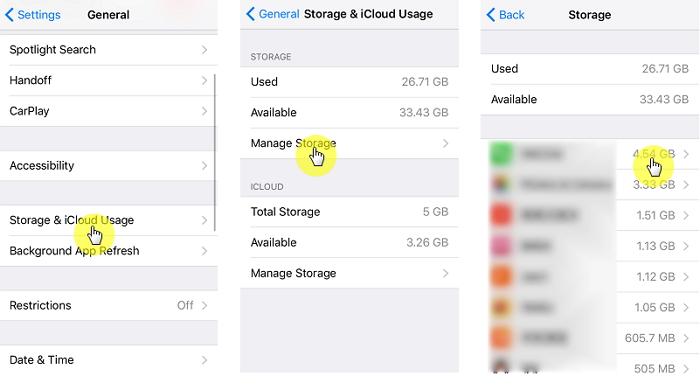 2. Make Sure Your iTunes or iOS is up to Date
If you clear up some iPhone storage space and you still get the same "iTunes could not restore" error message, it is likely that your iTunes is having some problems or that your the iOS version on your iPhone is not the latest. To fix this "iTunes could not restore because not enough free space" issue, you may try updating iTunes and iOS to the newest if they are not up to date, or just by reinstall both of them even if they are the newest.
To update iTunes, launch it on your computer and then click on "Help" and then choose "Check for Updates." If there is one available, allow it to update. You can also simply uninstall the version you have and then download the latest version from the Apple website. In some cases, it resolves the "not enough free space to restore" error quickly.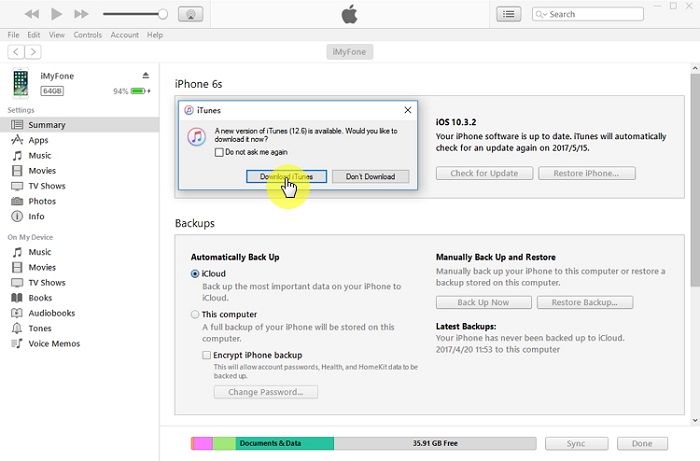 Another trick to troubleshooting this iTunes restore error message issue, you may update iOS by plugging in the device to a power source and a Wi-Fi connection and then going to Settings > General > Software update. Tap "Install" if there is an update available and simply wait for the process to be completed.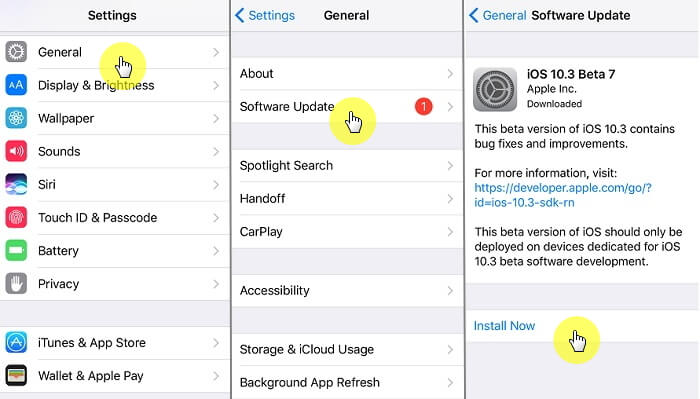 If iTunes and iOS update won't help with the iPhone-space-related iTunes restore failure, try the following methods now.
3. Troubleshoot iPhone Not Enough Free Space Issue through Security Settings
Even though we already have two different methods to fix the iPhone not enough free space issue, it's not bad to have more, because the situation mentioned here can also cause the "iTunes not restoring iPhone for not enough free space" problem. Yes, it's the security software. We will teach you how to fix not enough storage on the iPhone to restore with iTunes with security software settings:
1. Check the data, time and the time zone and make sure they are correct;
2. Make sure iTunes on your computer is the latest.
3. Regularly update your Windows OS or macOS.
4. Keep the security software on your computer the newest.
For most of you, these steps will set things into motion. However, if still the above remedies fail, we recommend you to disable the security software for an ephemeral i.e. during the upgrade process. In many cases, the above procedures will do the work and solve the iTunes error message issue during restore. But if it fails nonetheless, goes to the next method to find an iTunes alternative that has been considered as the best fix for "iTunes could not restore iPhone because not enough space is available on the iPhone" problem.
4. Selectively Restore Backup Using iTransor - Best iTunes Alternative (iOS 15 beta14/13/12 Supported)
The reason why iPhone has not enough space available to restore on iTunes is mostly that you can only restore all the data of the backup and are not able to choose what to restore or not or even preview the backup data.
But luckily, there is the best iTunes alternative that can realize this and it is known as iMyFone iTransor (renamed from D-Port Pro).
You can use iMyFone iTransor to selectively restore data to your device from iTunes backup. This program will not only allow you to safely get your data back to your device but it also gives you the enviable opportunity to select the type of data you wish to restore from any iTunes backup. It is easy to use, runs on both Mac and Windows and works very well to detect iTunes backup files and finally allow you to choose the data to be restored.
To demonstrate just how easy to use iMyFone iTransor (compatible with iOS 7.0 and above including iOS 15 beta 3/2/1) is, here's a step by step guide.
Step 1: Download and install the program to your computer and then launch it.
Step 2: Choose the option of Restore Backup to Device. You will see a list of all your backups on the computer.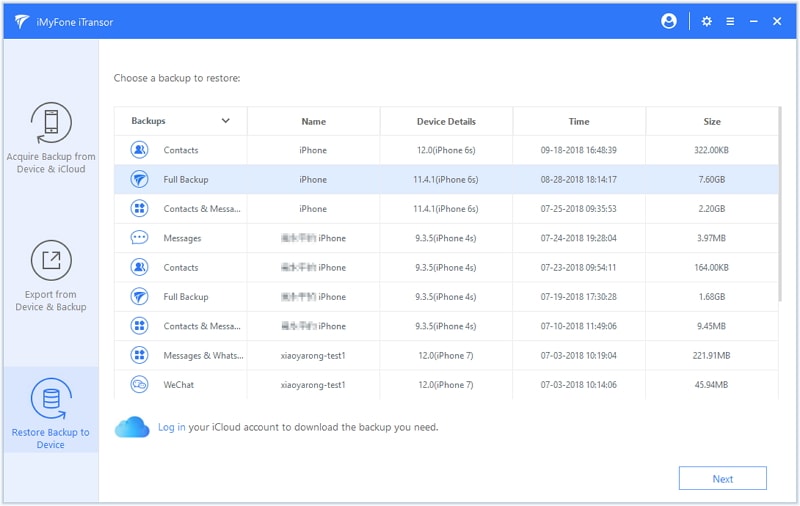 Select the one you need and click "Next" to choose the Restore Partial Backup function.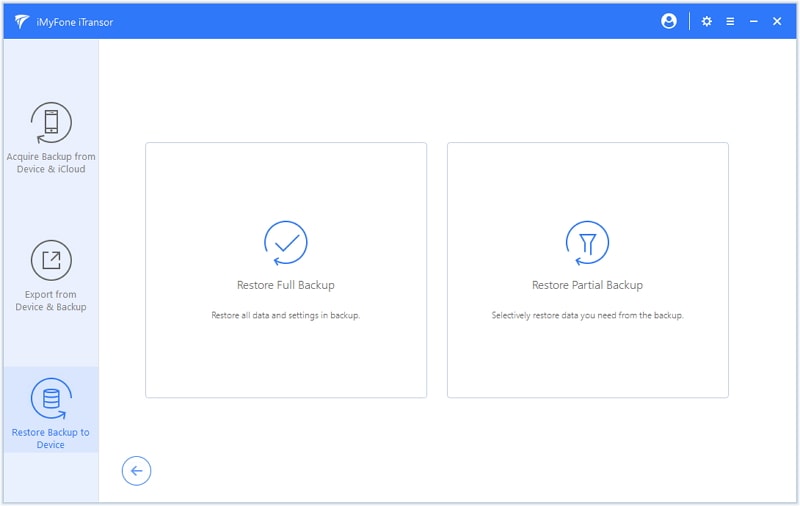 Step 3: Then choose one or more data types including contacts, messages, WhatsApp, WeChat and make sure that your device has been connected to the computer successfully.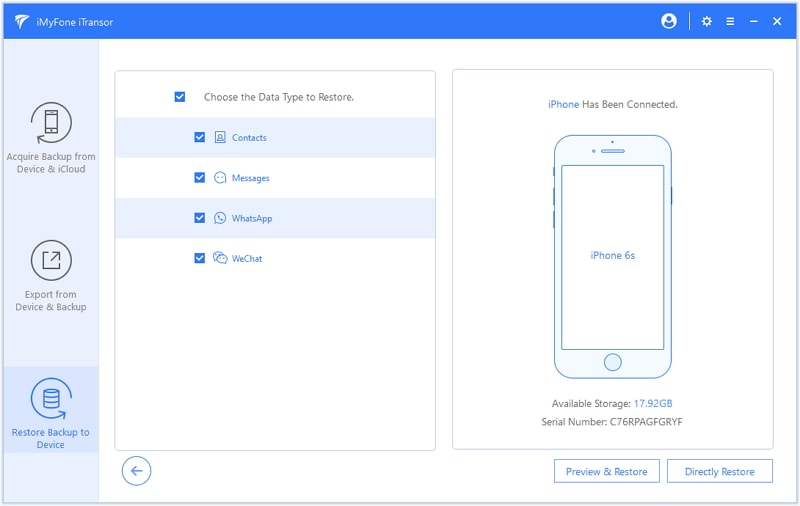 Step 4: Now you need to choose Merge or Replace from the pop-up. Merge option will combine the chosen data with the data on your device. Replace means the corresponding data on your device will be replaced. The program will start to restore the data you choose without affecting the other data on your device.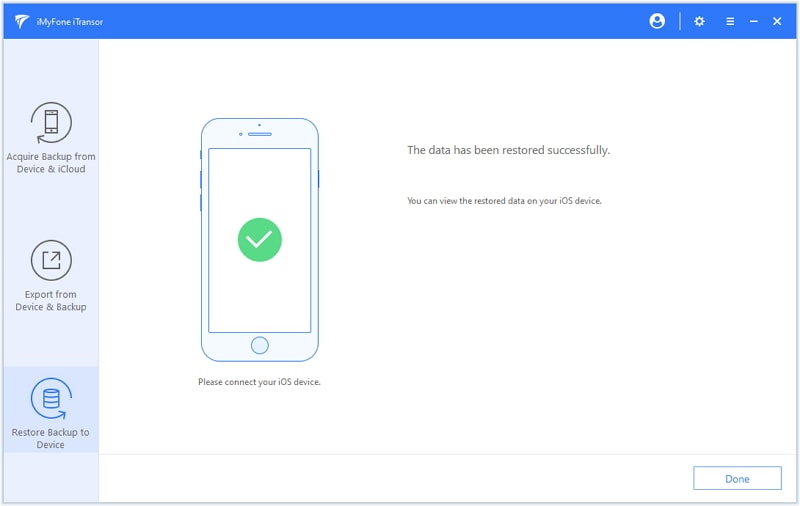 Download iTransorto restore data selectively instead of a full restore. It is fully compatible with iOS 14/13/12/11/10/9/8 now.
Summary
Above are all the methods you can try when you received the message "iTunes could not restore the iPhone because not enough space is available on the device" while restoring the iPhone with iTunes. Among them, iMyFone iTransor is the ultimate workaround that can help you bypass this not enough free space issue on iPhone. But first thing first, don't get upset when you meet problems in restoring the iPhone, for there are a lot more ways for you to discover.